Quotas Postal Surveys is a survey site that promises you financial rewards for answering surveys. But before you join this site, it is in your best interest that you make sure this site is legit.
So, is Quotas Postal Surveys legit? Or is it a scam? Let me answer this right away. Yes, Quotas Postal Surveys is a legit survey site. It will pay you for participating in their surveys. But, does it offer a good opportunity for you to earn a bit of extra cash though?
Well, to answer that question, we have to consider several factors and this Quotas Postal Surveys review will focus on shedding light on all the details about what this site has to offer. That way, you can better decide if you should give this site a go or not.
What is Quotas Postal Surveys and what does it offer?
Quotas is quite a unique survey site. Its main purpose is to actually test how long it will take for a postal mail service to send a letter from one location to another. In all the sites that I have tested, I would say that this has the most unique goal.
Now, to get a clear picture of how you will be able to earn from this site, let's take a closer look at the earning opportunity it offers. So, here's how you can earn from Quotas Postal Surveys.
The earning opportunity – Sending and receiving mail
As explained above, the way their site works is they measure the amount of time it takes for a postal mail to be delivered from one location to another using a certain postal service. They do that by asking you to either send mail or receive mail.

When you become a member of their panel, you will have to indicate where you live. This will be their basis for sending task requests for you. When there is an available opportunity in your area, they will let you know via email.
This email will contain all the instructions you need to follow. If you are tasked with receiving mail over a certain period of time, they will start sending mail to your address. Once you receive the mail, you will have to log in to their site and confirm the receipt of the letters.
You will need to provide the date when you received the letter. If you are tasked to send a letter, on the other hand, all you have to do is send a test letter to the address they provided on the email. Then, you will have to log in to the site and indicate the date you sent it.
That's really how simple their earning opportunity is. As a member of this site, your main job is really to just confirm dates. But make sure to provide the date as soon as you receive the mail or as soon as you've sent them.
Compared to other survey and online rewards sites though, their tasks will usually take longer to complete.
Each task will usually take more than a week to finish before you will receive your reward. So don't expect to earn a reward right away.
How do you get paid?
Once you finish the task, they will send the compensation to your Quotas account right away.
Once you receive your compensation, you have the option to withdraw it via PayPal or Skrill. You can also choose to redeem gift cards instead. You can choose to receive Amazon or Globoforce gift cards.
The fact that you can withdraw your earnings right away once you receive them will compensate for the long wait time to receive the reward. This will make it a bit more convenient for you to receive the payment.
If you are interested in other sites that pay rather quickly, I recommend you check out the fastest paying sites as well.
How much money can you make?
In my opinion, a site will only be worth joining if you are able to earn efficiently and regularly from it.
Quotas Postal Surveys does, in fact, pay you quite well for every task you are able to complete. It will usually pay around $10 to $15 per task.
However, the availability of tasks is pretty low. So, you can't really expect to earn from this site regularly. Plus, they don't actually guarantee you will earn from this site once you sign up (refer to the photo below).

As you can see in the photo above after you are done registering to the site (which I will discuss later) they will say right away that they won't guarantee you can earn from it. Everything will be subject to the availability of tasks.
It will all depend on whether Quotas will be testing any postal services in your area. You can actually check their blog site if there are any available opportunities in your area.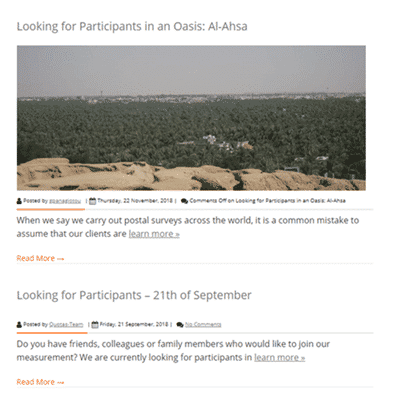 However, this isn't very reliable because as you can see in the photo above, the last update they released was in 2018.
The bottom line is, Quotas Postal Surveys, in my opinion, has really a very low earning potential and you cannot expect to earn from it regularly. There are better sites to do that.
Can you use it on mobile?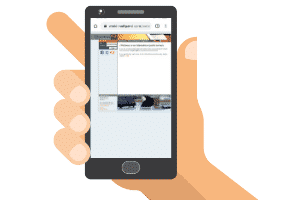 In my opinion, there's really no point in using this site on a mobile device because you don't actually have to keep logging in to the site to earn rewards. You will only need to log in to the site when you need to confirm the dates.
You can just do that when you are at home. That's why, in my opinion, they did not bother to optimize their user portal for mobile use because there's really no need to use it on a mobile device.
But if you really do want to use it on a mobile device, you can do so using a mobile web browser but you will have to zoom in to read the content properly. That's a bit inconvenient, but I suppose you can't really expect more since their site isn't really intended for mobile use.
Who can join Quotas Postal Surveys?
Quotas is available worldwide. You can sign up as a member regardless of where you live.
It is actually one of the websites that prefer you to live somewhere remote (or not in metropolitan areas) because there's a chance that they want to test in your area.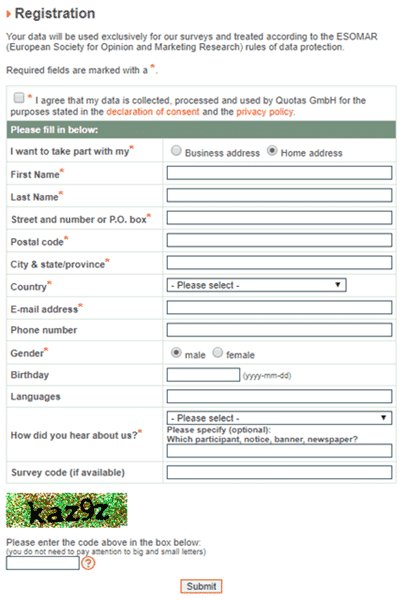 To become a member of their panel, all you have to do is fill out their registration form. Once you've completed that, they will just tell you that they will notify you if there are any opportunities in your area.
If you notice in the photo above, there are no fields where you can input your username and password.
The only way you can get this is if there are opportunities in your area and Quotas has selected you to participate.
Can you get support?
Their site actually does a poor job of explaining how the site works, in my opinion. Apart from the basic information you will get, they don't have a FAQ page that discusses the most common topics you might want to know more about.
So, if you have any inquiries, you have no choice but to contact their support team. You can do that by emailing panel@quotas.de or you can call the phone number provided inside their member's panel.
Overall, they do provide decent support options for their members but it would have been better if they explained more on their website about what they have to offer.
Final Verdict
Quotas Postal Surveys is a unique survey site that offers a couple of unique qualities. But it does have qualities that just don't make the cut.
So, let's end this review with a summary of its pros and cons to give you a better overview so you can decide if you should give it a go or not.

Pros:
Offers payment via PayPal
No payout threshold required
Pays well per task

Cons:
There is no guarantee you will earn from this site
Limited earning opportunities offered
Quotas Postal Surveys pays quite well for the task you have to do considering how easy it is. However, there is no real guarantee you will earn from this site. You can sign up to their panel and wind up not receive any opportunity at all.
So, I would say that it isn't a good site to join if you are looking to earn extra cash on a regular basis. I would suggest you spend more time on other sites that offer good earning potential.
For a list of these sites, I suggest you check out the top survey sites in your country instead. The sites on this list all have several earning opportunities offered so you can earn regularly. All the sites have good earning potential too. Plus, you can find a site you can join regardless of where you live.
If you have any comments, questions, or have any experiences with Quotas Postal Surveys yourself, I would love to hear from you in a comment below.