Survey sites provide a good opportunity for you to earn extra cash online. That is, of course, if a survey site is legit and offers good earning potential. This is especially true for survey sites that are specific to certain countries.
If you've encountered a survey site called REDCLive, then you might be thinking about joining this site. But is REDCLive legit or is it a scam?
Let me answer this question right away so we can talk about the other details of this site. Yes, REDCLive is legit. It does pay you for answering their surveys.
Now, to fully determine if this site will then be worth your time, we have to take a closer look at what it has to offer.
This REDCLive review will give you an inside look so you can see exactly what it offers and figure out if it is truly worth your time or not.
What is REDCLive and what does it offer?
As explained above, REDCLive is a survey site that pays you for answering surveys. It is an Irish-based market research company that offers paid surveys as a way for its members to earn extra cash and share their opinion.
This survey site is exclusive to residents of Ireland. So, if you don't live in that region, this survey site is not for you (see sites in other countries instead).
If you live in Ireland though, the next thing you need to know is how good its earning potential is and how easy it is to use. So, here's how you can earn from REDCLive.
The earning opportunity – Paid Surveys
There is only one way for you to earn on REDCLive and that is by answering paid surveys.
It's a bit different from most survey sites since it doesn't have a member dashboard where you will be able to access the available surveys.
That means every survey offer you will get will be sent to the email address you used to register to the site. So, make sure to check your email from time to time to see if there are available surveys.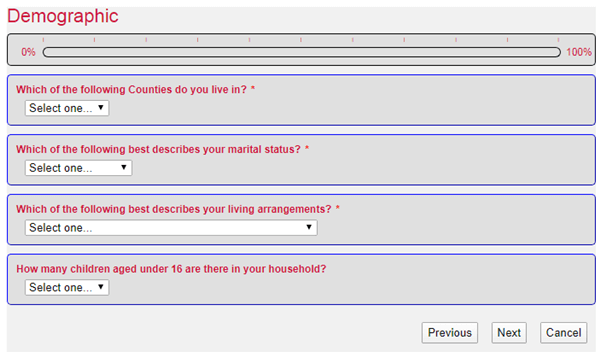 To qualify for a survey, you will need to complete your profile (refer to the photo above).
You can do that by logging in to the site and clicking on the Profilers link on the left side of the page. You will then see what is displayed in the photo above.
You must complete this as soon as possible because REDCLive will use the information you've provided to determine which surveys to send your way.
So, how do their surveys work?
Well, when you receive an invitation for a survey via email, just click the link provided and it will open a new tab where you can answer the survey. If that doesn't work, you can copy the link and paste it on the address bar of your browser.
Each survey runs for different lengths of time. That's why it's best to participate early to avoid being cut off. Usually, surveys have a set number of participants needed. Once that's reached, it will no longer accept any respondents.
So, you need to check your email regularly. Each survey also has quality control checks. This is to ensure that you give careful consideration to each question before answering. You won't earn rewards if your answers are illogical or if a minimum amount of time has not been spent answering the survey.
They can, of course, only pay you if you give real answers as they use the answers for market research – so if you are rushing and not answering properly, the answers will not be of use for them and they can, therefore, not pay you.
That's why you need to carefully answer each survey you receive. Once you've completed the survey and REDCLive finishes reviewing it, you will be awarded the appropriate number of points, which I will talk about next.
How do you get paid?
As mentioned above, every survey you complete will earn you a certain number of points which will be deposited into your REDCLive point balance. You will then receive payment once you've reached the threshold.

As you can see in the photo above, their payout threshold is €50 which is equivalent to 50 points.
This is a very high payout threshold compared to other survey sites so you need to take quite a lot of surveys to reach it.
Once you've reached that threshold, the site processes the payment automatically. They will then pay you in the form of a check which will be mailed to you.
The checks are being issued at the beginning of each month and will usually take around two weeks to be delivered to your doorstep.
So, if you reached the threshold in the first week of June, expect to receive your payment around mid-July, which is a pretty long wait, in my opinion.
You will need to be a bit patient before you can receive your payment since their payment method is not very convenient.
If you prefer to withdraw your earnings conveniently, I recommend you check out the top sites that pay via PayPal instead.
How much money can you make?
Simply put, you can make a decent amount of money from this site if you receive a lot of survey offers. But there's no real guarantee that you will receive survey offers regularly.
That's because there is no set amount of surveys you receive at any given time. Panelists are selected at random (based on the profile info you provided) for a survey. So you may receive many in quick succession or you may go a while without receiving one.
The good thing is, they pay quite well. To put it into perspective, they pay you €1 for every 5 minutes you spend completing online surveys. That, in my opinion, is a good rate.
So overall, I would say that they have decent earning potential. However, you have to keep in mind that they have a very high payout threshold.
So, you can't expect to reach it very quickly unless you receive a lot of survey offers, which, in my experience, rarely happens.
Can you use it on mobile?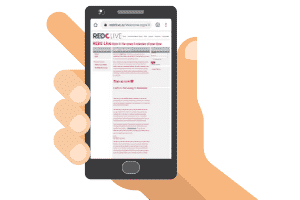 The good thing about REDCLive is that you don't have to log in to the site to access their surveys. You can simply open your email from your mobile device and access the surveys from there.
However, their site is not optimized for mobile use. So, there's a chance that the surveys they offer will be pretty much the same. You will have to zoom in to read the content properly.
That's why it is best to just answer the surveys on your desktop or laptop. That way, you can answer the surveys properly and with relative ease. This is a bit inconvenient though because you have to remember, their surveys have a set number of respondents allowed.
So, you might miss the opportunity to answer a survey if you wait too long since you have to get to your computer to answer it.
What I'm saying is, if you want to use it on mobile, you can still do so. Just expect it to be a bit more inconvenient compared to when you work on it on a desktop or laptop.
Who can join REDCLive?
As explained earlier, this survey site is only available in Ireland. So, if you don't live there, then you better find some other survey site to join. But if you do, you have to be at least 16 years of age to be eligible to become a panelist.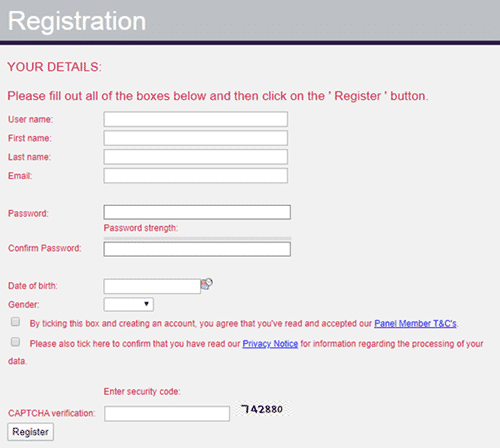 To register as a panelist, all you have to do is fill out the registration form. Once you've completed that, you will need to verify your account by clicking on the verification link that will be sent to you via email. Once you've done that, then you are now a REDCLive panel member.
As soon as you complete the registration, I recommend you complete your profile first. That's where you can input your mailing address for the checks you will receive from them.
Also, if you are looking for more survey sites in Ireland, I suggest you check out the top survey sites in Ireland as well.
Can you get support?
What I like about REDCLive's site is that it has a pretty comprehensive FAQ page. It thoroughly explains what the site is all about and what you need to do. So, chances are, you will have fewer questions to ask.
But if in case you need to contact them, unfortunately, they don't have a contact form on their site. So, you will have to email them at info@redclive.ie.
In my opinion, it would have been a bit more convenient if they provided a contact form on their website. But at least, they still provide you with a way to communicate with them, which is good enough.
Final Verdict
REDCLive is a legit survey site that does pay you for answering their surveys. It offers a couple of benefits but it also has some obvious disadvantages, in my opinion.
Let me finish this review by summarizing its pros and cons to give you a better overview. That way, you can better decide if it is truly worth your time or not.

Pros:
Processes payment automatically
Pays relatively well for each survey you complete

Cons:
Only offers one mode of payment
Payout threshold is very high
Does not offer a lot of surveys
REDCLive has some nice features. I like that it processes payments automatically and it pays rather well for each survey you complete.
However, its high payout threshold will make it hard for you to quickly receive your earnings. It also doesn't help that they only pay you via check, which can take a long time to get to your doorstep. So, you will need to be very patient with this survey site.
In my opinion, it can serve as a decent secondary site to earn from to supplement your earnings from other sites. Just don't expect to get your payment quickly because you will be disappointed.
If you prefer to withdraw your earnings conveniently, I recommend you check out the top survey sites in your country instead. The sites on this list all have good earning potential and offer several convenient payment methods as well.
Plus, you will also find a site you can join regardless of where you live.
If you have any comments, questions, or have any experiences with REDCLive yourself, I would love to hear from you in a comment below.