Being able to earn from a website has become popular today. There are plenty of websites that offer this kind of opportunity. One type of website that will allow you to earn extra cash is a survey site.
Now, there are plenty of survey sites you can join, so, it's kind of hard to figure out which are the best ones to join.
One survey site is called NewVista. So, before you go and join this panel, you have to figure out if it is worth it or not.
This NewVista review will tell you all you need to know so you can determine if this site is truly worth your time or not. So, let's go ahead and take a closer look at what this site has to offer.
What is NewVista and what does it offer?
NewVista is a UK-based survey site. So, if you don't live in the UK, this site is not for you (check out survey sites in other countries here).
Since it is a survey site, you can expect to earn by answering surveys.
And in order to figure out if this site offers an earning potential that is worthy of your time, we have to examine the earning opportunities it offers. So, here's how you can earn from NewVista.
The earning opportunity – Paid Surveys
NewVista is a pretty straightforward survey site. You will only be able to earn by answering paid surveys. When you become a member of this panel, the first you have to do after you register as a member is to complete your profile.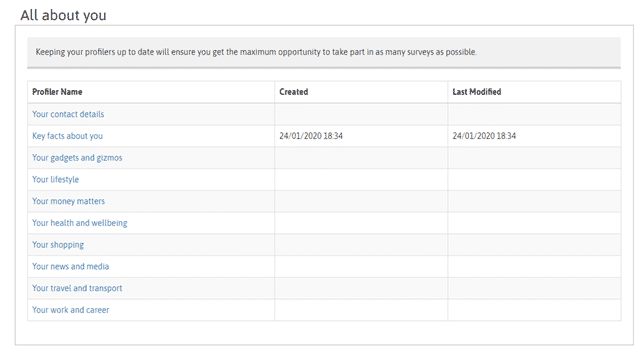 This is because you will not receive survey invites if your profile has not been completed.
You will quickly see all the profile information you will need to provide once you log in to the member dashboard (refer to the photo above).
One thing to take note of the survey offers from NewVista is, they don't have their own surveys. Instead, they have partnered with Survey Sampling International and Toluna for providing survey offers. So, in reality, they just act as a survey router.
To answer a survey from Survey Sampling International, you have to click on the Partner Surveys link on the dashboard. You will then have to answer several qualifying questions (refer to the photo below).

You have to go through the qualification questions and when you qualify, you will then get to answer the actual survey.
If you don't, you simply move on to the next survey offer and you will go back to answering another set of qualifying questions.
The process goes on until there are no more surveys available. In my opinion, this is a less than ideal way of completing paid surveys.
Usually, in my experience, survey sites or even survey routers list down all the available surveys. That way, you can easily prioritize which ones to take.
As for the Toluna surveys, this is in the section they call "£££ – earn more rewards".
It is actually not surveys you can take here, but instead just an offer they get paid to promote. Through this section you can join Toluna which is a survey site on its own.
So it is basically just a promotional section where they get paid to promote offers to you. At the moment of writing this review, it is only Toluna I can see there.
I am assuming this is what they refer to before you join when they say you can join online communities and earn extra.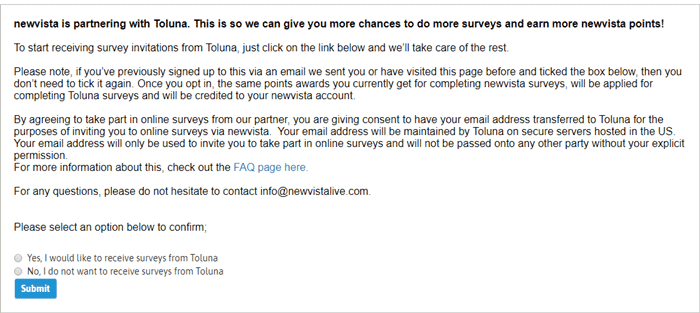 In reality, what this seems to mean is that you will not directly earn on NewVista through this section but only find offers to other sites there.
However, you can earn money into your NewVista account by taking the partner surveys from Survey Sampling.
Just so you are aware of the difference and only choose the options you can actually earn from if you decide to join.
How do you get paid?
For every survey you complete, you will be awarded a certain number of points. The points will be credited to your online account usually within one month of completing the survey or activity.
This may vary at times and it can take as little as one day or as long as three months depending on the type of survey you get.
This, in my opinion, is not a good thing. Good survey sites usually credit the rewards instantly or within hours of completion. It shouldn't take that long to get your rewards.
Once you've reached a current balance of 5000 points, they will send you a cheque for £50 at the next payment date, which usually happens at the end of the month. And seeing as it will be sent via mail, you won't get to receive the money at least after a few days.
It's a bit inconvenient, in my opinion. There are plenty of other sites that offer better and more convenient payment options.
If you are interested in sites that will allow you to withdraw your earnings quickly, I suggest you check out the top survey sites that pay via PayPal.
If in the event, you have not completed any survey within the month, you will be qualified to join their monthly prize draw. That is only if you answered one survey within the month.
There will be 10 monthly draws of £50 each, which will take place in the first week of every month. So, every month, there will be 1 winner of £50.
It's a nice bonus to receive if you ever get lucky. But, don't expect anything from it because it's not really that reliable because you will be competing with a lot of other members.
If you ever win, the payment will be sent via PayPal, which is weird because they don't offer that kind of payout option for regular rewards.
Overall, the payout options on NewVista are less than ideal, in my opinion.
How much money can you make?
Usually, with survey sites, the amount of money you can make will depend on how many surveys you can complete and how well they pay for each survey.
Of course, the number of surveys you can complete will mostly depend on how many offers you receive and how many you will qualify for.
Therein lies the problem. If you don't qualify for a survey, which, in my experience, happens a lot, you don't get to earn anything. So, even if you receive plenty of survey offers, you still have to qualify in order to earn.
To maximize your chances of receiving survey offers, you have to make sure you complete your profile (refer to photo above).
That's the best thing you can do to increase your chances of earning from this site. The good thing is, you will earn a certain number of points for completing a section of your profile.
So, your time won't totally be wasted. But overall, you can't really expect to earn a lot from this site since it has limited earning opportunities. Plus, it has a very high payout threshold of £50. So, you will have to be extra patient.
If you prefer to earn quickly, I suggest you check out the fastest paying survey sites instead.
Can you use it on mobile?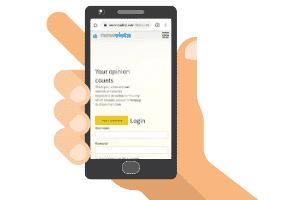 The good thing about NewVista is, you will be able to answer surveys using your mobile device. But, you have to use your mobile browser to do so since they don't have an exclusive mobile app you can download.
Fortunately, the mobile version of their site is mobile-friendly. So, it's pretty easy and convenient to use on a mobile device. This, at least, makes it easier for you to earn since you can answer surveys even when you are not in front of the computer.
So, it helps a little bit in reaching that high threshold because you can get to survey offers a lot quicker. This is an important thing to consider because most survey offers have a set number of respondents allowed.
If that is reached, the survey will be closed. So, getting to a survey offer as quickly as possible can increase your chances of earning.
Who can join NewVista?
As mentioned at the beginning of this article, NewVista is a UK-based survey site. So, only UK residents will be eligible to join. You also have to be at least 16 years of age in order to join.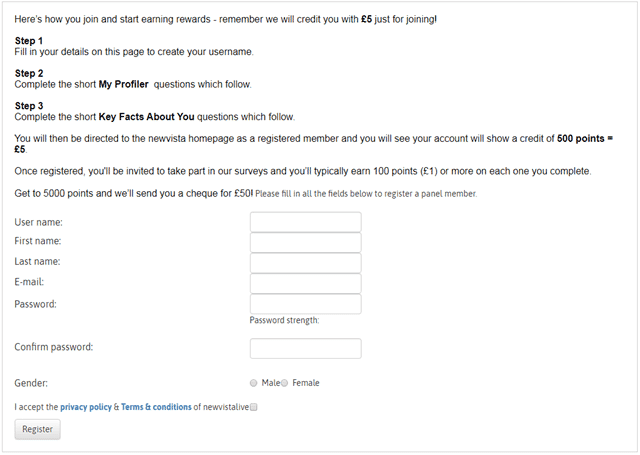 To register as a member, you have to fill out the registration form. Once you've done that, you will then be asked to complete part of your profile. You will need to provide your address and contact numbers as well.
This is important because you have to remember that the payment will be sent to you via postal mail. So, make sure you provide the right address.
After you've completed the registration process, you will receive 500 points (worth £5), which will be credited directly to your NewVista account right away.
This is a nice bonus to have since it will give you a head start into getting to that very high payout threshold. But it will still take you a long time to reach.
If you are interested in other UK-based survey sites, I recommend you also check out the top survey sites in the UK. Most of these will make it a lot easier to earn, in my experience.
Can you get support?
If you need to get in touch with their support team, you can contact them through their Facebook or Twitter page since they don't really have a contact form on their website.
This, in my opinion, is a bad way to provide support to their members. Granted that you are able to contact them through those platforms, it would still have been better if they provided that option on their website.
They do have a comprehensive FAQ page that covers most of the important topics. But still, a contact or support page is par for the course for any site that offers this kind of opportunity.
So, overall, I would say that they don't provide a good way to get support.
Final Verdict
NewVista is a UK-based survey site that does pay you for answering surveys. It has a few good qualities but some pretty obvious disadvantages.
Here's a summary of its pros and cons to give you an overview of what the site has to offer.

Pros:
Offers a sign-up bonus
They have a mobile-friendly site

Cons:
Limited earning opportunities
High payout threshold
Limited payment methods offered
In terms of earning potential, NewVista really pales in comparison to the better survey sites out there.
First, it has a very high payout threshold. So, you can't really expect to earn quickly. Second, it only pays you via check. So, the payment method is quite inconvenient.
And lastly, it really has a very low earning potential. So, your time will be better spent on other survey sites that offer more ways to earn. All the qualities that NewVista has don't even qualify it to be a decent secondary site to earn from, in my opinion.
There are simply far better choices out there. For a list of those sites, I suggest you check out the top paid survey sites in your country instead.
The sites on this list have better earning potential and a much lower payout threshold. Plus, you should be able to find a site that you can join regardless of where you live.
If you have any comments, questions, or have any experiences with NewVista yourself, I would love to hear from you in a comment below.