At first glance, iVueit looks like a great app to earn extra money from. You just take photos of real estate properties to earn extra cash. Sounds easy, right?
But is iVueit legit and a real way to earn, or is it a scam with fake claims to stay away from?
I have joined iVueit to test its features and I have compared it with other similar sites I have tested over the last few years. I will share everything I have learned about this app in this iVueit review so that you will get a good idea of what to expect from it.
Then, you can decide if you should join this app or not. So, let's go ahead and take a closer look at iVueit, shall we?
What is iVueit and what does it offer?
Technically speaking, iVueit is a survey app. However, it's not your typical survey site where you will just have to answer a questionnaire.
Instead, it involves taking photos of real estate properties. It is indeed a legit app since you will really get paid for taking said photos.
Now, to fully understand how this app works, we have to examine the earning opportunity it offers. By doing so, it will also give you an idea of how much time and effort is required to earn from this app.
So, here's how to earn from iVueit.
The earning opportunity – Vues
Vues, as their site defines it, is an unbiased survey that collects photo and property information in near real-time via the iVueit app.
The information gathered from vues will be used by iVueit's clients to make informed decisions that impact quality control and compliance on their end. So instead of tying up their own resources to get the said information, they avail of iVueit's services instead.
To access the vues you can work on, you just have to log in to the iVueit app.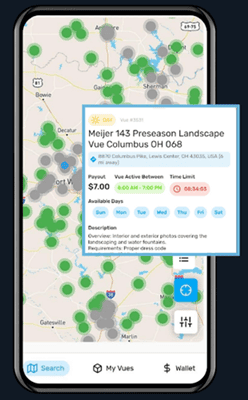 Once you are logged in, you will see something similar to the photo above. The iVueit app will require you to enable your mobile device's location so that it can show the available vues in your area.
You will know which vues are available because they are marked green. Those that are marked gray are either already assigned to other vuers or it is currently dormant.
To begin working on a vue, just press any vue available. As the video above shows, once you press a vue, you will immediately see how much you will earn by completing it, the exact address of the property you need to go to, and the time it is available.
If you want to work on a vue, just press the claim button and it will be listed under your to-do list. The vue will also be marked orange which means it is already reserved and no one can claim it unless it is not completed within the deadline.
And speaking of the deadline, make sure to complete the vue during the time it is available. If you fail to do so, the vue will become available for other vuers, and you will have missed your window to complete it.
Normally, a vue will ask you to take photos of certain parts of a property. These are usually commercial properties or facilities. It will also usually ask you to take multiple photos and, sometimes, even videos.
After you've taken the photos required, you'll have to answer a set of questions designed to provide feedback regarding the property you visited. Once you've provided all the deliverables, you just have to press the submit button so that iVueit can review your work.
Take note that all of these things have to be done on your mobile device, so it's pretty convenient. It usually only takes a day or two for iVueit to finish reviewing your work. When everything is in order, you will receive the reward that was promised, and it will be credited to your iVueit account balance.
Earning from the app is simple, but it requires a bit of time and effort. You also have to be smart with which vues you want to work on. You can't just claim any vue. You have to consider the additional expenses like gas or bus fare (if you don't have a car) to be able to earn efficiently.
Recommended: Check Out the Top Survey Apps
How do you get paid?
Every time you complete a vue, you will earn a certain amount, and it will be credited to your iVueit account balance.
Then, you can withdraw your earnings via PayPal. The video below will explain how you can withdraw your earnings from iVueit.
The great thing about it is that you don't need to hit a threshold to withdraw your earnings like you usually would with other survey sites and apps. I'm quite impressed with how simple and convenient the payment system of iVueit is.
Of course, you won't receive your earnings immediately, but the good thing is that it usually doesn't take more than 24 hours for the amount you've withdrawn to be credited to your PayPal account. And the fact that it doesn't have a payout threshold really makes withdrawing your earnings very quick and convenient, in my opinion.
If you are looking for more sites that have no or low payout threshold, I would recommend you also check out the fastest paying sites as well.
How much money can you make?
The amount you can earn from iVueit will mostly depend on your location. Based on my experience, apps that rely on location have a pretty varied earning potential. If you live in a big city, then there's a good chance that the earning potential will be quite good because there will be plenty of opportunities to earn.
But if you live in a small city, then chances are, you won't get to earn a lot. Sometimes, you won't even get to earn anything at all.
Now, as for how much you can earn for every vue you complete, you can usually expect around $5 to $20, which is not a bad rate. But again, you have to consider the cost of getting to the location of the vue. It will only be profitable if it doesn't cost you a lot to get to the location of the vue you want to work on.
That being said, one good thing I noticed about iVueit is that you can still earn even if you travel because the app doesn't care where you live. It only cares where your current location is.
Overall, I would say the earning potential of the app is decent. It offers a decent number of vues in most big cities. I can, however, not attest to how many vues are available in small cities. It won't be surprising if you can't even find one in a small town or city. So really, iVueit is only for people who live in major cities, in my opinion.
Can you use it on a desktop?
iVueit is a mobile-only platform. It has a web-based member dashboard, but it is only for clients of iVueit and not really for vuers.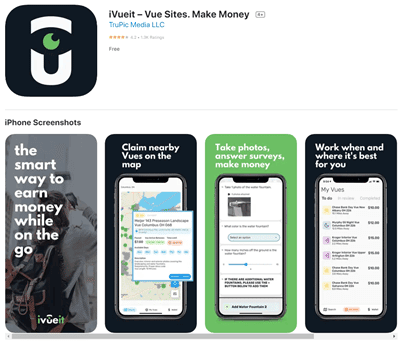 And based on the earning opportunity it offers, you will need to use a mobile device because you'll have to move from one location to another to earn. Plus, you'll have to take photos, so using a mobile device is a must.
As for the app, it is available for download from both Android and iOS app stores. It is also relatively easy to use. You will get used to navigating it in just a few tries. Overall, the user experience this app provides is pretty good, in my opinion, which is all you can really ask for from a mobile app like this one.
Who can join iVueit?
iVueit is only available for people who live in the US. If you live somewhere else, then this app is not for you.
To become a vuer, you will first have to download and install the app. Then, when you open it for the first time, you'll have to go through the registration process. You have to provide your login details as well as your mobile number to complete the registration.
There's no way around this, so if you are not comfortable sharing your mobile number, then this is not for you. Once you've completed the registration process, you can log in to the app and start earning.
But before you do, though, I highly recommend you complete your payment details. You have to link your PayPal account to your iVueit account first. That way, earning and withdrawing will go a lot smoother, in my opinion.
Can you get support?
iVueit has what they call the Vuer Institute where you can go through training tutorials, testimonials, and educational videos to learn more about the app. You'll get access to this once you log in to the app.
If you have any questions that were not answered by their Vuer Institute, you can just send their support team a message through the app.
You can also just email them directly at [email protected]. They also have a phone number you can call if you need to talk to a representative immediately.
Overall, I would say iVueit has a good support system for its members since it offers multiple ways for you to request assistance. Having a Vuer Institute is also a nice touch, in my opinion, because it can help new vuers get acquainted with the ins and outs of the app.
Final Verdict
iVueit is a legit and unique survey app that will essentially pay you for taking photos and answering a few questions. It has a few good features to offer, but it also has some limitations you need to be aware of.
Let me wrap up this review with a summary of its pros and cons to give you an overview of what the app offers. Then, you can decide if it is a good fit for you or not.

Pros:
Offers payment via PayPal
No payout threshold
The app is user-friendly

Cons:
Limited earning opportunities offered
Requires a certain level of commitment and effort to earn
In my opinion, if you don't mind going from one place to another and taking photos of commercial properties, then iVueit is a decent app to use. You can potentially earn a decent amount from it provided you live in a big city where there are lots of opportunities to earn.
Plus, it also offers a convenient payment method, and you can withdraw your earnings anytime you want. The app is also very easy to use.
But if you live in a small town, I wouldn't recommend you use it because you will more likely not find any opportunities to earn. You are better off joining survey and GPT sites that will not require you to go to certain locations to earn.
For a list of these sites, I would suggest you check out the top survey and GPT sites in your country. The sites on this list all have good earning potential, and you'll be able to earn in the comfort of your own home.
Plus, you will definitely find a site you can join regardless of where you live.
If you have any comments, questions, or have any experience with iVueit yourself, I would love to hear from you in a comment below.