If you have heard about paid surveys, there is a great chance you have also heard about GlobalTestMarket. But is GlobalTestMarket a scam or is it a legit survey site where you can make good money?
I have used and tested the site for a long time, and in this GlobalTestMarket review (2018 edition), I will tell you all about what the site has to offer, how much money you can expect to earn, who can join the site, etc.
After the review, you will have all the details you need, to decide whether it is a site you want to spend your time on or not. So let's get started!
Important Update: GlobalTestMarket has now closed.
==>Click Here to See the Best Alternatives for GlobalTestMarket in Your Country<==
What is GlobalTestMarket, and what does the site offer?
GlobalTestMarket is a pretty big name in online market research. It was founded in 1999, so it has been around for a while. GlobalTestMarket is powered by Lightspeed, which is one of the world's leading providers of market research. So it is a site that has a solid and reputable platform behind it and has proved it is legit through many years. So it is definitely a safe site to use – but does that mean it has options worth using?
Let's go into what opportunities that are available on the site:
Option 1 – Paid surveys:
GlobalTestMarket is what I would call a "pure" survey site. This means that it more or less only offers paid surveys as a way to earn. Other sites (called get-paid-to or GPT sites) also offer many other ways to earn. That GlobalTestMarket only offers paid surveys makes it very easy and simple to use, and there is nothing on the page to distract you from doing the paid surveys. So it is very user-friendly, and you do not have to spend time figuring out how to use the site. You just sign up, and then you will receive an email whenever there is a new survey available for you.
GlobalTestMarket usually offers several weekly paid surveys (usually between 5-8 in my experience). When you get an email invitation for a survey, it will also say what the reward will be and the topic. It is great to be able to see right away, and it makes it easy to decide whether you want to participate in that survey or not. Topics of surveys can, for example, be automotive, restaurants, leisure, travels, electronics, food, media etc.
Be aware that some (not very many) surveys only give you chances in the GlobalTestMarket lottery. That can, of course, lead to a big win, if you are very lucky, but if you are only interested in answering surveys, where you can collect points, you can exchange for cash or vouchers, be sure you know what the reward is before you participate.
If you click an invitation for a survey, and do not qualify for participating in it, you will still get a reward in form of chances to their own quaterly lottery where you can win up to $1000. So compared to certain other platforms, it is very nice to get a small consolation prize, if you do not qualify. I do, however, more often than not qualify for GlobalTestMarket surveys, and the qualification percentage is higher than on many other sites, which is nice.
Option 2 – GlobalTestMarket app – earn on the go: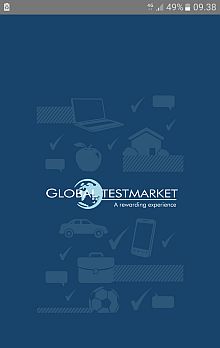 Doing surveys on the go is a great way to make a bit of money whenever you have a little extra time during the day.
If you want to have access to this, you can download the GlobalTestMarket app, and do the surveys from there.
If you just try to open the surveys on your mobile from an email, you will often be told that the format does not fit, so you cannot do the survey.
So if you want to use your mobile phone to do GlobalTestMarket surveys, use the app – you can find it by going to your app store (at the moment it is not available on Android) and write "Global Test Market".
Option 3 – GlobalTestMarket mobile surveys:
This might sound very similar to the app. It is, however, not quite the same. GlobalTestMarket mobile is a service offered where you will have a sms (text) based survey sent to your phone whenever one is available. It can be a way to make sure not to miss surveys and a way to increase your earnings.
You should, however, only join this service if you have unlimited texts included in your phone subscription, so you do not have to pay to receive these surveys.
Once you join GlobalTestMarket, you will get an invite to this service, and it is completely up to you if you want to join it or not. You can, however, at the moment only join the mobile surveys, if you live in the US, Canada, or China. If you live in other countries, you can still use the app or the website.
Option 4 – Fill out your profile to increase chances:
When you first log in to GlobalTestMarket, you will see there are a number of profile surveys. It is information about you, so you can get invitations to surveys that match you. These profile surveys are about topics like your lifestyle, health, interests, etc.
This information will not be used to identify you but to find out which surveys you can participate in. Each of them only takes a few minutes, but there are quite a few, so it will probably take you around 20 to do them all. You do not get a reward for these, but they will help you to get more invitations for paid surveys in the future, so it is a good idea to take these profile surveys and keep them updated. You do not have to take them all at once – you can just do a few once in a while.
As with all other legit survey sites, it is free to sign up and participate in surveys on GlobalTestMarket.
GlobalTestMarket rewards – how do you get paid?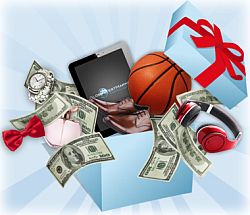 Every time you do a survey, you will earn points that can be exchanged into cash on your PayPal account (my personal favorite), vouchers for a number of shops (which shops depends on where in the world you live), Amazon Gift Cards, or you can donate your rewards for charity. When you earn points, you will not be able to see them on your account right away, but usually, you can see them within 30 minutes.
When you can request a reward depends on which reward you want. But in general, you have to have around 1500 points, which is worth around $15, to get a payout. If you have not done any surveys for 12 months, your points will expire, but if you have not done a survey for that long, you might not really care about the points anyway:-).
After you have requested a payout to PayPal, it takes around 5 days before you have the money in your account.
When you do a survey, you will most often not only get points but also chances to GlobalTestMarket's own lottery. It is a quarterly lottery, where you can win up to $1000. Some shorter surveys will only give you chances to win the lottery, but you will know how many points and chances you will get before you start a survey, as it will be written in the email invitation you receive. You will also receive some chances if you try to participate in a survey but do not qualify for it.
How much money can you make on GlobalTestMarket?
On average, the surveys on GlobalTestMarket take around 15-20 minutes. That is a bit longer than some survey sites, but that is also fine. You can always see the estimated time of a survey before you start it, and then decide if you want to take it. There are also ways to do surveys faster than the estimated time by following a few simple guidelines – I am mostly able to take surveys faster than the estimated time by following these guidelines. The rewards per survey are around average in relation to time spent compared to other survey sites.
It is important to know that you will not be able to make a full-time income from GlobalTestMarket or any other survey site for that matter. It can give you some nice extra money on the side, but if you are looking for a full-time income, you should look for other ways of making money online.
Also, GlobalTestMarket only offers surveys as a way to earn, which means there will not be as many daily opportunities as on sites that have a lot of other ways to earn. But it is a great site to join together with other sites, and can then be a part of earning some nice money on the side by taking surveys.
Is GlobalTestMarket available in my country, and can I participate?
As the name suggests, GlobalTestMarket is available in many countries throughout the world and in many different languages. More precisely in 49 different countries. There can be a difference in the number of surveys, reward for surveys, lottery prize etc., depending on the country you live in.
You can sign up if you are at least 14 years old.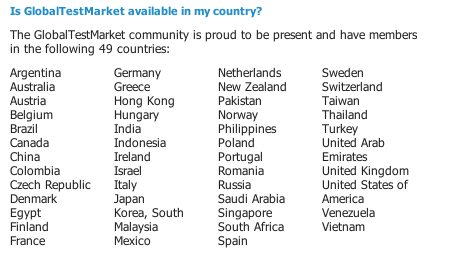 Final verdict
As you can see from the above review, GlobalTestMarket is a decent survey site, and it is definitely not a scam.
But to give a better overview, so you can decide whether you would like to join or not, let´s sum up the pros and cons.

Pros:
Very easy to use
Decent amount of available surveys
Offers cash payment through PayPal
Available in many countries
Reliable company behind it

Cons:
A lot of profile info to fill out when joining
Surveys a little long at times
So overall – Yes, GlobalTestMarket can make you a bit of extra money, but as it only offers surveys, it might take a bit longer than some other survey sites, that also offer other ways to earn.
Exactly how many opportunities you will have does, however depend on the country you live in. But as it is so easy to use and join, it is definitely worth checking out.
How do you sign up for GlobalTestMarket?
GlobalTestMarket is closed, so you cannot join anymore. You can check out the best survey sites in your country here instead.