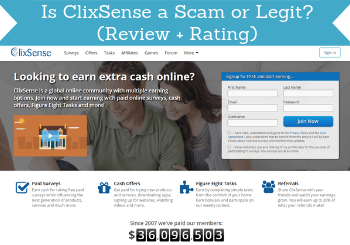 ClixSense is one of the big names when it comes to survey sites and online reward portals.
But is ClixSense a scam or is it a legit opportunity to make some extra money online?
I am myself a long-term member of ClixSense and have tested it thoroughly and I am still using it daily.
This 2019 ClixSense review will give you all the details you need to know to decide whether it is worth it for you or not.
My review is a bit long as ClixSense offers many things, and I want to cover as much as possible to give you all the info you need to make a decision about joining ClixSense or not. But if you are the impatient type, you can just scroll down to the conclusion:-)
Disclosure: Some articles on Paidfromsurveys.com contain affiliate/sponsored links. Click for more info.
What is ClixSense, and what opportunities does the site offer?
ClixSense was started in 2007. Initially, it was started as a PTC site (paid to click) and was mainly been seen as a PTC site for many years. Personally, I was not a big fan of the PTC side of ClixSense, and therefore mainly focused on other opportunities on the site.
In the middle of 2017, ClixSense made some big changes. This included getting rid of the PTC side, as that kind of business has a bad reputation and ClixSense, therefore, decided to move forward without that aspect.
Personally, it is a choice I was very happy about, as it was not a great opportunity anyways, and think it shows a lot about how serious ClixSense is about developing the platform and keep moving forward.
The opportunities ClixSense now offer are:
Option 1 – ClixSense surveys:
ClixSense is now mainly known as a survey site, and it usually gives plenty of daily opportunities for doing paid surveys.
Be aware that you will probably not qualify for all the surveys that are available. I mention this, as I know how frustrating it can be to click on available surveys and then not qualify.
Depending on where you are from, your age, etc. it will be different how many of the surveys you can participate in. This goes for all survey sites, so it is not just on ClixSense that you will not qualify for all surveys.
So if you click surveys, and they are not available just be patient and keep clicking – it takes a short time to check if they are available, and there will in most cases be many available ones, and usually, they are pretty well paid in relation to the time spent compared to other survey sites.
After a while, you will also figure out what kind of surveys you usually qualify for, and then you can just ignore the others not to waste your time – That is what I do.
Option 2 – Paid offers:
ClixSense has a whole section with paid offers. Through this, you will get access to a big number of different offers offered by ClixSense's partners.
Offers can, for example, be to try new products or services, download apps, play games, sign up for websites, watch videos, sign up for free contests, and more. Compared to similar sites, ClixSense gives you access to many offer walls and also access to some of the best offer walls that exist.
Before you take an offer, you can see what the conditions are, and how much the reward will be. Offers can be a great way to boost your earnings. Some of them give small rewards, but there are also some that give really high rewards, so it is worth checking out the different offers regularly.
Just make sure to read all the conditions for the offers you are interested, before taking them, so you know exactly what you have to do to get your reward. Some offers have great conditions and are very easy to take, and others are in my opinion not worth taking. So be sure you know what the conditions are.
Option 3 – Micro online tasks:
You can do small online tasks through what is called Figure Eight (previously CrowdFlower).
The tasks can, for example, be to check a website for certain info, categorize some product names, and all kinds of small easy online jobs. They are called micro jobs because they usually are fast to do.
In the beginning, these tasks do not give very high rewards, but they can definitely still be worth doing. First of all, they usually take very little time. If they take longer, they will also pay better. Also, as you do more, you will gain more trust, get more opportunities, and get higher paying tasks.
In addition to the rewards you get for the tasks, ClixSense has a weekly task contest that you are automatically participating in when doing tasks.
This is a great added bonus of taking Figure Eight tasks on ClixSense compared to many other sites that offer this. Every week, the top 10 tasks earners will get an extra bonus, which in total is $100. So there can be a nice extra bonus if you end up in the top 10. Further, you will get a $5 bonus every time you have completed tasks worth $50.
These bonuses make ClixSense the best platform to take these tasks through in my opinion.
One of the really great things about the tasks is also that they are often available to people from many different countries. Some countries might have limited access to surveys and offers, but they might then have good opportunities to do tasks.
Option 4 – Invite friends to join:
You can also earn money by inviting other people to ClixSense. As a start, ClixSense will pay you 20% commission of whatever the people you refer earn. If you have more than 100 referrals that have been active within the last 30 days, you will get 25%, and if you have more than 200, you will get 30% commission.
The commission will not affect what the person you refer earn, as the bonus will be paid by ClixSense to thank you for inviting somebody else.
Option 5 – Play games:
ClixSense has a big section with online games you can play. You can find games in almost any gaming category whether you like playing arcade, shooting, adventure, sports, and more.
It is important to know that you do NOT earn by playing these games on ClixSense. It is purely for entertainment purposes.
If you like to play small online games directly in your browser, you can find a big selection on ClixSense. But if you are on ClixSense mainly to earn money, the games is not what you spend your time on.
Option 6 – Activity bonus:
ClixSense offers a great extra earning possibility that puts it apart from many other survey sites. If you have a certain activity every day, you will get an extra bonus called Daily Checklist Bonus. I will go into the details about this below, as it is a big topic and needs its own section.
It is free to sign up and participate in all the offers ClixSense has.
==>Click here to visit ClixSense<==
What is the Daily Checklist Bonus?
As mentioned above, ClixSense has something called a daily checklist bonus that can be a great way to earn some extra money.
When you first join, it might seem a bit confusing, but it is actually pretty simple. But to make it easier for you, and so you will know from the beginning, I will now explain how it works and how much extra it can make you.
In short, it is a bonus where you can make up to 16% of your earnings, and it will be added to your account at the end of each day if you qualify for the bonus that day.
It is not that difficult to qualify. On your personal account page, you can all the time see how close you are to getting the bonus that specific day (see picture above). To get the bonus you have the following 3 options:
1.) Take 2 offers or surveys:
As not everyone has the same opportunities to do surveys or offer, you can combine these to qualify for the checklist bonus. So the first way to qualify for the bonus is to simply take 2 offers or surveys (or one of each).
2.) Do 10 tasks:
Another way to get the daily checklist bonus is to take 10 CrowdFlower tasks. This might sound like a lot, but as mentioned above these tasks are usually very quick to do.
3.) Combine tasks and surveys/offers:
The last option you have to get the daily bonus is to combine the two options above. So you can also get the bonus by taking 5 tasks + 1 survey or offer.
If you fulfill one of the options above, you will earn the daily checklist bonus and get 12% into your account at the end of the day.
You further have the chance to add extra to this bonus. You can earn an earn an extra 2% by installing the ClixAddon, which is an extension for the Chrome browser.
It is an add-on that will give you notifications when there are new surveys, new tasks etc. You need to have it actively running for 1 hour on a day where you also qualify for the checklist bonus, and then you will get 2% extra.
The browser extension does not only help you get the bonus. It is also a great way to keep updated about new opportunities posted on ClixSense without having to log in often.
Finally, you can earn 2% by getting an activity bonus by completing the checklist bonus 3 days in a row. Be aware that if you fail to qualify for the checklist on a day, the activity bonus will be reset (see picture below for an overview).
So by having a certain activity on ClixSense, you have the chance to get an extra 16% into your account. This is a really nice extra bonus and not something many survey sites offer.
How do you get paid?
Every time you do a survey, take a task, take an offer or anything else on ClixSense, you will earn dollars. You can then have your money paid out through Payoneer, Skrill, Dwolla, Tangocard or check.
Some people do not know the above payout methods and prefer only getting paid through PayPal. This is at the moment not an option on ClixSense. But the methods they offer are all great options, and in my experience, they are as easy and as reliable as PayPal. I have never had problems getting my money easily from ClixSense.
Which of the payout methods is best for you depends on a number of different things. As the different payment methods have different advantages and disadvantages, it will be too much to go into in this article. You can instead get help to find the best payout method for you in my article about ClixSense payout methods and how they work.
You can request payment once you have earned $10, which can be achieved quite quickly.
When you have participated in a survey, you will usually be able to see the reward on your ClixSense account right away. Some surveys (the ones that give an extra high reward), have to be approved before you get the money into your account. These surveys are marked with a little red flag, so they are easy to recognize.
When you use some of the other opportunities on ClixSense, like for example getting paid for downloading an app, you earn Clixcents – these are worth the same as a normal cent. So if you make 100 clixcents, you have made a dollar. Often it takes 5-15 minutes before you can see these rewards in your account.
Once you have requested a payout from your ClixSense account, it takes 4-5 days before the money is on your chosen account.
Can you use ClixSense on a mobile phone?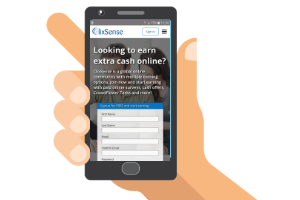 Yes, you can easily use ClixSense on your mobile phone or tablet.
There is no official app you can download, but the website is optimized for mobile and is very easy to use.
There are a few surveys or offers you cannot do on your phone, but you can see this indicated with a little icon next to the survey, when you are logged into ClixSense on your phone. Most surveys can, however, be taking on the phone or tablet.
Personally, I think this is a great way to earn a bit extra when I am on the go. For example when waiting in line, waiting for the bus, sitting on train etc.
How much time does it take to make money?
How much time you have to spend to make money on ClixSense depends on how many of the opportunities you wish to use, as there are many.
In general, the rewards for surveys are pretty good in relation to the time spent, so they are definitely worth participating in. But there are also a lot of other opportunities. Some of the offers give really high rewards, and the tasks can also give some nice extra money – especially if you end up being one of the top earners and get a part of the weekly prize money.
By being a bit active, you can also fairly easily qualify for the daily checklist bonus and earn up to 16% extra which is a really great bonus.
So ClixSense is one of the survey sites that have good earning potential.
As, with all other survey sites, it is however important to remember that it will not make you a full-time income. If you expect this, you will probably be disappointed and not participate actively on ClixSense, and thereby also not have success with it.
In which countries is ClixSense available?
One of the great things about ClixSense is that it is available worldwide. The opportunities on ClixSense will, however, vary depending on the country you live in.
But if you do not have many surveys or offers, you might have great access to tasks, so there are good chances for many countries, and it is one of the survey sites that gives fairly good opportunities to the broadest range of countries out all of the sites I have tested.
Be aware that you cannot take surveys from another country than where you signed up, so you cannot use ClixSense while traveling.
You have to be 16 years old to be able to sign up for ClixSense.
How do you use ClixSense?
ClixSense has a lot of possibilities. It is still a site that is fairly easy to navigate on and use but in the beginning, it can be a bit confusing when you first log in.
I have therefore made a short video walkthrough below that will show you how you use ClixSense and how you make money there, to help you get started easily.
Bonus advise and tips
Above you can see how to use ClixSense. I just also want to add a few extra tips to help you make the most out of the platform:
Bonus tip 1 – find surveys even though there are none available:
Even though it might look like there are no available surveys, there might be anyway.
When you click "surveys" there are some boxes/logos you can click on to get access to survey routers. Sometimes this will give you the opportunity to take a survey even though it is not indicated.
So just click them and check – I have often been able to take a survey like this. Depending on where in the world you are, it varies which boxes will give you an opportunity. Try it out, and after a while, you will know which ones are worth clicking for you.
Also, some of the offer walls have surveys you can take, so make sure to also check them for extra survey opportunities.
Bonus tip 2 – Do not give up, if some of the surveys are not available to you:
Depending on your age, where you live, etc. there will be some surveys that you will not be able to take after you have clicked an available súrvey. This can be frustrating, and sometimes you have to click several surveys before you find one you can participate in.
But there are many available surveys, so do not give up when you run into one (or several) surveys that you cannot participate in. Over time, you will also get to know which kinds of surveys you usually qualify for, and then just click them and ignore the others.
Bonus tip 3 – Visit the site often:
New surveys and tasks will appear and disappear throughout the day, so visit the site several times during the day, if you have the time.
Alternatively, you can install the ClixAddon for your browser. It is a great way to keep updated about new opportunities without having to log in often.
Bonus tip 4 – Less activity on weekends:
Be aware that on weekends there is often less activity on ClixSense. My experience tells me that there are mostly very few surveys on the weekends, so do not get discouraged if you join in a weekend and do not find many opportunities.
There are opportunities at the weekends but just not as many.
Can you get support?
How good support a site or service offer always says a lot about it.
I have several times been in contact with ClixSense's support, and I have always gotten a quick and useful reply.
Also, whenever there are any updates, changes, special offers or anything like that, you will see a message about this when you log in.
ClixSense also has a forum where you can get answers to a lot of questions from both other members and ClixSense staff. There are even forums in many different languages, so you can communicate with staff and other members in many other languages than English.
So Clixsense has very good support and is very good at keeping members updated, which is something I really appreciate, and some survey sites could definitely learn from this.
Final verdict
I have tested many online paid survey sites, and ClixSense is definitely not a scam, and it gives good opportunities to make some extra cash in a legit way. I know from personal experience that is legit as I have been paid by it many times myself.
But let's sum up the pros and cons, so you can get a better overview before deciding if it is for you:

Pros:
Many daily opportunities
Good opportunities in a wide range of countries
Nice extra bonus, if you have daily activity
User-friendly
Great support
Good rewards in relation to time spent
You get paid in cash
Many payout methods to choose from

Cons:
Often you have to click on several surveys to find one you qualify for
Not all countries have many opportunities
Overall, ClixSense is one of the survey sites I have personally had the most success with. It is definitely a legit site where you can make some extra money, and in my experience definitely worth it and therefore it is also one of my top recommendations.
How do you join ClixSense?
It is very easy and fast to sign up. Just click the button below. This will take you to the ClixSense website, where you have to fill out a small registration, and then you can start earning.
The first time you log in, you have to fill out a little info about yourself, which only takes a few minutes. It is, of course, free to join.
If you have any comments, questions, have any experiences with ClixSense yourself, I would love to hear from you in a comment below.
ClixSense
Money/time ratio

Frequency

Usability
Summary
ClixSense is one of my favorite survey sites and one of the sites I have had the most success with. It can take a bit of patience at times, but it offers several good ways to earn money, it has good opportunities for many countries and some great extra bonuses.
Overall definitely a site I recommend.