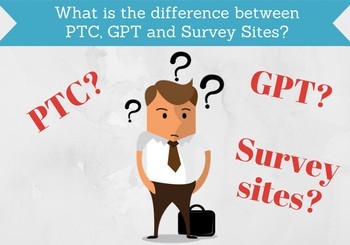 If you have looked into making extra money online for free, you have probably come across terms like GPT sites, PTC sites, and survey sites.
I myself also use these terms in many of my articles and reviews here on PaidFromSurveys.com.
I know these terms can be a bit confusing, so in this article, I will once and for all try to make it clear what the difference between these types of sites is.
After reading the article, you will know exactly what the different types of sites have to offer, and what types of sites are the best for you to join.
Does it matter if it is a GPT, PTC, or survey site?
So does it even matter what kind of site you join – GPT, PTC, or a survey site?
Well, that depends. All 3 types can help you make some extra money, but there can be big differences in the earning potential.
Also, the ways to earn can vary even though they also have some similarities. So it matters in the sense that it is more fun for you to earn if you join sites that offer opportunities you find interesting.
This becomes a lot more clear once I have explained what the different types offer.
GPT sites explained
GPT is short for Get-Paid-To. But what can you get paid to do?
GPT sites in general offer a lot of different earning methods, and the opportunities vary from site to site.
Most GPT sites offer you to earn by taking surveys, taking paid offers, by watching videos, signing up for free trials, downloading apps, playing games, and more.
Many of them also have free contests, where you can be lucky and get a good extra prize.
GPT sites come up with new ways of earning all the time, and the above-mentioned examples are just examples – some sites have many more ways to earn.
The great thing about GPT sites is that you can almost always find a way to earn. However, some of the earning methods give very low rewards, so you have to be selective in the tasks you do.
Examples of great GPT sites:
3 popular and very reliable GPT sites are (click to read full review):
Survey sites explained
Survey sites are usually very simple to use, and what I call survey sites are mostly just offering you to take surveys and earn this way.
As mentioned above, most GPT sites also offer paid surveys, whereas "pure" survey sites only offer paid surveys (+ maybe free contests or bonus programs).
Because survey sites do not have a lot of different earning methods, you will also not have as many daily opportunities as you mostly have on GPT sites.
But that does not mean they are not worth joining. They can still give good opportunities and are usually very easy to use. And they are a great way to have your opinion heard on important topics – companies and governments etc. actually listen to the feedback you give in surveys.
Examples of great survey sites:
5 of my favorite survey sites that all very easy to use and give a good amount of surveys:

PTC sites explained
PTC is short for Paid-To-Click. Usually, they are sites where you get paid to click ads and watch them for a certain amount of seconds.
Sites that are mainly PTC sites sometimes also have surveys or other offers. So it can be difficult to completely differentiate between the different types of sites.
But on PTC sites the main way of earning is usually by clicking ads and the other earning methods usually give lower rewards than if you take them on GPT sites.
The advantage of these types of sites is that you can always earn no matter where in the world you are from. The disadvantage is that if it is a site that only offer PTC ads, the earning potential is very low, as the reward per click is very low.
I also have a full PTC guide you can check out for more details about what these sites are and what you need to be aware of before joining them.
Examples of PTC sites:
I honestly do not recommend joining pure PTC sites (will explain more about this below), but I will still list some sites here so you can take a closer look if you want to test them for yourself:
What kind of sites are best to join?
Now you have a good idea about what the difference between GPT, PTC, and survey sites are, but which ones are best to join?
First of all, as you can see there are some similarities and surveys are for example also offered on many GPT sites.
So there is an overlap between some of the sites, but now you know, when you hear one of these terms in one of my articles or somewhere else, what they refer to.
Personally, I think paid surveys are great, as you can earn a little extra AND get paid to say your opinion.
But GPT sites are also very good to join as they often have many ways of earning. Remember to use some of these other earning methods as well, if you join GPT sites. It can really give you more opportunities and boost your earnings.
I am not a big fan of pure PTC sites. There is a lot of controversy around these, as it is easy to cheat there, and some payment methods like, for example, PayPal will in most cases not work with pure PTC sites.
That a site has the PTC option does however not make it a bad site, but you should be careful if you google PTC sites and start joining whatever you can in this area, and you should also be aware of the limited earning potential.
Final thoughts – the best cocktail
I find the best solution is to combine mainly GPT and survey sites. The simplicity of the survey sites makes them very easy to use, and the amount of earning methods on GPT sites will give you good chances of earning, even on days when you cannot find available surveys.
You can check out the best survey sites in your country here.
and
You can check out the best GPT sites here.
The sites on these lists are definitely a great place to start if you want to make some extra cash online completely for free.
If you have any comments, questions, or have any experiences with GPT sites, survey sites, or PTC sites yourself, I would love to hear from you in a comment below.