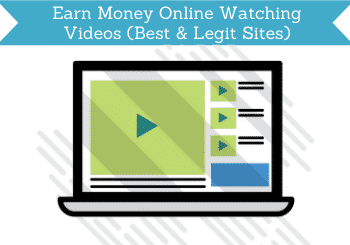 One good way to earn extra cash is by joining a site that will allow you to earn by simply watching videos.
To earn from watching videos, you have to register as a member of a site that offers this kind of earning opportunity.
Fortunately, there are plenty of sites that do. But the problem with that is, since there are many options to choose from, it can be quite hard to figure out which sites to join.
This guide will help you find out the best sites to join to earn money online watching videos. I will list 13 of the best and legit sites where you can get earn rewards completely for free.
Disclosure: Some articles on this website contain affiliate/sponsored links. Click for more info.
How can you earn by watching videos online?
Sites that offer this kind of earning opportunity are called Get-Paid-To (GPT) sites.
As you can probably tell from the name, you get paid to do tasks to earn rewards (including watching videos). Aside from watching videos these sites also offer other earning opportunities.
But in this guide, we'll focus more on how you can earn by watching videos from these sites. The videos you will have to watch will cover more or less any topic so it can be entertaining.
In between the videos, there will usually be ads you have to watch (this is the reason the platforms can afford paying you to watch).
The actual process of earning from watching videos is pretty easy. All you have to do is, once you're logged in to the site dashboard, just click the video offer and it will open a new window where the video will be played.
Most of the sites will ask you to stay on the video page in order to earn the rewards, but some don't. As you can probably tell, the more beneficial kind are the ones that won't require you to stay on the page because it will allow you to do something else, like do other tasks to earn more rewards.
Nevertheless, this is probably the easiest earning opportunity you will encounter on GPT sites.
How much can you earn?
When becoming a member of a site that offers this type of opportunity, it is important to temper your expectations.
Let me just say right away, the earning potential for watching videos is not very high. This type of offer will not typically pay you a lot since it doesn't really require any effort on your end.
In fact, you can earn when you are not even at your computer as the videos can just run when you are not watching.
Another good thing is, this is not the only way you can earn from a site that offers this type of earning opportunity. As mentioned, GPT sites have other ways of allowing you to earn extra cash.
So, if you do those other tasks and boost it with what you will earn from watching videos, you stand to earn a decent amount in the long run.
Watching videos won't be your primary method of earning from a GPT site, but it can serve as a decent supplement.
Also, it is recommended to join around 5-7 GPT sites that offer this type of earning opportunity so you can earn as much as you can without becoming too overwhelmed by what you have to do.
Since all these sites are free to join, membership fees won't be an issue. It will just boil down to how much time you want to spend on these sites.
13 best sites to earn rewards watching videos
This article will not list all the sites where you can earn by watching videos. It will instead list down what I think are the best sites you can join so you can earn by taking advantage of this type of earning opportunity.
The defining quality of most of the sites on this list is their good earning potential. So, if you join any of these sites, you will surely earn a decent amount of money.
I will keep updating this list if there are any new good sites to join so make sure to bookmark this page.