PTCShare, as the name implies, is a Paid-to-Click (PTC) site that claims to reward you for clicking the ads available.
For all intents and purposes, PTCShare is a legit PTC site. But that doesn't mean you should sign up right away.
This PTCShare Review will examine all the opportunities this site has to offer, so you can determine if this site is for you or not.
And with all the negative feedback PTC sites usually get, it is in your best interest to read this review. So let's get started.
What is PTCShare and what does it offer?
As mentioned above, PTCShare is a PTC site that will reward you for completing tasks, clicking ads and a whole lot more.
PTCShare is structured much like Paidverts mainly because the team that launched Paidverts is the same team that is managing PTCShare now. They have just recently launched and already have thousands of members.
Normally, with PTC sites, you will have several ways to earn an income. Let's take a closer look at these earning opportunities so you can understand how the site works.
I have made a video walkthrough that will show you exactly how PTC Share works and how to use it. You can also read all the details below the video:
Option 1 – Paid Offers
Paid offers are among the ways you can earn money on PTCShare.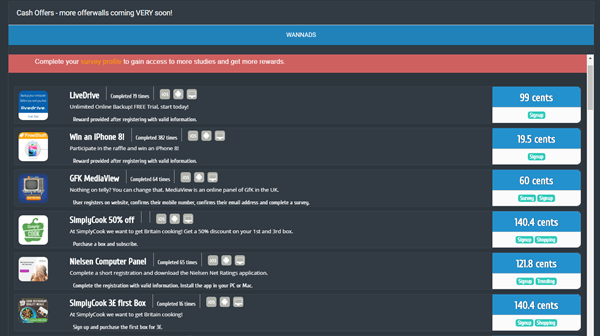 You usually see paid offers on Get-Paid-To sites, but they are also available on PTC sites. With paid offers, you can earn rewards by completing offers.
These offers will usually ask you to register to a website, play a browser-based game, participate in contests and raffles and a lot more.
But just to make things clear, PTCShare doesn't have its own paid offers. What they do is they route you to other sites that provide paid offers.
Although this type of offering does ensure that you have a lot of paid offers available, the number of available offers on PTCShare is not as high as on other sites and the rewards are also not as high.
But you can find some good offers here if you have the patience to look around and navigate through all the ads that constantly pop up everywhere on the platform.
Option 2 – Paid Surveys
PTCShare also has paid surveys you can do to earn rewards.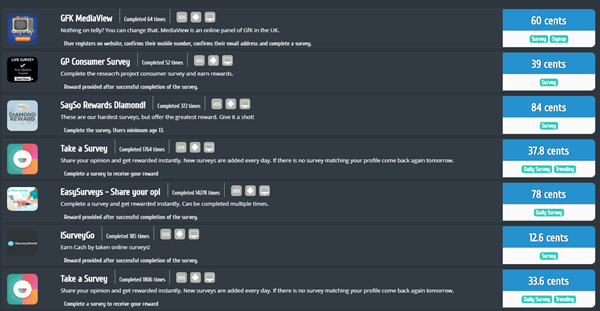 Just like their paid offers, the paid surveys offered by PTCShare come from other sites. To access the paid surveys available, you have to click the Cash Offers tab on the dashboard and click the Surveys sub-tab on one of the offer walls there.
You will then see a list of paid surveys available. Clicking one will redirect you to the page where the survey is available.
One thing to note though is when I tried clicking one of the paid surveys, it keeps redirecting me to a blank page that says the campaign is not available at the moment.
I'm not sure if the survey has already expired or if there is something wrong with the link. But anyway that sometimes happens with surveys on survey routers like this.
So if you run into this, you just need to try other surveys instead.
The listing of the paid survey will tell you how much you will get after completing it, as well as other relevant requirements like minimum age to take the survey.
Normally, with survey routing, once you get to the site that offers the survey, you will have to answer several qualifying questions first before you can proceed to the actual survey.
This is done to determine if you indeed belong to the demographic group they are targeting. The good thing is, they will tell you if you don't qualify so that you don't have to waste your time answering a survey you won't get rewarded with.
Be aware that it can take some patience to find the surveys you qualify for on PTCShare but it does have a decent amount available.
Option 3 – Paid Ads
Paid ads are the bread and butter of PTCShare.

To get to the paid ads section, all you have to do is click the Paid Ads tab on the top of the dashboard.
You will then see the photo above. To view the ads and earn the rewards, click the View Paid Ad button in the middle (refer to the photo above).
Now, here's the tricky part.
In order to view ads, you will actually need Bonus Ad Points (BAP). Think of BAP as the currency to view ads and do other stuff on PTCShare.
So before you can view the ads they offer, you will have to accumulate BAPs. You can do that by clicking the activation ads (refer to the photo above).
By clicking these activation ads, you will receive BAPs, which you can then use to watch more paid ads.
Keep in mind, you will only have 8 activations available for you every day and each activation ad will only reward you with 5 BAP.
So, every day, you will only have a total of 40 BAPs you can spend to view paid ads. But if you want to have more BAPs, you can purchase their ad pack which will include 2360 BAPs.
Aside from the BAPs, you get when you buy an ad pack, you will also be able to promote your site because it will allow you to create an ad campaign. I won't get into too much detail about this because this isn't really considered as an earning opportunity.
In my opinion, the fact that you have to spend in order to view more paid ads is really counterproductive. In the first place, you are here to earn money instead of spending your own.
You could argue that you can earn more if you have more BAPs.
But if you really think about, you really won't be earning a lot because most of the BAPs you get will be spent just to get back the money you spent to buy it in the first place.
You are better off just doing the daily activation ads and waiting for the next day for it to refresh so you can do another round.
But overall the PTC system on PTCShare is just overly complicated. Usually, PTC options do not give you high rewards and with this extra layer, it just means you get an even lower value for your time.
Option 4 – Click Grid
And just like Paidverts, PTCShare also offers the click grid contest.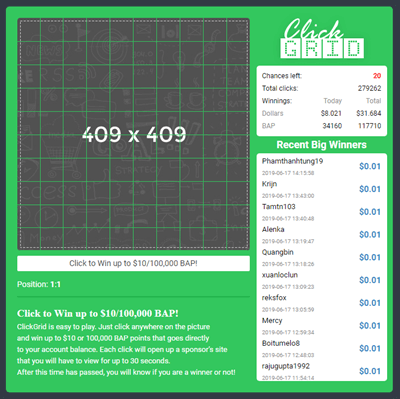 If you are not familiar with click grid, it is a form of contest you can join where you get to win a prize by opening a specific grid of an image.
Once you click on a grid, a new page will pop up displaying an ad you will need to view. Once you finish viewing the ad, the grid will then be opened, and you get to see if you win a prize or not.
Initially, you will have 20 chances to open a grid. Once you've used up all your chances, you can only open a grid by spending BAPs.
The image will have 100 grids all in all. So if you think about it, you have a 20% chance to win a prize. You can win up to up to $10 or 100,000 BAPs.
It might sound enticing, but I recommend you refrain from spending BAPs just to open grids. Remember, you have a limited amount of BAPs you can earn for free.
Option 5 – Referral Program
You can also refer friends to PTCShare and earn rewards.

As shown in the photo above, you can earn 7% commission for every ad purchase that your referral does. Aside from that, you can also earn 3% commission for the income they earn from viewing paid ads.
It might sound a lot, but the reality is, you really won't earn a lot.
Remember, the paid ads you can view will only be limited per day. And to top it off, each paid ad's reward is very small.
So don't expect to earn a lot from this, unless your referrals spend a lot of money to buy ad packs.
This is the problem with this type of website. In order for you to earn a significant amount of money, you have to shell out some of your own, which in my opinion, really defeats the purpose.
How do you get paid?
For every paid offer, survey or ad you complete, you will be rewarded with a small amount of money.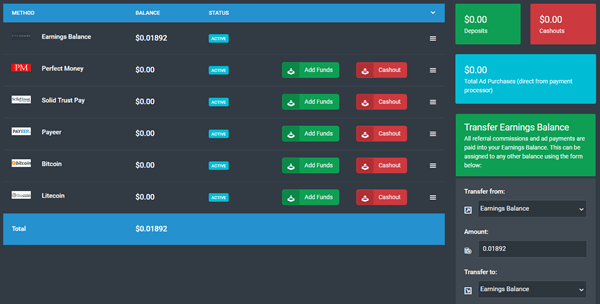 The money you earn will be stored in your account balance. You can then withdraw the balance in your account. You have several ways to do that as shown in the photo above.
There are plenty of ways you can withdraw your money, but unfortunately, PayPal isn't one of them. The reason why I mentioned PayPal is it is the most convenient payment method available.
So if you prefer receiving your money through PayPal, here's a list of the best sites that pay through PayPal.
Withdrawing the money from any of the available payment methods on PTCShare is pretty straightforward. Simply choose the payment option and click cashout. You can then input the amount you wish to withdraw.
According to their website, the cashouts are processed within 7 days.
They do have a 14-day cashout limit, which means that if you deposit/cashout with one payment processor, you will be unable to withdraw with any other but that processor for the next 14 days.
Unfortunately, there is no information on their website about the payment threshold you need to reach before you can withdraw your earnings. I assume this will depend on the payment method you choose.
How much money can you make?
Now here's the most important part. The answer to this question will really depend on how active you are on the site.
But let me just say right away, if you plan to become a member of PTCShare, don't expect to earn a significant amount of money. That's because the amount you will earn for their offers, surveys and ads will be very low.
The rewards you will get will range from $0.0005 to $1. You will mostly see $1 rewards on the paid offers. But don't expect to get a lot of it.
As for the paid ads, remember, you will be limited to 40 BAPs daily. So your earning potential from paid ads will be quite limited. And when I tested their paid ads, it seems like every paid ad you view will deduct 4 BAPs.
As shown on the photo in the Paid Ads section of this review, you only stand to earn $0.0005 per ad. So in a day, you can only earn $0.005 from paid ads.
In my opinion, this isn't very surprising because the earning potential from PTC sites is really the lowest among online reward platforms. Here's an explanation on why becoming a member of a PTC site is not really recommended.
Can you use it on mobile?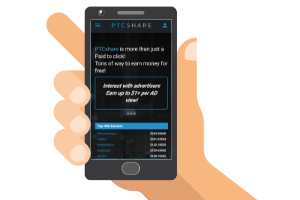 There is no mention on their website about a PTCShare app you can download and install on your mobile device.
So that leads me to conclude, if you want to use this site on your mobile device, the only way to do that is by using a mobile browser.
Upon checking, fortunately, it looks like the mobile version of their site is optimized for mobile use. This means you can view all the content properly without having to scroll left and right or zoom in and out.
At the very least, this will allow you to work on paid offers, surveys and view paid ads even when you are not at home.
This can help you at least, be a more efficient earner because you can work on the site even while you are on the road or standing in line in the bank, etc.
Who can join PTCShare?
The one redeeming quality of PTCShare is that it is open to the US and International members. So anybody can sign up and be a member as long as they are 16 years old and above.
It is, however, limited to one account per household. One thing to note after you finish signing up for the website, you will also receive 100 BAPs as a bonus. It's a good starter pack so to speak.
Once you become a member, you can upgrade your membership status.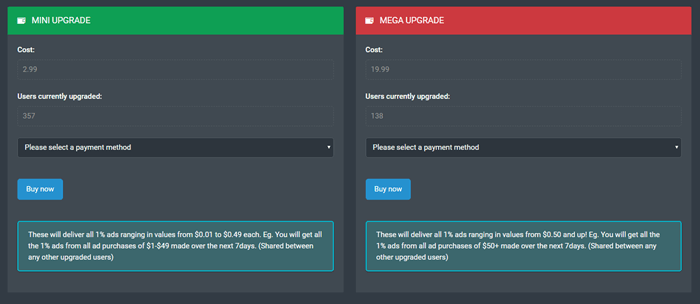 You can choose the mini upgrade, which costs $2.99.
If you upgrade to this, you will get priority in receiving ads when somebody buys an ad campaign bundle. The rewards for the ads will range from $0.01 to $0.49 each. This upgrade will last seven days.
For the mega upgrade, it will cost $19.99. It's almost the same as the mini upgrade. The difference is, the rewards for the ads will range from $0.50 and up instead. This upgrade will also last seven days.
As of the moment, these upgrade options can be paid via your earning balance.
Can you get support?
PTCShare does have a FAQ section, which in my opinion, really isn't comprehensive. It doesn't cover all the basic questions.
Fortunately though, if you have questions that are not answered by their FAQ section, you can use the contact form provided.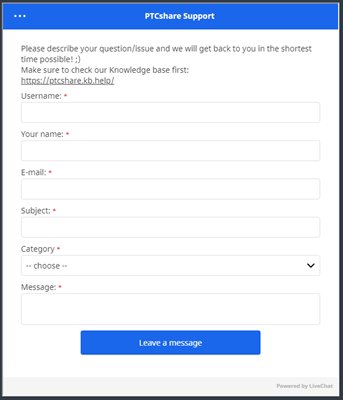 I also checked if they have any social media pages and they do have a Facebook page. The downside is, they haven't posted a lot yet. But that is not surprising since they are a new website.
You can also message them if you have any inquiries. They typically reply within a day. So if you are in a hurry to talk to a representative of the site, you can try their Facebook page.
Overall though, they have a limited avenue for support, which is not a good thing.
Final Verdict
PTCShare is a legit PTCShare that is almost identical to Paidverts. This not surprising because the same team that made Paidverts is also the same team that did PTCShare.
Even though it is a legit PTC site, it is not necessarily worth it. So to further help you with your decision on becoming a member or not, here's a summary of its pros and cons.

Pros:
Several earning opportunities
Several payment methods

Cons:
Low rewards
Time-consuming
Limited avenue for support
Not very user-friendly
I mostly don't recommend you join PTC sites due to the fact that the earning potential is really just very low.
As you can see, even though they have several earning opportunities, the potential income is still very low unless you upgrade your membership level.
The idea that you have to spend more in order to receive more is really just a big NO for me. There are simply better opportunities out there that you can invest your time and effort on.
I recommend you check out the top GPT sites instead. The sites listed here are proven and tested to provide a decent earning potential.
If you have any comments, questions, or have any experiences with PTCShare yourself, I would love to hear from you in a comment below.