Paidverts is a Paid-to-click (PTC) site that offers you the chance to supposedly earn real money just by clicking.
But is Paidverts legit or a scam to stay away from?
Let me reveal right away that it definitely is a legit site, but the question is if it then is worth investing your time and effort there.
I have tested it myself and have compared it to the MANY other PTC sites I have tested, and this Paidverts review will show you all the details about what the earning options are and what to expect, so you can make an informed decision whether or not this PTC site is for you.
What is Paidverts, and what does it offer?
As mentioned above, Paidverts is a PTC site that rewards its members with real money. And let me just make it clear right away that Paidverts.com is real and not a fake site – you can actually earn.
Once you become a member of their platform, you can then start using their offers so you can build up your balance and get your payout.
When it was first released, Paidverts was a promising PTC site that looked to revolutionize how PTC sites work. It offered dollars instead of cents when it first started.
So naturally, people started flocking to it. But then, after some time and a few setbacks, it began to lose money. So the founder sold it to a different company.
Then the business model of Paidverts changed. Instead, it now operates using Bonus Ad Points (BAP) as its main currency, which can then be changed into real money. We'll discuss more about how that works in another section.
But basically, here are the earning opportunities you can find on Paidverts so you can see if it has what you are looking for.
I have created a video walk-through and tutorial that will show you everything about how Paidverts works. You can also read all the details below the video:
Recommended: Click to See the Top GPT Sites
Option 1 – Get paid to click ads
The main source of income in Paidverts is through clicking paid ads – that is why it is mainly known as a PTC site.
But it isn't as straightforward as you think, where you just click ads and earn instantly.
The first thing you have to do is accumulate BAP. The amount that you will be paid will rely on the BAP that you've accumulated.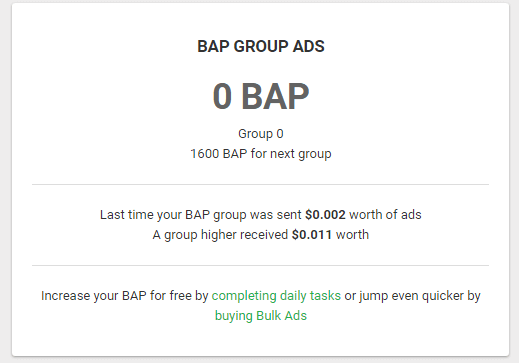 So, the first thing you need to do is to accumulate BAPs before you start watching ads.
Every day, you will receive a set of 16 activation ads that will let you earn BAPs.
Those 16 activation ads will let you earn 400 BAPs every day. This is what you will use to earn real money. To put it simply, the ads you will receive will be derived from the BAPs you've accumulated.
The more BAPS you have, the more paid ads you will receive.
This is quite complicated for a PTC site where the earning method is usually more straightforward.
But it is a real way to earn, but as always, with PTC options, it will not be a way to make big money.
Option 2 – Click Grid
Click Grid is a form of a game that gives you a chance to win cash or Bonus Ad Points. If you have used other PTC sites, this option will likely seem familiar, as many similar sites use this as well.
The premise is that you will be shown an image divided into grids. You simply choose which grid to click.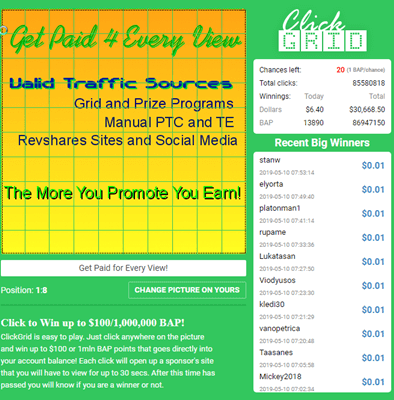 Every day, you will be given 20 chances to click one grid. Each click will cost 1 BAP. When you click a grid, it will open up a sponsor's site that you will have to view for at least 30 seconds.
Afterward, it will show you whether or not you win. It's a clever setup that is actually designed to let you spend BAPs.
If you think about it, that's only 20 BAPs a day, and you will get a chance to either win a hundred bucks or a million's worth of BAP.
Compared to other sites that offer Click Grids, this is actually a pretty high reward you can win.
But you, of course, have to be very lucky to get it, and most rewards will be a lot smaller, so do not plan on consistent big money this way.
Option 3 – Cash offers
Cash offers are a more straightforward way of earning money on Paidverts.
This mode of earning allows you to earn cash right away by simply clicking the offers available.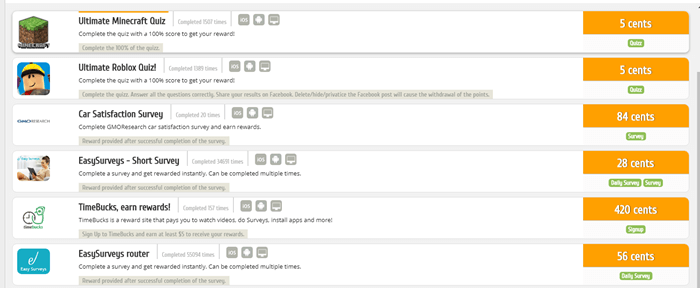 This works just like any Get-Paid-To (GPT) site. You see an offer you like and click it. Then you have complete whatever the offers say you have to do to get the rewards.
Sometimes you have to complete a quiz, sometimes it asks you to register on a website, and other times, you have to take a survey.
In my opinion, this is a faster way to earn money, if only the rewards were a bit higher. As you can see in the picture above, most offers will only reward you with cents.
Many of the exact same offer walls are actually available in several GPT sites, and on a site like ySense you, for example, get better value for your time for many of the same offers, in my opinion.
Higher-yielding offers require more work, which is really what you would expect.
Some offers can be really good while others are not – so make sure to read the exact conditions for each offer before taking any.
Option 4 – Games
Another way to accumulate BAPs is to play games.
When you click the Games section, you will see a list of games available that will let you earn Bonus Ad Points.

The idea is simple. You play the games listed, and you will earn BAPs.
The problem here is that it is a time-consuming way to earn BAP. As you can see in the picture above, you will only earn a very minimal amount of BAP for each game that you play.
And if you want to accumulate more, you have to play more, which will then lead to more time being consumed, which in my opinion, is better spent doing something else that will yield more rewards.
Option 5 – Referral program
Paidverts also has a referral program that lets you earn a bit of money by inviting others to join the site.
It's a type of passive income where you earn a bit of cash for every referral you make.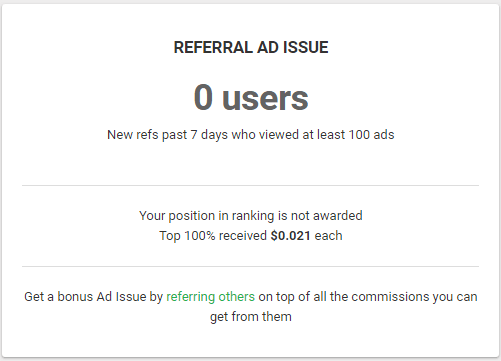 You will find your referral link when you log in to your dashboard and click the link that says "referring others" in the photo shown above.
This is actually a pretty common method of earning on PTC sites.
Also, you will earn 10% of the earnings of each ad that your referral views or clicks.
That might seem a lot, but considering that each ad will only allow you to earn a few cents at most, don't expect to earn a lot unless your referral is very active on the site.
Option 6 – Buying ads
This method of earning will actually ask you to spend some money before you can earn.
When you buy an ad pack worth $1, you will actually receive several benefits. One, you will receive 2400 BAPs outright.
Then you will receive 50 visits of 30 seconds each to the website of your choosing. And lastly, you will also get 50 impressions on your banner ad.
Of course, you will have to create a campaign in order to receive the benefits of the other two.
If you are new to PTC, I recommend you don't invest in this as it will really take time to earn back the money you spend.
Also, I am a bit apprehensive of offers that will let you spend cash first before you can get something out of it. There are plenty of other ways to earn real money that won't involve you shelling out some cash.
I suggest you read up first on what PTC, Get-Paid-To, and Survey are in this guide so you will learn what the differences are and you can find out how you can better spend your time earning real money.
Paidverts Membership Options
Paidverts does offer options to upgrade your membership. These upgrades are called Super User Upgrade.
These upgrade options are geared towards allowing you to earn more, or so they claim.
Mini Upgrade
The mini upgrade costs $2.99. This upgrade will last for a full 7 days.
When you purchase this upgrade, Paidverts will deliver all 10x 1% ads ranging in value from $0.01 to $0.49 each.
To put it simply, you will get priority in receiving ads when somebody buys an ad campaign bundle.
For example, if someone buys a $100 ad campaign, it will create 10 $1 ads which will be distributed randomly to all the users. But if you upgrade your membership, you will get priority and get better chances of getting those ads.
Keep in mind, though, that you will have to share priority with other members who also upgraded their membership.
Mega Upgrade
This upgrade costs $19.99 and will also last for a full 7 days.
It works just like the mini upgrade. The only difference is that it will deliver all 10x 1% ads ranging in value from $0.50 and above.
Another assurance that both upgrades will work in your favor is that in case your upgrade doesn't deliver at least $2.99 or $19.99 worth of paid ads, respectively, it will automatically extend for an additional 7 days.
Then, it will continue extending for 7 days until such time that the minimum ad quota is delivered.
That's a good assurance. But in my opinion, it still won't be worth it for the simple reason that why would you need to pay for something that you should be able to get for free?
In general, I do not really like when sites like this charge you a fee. But compared to other PTC sites with paid membership options, the prices for the Paidverts's membership are at least more reasonable and you get the assurance described above.
So that is a good aspect compared to many other PTC sites, but still not good enough, in my opinion.
How do you get paid?
Now comes the important part of how you get paid.
With Paidverts, you actually have several ways to claim the money you've earned.
But let me just tell you right away, PayPal isn't one of them. If you prefer to redeem your cash rewards through PayPal, here's a list of the best sites that pay through PayPal.
One way to request payment is through Payza, which can be an alternative in some countries. However, Payza has been closed down in several countries, so it might not be the best option. But aside from that, here's a list of other payment methods you can request.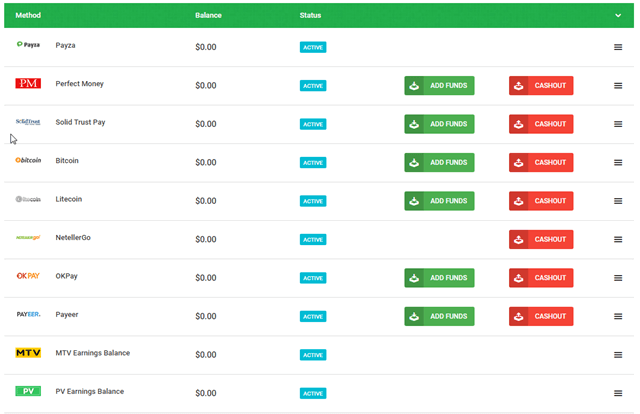 This is the one redeeming factor of the Paidverts platform. Being able to request payment from several different methods makes it more convenient for you to receive the money you've earned.
There are not a lot of sites that offer this many payment methods, so this is a good thing going for them.
To request a payout with one specific method, you can simply click the Cashout button and fill out the form.
Each payment method has its own minimum cashout amounts and fees, which are subject to change.
Unfortunately, I couldn't find any info for a general minimum threshold before you can start cashing out. I guess it will have to depend on which payment method you choose.
How much money can you make?
Here's the other million-dollar question. Before you join a platform, it is a good idea to get a good picture of how much money you can earn from it.
In Paidverts' case, let me just tell you right away, if you are looking to earn a lot, this isn't the website for you.
The value of 1 BAP is roughly equivalent to $0.0005. That's not a lot. So, for example, if you manage to accumulate 2800 BAPs a week, you can only earn a total of $1.4. That's a pretty low amount.
The only good payout I can see is if you are able to win the 1,000,000 BAP prize in the Click Grid game. That is equivalent to $500, which is not bad.
But you have to consider that you only have 20 chances per day to win that kind of amount, and each chance is worth 1 BAP. So, it will already deduct 140 BAP from your total if you play every week.
I also counted the number of grids which is 100. That leaves you with a 1% chance to win that pot money. That's a pretty risky move.
So, in my opinion, if you will play the numbers game, it simply isn't worth it.
If you take into account the referral program income you earn, it still won't be a significant difference since you will only earn 10% for each referral.
Let's say, for example, that each referral also earns 2800 BAPs a week. That means you get to earn $0.14 for each referral. It will only become significant if you have 100 referrals or more earning the same amount (which will total $14).
Then you have to factor in the time it takes to accumulate those BAPs. You will have to invest a significant amount of time just to earn enough BAPs.
The earning potential on Paidverts is simply very low when you also factor in the amount of time you need to spend, in my opinion.
Can you use it on mobile?
Paidverts has two ways you can access the site using a mobile device.
One, you can use a mobile browser to access their site and log in. The site is pretty responsive and will display all the content properly.
This version works just like in the normal desktop browser.
The other option is to download their mobile app and install it on your smartphone or tablet.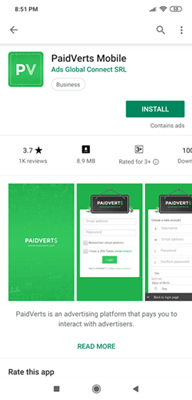 The app is compatible with both Android and iOS devices. So if you want a more convenient way of doing stuff in Paidverts, this is the more recommended option.
Who can join Paidverts?
One good thing about Paidverts is that anyone can join, no matter the country you live in.
All you have to do is click the register button, and it will take you right away to their registration form.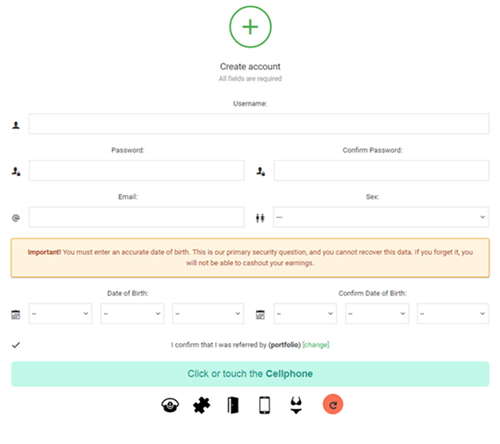 The registration process is fairly simple. You just fill up the required fields, and you are good to go. But this is typical with PTC sites. So there's no surprise there.
Can you get support?
What's unique about Paidverts is that they have a ticketing system for any issues that you will encounter.
All you have to do is log in to your account and click the contact button in the upper right-hand corner.

You then click the Browse Articles button for the specific type of issue you are facing.
Then you find the issue that you've encountered and click it. The contact form, as well as other info to resolve the issue, will be displayed.
The tickets you've opened will also be displayed at the bottom (refer to the picture above), as well as the previous tickets that you've submitted that have already been resolved.
A quick look at their Facebook page also shows that they engage with the people that commented to their posts. This shows that they at least put an effort to resolve any issues that members encounter.
Final Verdict
Paidverts is a PTC site that offers real money for clicking a few ads and playing a few games.
It is not a scam but a legit site that pays its members immediately.
But to further gauge whether or not it is a good site to join, it is best that you weigh the pros and cons so you can make an informed decision before you join. So let's finish this review by summing up the pros and cons.

Pros:
Has plenty of earning opportunities
Has plenty of payment methods you can choose from
Uses a ticketing system for a more organized support method

Cons:
Low rewards
Very time consuming
Not very user-friendly
Overall, Paidverts is not a site that I would recommend you join. It simply doesn't offer high rewards. You have to invest a significant amount of time just to earn a good amount, and it takes time to learn to use the platform as it is not very user-friendly.
It isn't surprising that you won't be able to earn a lot, actually since this is really how PTC sites work. In my opinion, you are better off investing your time in GPT or survey sites that yield higher rewards.
Therefore, I recommend you check out the best survey and GPT sites in your country.
If you have any comments, questions, or have any experiences with Paidverts yourself, I would love to hear from you in a comment below.