I recently received an email saying PaidForResearch.com was looking for new members and since I am always testing new survey sites, I decided to give it a try.
But what I found was not what I expected.
In fact, it ended up being one of the worst survey experiences ever after having tested hundreds of sites.
This does not necessarily mean it is a scam but you definitely need to know exactly what to expect not to get disappointed.
This PaidForResearch.com review will give you all the details and show you exactly what you really get so you can see and judge for yourself.
What is PaidForResearch.com and what does it offer?
There is not much information about the company when you first come to PaidForResearch's website.
But the first thing you see is a big counter showing the number of available memberships is limited and it keeps counting down quite fast.

However, this is just a trick so do not let this stress you out and feel you have to sign up quickly – I tested it on a different browser and the number was then back up again.
So it is clearly just a trick to push you into signing up fast.
I hate when sites use tricks like this and already at that time I had a bad feeling about Paid For Research.
But I still decided to give it a chance as the rest of what it explained looked decent.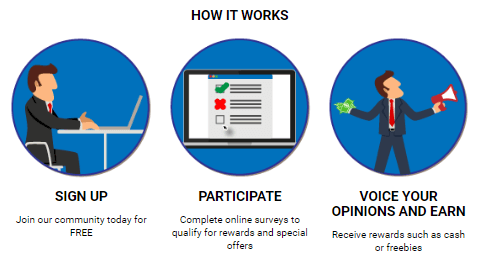 It claims you can sign up, participate in surveys, and earn by doing this.
That is how survey sites usually work and there are hundreds of legit sites like this.
So I decided to test it further but kept my skepticism and that turned out to be a good thing. Let me show you what really happens after you join.
I have created a video that shows everything so you can see exactly how it works. You can also read all the details below the video:
What happens after you join?
To sign up PaidForResearch.com, you just have to give your email and a bit of basic information about yourself – there is nothing unusual about this.
But what happens after you have filled out the registration form is very different from what happens on regular survey sites.
You get a long list of different offers you can say yes or no to.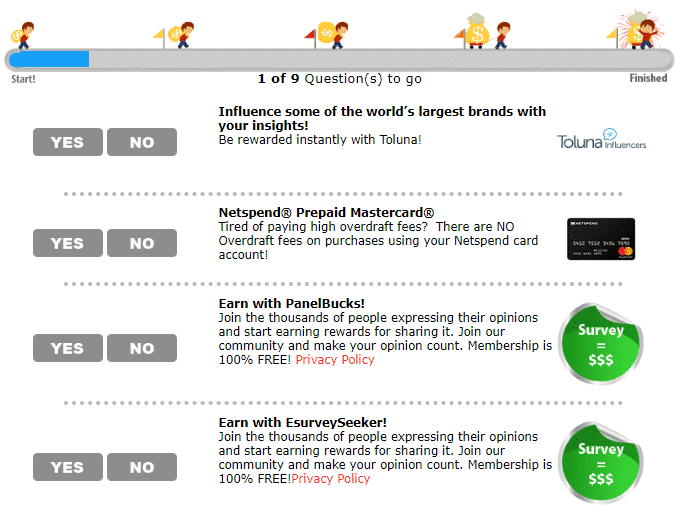 The image above just shows a few of the offers. In fact, there were around 20 offers just on the first page.
And as you might be able to see at the top of the image, this was just screen 1 out of 9.
You have to say either yes or no for each of these offers to continue your registration.
If you say no, nothing happens, but if you say yes, you have to fill out more info to register for each of these "opportunities".
There was a big mix of different types of options.
I found some legit survey sites that were promoted like Toluna Influencers and SurveyJunkie. But the majority of the offers had nothing to do with paid surveys.
You can, for example, find offers for supplements, credit cards, loans, lawyers, life insurance, free trials, biz opps, and much more.
What worried me about this was that there seems to be no filter and it seems PaidForResearch is just promoting whatever they can get paid to promote without thinking about the quality.
Yes, there might be a decent offer once in a while, but I also saw a lot of what I would call really poor offers.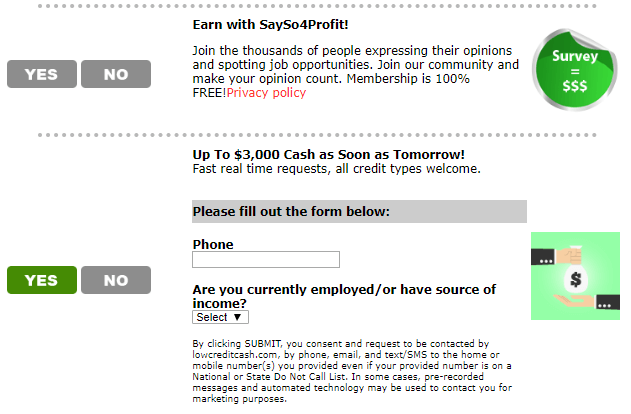 I, for example, saw them promote a survey site like SaySo4Profit which is a site that is also just full of promotional offers and no actual paid surveys.
Also, as you can see an example of in the image above, there are several of these "get money fast" type of offers. These are always something to be careful about, in my experience.
In general, you need to be aware that for many of the offers, you agree to be contacted by the advertiser if you say yes as you can see in the image above – and in some cases also by their partners.
So make sure to read the conditions carefully before saying yes to any offers (in general, I would just stay completely away from PaidForResearch's offers).
Anyways, after finally getting through 9 screens full of promotional offers, I finally got to the end and was told I now got a special offer and could earn $350+.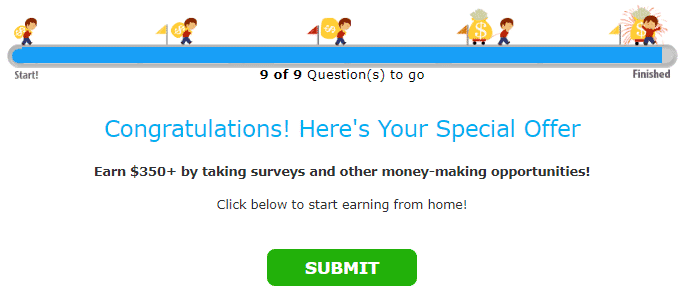 So I, of course, decided to see what would then happen.
And all I was then taken to was this screen:

It was just simply a big white screen saying "Thank you".
There is no members area of PaidForResearch.com and you do also not get any more information about this so-called special opportunity.
So you are basically just taken through a lot of promotional offers (and many of them are very poor, in my opinion) and then you have given them your contact details and that is it.
You never get to actually take any surveys – you just sign up to give them your contact info and go through a lot of offers they get paid to promote and then you get a big white screen saying "Thank you".
This in itself, is bad enough and good enough reasons to stay away from PaidForResearch.com, in my opinion.
But I actually found some even more worrying things you need to consider as I will show you below.
Further BIG red flags
I think the above is bad enough, but if you are still not sure if you should join PaidForResearch or not, there are a few more things you need to consider.
Red flag #1 – The conditions before signing up
When you sign up, you have to agree to the terms and conditions like on any other site or service you sign up for.
However, when you pay attention to the terms of PaidForResearch.com there is something unusual.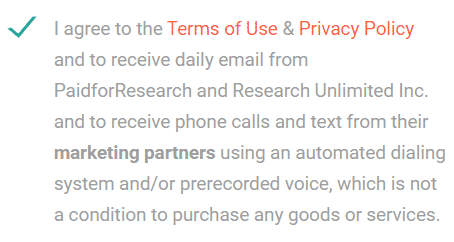 You agree to receive phone calls and text from PaidForResearch and Research Unlimited Inc. and their marketing partners.
You are, however, not able to see a list of these partners, so you have no idea how many partners your information will be shared with.
This also means that already by signing up you have agreed to be contacted by advertisers even if you end up saying no to all the offers during the sign-up process.
This is definitely something to be aware of and if you do not want to receive phone calls and text from advertisers, you should definitely not sign up.
Red flag #2 – The $100 joining bonus is not real
When you look in the FAQ section of PaidForResearch.com (which is very poor btw.), you can see something very promising.

It says that just by taking their initial sign-up survey (meaning going through all the promotional offers) you will earn up to $100 according to their terms.
However, I went through the terms they are linking to and I could not find these $100 mentioned anywhere.
And if you put that together with what you actually just get once you have signed up (a big white screen), it is clear that you should not expect to receive this.
I never received it and this complaint I found on BBB confirms the same.

So it seems like this claim about a quick $100 bonus is just a way to push you into signing up.
I kind of expected that as I have tested hundreds of legit survey sites and the maximum joining bonus you get is $5, so $100 did sound too good to be true.
But just be aware of that so you do not sign up planning to get this money.
Final verdict
There is really not much good I can say about PaidForResearch.com after testing it to be honest.
But let's still finish this review by summing up the pros and cons so you can get a full overview before making your final decision.

Pros:

Cons:
It is not clear what you really sign up for
Many of the offers they promote are poor
You agree to be contacted by undefined marketing partners just by signing up
They use a fake timer to push you into signing up fast
They make it look like there is a $100 joining bonus (which there is not)
There is no members area – just promotional offers
The only slightly positive thing I can say about PaidForResearch.com is that some of the offers and survey sites they promote are good options.
But you have no idea which ones and the lack of transparency about what you get before signing up is a big deal-breaker, in my opinion.
It is NOT a paid survey site and you will NOT be able to earn on PaidForResearch itself – you just sign up to give them your info and go through a lot of promotional offers before getting to a big white screen.
A complete waste of time, in my opinion.
If you want to earn a bit extra by taking paid surveys, you can check out some great survey sites in your country instead they are all transparent and sites where you can actually get paid to share your opinion.
If you have any comments, questions, or have any experiences with PaidForResearch.com yourself, I would love to hear from you in a comment below.