OpinionBar is a site that claims you can get paid to share your opinion. Now, the question is, is OpinionBar legit or is it just a scam?
This is a valid concern and this OpinionBar review will address it. I have registered as a member and tested the site and I will share with you everything the site has to offer.
That way, you are guaranteed that this is a real user review. Then, you'll know what to expect before you even join this site and can decide if this site really is for you or not. So, let's go ahead and take a closer look at OpinionBar, shall we?
What is OpinionBar and what does it offer?
OpinionBar is a survey site that will pay you for answering surveys. And yes, it is indeed a legit survey site since you will really get paid to share your opinion.
Now, the question is, how will you know if it is worth joining or not?
Well, the first step is to understand how it works and to do that, we must examine the earning opportunities it offers. So, here's how to earn from OpinionBar.
Option 1 – Paid surveys
The main way of earning from OpinionBar is by answering their paid surveys. Once you become a member of the site, all you have to do is log in to the site and check if there are any surveys available.
If there are surveys available, you will immediately see how long it will take to finish the survey as well as the reward you will earn for completing it. During my testing, the process was pretty much the same as on other survey sites.
When you answer a survey, you have to go through a qualification process. Then, if you qualify, you get to proceed to the actual survey. Once you complete the actual survey, you will receive the reward that was indicated in the offer.
The one thing I noticed when I was testing the site was, there weren't a lot of surveys available. The surveys that I did manage to answer were relatively easy and only took around 10 minutes to finish.
That's the one positive thing I can say about this site. It doesn't take up a lot of your time. But later on, I will discuss what this implies.
Option 2- Referral program
The other way to earn from OpinionBar is to participate in their referral program. In case you don't know what this is, a referral program is an earning opportunity you can usually find on survey and GPT (Get-Paid-To) sites.
To earn from this opportunity, you will have to invite other people to join the site.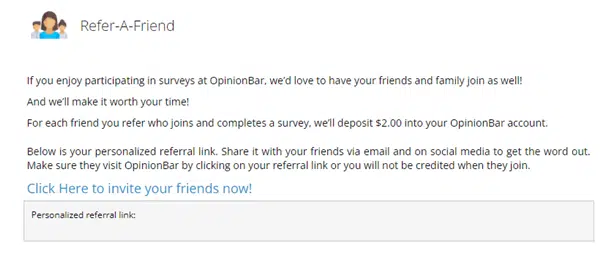 To do that, you will have to share your invite link with the people you want to invite. Then, if they click the link and register as a member, they will now count as your referral.
But, in order for you to earn, your referral must complete a survey from OpinionBar first. When that happens, you will receive $2 as a referral reward. So, make sure you invite people that are really interested in earning from OpinionBar. Otherwise, you won't really earn anything from this opportunity.
Recommended: Check Out the Top Survey Sites in Your Country
How do you get paid?
For every survey you complete, you will earn a certain amount and it will be credited to your OpinionBar account balance. The same goes for their referral program.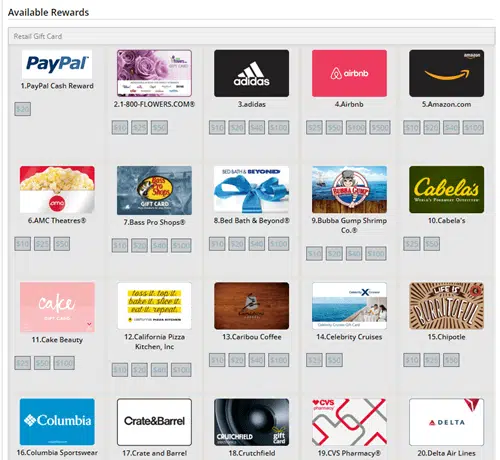 As you can see in the photo above, there are various options available in terms of rewards you can redeem. You can withdraw your earnings via PayPal once you've earned at least $20.
If you don't want to wait that long, you can redeem gift cards instead. Most give cards will only require a minimum of $10 of earnings for you to redeem. You can also choose to donate your earnings to some of the charities the site supports.
Their payment system is relatively simple and I like the fact that you have a lot of options. However, their payout threshold for a PayPal withdrawal is quite high ($20). So, you'll have to wait a long time before you can withdraw your earnings.
If you prefer sites with a lower payout threshold, I would recommend you check out the fastest paying sites instead.
How much money can you make?
Earlier, I mentioned that the site doesn't really have a lot of surveys. So, if there aren't any surveys available, your earnings will also be at a standstill.
That's the one big downside of offering limited earning opportunities. However, they do pay a decent amount per survey. You can usually earn around $1 to $3 per survey you successfully complete.
Keep in mind though that you won't always qualify for a survey. So, don't expect to earn from every survey invite you receive.
That's why I would say the earning potential of this site is quite low even though it pays a decent amount per survey. It will take a long time before you will be able to hit their payout threshold and redeem a reward mainly due to the lack of earning opportunities offered.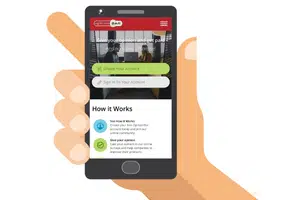 Can you use it on mobile?
OpinionBar doesn't have a mobile app you can download. But the good news is, their site is mobile-friendly. So, you won't have a hard time navigating on it when you are on your mobile device.
You also don't have to zoom in to read all the content properly which makes answering surveys from your mobile device a whole lot easier. This makes the overall user experience the site offers quite decent.
The reason why I say this is, most people nowadays prefer to work on their mobile devices if they can. So, having a mobile-friendly site is definitely a huge plus.
Who can join OpinionBar?
The site doesn't tell you exactly which countries it is available in. But, when you sign up as a member, you will notice that there are a lot of countries to choose from. If your country is listed in the options, then that would mean you can register as a member.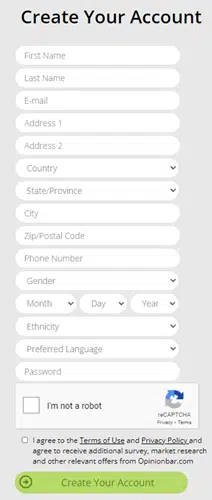 To become a member of their panel, all you have to do is fill out their registration form. Then, once you've submitted the form, you will be asked to answer a short survey. These are just basic questions necessary to build your profile so that OpinionBar will have an idea of what type of surveys to send your way.
When you are done with the profile survey, you can now log in to the site and start earning. During my testing, when I logged in to the site, there weren't any available surveys. It took a couple of days before I received a survey invite.
It might not be the same on your end though. That's the thing with survey sites that are available globally. The availability of surveys will usually depend on where you are located. Some countries offer more surveys than others (like the US, UK, and Canada).
Can you get support?
Their site doesn't really have a FAQ page you can refer to if you have any questions about the site or your account. But in their defense, their site isn't really complicated. That's why maybe they didn't feel the need to put a FAQ page.
So, if you have any questions about the site or your account, you should use the contact form provided on their website and send in your inquiry.
Overall, I would say the site has a decent support system in place for its members even though it doesn't have a FAQ or Help page because they do provide an easy way for you to get in touch with their support team. That's all you can really ask for from a website.
Final Verdict
OpinionBar is a legit survey site that will pay you for answering their surveys. It has a couple of good features, but it also has some limitations you need to be aware of.
Let me finish this review with a summary of its pros and cons to give you an overview of what the site has to offer. Then, you can decide if this site is really worth your time or not.

Pros:
Their site is mobile-friendly
Available globally
Offers payment via PayPal

Cons:
Limited earning opportunities offered
Doesn't have any FAQ or Help page
In my opinion, there's really nothing wrong with this survey site apart from the low earning potential it offers. I would only recommend you join this site if you really need an additional survey site to join. But I do have to warn you not to expect a lot from this site.
As I've mentioned earlier, their surveys are few and far between. So, it will take quite some time before you will be able to withdraw your earnings.
Now, if you are looking for primary sites to earn from, I would suggest you check out the top survey and GPT sites in your country instead. The sites on this list all have good earning potential and you will definitely find a site you can join regardless of where you live.
If you have any comments, questions, or have any experiences with OpinionBar yourself, I would love to hear from you in a comment below.