Are you looking for a survey site you can join to earn extra cash? Or perhaps you've already found one called Drumo and you are wondering if this site is worth your time?
Then, this article will help you find out if this is the right opportunity for you or not so you will know before signing up.
This Drumo review will give you an inside look and tell everything you need to know so you know exactly what to expect.
What is Drumo and what does it offer?
Let me just start by revealing that Drumo.com is indeed a legit survey site that will pay you for sharing your opinions.
It's a very straightforward site where you will be able to earn by simply answering surveys.
Now, if you want to know if the site is then worth it or not, you first have to take a look at how you will be able to earn from it. So, let's examine the earning opportunity Drumo offers.
The earning opportunity – Paid surveys
Drumo only offers one way for you to earn and that is by answering paid surveys. Although it sounds very simple to do, there are a few things you need to remember when doing paid surveys.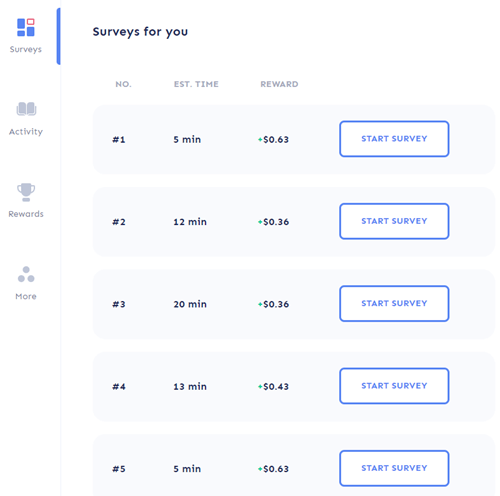 When you first log in to the site, you will immediately be asked to answer a short survey to get you started. This isn't actually a survey you can earn from but instead, it's a survey designed to build your profile so Drumo can determine the type of surveys they can send your way.
You have to answer this survey before you will receive any survey invitations for paid surveys. Once you complete the profile survey, you will then see all the available surveys you can take which is similar to the photo above.
As you can see, you will immediately see the estimated time it takes to complete the survey as well as the reward you will earn for completing it. To answer a survey, simply click the Start Survey button.
It will then open a new window that will ask you to answer a set of qualifying questions. These questions are intended to determine if you belong to the demographic group the survey is meant for. If you qualify, you will be redirected to the actual survey.
Simply complete the survey and when it is done, you will receive your reward. If you don't qualify, then you just have to move on to the next survey available.
A thing to note about the surveys Drumo offers is that these surveys aren't really made by Drumo.
Instead, they are surveys offered by other companies. So, they really only act as a survey router that will direct you to any available surveys by companies they have partnered with.
Now, why does this matter? Well, the main reason for this is, in my experience, the rewards you will earn from survey routers aren't always as high compared to the rewards from survey sites that offer their own surveys (I will discuss more about this later).
How do you get paid?
Every survey you complete on Drumo will earn you a certain amount and it will be credited to your Drumo account balance. You can then withdraw your earnings in several ways.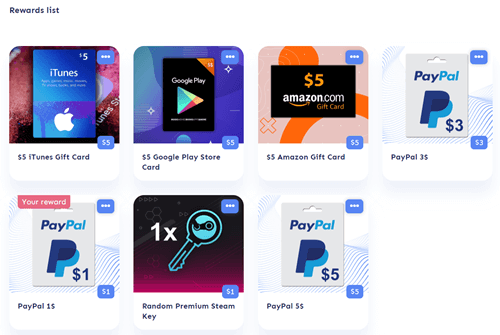 As you can see in the photo above, you can either withdraw your rewards via PayPal, or convert it to Amazon, Google Play, or iTunes gift cards worth $5. You also have the option to redeem a random Steam game key.
To withdraw your earnings via PayPal, you will only need to earn $1 (they also have $3 and $5 withdrawal options). For random Steam game keys, you will only need to earn $1 as well.
I like the fact that they only have a $1 payout threshold. This makes it easier to reach and you will be able to withdraw your earnings quickly.
If you are interested in more sites that have a low payout threshold, I recommend you also check out the fastest paying sites.
How much money can you make?
The amount of money you can make from Drumo will depend on the availability of the surveys and how well they pay.
As mentioned, Drumo only really acts as a survey router. So, the rewards you will earn will be noticeable lower than what you can earn from many other survey sites that offer their own surveys.
The reason for this is, when you take a survey from a survey router, a percentage of the reward for the survey will actually go to the survey router. That's how they make money.
So, why not just become a member of the site that offers the survey? Well, the main benefit of a survey router is, you will have more access to surveys without actually having to become a member of a survey site.
Essentially, you will have access to more surveys but at a lower rate. That's why I would say the earning potential of Drumo isn't really that good.
Can you use it on mobile?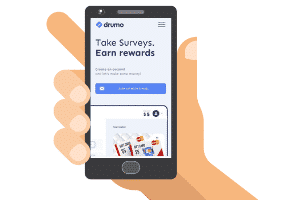 Drumo says they plan to make a mobile app for their site in the future. But as of this writing, the site can only be accessed from a mobile device using a mobile web browser. So, if you want to answer a survey from your mobile device, you can just open a web browser and log in to their site.
The good news is, their site is mobile-friendly. You can read all the content without zooming in. Plus, you can easily tap on the links to get around the site.
This can actually be very helpful since it will allow you to get to surveys a lot quicker. This is an important aspect because most surveys have a limited number of respondents allowed. If that number is reached, it will stop accepting any new respondents.
So, if you are able to get to a survey even when you are not in front of a computer, then it will increase your chances of actually qualifying for that survey.
Who can join Drumo?
Drumo is only currently available in the US. So, if you live outside the US, then this site is not for you.
You also can't use a VPN to circumvent this because they will ban your account right away and you will lose all your earnings. And believe me, they will detect it pretty quickly.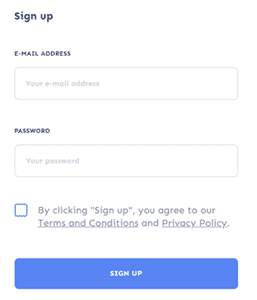 To become a member, all you have to do is fill out their sign-up form. You don't even have to confirm your membership. Once you are done with the sign-up form, you can immediately log in to the site and start earning.
But as mentioned in an earlier part of this review, you will first have to answer their profile survey before you can answer paid surveys. So, make sure to do that after your first log in.
If you are interested in more US-based survey sites, I also suggest you check out the top survey sites in the US.
Can you get support?
Drumo does have a fairly comprehensive FAQ page that will answer most of the basic questions you might have about the site. So, if you have any questions about the site, I suggest you check out their FAQ page first.
If you can't find the answers you are looking for, you can always send your inquiry via their contact form. You can also get in touch with them on their social media pages on Facebook and Twitter. They are fairly active on those platforms. But I do suggest you use the contact form for any important inquiries.
Overall, I would say they provide decent support for their members. I like the fact that they have a decent social media presence, which is very useful in this social media age.
Final Verdict
Drumo is a legit survey site that will pay you for answering surveys. It offers a couple of decent features but it also has limitations you need to be aware of.
So, let me conclude this review with a summary of its pros and cons to give you a better overview of what the site has to offer so you can decide if it is worth your time or not.

Pros:
Low payout threshold
Pays via PayPal

Cons:
Limited earning opportunities offered
Low rewards
What I like about Drumo is that it offers a convenient payment method (PayPal) and it has a low payout threshold. However, it only offers one earning opportunity. So, if there aren't any surveys available, then you won't earn anything from this site. The rewards are also relatively low compared to other better survey sites.
But if you need another survey site to join, this can be a decent option. Just don't expect to earn a lot from it. That is, of course, if you live in the US.
If you live outside the US or if you are just looking for sites with better earning potential, I would recommend you check out the top survey and GPT sites in your country instead.
The sites on this list all have good earning potential plus, you will definitely find a site you can join regardless of where you live.
If you have any comments, questions, or have any experiences with Drumo yourself, I would love to hear from you in a comment below.