There are a lot of websites that offer unique ways of earning extra cash. One site is called ViewsBank and it promises you will be able to earn by making friends and sharing your opinion. Not a lot of websites offer this kind of earning opportunity.
So, is it legit or is it just another scam to stay away from?
This is a valid concern and must be addressed right away, so let me answer this question first. Yes, ViewsBank is a legit Get-Paid-To (GPT) site that will pay you for sharing your opinion and doing other things. But it is more than just a GPT site, and I will explain why in this review.
Another question you need to ask before joining is, is it worth joining this site? There are a few things we need to examine first before we can properly answer this question.
This ViewsBank review will take a closer look at the opportunities the site offers, as well as other factors, so you can figure out if this is a site worth investing your time into or not.
What is ViewsBank and what does it offer?
As explained above, ViewsBank is a GPT site but it has other things to offer.
The proper technical term for this site is that it is an online community where you can talk to a diverse group of people about what matters to you and at the same, you can earn a few extra bucks.
Now, in order for you to get a clear picture of the earning potential this site offers, we have to examine the earning opportunities in details.
I have made a sort video that will give you and inside look and show exactly how you can earn from ViewsBank. You can also read all the details below the video:
Option 1 – Assignments
Assignments are basically like the paid offers you would normally encounter on GPT sites. These are short tasks you can do to earn rewards.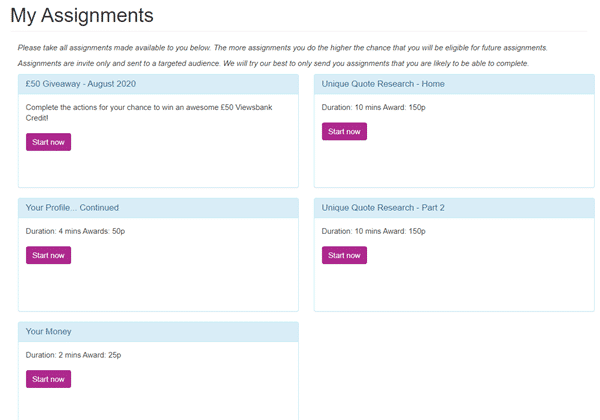 When you log in to the site, you can view all the assignments available to you by simply clicking on the Assignments tab on the dashboard.
You will then see a similar scenario shown in the photo above. Every assignment will tell you the reward you will receive for completing it and the estimated time needed to complete it.
Most of the assignments you will encounter will ask you to answer a survey. But from time to time, you will be asked to participate in mystery shopping activities or other forms of research.
It's pretty straightforward if you will be answering surveys. You won't need to go through a qualification process to complete it.
Simply answer the questions and when you are done, you will receive the reward. For other types of assignments though, all you have to do is follow the instructions provided.
Another thing you need to remember is, when there are assignments available for you, you will receive an email notification from ViewsBank. So, you don't actually have to log in to the site to check if there are available assignments.
Option 2 – Polls
Another way for you to earn from this site is through polls. You can create and vote on polls as a way to earn more rewards. But, it's not as simple as that though.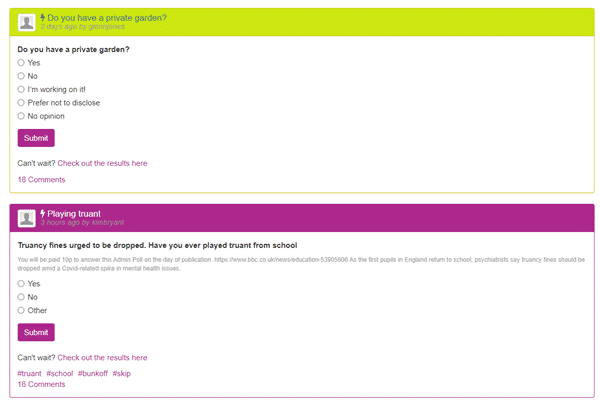 If you create a poll and it trends (meaning it is one of the most popular polls on the website over a three day period) you will receive £10. If a poll you voted on goes on to trend, you'll receive 1p (I will explain later what this is).
So, it's a bit tricky, in my opinion. In order for you to earn from polls, you have to create one that you think will become popular. So, it involves a bit of research on your end.
Option 3 – Information sharing
Lastly, you can also earn by simply sharing your information with the parent company of ViewsBank, which is called Consumer Intelligence.

You can enable this opportunity during the registration process. As shown in the photo above, you will be asked if you are willing to share the information you've provided on this site with Consumer Intelligence.
Simply click Yes option and you will be opted in to the information sharing program.
The good thing about this opportunity is, they will always notify you when this happens. So, you will be able to expect the £5 (which is what you will earn) in your account every time it happens.
It's a pretty nice passive earning opportunity, in my opinion.
How do you get paid?
As you already know, whenever you decide to take an assignment, you will be clearly told which kind of reward you will be getting for your time, and how much it is worth.
Usually, you will receive cash, which will be credited to your account.
Sometimes, you may also be entered or choose to enter into prize draws and cash prize draws. And if you've noticed, sometimes, you will also earn points. These points are actually converted automatically to cash with a conversion rate of 1 point = £0.01.
Payments are then calculated on the last day of each month. But, there's a kicker. In order to get paid, you will have to reach their threshold of £12 to receive cash payment.
Any earnings accrued during a month are then paid on the second Tuesday of the following month, provided that you reach the threshold. If you didn't reach the threshold, your earnings will be carried over to the following month.
You will only be paid for earnings that have accrued during the previous calendar month. Any earnings accrued after the end of the month but before pay day will be paid the following month.
If you reach the threshold, the payments will then be transferred to your PayPal account. So, during sign up, you have to make sure you use the same email address you use for your PayPal account. That's how their payment system works
They have a slightly high payout threshold, in my opinion, and it takes a while before you get paid (1 month). But I do like the fact they use PayPal as their payment method because it is one of the most convenient options available, in my opinion.
If you are interested in more sites that pay via PayPal, I suggest you check out the top sites that pay via PayPal.
How much money can you make?
With a site like ViewsBank, the amount of money you can make will mostly depend on how many assignments you can complete.
Although some of the assignments you complete will only reward you with an entry to a contest, the other assignments that actually pay will pay you a decent amount.
Typically, assignments will pay you around £0.5 to £2. The assignments that take longer to complete will pay you more.
If you want to maximize your earnings from this site, you have to make sure you get to the assignments as quickly as possible. That's because the majority of the assignments have a limited sample size.
This means that you will be assigned assignments on a first come, first served basis. If you don't complete an assignment fairly quickly, it might time out and be taken by someone else. So, make sure to check the site or your email regularly.
But overall, I would say this site has good earning potential because they pay a decent amount. But it does have limited opportunities so it can still take some patience to get to the payout threshold.
Can you use it on mobile?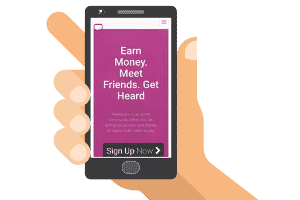 ViewsBank doesn't have a mobile app you can download so you can work on assignments conveniently from a mobile device. However, you will be able to access the site from a mobile device by using a web browser.
And the good thing is, the site is optimized for mobile use. This means you won't have to zoom in to read the content properly. You can also click the links easily.
This can prove to be useful if you want to answer surveys or polls even when you are not in front of a computer. It also helps you get to the surveys a lot faster. So overall, you will become a more efficient earner if you use a mobile device.
That being said, not all the opportunities offered on ViewsBank are suitable for mobile devices. Some of them, you will have to use your computer to complete.
Who can join ViewsBank?
They don't really mention this on their website, but as you can probably guess form the currency you earn, this site is only for UK residents. You will realize then when you go through the sign-up process.
You will be able to go through their registration process even if you don't live in the UK though. But once they find out you aren't a UK resident, they will close your account and you will lose all your earnings. And believe me, they will find out eventually.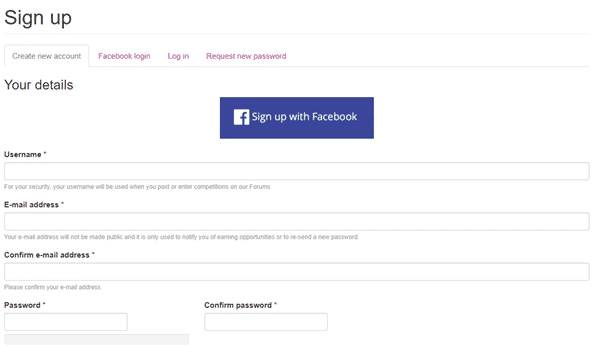 Once you fill out their sign-up form (make sure you use the same email address for your PayPal account), you will have to click on the link in the verification email they will send you. You will then have to answer a short survey designed to gather personal information, including your address.
When you complete the survey, you will be taken to their member dashboard and you can start earning. You will also receive £1 as a sort of joining bonus.
Can you get support?
What I like about this site is, they have a comprehensive FAQ page that will answer most of the questions about the site. You can basically learn what the site is all about by simply reading their FAQ page.
If you can't find the answers you are looking for though, you can always send your inquiries to their support team through their contact form.
You can access the form if you go to your Account settings. You will see the Contact Support link at the bottom. This will take you to their contact form.
Overall, I would say they have a good support system in place for their members.
Final Verdict
ViewsBank is a legit GPT site that will pay you for sharing your opinion and doing other activities. It has a couple of good features and it also has certain limitations you need to consider.
So, let's finish this review with a summary of its pros and cons to help you decide if you should become a member of this site or not.

Pros:
Pays via PayPal
Their site is mobile-friendly
Decent rewards

Cons:
Limited earning opportunities offered
Slightly high payout threshold
Takes quite some time to receive payment
If you live in the UK, I would recommend you join this site as an extra site if you want to join as many sites as possible.
It pays a decent amount for surveys, it offers a convenient payment method, and you can find surveys here that are not available on a lot of other sites. The downside is, payment is only done once a month. So, it's quite a long wait before you can receive your payment.
But if you are okay with that, then this can be a good addition to the sites you can earn from. But if you live somewhere else or want to join sites with more opportunities, I would suggest you check out the top survey and GPT sites in your country instead.
The sites on this list also have good earning potential and most of them even offer more earning opportunities. Plus, you will be able to find sites you can join even if you don't live in the UK.
If you have any comments, questions, or have any experiences with ViewsBank yourself, I would love to hear from you in a comment below.