Maru Voice Canada/UK is a popular survey site that claims to pay you for answering surveys.
But is Maru Voice Canada/UK legit?
This is the most important question about this site and let me just tell you right away, yes, Maru Voice is a legit survey site. But this doesn't automatically mean you should sign up and become a member.
Many survey sites are a waste of time, so you need to make sure you only join the worthwhile panels.
This Maru Voice Canada/UK Review will tell you everything you need to know about this survey site so you know exactly what to expect and can decide if this is for you or not.
So let's get this review going.
What is Maru Voice Canada/UK and what does it offer?
Maru Voice has a specific panel called Maru Voice Canada and one called Maru Voice UK. As the names suggest, they are only for Canadian and UK residents.
Both of them offer more or less the same but are just for different countries so this review will help you find out if it is for you whether you want to join the Canadian site or the UK site.
The panels are owned and managed by Maru Blue, which is one of the top data firms that provide marketing data for North America and UK businesses.
Maru Voice Canada was formerly known as Angus Reid Forum before Maru Blue's acquisition.
To best understand what Maru Voice Canada/UK has to offer, we have to take a look at the earning opportunities available for you.
So let's take a look at how you can earn money from Maru Voice.
Option 1 – Maru Voice Surveys
The bulk of the earnings you get from Maru Voice will come from paid surveys.
There are two types of surveys they offer. One is a survey from them and the other is from their network partners.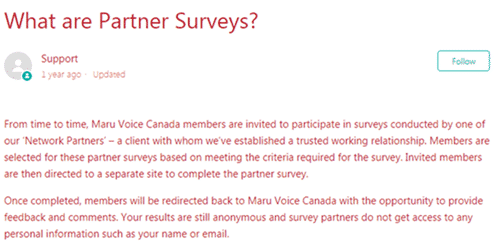 As you can see in the photo above, partner surveys are like survey offers from other sites.
Once you click an offer for a partner survey, it will redirect you to a different site. You will then proceed to answer the survey.
Once you've completed it, you will be taken back to the Maru Voice site and will then get the reward into your Maru Voice account.
As for their own surveys, there are two sub-types, the Profiler and Mosaic surveys.
The Profiler surveys are basically the surveys that gather more information about you.  These are general questions about how you consume media, how often you go shopping, and other stuff like that.
Mosaic surveys, on the other hand, are surveys that consist of several topics designed specifically by their clients.
All types though will allow you to earn rewards after completing them. You will know if there are available surveys you can take because you will receive emails inviting you to take these surveys.
The email will contain a unique link you can click on or paste into your browser's address bar.
The survey invitation does have a pre-determined close date/time which will be included in the email. So you have to make sure you complete the survey before the deadline to get the reward.
Sometimes though, a survey will close even before the deadline.
The reason for this is that the maximum number of respondents for the survey has already been reached. So if you receive an invite, it is best to answer it quickly.
Option 2 – Prize Draws
Maru Voice mentions on their site that they also hold prize draws.
Unfortunately, there isn't a lot of information about how and when they hold the prize draws, but these are pretty common for survey sites.
All they say about these prize draws is you will be able to earn entries by completing surveys and you will also be automatically entered to their prize draw after signing up.
You can win cash or other prizes, but in my opinion, don't rely on this too much because this is not a guaranteed way to earn money.
But if you are active anyway, it is a nice extra bonus to get the chance to win rewards like this.
Option 3 – Referral Program
Maru Voice also has a referral program but again, there isn't too much information about it.
They say they periodically hold Refer A Friend campaigns where randomly selected groups of members have the opportunity to refer others to join the community.
They, however, do not mention what you would get for referring a friend. I presume you get something out of it otherwise, it would be pretty useless to have referral campaigns.
Anyway, it is not a way for you to consistently earn on Maru Voice, but you might get the chance to earn a bit like this once in a while.
Recommended: Check Out the Top Survey Sites in Your Country
How do you get paid?
For every survey you complete, Maru Voice will reward you with points or entries to prize draws.

As shown in the photo above, once you accumulate 5,000 points (which is equivalent to $50), you can exchange it for either a virtual or physical Visa card, Amazon or iTunes gift e-card, Google Play cash, or donate it to charity if you join Maru Voice Canada.
Take note that you can only exchange an increment of 5,000 points per redemption in CA.
However, the payout threshold on Maru Voice UK is quite a lot lower so you do not have to take as many surveys here to be able to cash out. Once you have earned 1000 points (worth £10) you can redeem your earnings as an Amazon gift card, iTunes gift card, or other gift cards.
You do, however, not have the option to redeem your points in cash via PayPal. In my opinion, this would have been a great option to have as well and I personally prefer sites that offer PayPal as a reward method because it is great to be able to get the earnings in cash.
The payout threshold is quite high in Canada compared to other sites, but at least it has very good reward options. In the UK the threshold is more reasonable.
How much money can you make?
As with all survey sites, the amount of money you can earn will all depend on how often you receive survey invites and how often you qualify – and, of course, on how many of them you decide to take.

The number of points you receive per survey completed will also factor in the earning potential.
As shown in the photo above, the points you receive per survey completed will range from 50 to 500 and the longer and more complicated the survey, the more points you get.
Now, they mention you can receive one to four surveys each month. So if you think about it, it will take you around two and a half months to reach 5,000 points if you receive the max reward per survey (which, in my experience, is rarely the case) in Canada. In the UK it would obviously be faster to reach the payout threshold.
But overall, it would take you quite some time to reach the payment threshold to redeem rewards.
The payment threshold in Canada (which is quite high, I might add) doesn't really hold up to the number of points you receive per completed survey even though the rewards per survey are pretty decent.
But it just takes quite some patience to get to the threshold.
If you prefer sites that will allow you to get your earnings out a lot quicker, I recommend you check out the fastest paying survey sites with low payment threshold.
Can you use it on mobile?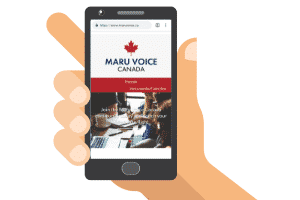 The good thing about Maru Voice Canada/UK though is that you will be able to use it on a mobile device.
They address this question in their FAQ section. They say any device with the following requirements:
iPhone iOS v3.0+
Android OS v2.2+
Blackberry OS v6.0+
Windows phone OS v7.5+
will be able to answer surveys. However, they do not mention any Maru Voice app you can download and install on your mobile device.
So, you will have to do it via a mobile browser. That won't be a problem though because the mobile version of their site is optimized for mobile use.
You will be able to view the content without having to scroll left or right or zoom in and out.
This is good because it allows you to be more efficient at racking up points since you can answer surveys even when you are not sitting in front of a computer.
Who can join Maru Voice Canada/UK?
As the name suggests, only Canadian or UK residents can register and become a member of their panel. You also have to be at least 18 years of age in order to join.

The problem is, as indicated in the photo above, as of this writing, they are not accepting any new members directly on their website – and that goes both for the UK and Canada.
So if you are really interested in joining their panel, you have to check back from time to time to see if they are accepting new members.
In the meantime, I suggest you check out the top survey sites in Canada, or if you live in the UK, you can check out the best UK survey sites. There are several sites on that list you can choose from where you can join all the time.
Can you get support?
Maru Voice Canada/UK does have a form of support you can use. You can use their FAQ section if you have any questions regarding their site.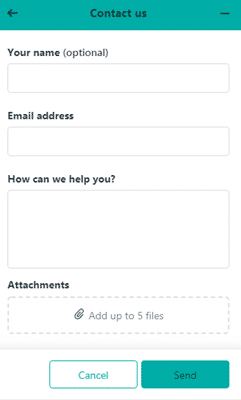 If you can't find the answer to your question in their FAQ section, you can try contacting them using the contact form shown in the photo above.
Getting to the contact form though is a bit bothersome. It isn't found in the most obvious location. To access their contact form, you have to go to the FAQ page and click the support button on the lower right-hand corner.
A support window will pop up asking you to search for something. Just type anything you want and a "Contact Us" button will appear at the bottom together with the search results.
Once you click the contact us button, you will then see what is shown in the photo above. In my opinion, this a very inconvenient way to offer you to contact them.
They do, however, show their physical address if you click the contact link at the bottom of their website. If you wish to contact them via postal mail, you can use the address displayed on the page.
I also checked to see if they have a social media page since it can also be used as a way to get a hold of them. They do have a Facebook page (as well as a Twitter and Instagram page) which is moderately active.
You can also send them a message there. I'm just not sure if they will reply to you quickly. The good thing though is, you have plenty of ways to contact them.
Final Verdict
Maru Voice is a legit survey panel that pays you for completing their surveys. It is a fairly popular survey site in Canada and the UK, but it does have its issues.
So let's finish this review by summarizing its pros and cons to help you decide if this site is for you or not.

Pros:
Payment via PayPal is available
Good mobile support
Has several ways for you to contact them for support

Cons:
High payment threshold
Fairly low overall earning potential
Currently not accepting new members
As you can see, the main problem with Maru Voice Canada/UK is they are not accepting new members as of writing this review.
And if you are able to register and become a member, the earning potential is fairly low compared to some other survey sites out there. Mostly because it takes quite some patience to get to the threshold even though the pay per survey is decent.
With a bit of patience, it can, however, be a decent extra site to join if you live in Canada or the UK if you ever get the chance to join. But I would also suggest you check out other top survey sites in your country to get enough earning opportunities – here you can for sure register.
This list will have plenty of survey sites you can choose from and are proven and tested to provide you with good earning potential. Plus, you will be able to find a site for you no matter where you live.
If you have any comments, questions, or have any experiences with Maru Voice Canada or Maru Voice UK yourself, I would love to hear from you in a comment below.