TestSpin is a survey site that claims to reward you for answering surveys they provide.
If you are interested in joining this survey panel, the first question you need to ask is, is TestSpin a scam?
Let me just answer this question right away. No, TestSpin is not a scam. It is a legit survey site that does pay you for completing their surveys.
But this doesn't automatically mean you should go ahead and sign up to become a member. There are lots more you need to consider.
This TestSpin Review is here to help you get an inside look and show exactly what this survey site offers, so you can decide if this is really a survey site for you or not.
What is TestSpin and what does it offer?
TestSpin is primarily a market research company that conducts its business by providing surveys for you to answer. In return, they reward you for each survey you complete.
They have been in the business of providing market feedback from panelists for more than 20 years. That's a testament to their legitimacy.
However, the first thing you will probably notice is that it also looks like the website has not been updated since they first started as it looks very old.
But in order to get a full grip of what you can get from this survey site, you have to understand how you will be able to earn from this survey site.
So let's take a closer look at TestSpin's earning opportunities.
Option 1 – TestSpin surveys
The bulk of the rewards you get from TestSpin will come from paid surveys. That's no surprise since they are, after all, a survey site.
Once you become a member of their panel, you will start receiving invites to answer available surveys.
The surprising thing about this survey site according to feedback from members is, you will get plenty of survey invites right from the start.
But don't count your chickens just yet. Keep in mind you do have to qualify for the survey before you can get the reward.
Their process of handing out surveys is pretty similar to other survey sites.
You get an invite. Once you click the invite, you then have to answer pre-qualifying questions in order for them to determine if you indeed belong to the demographic the survey is targeting.
The main difference though is, when you are answering the survey (this is assuming you've already qualified), you have to provide your username first so they will know who to give the reward to.
This is surprising because, from all the survey sites I've encountered that have a member's dashboard, you don't really need to provide your username anymore. But this doesn't really affect how you earn from the paid surveys.
Once you complete the survey, you will be awarded the corresponding points. They mention it takes approximately four weeks before the reward will be reflected in your account, which in my opinion, is pretty long.
The reason for this is, they have to wait for their business partners to send the usernames of the members who were able to complete the survey.
It kind of makes sense but some other sites are able to do it A LOT faster, so something in the process TestSpin is using does not seem very effective, in my opinion.
Option 2 – Online focus groups
Another way for you to earn rewards from TestSpin is to join an online focus group.
The problem is, they don't elaborate much on their website about the way they conduct their focus groups.
From my understanding, when you join one of their focus groups, you will be asked to test new products, music, videos, websites and a lot more. So the offer will vary.
Once you join a focus group, you will be sent a questionnaire you need to fill up. It's sort of like a survey, the only difference is, it will be more focused on a specific product, music, video, website or whatever else they want you to test.
However, based on feedback from members, this kind of earning opportunity is only available from time to time.
So, it is best to always take advantage of the offer if you get it because it has higher rewards than their paid surveys.
How do you get paid?
Now that you understand how you can earn from TestSpin, the next most important question is how do you get paid?
As mentioned above, you will be rewarded for either answering a paid survey or by joining a focus group. Just like most survey sites, TestSpin also uses a point system.
For every paid survey you complete, you will earn what they call "itcoin". This is the currency they use.

As shown in the photo above, you need to accumulate 10,000 itcoins (the equivalent of $10) before you can start redeeming your rewards.
This, in my opinion, not that high a payment threshold. But this does not mean you will be able to get there fast though.
Now that you have itcoins, exchanging them for rewards is a different matter. With TestSpin, it's a bit different. They don't have their own rewards panel. Instead, they use RedeemItNow.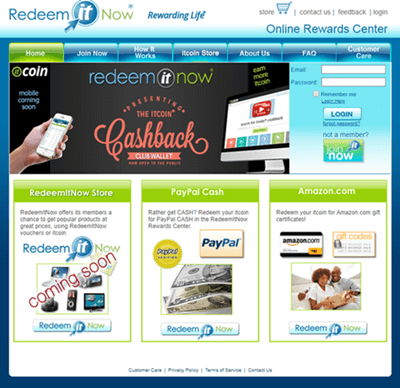 For those who have not encountered RedeemItNow, it is an online rewards center that uses itcoins as currency. This is what's different about TestSpin. Normally, survey sites have their own payment hub where you can request for payment directly from the site.
But with TestSpin, you have to log in to the RedeemItNow website to exchange the itcoins you've accumulated.
The good thing though is, you don't have to register for it. You can just log in to RedeemItNow site using your TestSpin credentials and it will automatically accept it.
You have the option to exchange your itcoins for Amazon gift codes, free products from their store, or cash from PayPal.
So if you are planning to redeem your itcoins for cash, you have to make sure you have a PayPal account.
How much money can you make?
So you now know how you can get paid. The next thing you need to know is will this site be worth your while?
To answer that question, you have to at least figure out if you can earn decent money for your time from TestSpin.
As with all survey sites, the income you will earn will purely depend on how many survey invites you get (and actually qualify for) and in their case, how many focus groups you can join.
To give you a clear picture, let's talk numbers.
On their homepage, they claim you can earn up to $600 in free gift cards from Amazon by taking the paid surveys. They mention that you can earn up to $10.00 for taking a survey and $30.00 to join a focus group.
Those numbers are actually pretty high, so you might think this could be a great side income. But in my experience, this is rarely the case with survey sites.
Be aware that mentioning these numbers is no guarantee. It is the absolute max you can get per survey. This does NOT mean you will get it for every survey and you will likely very rarely get that much per survey.
Also, they say you can make up to $600 – but they do not say if that is over several years. They just mention the number which is a bit useless in my opinion.
Because of course you can make $600, but you might not be interested if it takes many years and they do not mention anything about this. Therefore this claim is a bit of hype in my opinion.
In order for you to earn that amount of money, you actually have to complete 60 paid surveys or join 20 focus groups (or however you want to mix them) for the highest possible rewards which you will rarely get.
The problem is, it would be quite impossible to complete 60 paid surveys on TestSpin in let's say 5 months, let alone a year.
I can say this because I've read a lot of feedback from members saying yes, you do get plenty of survey invites initially.
In fact, some say you can get as many as 20 survey invites in a day. The problem is, you won't qualify for any of them. Consider yourself lucky if you qualified for one in a day.
So, if all the stars line up, you can reach the $600 amount in 2 months. That is a big IF though. In my experience, you will mostly qualify for maybe one or two surveys a week which will NOT reward you with the highest possible amount of $10.
Plus, you have to factor in the amount of time it takes for TestSpin to credit the points you earned completing the survey (which, as mentioned in the previous section, can take up to four weeks). So those 2 months can quickly turn into 6 or maybe even more.
Overall, I can say that yes, it might at first look like you stand to earn a lot from TestSpin, but it would be a mistake to expect a lot from it.
As you can see, it takes quite a long time just to get the amount they claim you can get.
If you are interested in survey sites that will allow you to earn a lot faster, I suggest you check out the fastest paying survey sites with low payment threshold.
Can you use it on mobile?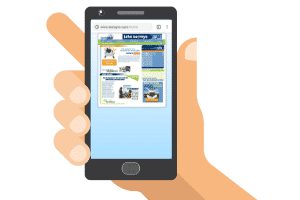 There is no TestSpin app you can download and install on your mobile device so you can answer surveys even when you are not in front of the computer.
However, you will be able to access their website using a mobile browser.
The only problem is, it looks like their website is not optimized for mobile use. I can say that because as you can see in the photo, you will have to zoom in just to read the content properly.
So it will be the same thing with their paid surveys and focus groups.
They also do not mention on their website anything specific about you being able to work on earning rewards on your mobile device.
In my experience, if a site isn't optimized for mobile use and they don't mention you could answer surveys in your mobile device, then it is most probably restricted to desktops and laptops.
This makes it much harder for you to accumulate itcoins since you have to sit in front of a computer in order to do so. And even on a computer the website is not very user-friendly and it just becomes even worse on mobile.
Who can join TestSpin?
From what I can gather, it seems like anyone can become a member of TestSpin.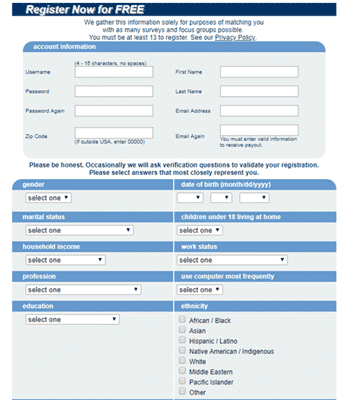 As shown in the photo above, you do have to be at least 13 years of age in order to register.
This is a bit unusual because normally, survey sites require you have to be at least 18 years of age or older in order to join.
TestSpin is a bit different mainly because RedeemItNow's minimum age requirement is 13. This is probably why their age requirement is a bit lower.
If you think about it though, it is actually better because for you and for them because that means more people are qualified to join the panel.
To register, you have to fill out the form. The information you've provided in this form will be their basis for determining what type of surveys they will send to you. So make sure to answer it honestly.
The major problem I encountered with their registration form though is, you won't be able to get through the completion because of a captcha error.
The form will ask you to fill out the captcha, but there isn't any captcha displayed.
So in effect, you won't really be able to complete the registration. This is a big problem and the only solution I can think of is to contact their support, which we will discuss next.
Can you get support?
When I look at survey sites, one factor I always consider is the type of support they provide for you.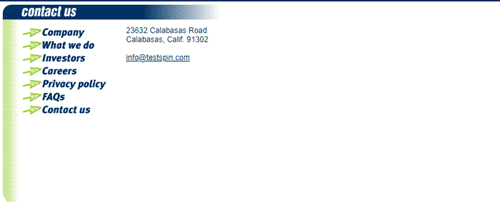 As you can see, their site doesn't have a contact form, which in my opinion is just poor website planning.
Most, if not all sites have a contact form. It is part of the basic design of any site. It is the most convenient method for a site visitor to ask questions.
Although they do provide a physical address and an email address for you to contact, it pales in comparison to some of the best survey sites today.
They do, however, have a pretty comprehensive FAQ section, which is good. Most of the questions you will have about the site will be answered by that.
I also checked if they have a social media page because there a some who also use social media as a means of providing support for their members.
They do have a Facebook page but there aren't any posts. So, most likely, they aren't active in this platform
That leaves you with just their email and physical address as the only means of being able to contact their support team.
Final Verdict
TestSpin is a legit survey site that rewards you for completing their surveys and joining their focus group. But it does have some issues.
To help you make a final decision on whether this is a survey site you should join or not, let's finish this review with a summary of its pros and cons.

Pros:
Payment via PayPal is available
No region restriction

Cons:
Low survey qualification rate
Rewards can take time before it will be reflected to your account
Poor support
Registration form is not working
Outdated design and website planning
As you can see, even though anyone can join TestSpin and the payment method is convenient, it does have a lot of issues.
First and foremost, you won't be able to just go and register due to a captcha issue. And it just looks like they have not really updated the website since they first launched it. The sheer problems you face don't make this site worth your while, in my opinion.
That's why I recommend you check out the top survey sites in your country instead. You will find a lot of sites on this list with better rewards, low payment threshold and best of all, the registration process is seamless.
If you have any comments, questions, or have any experiences with TestSpin yourself, I would love to hear from you in a comment below.