BTCClicks is a Paid-To-Click (PTC) site that promises to pay you for clicking and viewing ads.
If you are looking for good sites to earn a bit of extra money, you might have already encountered this website.
But is BTCClicks legit or a scam site to stay away from?
This is a valid question to ask and a logical one too. You need to make sure you join a legit site so that your time won't be wasted doing offers you won't earn money from.
So, to answer this important question, yes, BTCClicks is a legit PTC site. But is it worth your time though?
This is what this BTCClicks review will find out for you. After reading this review, you can figure out if this site will fit your needs or not.
So, let's go right ahead and take a closer look at this PTC site.
What is BTCClicks and what does it offer?
As previously mentioned, BTCClicks is a PTC site that will pay you for clicking ads. It's one of the more straightforward PTC sites out there today.
Normally, there are plenty of things you can do on PTC sites. But with BTCClicks, you only really have a couple of ways to earn rewards.
So, let's take a closer look at how you can earn from BTCClicks.
I have created a video that gives you a full guided tour and tutorial so you can see for yourself. You can also read all the details below the video:
Option 1 – Click Ads
The main way you can earn from BTCClicks is by clicking ads.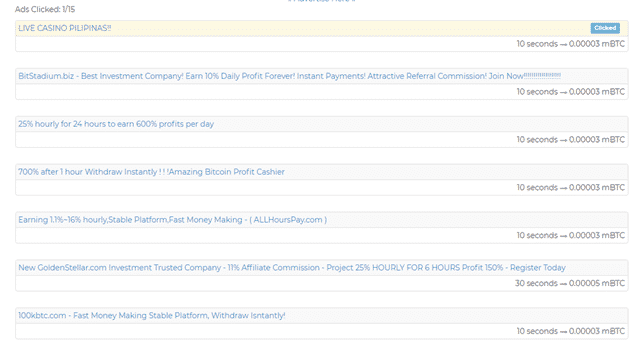 As you can see in the photo above, you will see all the details for each offer. You will see the required time for you to view the ad before you will earn the reward.
Most of the offers will ask you to stay at least 10 seconds on the page that will be opened. Some offers will ask you to stay on the page for at least 30 seconds.
When you click an ad offer, it will open a new window and you have to view it for the required amount of time. Then, a captcha pop-up will appear asking you to confirm if you are not a robot.
Just complete the captcha and wait for the message on the top of the window saying that you've received the reward. Once that appears, you can then close the window and proceed to the next offer.
It's a pretty straightforward way of earning rewards, in my opinion, which is what I like about the site.
But you need to be aware that you do not get a lot per ad so you have to click A LOT of ads to earn any real money (more about the income potential of BTCClicks later).
Option 2 – Referral Program
You will also be able to earn on BTCClicks by referring friends to their site.
To refer someone to the site, you can send them your referral link. When they finish the registration process, they will then become your direct referral.
You can also refer people using referral banners. All you have to do is use the embed code provided on your referral dashboard and embed it to a page on your website or blog if you have one.
Every person who clicks the banner and registers to BTCClicks will become your direct referral. You will then earn an 80% commission for every ad that your referral clicks.
It's a pretty high percentage, in my opinion. But then again, it will depend if your direct referral will stay active on the site. So, there is no guarantee that you will really earn from this method.
You can also rent referrals. They offer this as a way for you to increase your earnings. You can rent a referral for 5 days using the rewards you've earned from clicking ads.
The referrals you can rent are those members who have registered to the site without being referred by someone. They also must have clicked at least 15 ads in the last 5 days.
It can be a good way to earn additional rewards. But you have to be careful with this and not be carried away by renting too many or else, you might end up losing your earnings instead of earning more.
This is because there is really no guarantee you will be able to earn your money back when renting referrals. That's why you have to plan this out carefully before you do this.
How do you get paid?
The BTC in BTCClicks stands for Bitcoin. If you are not familiar with Bitcoins, it is a payment network that you can consider as a new kind of money. To put it simply, it is a digital currency you can use to pay for some online transactions.
I'm explaining to you what Bitcoin is because this is the currency BTCClicks is using (hence the name). For every ad you click, you will earn a certain amount of miliBitcoins (mBTC).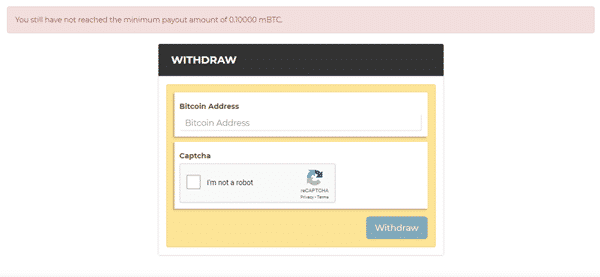 Once you reach the minimum payout amount of 0.10000 mBTC, you will be able to withdraw your earnings to your Bitcoin account. To put it into perspective, 0.10000 mBTC is equivalent to roughly $1.
It's a pretty low threshold to reach. But then again, this also means won't really get to earn a lot for each ad you click (I will talk about this next).
There is no other payment method offered on BTCClicks. So, if you don't have a Bitcoin account, it really doesn't make any sense becoming a member of BTCClicks.
You have to make a Bitcoin account first if you plan to become a member of BTCClicks.
And if you are interested in earning Bitcoin, there are better sites, in my experience. You can check out the best sites that offer Bitcoin as a reward here.
How much money can you make?
Let me just say it right away. You won't be able to make a lot of money from BTCClicks.
If you take a look at the ad offers available on their site, the most you can earn from clicking an ad is 0.00005 mBTC. This is the offer that will ask you to view the ad for 30 seconds.
You have to click 2000 of these ad offers before you can reach the BTCClicks payout threshold. That's a lot of ads to click and quite a long time to wait for because there are aren't a lot of this kind of offers available on their site.
Most offers will pay less. So, you will have to double the number of ads you have to click just to reach the threshold.
They do have an option to boost your earnings. You can do this by upgrading your membership level.
You can become a premium member and you will get certain benefits like higher rewards for each ad you click and higher referral click reward.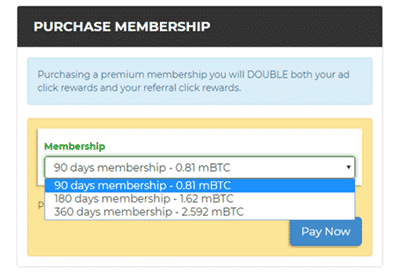 You can become a premium member for 3 months, 6 months or a year. The longer the duration of the premium membership, the more it costs. You can only pay for this membership upgrade using Bitcoins.
I am personally not a fan of the "spend more to earn more" type of upgrades because it really just defeats the purpose of joining a site like this.
In my opinion, it just defeats the whole purpose of joining the site as you are supposed to earn for free, right? But this doesn't mean you can't avail of this offer.
All I'm really saying is, before you upgrade your membership, you have to have a solid plan of earning back the money you spent for the upgrade. So think it over before you commit.
Can you use it on mobile?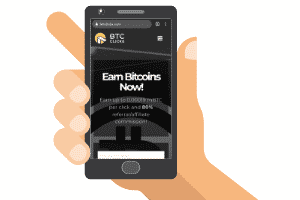 Fortunately, you will be able to earn more efficiently on BTCClicks. I'm saying this because you will be able to click on ads and earn rewards using your mobile device.
They don't have a mobile app you can download on your mobile device, but you will be able to access their site using a mobile web browser.
Their site is optimized for mobile use. So you shouldn't have any problems navigating through their website using a mobile device.
And since it will only involve you clicking on ads, it won't really pose much of a problem if you work on it on your mobile device.
This, at least, ensures you can earn more efficiently on the site even though it will still not be very efficient compared to many other ways of earning online.
Who can join BTCClicks?
Probably the only thing I like about BTCClicks is it doesn't have any geographical restrictions on who can join their site.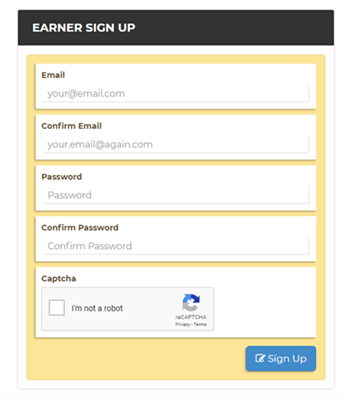 You will be able to sign up as a member regardless of where you live. Plus, the sign-up process is very easy.
You just have to fill up the sign-up form, verify your account using the verification email you will receive and you are good to go.
You can then start earning on this site. Of course, as already mentioned, you have to make sure you have a Bitcoin account in order to withdraw your earnings.
One thing to note, only one member per household is allowed to join their website.
Can you get support?
BTCClicks also provides ample support for its members. They have an FAQ section that covers most of the common questions you will encounter on the site.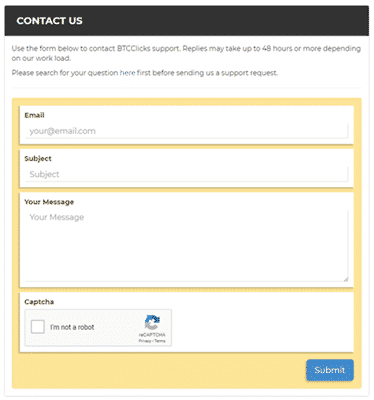 And if you have any questions that weren't answered on their FAQ section, you can use the contact form provided on their website to get in touch with their support team.
They have a Facebook page you can visit, but it hasn't been active for quite some time now.
So, if you really want to talk to them, I suggest you use the contact form instead of messaging them through Facebook.
Final Verdict
BTCClicks is a legit PTC site that will pay you for clicking ads. It's a pretty straightforward site but with certain disadvantages.
So let's finish this review with a summary of its pros and cons to better help you decide whether this is a site worthy of your time or not.

Pros:
No geographical restriction on who can join
You can work conveniently on their site using a mobile device

Cons:
Limited earning opportunities
Low earning potential
Has only one payment method available
It is quite clear that you won't be able to earn a significant amount of money from BTCClicks. It has limited earning opportunities and very low earning potential.
You have to invest a lot of time just to earn $1. You are better off spending your time working on offers from sites that will allow you to earn more, in my opinion.
So, even though it is a legit PTC site, it simply isn't a good choice to invest your time and effort in.
If you are interested in earning more and on a regular basis, I suggest you check out the top survey sites in your country.
The survey sites on this list all have better earning potential than BTCClicks and you will find sites that will suit your needs regardless of where you live.
If you have any comments, questions, or have any experiences with BTCClicks yourself, I would love to hear from you in a comment below.