If you love to share your opinion, there's actually a way for you to earn a bit of extra cash while doing so. There are sites called survey sites that will reward you for basically sharing your opinion.
One such site is called iPanel Online. But before you join this survey site, you have to check if it is worth your while. So is iPanel Online legit? Or is it a scam?
Let's answer this question right away so we can talk more about what the site is all about and what it has to offer. Yes, iPanel Online is a legit survey site that does pay you for answering surveys.
It being legit doesn't automatically mean that the site offers a good way for you to earn cash though. The best way we can know about that is by examining all details about what the site has to offer. This iPanel Online review will give a full overview plus rating so you can decide if you should sign up or not.
What is iPanel Online and what does it offer?
iPanel Online is a professional online sample collecting company for market surveys that offers its members an opportunity to earn rewards by simply participating in their activities.
It has specific panels for certain countries (more about which countries later).
To be able to fully understand how well you can earn from this survey site though, we have to examine the earning opportunities it offers. So, here's how you can earn from iPanel Online.
I have created a short video tutorial that will give you an inside look and show exactly how it works. You can also read all the details below the video:
Option 1 – Paid surveys
The main source of rewards on this site will come from completing paid surveys. When you finish the sign-up process, you can then log in to the member dashboard and view all the available surveys you can take.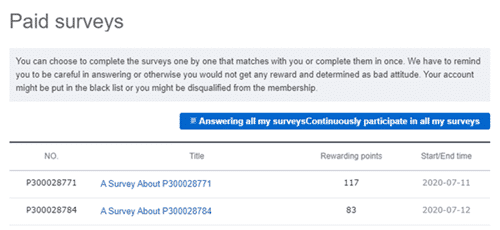 Answering a survey is a fairly easy process. As you can see in the photo above, every survey will indicate how many points you will earn when you complete it and the deadline for completing it. So, you will easily be able to prioritize which surveys to take if you are in a hurry.
The first thing you will need to do is click the survey you want to answer. A new page will load displaying the screening questions. All you have to do is answer the questions honestly and click the Enter Survey button.
Then, a new page will inform you if you qualify for the survey or not. If you qualify, the survey will be loaded. If you don't qualify, they will usually tell you why. In my experience, the most common reason is that the quota for the survey has been reached.
This is one thing you need to keep in mind when answering surveys (on for any survey site for that matter). Usually, surveys will have a set number of maximum respondents. If that quota is reached, the survey won't accept any new entries.
That is why it is important to get to the survey as quickly as you can.
When the survey is completed, you will receive the points promised. If you don't qualify for the survey, they will still award you with 1 point though.
Option 2 – Referral program
Another way you can earn from this site is by inviting other people to join.
Many online reward sites have a referral program in place. This is to gather more members. The same is true for iPanel Online.

When you invite people to the site and they sign up using your invite link, you will earn 70 points. You will only receive the points though when the person you invited answers his or her first survey.
After that, you will then earn a certain number of points for every survey they participate in. Plus, you will earn an entry to their weekly draw for every person you invite and successfully registers as a member.
Their weekly draw will award 5 winners of 100 points each. So, if you've invited a lot of people in a week and they become your referral, you will have a higher chance of winning the weekly raffle.
However, 70 points is a really low reward (more about the value of this later) for inviting someone to a survey site compared to the referral program on many other sites.
So do not expect to earn too much from this option.
How do you get paid?
As explained above, every survey you complete and every person that becomes your referral will earn you a certain number of points. It will be stored in your iPanel Online point balance.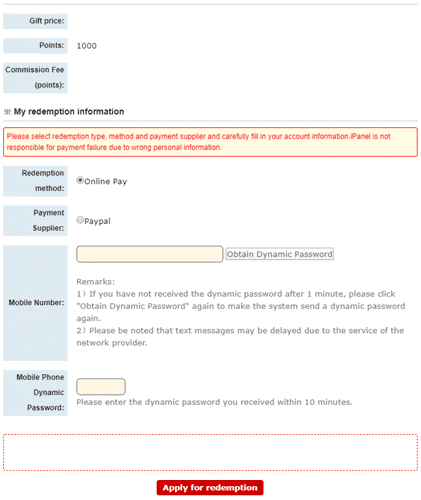 When you've earned 1000 points, which is equivalent to $10, you can then request payment via PayPal.
The payment value you can request should be in increments of $10. I do wish they also offered another mode of payment like gift cards. This would add to the versatility of their payment options.
When requesting for payment, you will have to input a dynamic password that will be sent to you via email or SMS. So, make sure to input the password on time.
I like the fact that they have a relatively low payout threshold of $10.
This makes it easier for you to start redeeming your rewards. If you are interested in more sites that have a low payout threshold, I recommend you check out the fastest paying sites as well.
How much money can you make?
According to their site, you will usually earn 1 to 2000 points for every survey you complete. But in my experience, earning the maximum 2000 points (which is equivalent to $20) rarely ever happens.
The more realistic range will be around 1 to 500 points. In my opinion, their surveys pay quite decently. The rewards aren't that high but they aren't that low either.
But the thing is, to earn those points, you will need to qualify for the survey, which is pretty hard to do. And to top it off, there won't always be a survey available for you. They do hand out a daily login bonus of 1 point but that will hardly make a dent in reaching the threshold.
That's why even though they have a relatively low threshold, it will still take quite some time to reach because their earning potential is not that good, in my opinion. So, you will need to be a bit patient with this site.
Can you use it on mobile?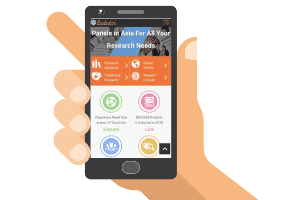 iPanel Online doesn't have a mobile app you can download but you will still be able to access their site on a mobile device if you use a web browser.
This is good because you can get to the surveys a lot quicker because you don't necessarily need to sit in front of a computer to answer it.
Plus, their site is mobile-friendly, so you won't have a hard time reading the content on your mobile device. This will make it easier for you to answer surveys even with a smaller screen.
Overall, I do like the fact that the site also caters to mobile users by allowing them to access the site conveniently on a mobile device. This shows they are very considerate of their members.
Who can join iPanel Online?
iPanel Online is available globally. You can sign up as a member regardless of where you live. But, as mentioned at the beginning of this review, the site has specific panels for certain countries.

As you can see in the photo above, there are certain countries with specific panels. But you don't necessarily have to live in one of those countries to join their site.
If you can find your country on that list though, joining will be more beneficial for you since the surveys will be geared towards topics in your area. Plus, you will usually have more opportunities to earn when you join the country-specific panel.
The other advantage is, you won't need to keep converting your earnings because it will be using the currency of the panel you join.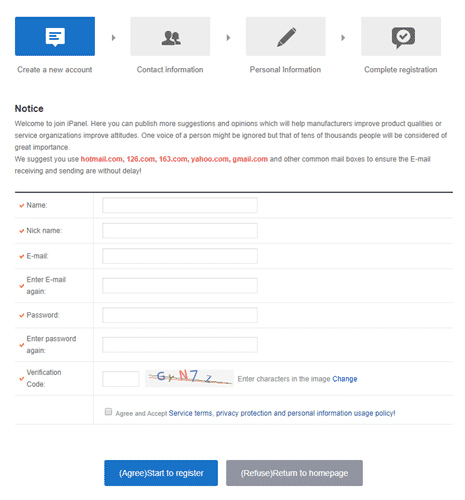 To register as a member, you just have to fill out the registration form and then confirm your membership by click the activation link in the email they will send. Once you've done that, you can log in to the site and start answering surveys.
Can you get support?
The site has an FAQ page that discusses most of the common topics you will encounter about the site.
But if you can't find the answer you are looking for, the good thing is, they have provided a way for you to submit your inquiry when you are logged in to their member dashboard (refer to photo below).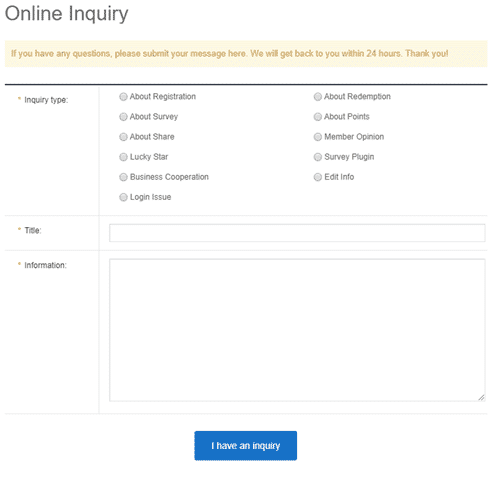 Just fill out the form and choose the appropriate topic for your inquiry. Then, just check your email from time to time for their response. They promise to get back to you within 24 hours.
In my opinion, that's not a bad deal. 24 hours is a rather decent amount of time for providing support.
However, in my experience, there will always be times when the response will be a bit delayed. So, don't expect that this will be followed always.
But overall, I would say that iPanel Online has a decent support system in place for its members.
Final Verdict
iPanel Online is a legit survey site that does pay you for answering surveys and inviting other people to join the site. It has a couple of nice features to offer but it also has some disadvantages.
Let me summarize its pros and cons to end this review. That way, you can get a clear overview of the site and you can decide if you should sign up or not.

Pros:
Low payout threshold
Offers payment via PayPal
Has specific panels for certain countries

Cons:
Limited earning opportunities
Offers only one mode of payment
On paper, iPanel Online looks like a good survey site. It offers a convenient payment method and it also has a relatively low payout threshold.
However, the limited earning opportunities it offers really bring down its earning potential and make it hard for you to reach the threshold quickly. So, you will need to be a bit patient with this site.
In my opinion, it can still serve as a decent secondary site to earn from because of how easy you can earn rewards. But if you are looking to earn more on a regular basis, I suggest you check out the top survey sites in your country instead.
The sites on this list offer several earning opportunities and all have good earning potential which will help you earn a decent amount regularly. Plus, you will also be able to find a site you can join regardless of where you live.
If you have any comments, questions, or have any experiences with iPanel Online yourself, I would love to hear from you in a comment below.