OpinionSquare is a site that supposedly makes it possible for you to earn rewards for sharing your opinions.
But is OpinionSquare a legit website and a real way to earn? Or a scam site to stay away from?
This is something you have to determine before joining any survey or Get-Paid-To (GPT) site to find out if it is worth your time and effort.
This OpinionSquare review will take a deep look at what you can get from the site and how it stacks up with other sites today.
That way, you should be able to decide whether you should sign up to become a member or not.
What is OpinionSquare and what does it offer?
There is not much background information about the platform on the website itself which is a bit strange.
But there is a bit. You can, for example, see that according to OpinionSquare itself, it has more than 2 million members. So it is not one of the biggest platforms out there.
But that does, of course, not mean it might not be worth it.
What is the most important to find out if that is the case, is how good the earning options are on the platform.
OpinionSquare offers a few different options so let's start by going over each of them below.
I have made a video that gives you an inside look and shows you exactly how OpinionSquare works. You can also read all the details below the video:
Option 1 – Paid Surveys
As with most GPT sites, paid surveys are the first and most commonly used method of earning rewards. With OpinionSquare, you will normally be able to participate in 3 to 4 surveys a month.
The process is pretty simple but quite different from most other survey sites. Whether you will like this or not depends on personal preferences but at least you know how it works before joining.
So you have to install a software called GRID. This software will gather all the data it needs to qualify you for a survey.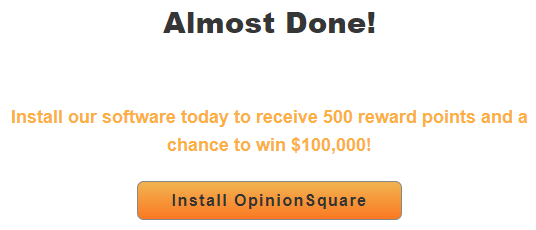 What it actually does is it tracks your web searches to know what type of person you are.
Once it has gathered enough info, OpinionSquare will then start sending you surveys that you can participate in.
It sounds a bit terrifying since they will basically be gathering info of your web activity. But they do assure that none of the sensitive info that your input is gathered into their system.
Compared to most other sites that offer paid surveys, this is, however, very different. Especially because it is not very clear before you sign up that this is how it works.
When I first came to the site, I thought it was just a normal survey site I could sign up for and start taking surveys.
Not until after I had joined I found out I had to install their software and allow it to collect data of my web activity to be able to receive surveys.
Not that it is necessarily a problem and there are sites like, for example, Nielsen Computer and Mobile panel that use similar systems.
I was just a bit confused it was not made more clear before joining OpinionSquare. So now at least you know exactly how it works and what you are agreeing to.
Option 2 – Playing Online Games
Another way to earn points is to play online games.
When you take a survey, you will receive tokens aside from points. You can use these tokens to play online games.
You can then collect points from the online games that you play. The points that you collect from playing can also be used to redeem rewards from their catalog.
Not a way to earn big money on OpinionSquare but a little extra is also nice if you take the surveys anyway.
Option 3 – Web Activities and Watching TV
One unique way that OpinionSquare allows you to earn points is by surfing the internet or by simply watching your favorite TV show.
As you know, their software GRID gathers data of your internet activity. Once you've set it up and the ball starts rolling, you can actually set it so that you will send your web surfing information to earn rewards.
The same goes for watching TV. You can share your TV watching habits with the software and in exchange, it will award you additional rewards.
By doing so, you also put yourself in the position to receive more surveys. So, it's a win-win situation.
They gather this info by contacting your television service provider to get the info that they need. They do, of course, need your consent to do so.
Option 4 – Sweepstakes
This last option you have on OpinionSquare isn't really very reliable, but I'll include it anyway.
Every time you complete a survey, you will automatically be entered into the sweepstakes. These sweepstakes promise a massive cash prize of $100,000.
However, I haven't read any testament about someone winning the sweepstakes. And on their website, it does not say anything about how big the chances are.
It just mentions that you get a chance to win $25, $2500, $5000, or even $100,000! Four players each month will win $25.
So the only thing they emphasize on is that there are four that will win $25. Therefore, you should really not expect big chances of winning the main prize.
It really is just like a lottery and it is unreliable since it only allows you to earn through sheer luck (at best).
Option 5 – Refer Friends
Once you sign up, you have an option to invite friends, but it does not look like you can get paid to invite people, which is not very good compared to other sites.

Before you do refer a friend, you need to make sure you actually like it before you start inviting friends.
Personally, I would probably not invite people to this site as there are many other better options.
How do you get paid?
If you're looking to earn a bit of cash with OpinionSquare, then I'm sorry to tell you this platform isn't for you.
There is no option to convert the points you earned into real money. You can, however, exchange the points you earned into cash, gift cards, products, vouchers, sweepstakes entries, or even donate to charity.
They have an extensive list of gift cards available from iTunes, Amazon, Home Depot, Walmart and other popular retail stores.
You do have to accumulate a certain number of points before you can start exchanging it for rewards. In this case, you have to reach 1,500 points to start redeeming Amazon E-cards and 2,500 points if you want to redeem it for Amazon, Walmart, etc gift cards.
When you take a survey, aside from earning points, you will also be awarded tokens. You can use these tokens to play online games to earn more points.
The downside is, these tokens expire every quarter if they are not used. So, you better use them while you can.
The other way you can earn is if you win their sweepstakes. As mentioned above, you have the chance to win the mega $100,000 sweepstakes that they offer. There are also smaller scale sweepstakes ranging from $50, $2500 and $5000.
I presume that if by chance, you win any of these sweepstakes, you will receive a check from them in order to claim your winnings.
All in all, there around 25,000 available rewards listed on their site that you can exchange the points you've earned. That's actually pretty impressive.
But if you want to join panels where you can get your rewards out in cash, then you should check out this list of the best PayPal survey sites instead.
How much money can you make?
Again, you won't be able to earn real money from this website. The only way you can do that is if you win their sweepstakes.
To put into context the value of each point you earn, you can only start redeeming rewards from Amazon when you reach 1,500 points. Once you reach 1,500 points, you can then exchange it for a $5 Amazon E-card.
If you want to redeem a gift certificate, you have to earn at least 2,500 points. Once you've accumulated 2,500 points, you can exchange it for a $10 gift certificate from Amazon, Walmart or other retailers in their list.
So in terms of the value, you can get from the points you earn, it really isn't a lot. There are plenty of other sites that offer more if we are only strictly speaking about gift certificates and E-cards.
And the exchange rate OpinionSquare uses is a bit confusing and it makes it a bit difficult to figure out exactly what you get for your effort, in my opinion.
The $100,000 sweepstake is offered monthly and so are the small scale ones. But upon closer inspection, I really couldn't find any information about whether or not this is true.
Plus, the only way to know if you've won is to request a list of the winners, which you can only do once you are a member.
So overall, you can earn a bit of extra money on OpinionSquare, but unless you are extremely lucky, you should not expect too much.
Can you use it on mobile?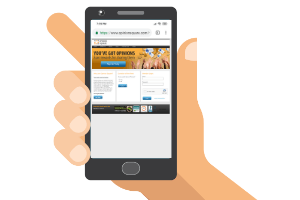 Seeing as this site requires a software to be installed on your computer in order for it to start working, you won't be able to start earning points if you are only using a mobile device.
You will definitely need a computer to start earning points.
You can, however, login to the OpinionSquare website using your mobile device using a mobile browser. But the activities you can do will be limited to browsing your member dashboard and your profile.
Who can join OpinionSquare?
Residents of the U.S. and Canada are eligible to register for OpinionSquare. Take note that you have to be at least 18 years old to qualify.
This doesn't mean though that if you don't live in the U.S. or Canada that you can't register. Residents from other regions can still access the site and still receive surveys.
The downside is, you won't get access to all the rewards that OpinionSquare offers. Plus, you also won't receive the same frequency of surveys available compared to residents of the U.S. or Canada.
So it does not really make sense to join if you live in other countries, in my opinion.
Another thing to note when you sign up is that you are not obligated to install the software that OpinionSquare offers.
If you don't install it though, you won't be able to maximize the rewards you get. Remember that their GRID software is the key to receiving surveys and other ways to earn points.
Can you get support?
A quick check on their website shows that OpinionSquarethey does have a way for you to contact them in case you encounter any issues.
You can fill out their contact form and report the issues you experienced. This is their mode of support.
Their site also provides an FAQ page that answers the most common questions that members encounter. It's not very detailed, in my opinion, but it does hold several important information.
I checked their social media pages and they do have a Facebook account that posts from time to time. They also reply to members who comment and redirect them to their help desk, which is a good sign.
If you are planning to talk to them via Facebook messenger, they usually take a day before they reply to your message. It's not a bad reply rate.
But if you really want to get a hold of them, I recommend you contact them via their help desk.
Final Verdict
OpinionSquare is a legit survey and GPT site that offers quite a lot of rewards.
But if you are looking to earn real money, you'd be better off looking somewhere else, as they don't really do that.
Their method of asking you to install a software first before you can start receiving survey is also off-putting, especially for people who don't really want the data of their internet activities to be gathered.
In my opinion, there are other ways to gather relevant information that doesn't seem intrusive. And this way of gathering data could be exploited in many ways if the safety is not good enough.
To help you better understand whether or not this platform is right for you or not, let me sum it up with OpinionSquare's pros and cons.

Pros:
Has a lot of rewards to choose from
Free to sign up
Sign up process is very easy

Cons:
Requires a software to be installed in order to gather info for surveys
Lower rewards compared to other GPT and survey sites
No real money payout aside from the sweepstakes
Hard to qualify for surveys
Full access to rewards are only available for U.S. and Canada residents
The tokens you earn from the surveys have an expiration
As you can see, there are more cons than pros, in my opinion.
The simple fact is, OpinionSquare simply lacks the appeal to compete with other GPT sites. The scaling of the rewards you get is lackluster. Even their monthly sweepstake doesn't help in providing appeal to people who are looking to earn a bit of money, in my opinion.
Plus, the software that gathers your private information really just doesn't quite cut it for me and for people who value their privacy.
There are plenty of other GPT sites that offer better rewards and better opportunities, in my opinion.
I would, therefore, recommend you to check out the best survey and GPT sites in your country instead.
If you have any comments, questions, or have any experiences with OpinionSquare yourself, I would love to hear from you in a comment below.