InboxPays is a Get-Paid-To (GPT) site that promises to reward you with real money.
But is InboxPays a scam or really a legit way to earn?
This InboxPays review will answer all the questions you have about this GPT site and show exactly what to expect.
After reading this, you will be able to make an informed decision on whether this site is for you.
So let's get right to it.
What is InboxPays and what does it offer?
InboxPays, as mentioned above, is a GPT site that rewards you with real money after completing their offers.
This site is owned by A&A Marketing. Aside from InboxPays, A&A Marketing also owns the more popular GPT site InboxDollars.
There are several ways you can earn with InboxPays because they do a little bit of everything.
Here's how:
Option 1 – Paid Offers
The first method you can earn money is through InboxPays' paid offers. This is one of the most common ways for you to earn in GPT sites in general.
Once you complete the registration process, you will then be able to log in to their member dashboard.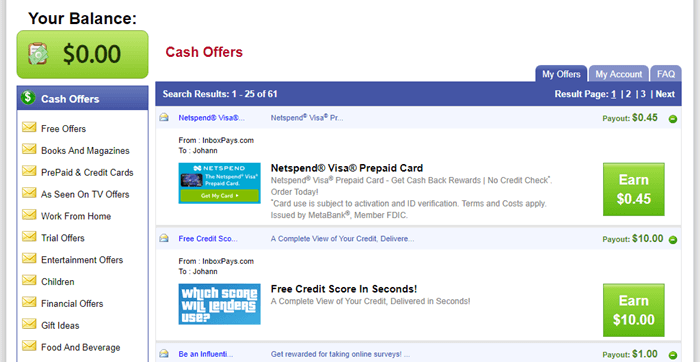 Once you are in the dashboard, you will quickly see all the paid offers available for you as well as the corresponding rewards.
All you have to do to earn the reward is to complete the offer.
Usually, these offers will ask you to register on a website, do a free trial or purchase something.
You can find some good offers here that can boost your earnings, but you also just have to make sure to read the exact conditions for each offer.
Sometimes you need to use a credit card, reach a certain level in a game, or something else. So it is important you know exactly what you are agreeing to.
If you make sure to read the conditions, the paid offer section on InboxPays can be worth checking out. But I must also say that you can find many of the same offers on other GPT sites for a higher reward.
So even though InboxPays has plenty of paid offers, you have to choose wisely to make it worth your time.
Option 2 – Paid Surveys
InboxPays also has paid surveys like most other GPT sites and it is often one of the best ways to earn on GPT sites, in my opinion.
All you have to do is complete the surveys available and you will earn a small amount of cash.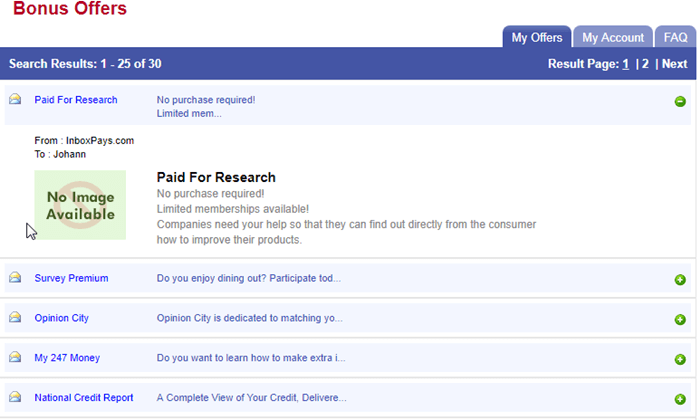 But don't expect to have a lot of surveys available because InboxPays is not a survey site primarily.
Also, some of the survey options are not as such paid surveys. They are more offers where you get paid to sign up for other survey sites. Here you just have to be a bit careful as not all options InboxPays gives you are good.
On the image above you can, for example, see you can sign up for a site called Opinion City. This is a site I have previously reviewed and strongly advice you to stay away from as it is not really a survey site and mostly just a waste of time, in my opinion.
So just be aware that not all the paid surveys on InboxPays are great options.
The good thing about the actual paid surveys is that they always reveal the rewards right away. They also add bonus rewards like gift cards.
You can find the available surveys under their Bonus Offers tab on the right side of the dashboard.
Option 3 – Reading Emails
Another way to earn rewards is to read the emails that InboxPays send.
This one is quite simple. You receive an email from InboxPays. The email usually contains a link that you have to click in order to get the reward.
The link will take you to an advertiser's website. It's just like what you would usually do for Paid-To-Click (PTC) sites.
Just be aware that the rewards you get for clicking in these emails is very small so it will definitely not be a way to make big money and is not the best way to earn on InboxPays.
But if you decide to become a member then it does not take long to check out the emails as well and earn a bit extra.
Option 4 – Coupons
Every once in awhile, InboxPays also provides you with free coupons that you can print out and use.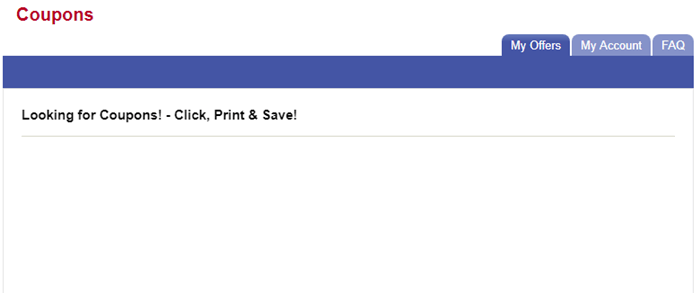 All you have to do is log in to their site and click the coupons tab on the right side of the dashboard.
It will display all the available coupons that InboxPays offers.
Just print it and cut it out and you can use it when you do your groceries on the corresponding store where the coupon is valid.
In my opinion, this is one of their better deals because you get rewarded without having to do anything.
Option 5 – Referral Program
I always like referral programs because you don't have to do anything aside from referring that person to become a member.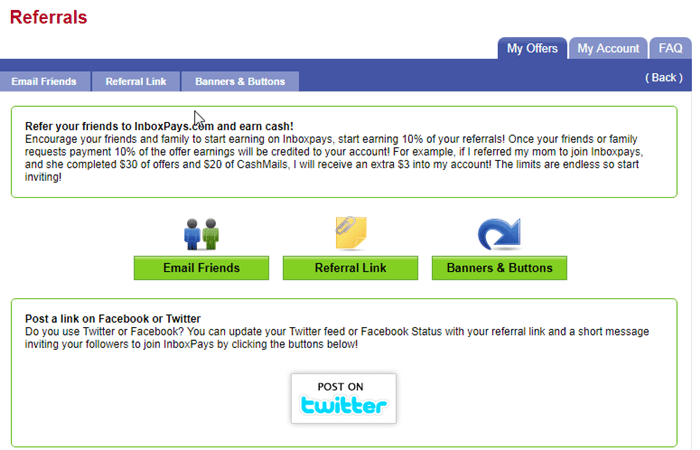 With InboxPays' referral program, you stand to gain 10% of your referral's income.
But, (yes there is a but) based on their explanation, you can only gain 10% of the income that your referral got from paid offers.
You will also only receive the 10% once your referral requests for payment of his or her income. So there are some big limitations with their referral program compared to programs on many other GPT sites.
And it will take some time and patience to get any earnings out of this.
But if you know a lot of people that might be interested in joining and becoming active on InboxPays, it can be a way to earn a bit extra.
Option 6 – Spin the Wheel Contests
As with most GPT sites, there will always be contests that will give you the chance to win big prizes.
With InboxPays, they have the Spin the Wheel contest.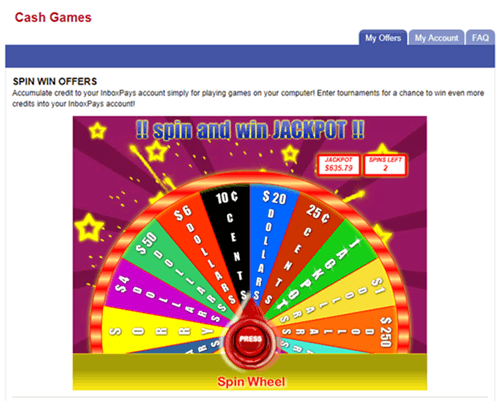 Their Spin the Wheel contest offers rewards ranging from $0.75 to $100. It also has a jackpot prize where the amount of the prize will be displayed on top (refer to picture).
So some pretty good rewards if you are lucky. But your chances of winning the jackpot are, of course, not big.
You will get 2 free spins. If you want to play more, you have to complete offers in order to accumulate a specific number of spins.
The problem is, their Spin the Wheel game is kind of glitchy and not user-friendly.
I tried spinning but the wheel keeps on turning and won't stop. So you might have to contact their support regarding that game.
How do you get paid?
Here's where you get a clearer picture of what InboxPays can do.
As you probably already know, InboxPays rewards you with real money.
The minimum payout threshold before you can request for payment is $50. That's actually a pretty high amount for a GPT site and it is way too high, in my opinion.
Once you hit the $50 mark, you can then request for a payout which you can withdraw with PayPal.
In my opinion, the high payout threshold is what makes this GPT site a lot less enticing. Plus, you can only request for payment in increments of $50.
There are plenty of other Paypal sites that offer a better alternative. You can check the best sites that offer PayPal as a payment method.
Another problem with their payout method is that you have to earn at least $25 in the paid offers and spin the wheel and $25 in paid emails before you can request payment.
So you really can't just focus on one earning method because the site prevents you from requesting for payment if you don't qualify.
There are better GPT sites that offer better payment modes.
How much money can you make?
As you can probably guess, you will be able to make at least $50 since that is the minimum threshold before you can request for payment.
Since it is a GPT site, there are a lot of ways you can earn, so you can quickly increase your balance.
But in my opinion, in order to make a significant amount of money, you have to fully commit to using InboxPays. That's because they only let you request payment in increments of $50.
And considering that you have to accumulate at least $25 in paid offers and $25 in paid emails, it can take quite a long time before you can actually receive payment.
Reaching the $25 quota in paid offers is a bit easier compared to the $25 quota in paid emails or referrals. That's where the problem lies.
In my opinion, a GPT site that requires that there should be a minimum amount that you need to accumulate for each earning method before you can request payment is simply not worth the time.
There are better GPT sites that offer a much simpler way for you to earn money.
Can you use it on mobile?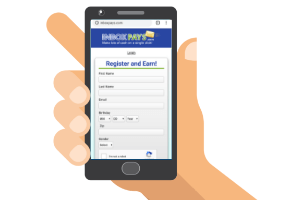 InboxPays doesn't have an app for mobile devices. The good news is, their site is accessible via a mobile browser.
This makes it easier for you to accumulate rewards since you can access it via a mobile device.
The mobile version of their site is also responsive, which is a good sign.
The main issue with their website in the desktop version is that it easily times out. You have to keep logging back in if you've been idle for a few minutes, which can be annoying.
Fortunately, upon testing, their mobile site doesn't do that. It stays logged in even after several minutes of being idle.
Who can join InboxPays?
Only residents of the United States can join InboxPays.
If you live in another country, you cannot join.
During the registration process, you will have to provide accurate information in order to successfully complete it.
Right off the bat, they will ask for your zip code. You won't be able to proceed if the zip code you've provided doesn't match any of the zip codes in the U.S.
If you falsify your account details, they will cancel your membership without any warning. So you have to think about that before you register.
And according to their Terms and Conditions, you also have to be at least 18 years of age in order to participate.
There are so many great sites in the USA so even if you live here, you should consider alternatives as well.
At least you need to know exactly what you are getting into and agreeing to, so it is important to also notice the terms when you first sign up.

Here you can see that you are not only agreeing to receive offers from InboxPays which is only natural when you sign up for any site.
But you are also agreeing to receive offers from their marketing partners.
When you click, you can see a list of around 15 marketing partners you agree to receive offers from. This includes medical companies, debt companies, and more.
Personally, I do not really like you have to agree to receive offers from this many partners to sign up. And I especially do not like that many of the companies seems unrelated to GPT sites and survey sites.
This does not mean it cannot be worth it but you just need to know this so you know what you are agreeing to.
Can you get support?
InboxPays does have a ticketing system you can use in case you encounter any problems with their site.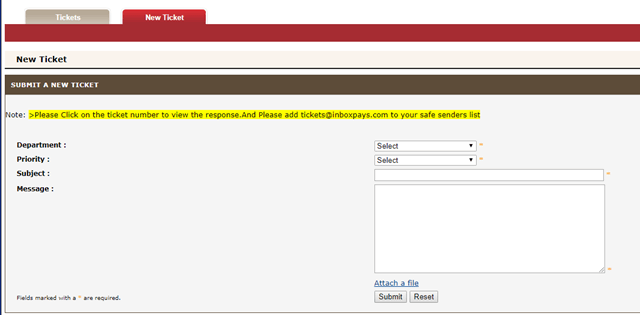 You can access their support site by clicking the Contact link at the bottom of their home page.
This will redirect you to their contact page that has a link to where you can submit your ticket.
You simply log in with your email and password and you will be taken to their support site. Just fill out the form with the necessary info and hit submit.
Of course, the question now is how often do they reply to the tickets submitted?
InboxPays promises that they get back to you within 3 business days, but there are plenty of complaints regarding tickets not being answered, so that's not a good sign.
Their contact page does include a mailing address so you can contact them via postal mail.
Upon checking the social media platforms, they do have a Twitter page but it hasn't been active for quite a long time. They also don't have a Facebook page, so it seems the only way for you to contact them is through their helpdesk and postal mail.
In my opinion, that shows a lack of commitment to engaging with their members, which isn't a good sign at all.
Final Verdict
InboxPays is a legit GPT site that promises you real money payout.
It has plenty of earning options which is pretty common for GPT sites. This does, however, not mean it will necessarily be a good option for you.
To make it easier for you to make a decision, let's finish this review with a list of the pros and cons of using InboxPays.

Pros:
Multiple earning opportunities
Can request a payout via PayPal

Cons:
Sends a lot of emails so be prepared
Only one account per household is allowed
High payout threshold which is also pretty complicated
You agree to receive offers from many partners when you sign up
In my opinion, the main problem with InboxPays is that they have a very high payout threshold. That alone makes it harder for you to make money.
Then you'd have to consider the complicated way of being able to request payment, which adds another layer of things you need to work out. Also, it is a deal-breaker, in my opinion, that you need to agree to be contact with promotional offers from a lot of partners just for signing up.
There are better GPT sites that offer better rewards at a low payout threshold. For that reason, I recommend you check the top GPT sites for better opportunities.
If you have any comments, questions, or have any experiences with InboxPays yourself, I would love to hear from you in a comment below.