If you are a gamer or just like playing games online and are looking for ways to earn a bit of extra cash, you have maybe heard about Bananatic.
Bananatic is a Get-Paid-To (GPT) site that promises to reward you for playing games.
But is Bananatic legit and really a fun way to earn by playing games or a waste of time?
Let me reveal right away that Bananatic is a legit GPT site that will pay you for playing games.
But is this site worth your time though? That is a completely different matter.
This Bananatic review will examine all the details of the site so you will know exactly what to expect and can decide if it is a great fit for you or not.
What is Bananatic and what does it offer?
As already mentioned above, Bananatic is a GPT site that will reward you for playing games. Normally, GPT sites will ask you to complete offers that involve answering surveys and other small tasks.
But Bananatic is a bit more unique. Instead of those types of offers, you will be asked to play games. They also have other ways for you to earn rewards.
To understand the potential of this GPT site, let's take a closer look at how you will be able to earn rewards from this site.
I have made a video tutorial that will give you a full guided tour and show exactly how Bananatic works. You can also read all the details below the video:
Recommended: Check Out The Top GPT Sites
Option 1 – Play Games
The main way you can earn rewards is by playing games.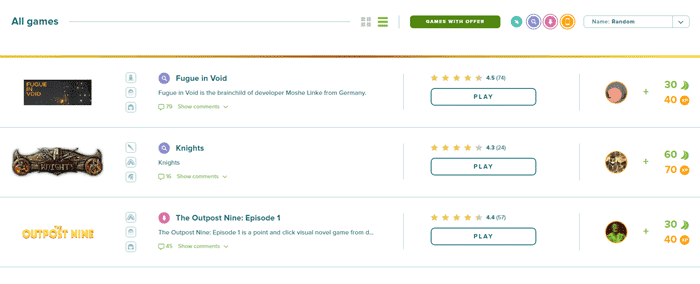 Once you finish the registration (I will talk about the registration process later), you can log in to the site and view all the games you can play.
As seen in the photo above, each game has a corresponding reward. In order to receive the reward though, you will have to meet a certain requirement. Most requirements will ask you to reach a certain level or complete a certain quest.
If you are into games, you will most likely enjoy earning from this site. This is their equivalent of paid offers. Instead of signing up to a site or answering a survey, you will be asked to play games.
Once you meet the requirements of the game, the reward will then be credited to your Bananatic account.
Option 2 – Cashback Offers
Bananatic also offers cashback rewards, but not in the way you expect them to be.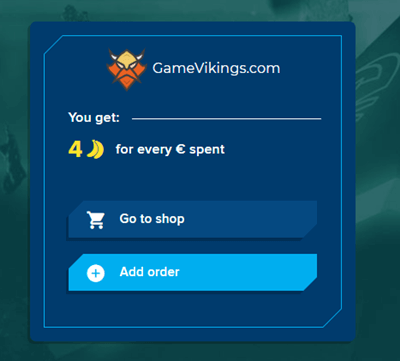 Normally, on cashback sites, you will receive a certain amount (a sort of rebate) for the purchase you make on an online shop.
But in Bananatic's case, instead of receiving a specific amount, you will be rewarded with bananas (which is the currency they use, hence the name).
Most of the offers will allow you to receive a certain number of bananas for each Euro you spend on purchases from their partner store.
It's not exactly like what happens on regular cashback sites, but the process is still the same. You spend a bit of money, and in return, you will receive something back from Bananatic.
Option 3 – Offer Walls
You will typically encounter offer walls on other GPT sites. This is the main method of earning on most GPT sites and Bananatic also offers them.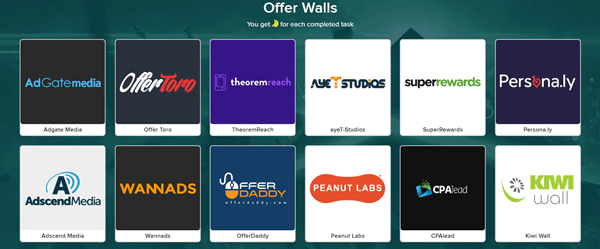 If you've been a member of other GPT sites, this method of earning will be very familiar to you. For the uninitiated, the concept is pretty simple. You simply choose which offer wall you want to do and click on it.
You will then see a list of offers you can take. Every offer will reward you with a certain number of bananas.
Most of the offers you see on these offer walls will ask you to either complete a survey, register to a site, answer quizzes or install mobile apps.
You just have to remember that each offer will have certain conditions that need to be met before you will earn the reward.
Recommended: Check Out The Top GPT Sites
Option 4 – Bananapedia
As a member of Bananatic, you also have the chance to earn rewards by adding entries to their Bananapedia.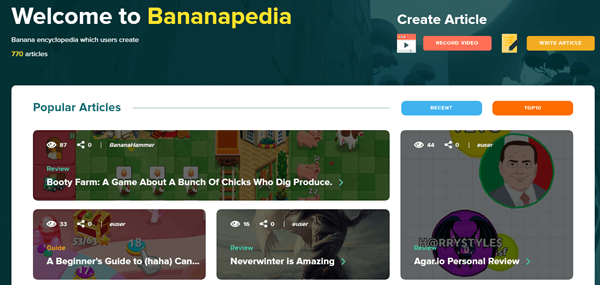 You can do that by writing an article or creating a video. If you choose to create a video, you will have to upload the video via YouTube and link your YouTube account to Bananatic.
There's not a lot of information on the rewards you will get for making videos, but usually, in my experience, the longer the video, the more rewards you will get.
If you decide to write an article instead, the reward you will get will depend on the level of your membership.
You will earn 100 bananas per article if you are a basic member. If you are a premium member, you will receive 200 bananas. And if you are a master member, you will receive 500 bananas.
Aside from the bananas, you will also receive experience points which will be used to level up your account (I will talk about this later).
It is important to note that when you write an article, you have to make sure the article is unique, so copyright laws will be applied.
The topics you can write about will range from game tutorials, news about patches or other changes, game events, vendor competitions, or basically anything related to the site.
Bananatic has its own platform for posting the article and it's pretty easy to use, in my opinion.
Option 5 – Watch Videos
Bananatic also allows you to earn rewards by watching videos.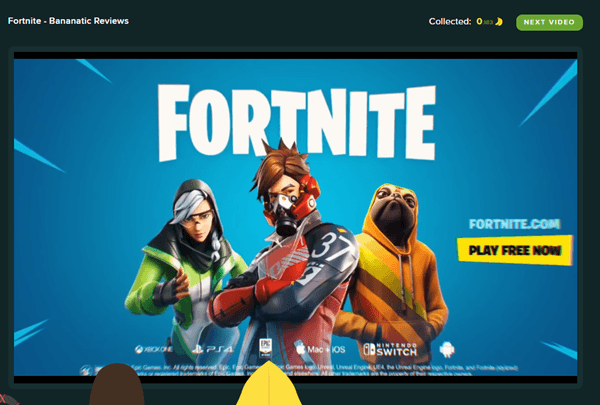 When you get to the Watch Videos section of Bananatic, all you have to do is click the play button and start watching the video. You will then see a timer above the video.
The timer will represent the number of bananas you have earned from watching videos. Every second you spend watching a video will let the timer run.
The longer you watch videos, the more bananas you will earn. In my opinion, it will take quite a long time to earn a banana. You have to spend approximately 1000 seconds just to earn one banana.
So, it really isn't a very efficient way to earn rewards on the site. In my opinion, you will be better off spending your time playing games or completing offers on their offer walls.
Option 6 – Referral Program
You can also refer friends and other people to the site in order to earn rewards.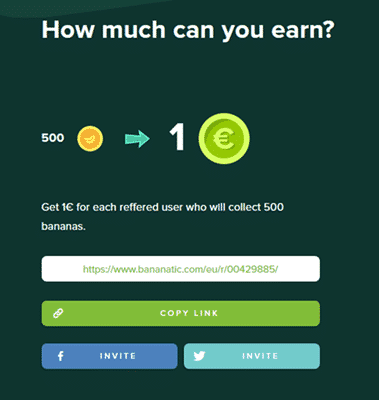 Their referral program is pretty simple. You will be able to earn €1 for each person you referred and registers to become a member. They do have to earn at least 500 bananas before you will receive the €1.
It's a pretty simple process. All you have to do to refer a person is give them your referral link. You can also invite people to join Bananatic through Facebook and Twitter.
How do you get paid?
Now that you know how to earn from Bananatic, it's time to learn more about how you will get paid from this site. After all, this is one of the most important aspects to know.

Bananatic has several payment options available, including PayPal. This is a good sign because they have at least, ensured you will be able to redeem the bananas you've earned (think of these bananas as reward points).
If you are interested in other sites that pay via PayPal, I recommend you also check out the top survey sites that pay via PayPal.
Aside from PayPal, you can exchange the bananas you've accumulated into Steam Wallet currency, game codes, in-game currency, Amazon gift cards, and even Visa prepaid cards.
If you want to redeem a Visa prepaid card, the minimum amount you can withdraw is $5. That will cost 2500 bananas.
If you wish to exchange your bananas with game codes, in-game currency or items, the cheapest reward will only cost 250 bananas (Steam random key). There are other rewards, but they cost more.
There is another way for you to earn rewards, but it isn't a sure thing. You can join their Bananabet and win in-game items and rewards. You will have to bet a certain number of bananas to join.
If you win, you will receive the prize. If not, the bet will be deducted from your account balance.
It's not really a good way to earn rewards, but if you are feeling lucky, you can win great rewards for far less than what they cost if you exchanged them on their payment gateway.
How much money can you make?
The amount you will earn from Bananatic will depend on how active you are on the site.
Most of the offers available on Bananatic don't really pay well, so you'll have to play a lot of games, complete plenty of offers, and write articles or make videos just to accumulate enough bananas.
This is the major drawback of this GPT site. However, if you love to play games, earning rewards will become a secondary priority because they do have a lot of games you can choose from.
So, if you are planning to join this site, I would not recommend it if you are in it just for the money. There are far better GPT sites out there that will allow you to earn more.
Bananatic is mainly a GPT site for gamers, in my opinion. Even the way they structure their platform is like a game.
For example, they have a level-up system in place for your account. The more games, offers, and other activities you do, the more experience you receive.
The more experience you have, the higher your account level is. They don't have much information as to what you get for leveling up your account, but in my experience, leveling up your account will usually mean more benefits. This can be a good way to boost your earnings on the site.
Think of this system as a way to incentivize members who are very active on the site.
Can you use it on mobile?
Another good quality of Bananatic is its ease of use. You will be able to work on offers and other activities on the site from your mobile device.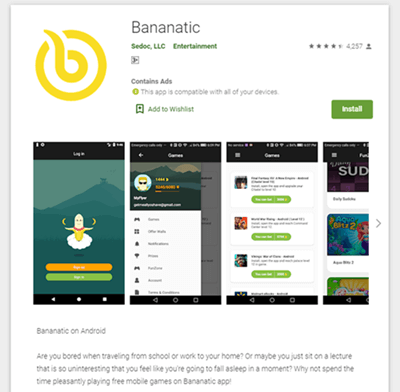 As you can see in the photo above, Bananatic has a standalone mobile app you can download so you can work even when you are not in front of the computer.
The mobile app works on both Android and iOS devices, so you don't need to worry about compatibility. It is also fairly easy to use, which is one of the strengths of the mobile app.
This is a good thing really, considering that the earning potential of the site is pretty low. This will at least, help in allowing you to make use of your time efficiently.
With the help of their mobile app, you can slowly accumulate bananas so you can exchange them for rewards.
Who can join Bananatic?
Bananatic is available for everyone. When you sign up, it will either ask you to sign up via your Facebook account, Google account, or email.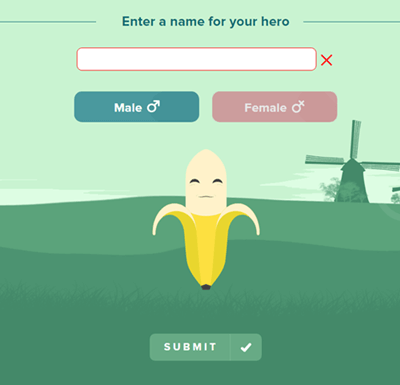 Remember when I said their platform is structured more like a game? Well, that holds true even during the registration process.
As you can see in the photo above, once you choose any of the three sign-up methods, you will then have to pick a name for your account, just like you would normally do when creating a character in a game.
You will then have to go through a series of simple questions. You will then reach the part where you will earn a bonus for signing up as a member.
You will earn 50 bananas right from the start and when you opt to join their newsletter or receive notifications, you will also receive a total of 150 bananas all in all.
It's not much but in my opinion, this is a pretty nice bonus. This is because it allows you to have a head start at collecting bananas and considering that the cheapest reward only costs 250 bananas, you'll be more than halfway to your first reward.
When I said it is available for everyone, they don't actually say that on their website. Instead, you will notice it when you undergo their registration process. The registration won't ask you for your location or even your age.
That means they don't really care where you live or how old you are. But if you want to withdraw your earnings via PayPal, you will have to be at least 18 years of age or older in order to do so. Just keep that in mind before registering.
Can you get support?
If you need to contact their support team, you can use their contact form to do so.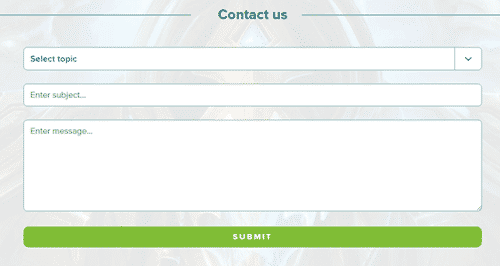 Aside from that, they also have an FAQ section that covers most of the basic topics. You can also join their forums if you want to look for the answers yourself.
One unique thing about Bananatic is, that they have a chat function where you can chat with other members of the site. You can talk about different topics and you can even ask for tips from fellow members.
In my opinion, this is one unique way of getting help. Overall, they have a decent way of providing support for their members.
Final Verdict
Bananatic is a legit GPT site that is made with the intent to serve gamers. But that doesn't mean this site is purely for gamers.
Here's a summary of its pros and cons to give you an overview of the site. You can use it to help you decide whether you should join their site or not.

Pros:
Provides fun ways to earn rewards
Has several payment methods offered
Has a mobile app you can use to earn

Cons:
Low earning potential
Quite time-consuming
can be a bit difficult to learn to navigate on the website
Everything about Bananatic is decent except for one main thing. The site really doesn't have a high earning potential. It doesn't reward you well for each game you play or offer you complete.
You will have to play a lot of games and complete a lot of offers just to have enough bananas to exchange for rewards.
But if you like playing games, this can be a good site to join because it gives you the chance to play different games and earn rewards at the same time.
Think of it as a way to have fun and earn a small amount of money. That's at least better than playing games without earning anything.
But if you are looking for GPT sites that will allow you to earn a decent amount and less time investment, I suggest you check out the top GPT sites instead.
The GPT sites on this list all have good earning potential and you won't have to invest a lot of time in order to earn a significant amount. Plus, you will find a site that will fit your needs regardless of where you live.
If you have any comments, questions, or have any experiences with Bananatic yourself, I would love to hear from you in a comment below.