SavvyShares is a website that claims it offers a unique way for you to earn shares for your data and opinions. So, if you are looking for a good source of extra income, you might be thinking about joining this site.
But before you hit the "Join" button, let us first examine what this site has to offer. We also have to determine if this site is legit or if it is just a scam. After all, you want to make sure the site will really allow you to earn.
This SavvyShares review will reveal the full details of what this site has to offer so you can determine if it is really worth joining or not.
So, let's get started.
What is SavvyShares and what does it offer?
SavvyShares is a survey site that will reward you for answering surveys. It is owned by the same company that operates SurveySavvy.
And since it is owned by the same company that made a legit survey site, it is safe to say that SavvyShares is also a legit survey site that will really pay you for participating in the earning opportunities it offers.

And speaking of SurveySavvy, if you are already a member of this site, you are highly encouraged to transfer your account to SavvyShares now. As shown in the photo above, you can use your SurveySavvy account to migrate to the SavvyShares platform.
By doing so, you will no longer receive any survey invites on SurveySavvy. But you will still be able to earn from their referral program. During my testing though, I decided to create a new account just to see how it looks and see what the differences are. Later, I will talk about how to sign up.
And before you migrate your account, I would encourage you to read this review carefully first as there are some important things you need to consider. And once you migrate your account, you cannot change it back so you need to know what you are saying yes to.
Now, let's talk about SavvyShares in detail. To understand how this site works, we have to examine the earning opportunities it offers. This will also give you an idea of how well you can earn from the site. So, here's how you can earn from this site.
Option 1 – Paid surveys
As mentioned, you will be able to earn from SavvyShares by answering their paid surveys. When you become a member of their panel, you will be invited to participate in a survey from time to time.
You can see the available surveys when you log in to their member dashboard. You will also be notified via email if there are new surveys waiting for you.
When you answer a survey, you will first have to go through a qualification process. That means you will have to answer a set of qualifying questions first. This is to determine if you fit the bill, so to speak. Every survey has a target demographic and the respondents should only be from that demographic.
So, if you qualify, you get to answer the actual survey. If you don't qualify, then you'll just have to move on to the next available survey. Once you complete the survey, you will be eligible to receive the reward.
And speaking of rewards, you will be paid in company shares instead of actual money. Later, I will discuss what to do with these shares.
You also need to be aware that compared to many other survey sites, you will not get a lot of surveys on SavvyShares, in my experience.
Option 2 – SavvyConnect
Savvy Connect is the other earning opportunity this site offers. It is actually a program used to gather data so you can earn passively. For computer users, you have to download the browser extension version of SavvyConnect. For mobile users, you have to use the mobile app version, which I will talk about later.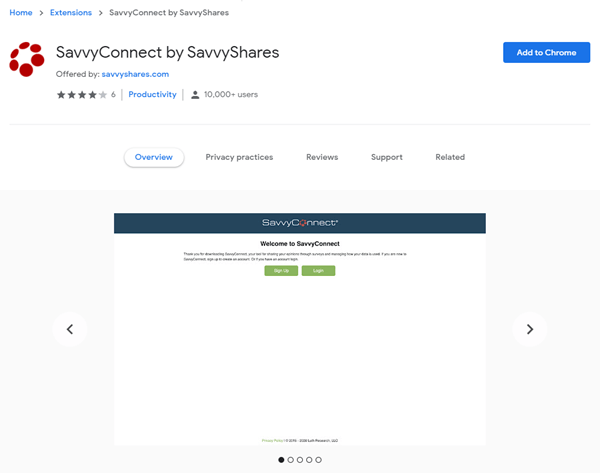 SavvyConnect is a browser extension that will work with Google Chrome, Mozilla Firefox, and Microsoft Edge. Any browser not mentioned above will not work with the said extension.
To earn from SavvyConnect, you have to first install it on your browser of choice. I would recommend you install it on your main browser. This is because the purpose of this extension is to gather data about your browsing activities.
While it may sound like a violation of your privacy, SavvyShares does guarantee that no private and sensitive information will be collected. So, it's not actually something you should worry about.
And in my experience, legit websites that offer this kind of opportunity do hold up their end of the bargain. And since it's their company's reputation on the line, I would take their word for it.
As to how you can earn from it, once it is installed in your browser, you just have to browse websites like you normally do. You don't have to do anything special or put in any effort just for the extension to collect data.
The one thing you need to keep in mind with SavvyConnect is, you just have to use it for at least 21 days in a calendar month to earn from it with at least 7 days of actual usage data (per device) received. You also have to make sure your SavvyConnect extension or mobile app is up to date when used.
It is also worth noting that you will be able to answer surveys using the browser extension. So, once you've installed it on your browser, you don't have to log in to the site to answer surveys.
Recommended: Check Out the Top Survey Sites in Your Country
How do you get paid?
Now, let's discuss how you will get paid by this website as this is quite different from anything I have seen on any other survey site (and I have tested hundreds of sites).
As the name suggests, you will actually be paid with company shares instead of cash when you earn. The photo below will break down how you get paid.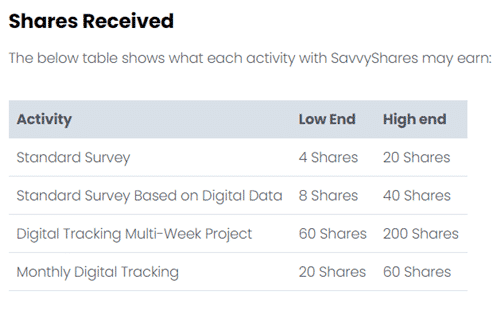 For short surveys, you will get paid 4 shares and for long surveys, you will earn 20 shares. For special surveys based on the data they've collected from you using SavvyConnect, you will earn more (twice the worth of regular surveys).
As for using SavvyConnect, you will earn 20 shares a month per device it is installed on (granted that you met the requirements to earn). However, you are only allowed a maximum of three devices you can earn from (one computer, one mobile phone and one tablet). So, in total, you can earn 60 shares a month for using SavvyConnect.
So, how will you be able to earn cash if you only receive company shares? The answer to that is through their dividends. Once your share earns dividends, you can elect to receive that money as a check or convert it to stock dividends. If you are new to this kind of reward system, I would recommend you read up on how and when stock dividends are paid out.
As for the check, it will be sent to you via postal mail, so you'll have to wait a while before you will receive it.
In my opinion, the reward system of SavvyShares isn't really suitable for people who are simply looking to earn a bit of extra cash. It is more of a long-term investment.
So, if you are looking to get paid with cash, I would recommend you check out the top sites that pay via direct bank transfer instead.
How much money can you make?
It's a bit hard to quantify the amount you can earn from SavvyShares because as explained, you won't really earn cash from it. You'd have to check and monitor the worth of each share of SavvyShares to get an inkling of how much you will earn.
So instead, I'll talk about the availability of their earning opportunities so you can get an idea of its potential. As for their paid surveys, invitations to surveys are based on the number and type of people their clients want to hear from.
So, you cannot predict how many surveys you will be invited to participate in. The best thing you can do is to answer surveys as honestly as you can so you won't be flagged as someone who provides false information. Because when that happens, you will stop receiving any survey invites or worse, your account will be banned.
SavvyConnect, on the other hand, will most likely be your main source of "income" from this site. As explained earlier, you can earn a steady number of shares by simply using it. That's why I would say this is your best bet if you want to earn rewards on a regular basis.
You have to make sure you maximize your earnings from this site by installing SavvyShares on three different devices (computer, mobile phone, and tablet).
Overall, if you are purely looking to earn cash, then the earning potential of SavvyShares is not that good. But if you are looking for a long term investment, then this can be a viable option.
Can you use it on mobile?
As mentioned earlier, SavvyConnect has a mobile app you can download and install on your mobile devices. This app will do the same thing the browser extension does and it is user-friendly too.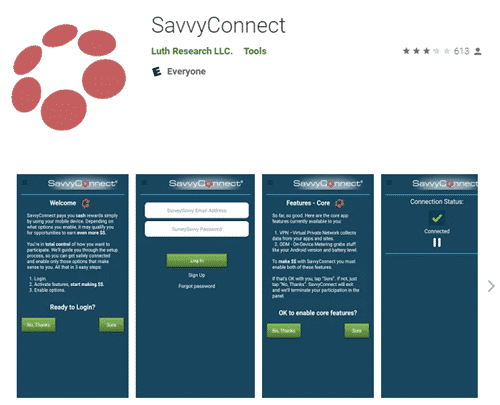 And the good thing is, it is compatible with both Android and iOS devices. So, you won't really have any compatibility issues. Take note though that you can only install the app on one mobile phone and one tablet. Installing the app on more devices will do nothing for you because you won't earn more.
Now, I suggest you install the app on the devices you are using often. This is because you have to log in at least 7 days of usage to earn from it. So, if you install it on a device you seldom use, then chances are, you won't meet the earning requirements.
Who can join SavvyShares?
As explained earlier, you can use migrate your SurveySavvy account to this platform. But that would also mean you will stop receiving survey invites from that survey panel. So, before you do that, I would suggest you withdraw all your earnings on that site.
If you will be registering a new account though, all you have to do is provide your email address (refer to the photo above). You will then have to fill out their registration form to complete the sign-up process. Once you are done with the sign-up form, you can log in to the site and start the process of earning.
Can you get support?
If you have any questions about the site or your account, you can first check out their FAQ page. It discusses most of the basic topics you need to know about the site.
If you have an inquiry that wasn't answered by their FAQ page or if you encounter any issues or technical problems, you can get in touch with their support team by emailing them at support@savvyshares.com. Or, if you want to speak to a support representative immediately, you can call them at this number 800-492-4982.
Overall, I would say they have a good support system in place for their members. I especially like the fact that they have a hotline you can call so you can resolve your issues as soon as possible.
Final Verdict
SavvyShares is a legit survey site that will reward you for answering surveys and for using their browser extension and mobile app. It has a couple of good features but it has some limitations you need to keep in mind.
To wrap things up, let me finish this review by listing down its pros and cons to give you an overview of what the site has to offer so you can decide if it is a good fit for you or not.

Pros:
Offers a passive way of earning
Their browser extension and mobile app are both user-friendly

Cons:
Limited earning opportunities offered
No cash rewards offered
If your goal is to join a site where you can earn a bit of extra cash, you are better off joining other sites instead. The reason is, it will take quite a long time for you to earn cash from this site.
But if you are looking for a long-term investment, this can be a viable option. The company might do well, so you'll earn a lot of money for the shares you've accumulated – but you just need to keep in mind that there is no guarantee. Joining this site is kind of like playing in the stock market, but instead of investing money, you will be investing your time.
The payoff can be great if everything goes well, but it could also go the other way around. If that sounds appealing to you, then I would recommend this site for you. But if not, I would recommend you check out the top survey and GPT sites in your country instead.
The sites on this list all have good earning potential and these sites will allow you to earn a decent amount on a regular basis and get paid in cash. Plus, you will definitely find a site you can join regardless of where you live.
If you have any comments, questions, or have any experiences with SavvyShares yourself, I would love to hear from you in a comment below.