Rewardia is a Get-Paid-To (GPT) site that offers you rewards for participating in different activities. If you are contemplating joining this GPT site, you must first have to verify several things.
The first thing on your mind should be, is Rewardia a scam? This is an important question to ask because you need to make sure you join a legit GPT site to make sure you receive the rewards you've earned.
So, let me answer this question right away. No, Rewardia is not a scam. It is in fact, a legit GPT site that does what it claims to do, which is reward you for participating in the activities they offer.
However, this is not the only barometer to determine if a site is truly worth joining or not. There are several factors you need to consider when evaluating a GPT site.
This Rewardia review will take a look at everything the site has to offer so you will know what to expect when you become a member. That way, you can properly decide if you should join this site or not.
What is Rewardia and what does it offer?
As mentioned above, Rewardia is a GPT site that will pay you for participating in the available activities on their site.
To truly gauge the earning potential of the site (which is one of the most important factors to consider), we need to take a closer look at the earning opportunities it presents.
This is the best way to determine if a site is indeed profitable or not.
So, here are the earning opportunities offered by Rewardia.
I have created a video that guides you through exactly how it works. You can also read all the details below the video:
Option 1 – Paid Surveys
For most GPT sites, one of the ways you can earn rewards is by answering paid surveys. With Rewardia, it won't be any different.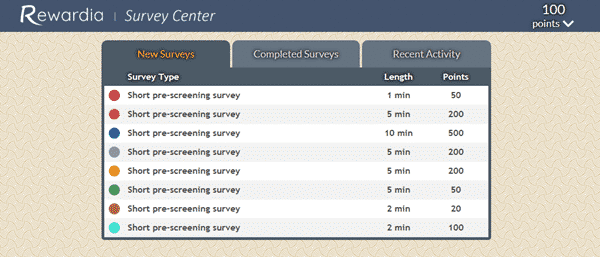 If you've been a member of a survey site, you will know what to expect with paid surveys. If you are new to this, then paid surveys are basically surveys you can take in exchange for rewards.
The process for answering paid surveys will involve answering a set of qualifying questions first. This is done in order to make sure you belong to the group the survey is targeting.
If you qualify, you will then get to answer the actual survey. If you don't, you simply move on to the next available paid survey offer.
Once you complete the paid survey, you will then receive the reward promised, which will be credited to your Rewardia account.
As you can see in the photo above, you will know right away how many points you will receive for completing the survey offer. You will also know how long it will take to complete the survey.
This is a good piece of information to know beforehand because it will help you prioritize which surveys to take, which will come in handy when you are strapped for time.
Overall, Rewardia offers quite a lot of surveys so it is definitely one of the earning methods to make sure you take advantage of if you decide to join after reading this review.
Option 2 – Play Games
Another way to earn rewards from Rewardia is to play games. This, in my opinion, is one of the better ways to earn from this site simply because you can also have fun aside from earning.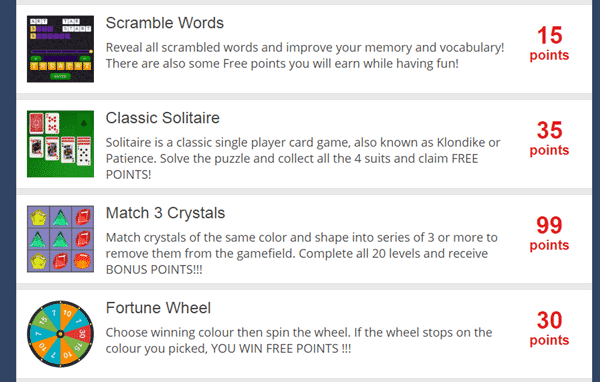 When you log in to the site, you will quickly see all the games you can play. Each game offer will have one specific condition you have to meet in order to earn the reward promised.
Once you meet the condition, you can stop playing because the reward will then be credited to your account. The rewards you earn from this opportunity though won't be that high.
But, the good thing is, it won't really feel like work when you are doing it because it's often a bit more fun than answering a survey for example.
Option 3 – Other Activities
There are other activities on Rewardia you can do to earn rewards. You can answer polls, watch videos and even check the weather.
By completing all of these activities, you will receive points.
However, don't expect to earn a lot of points from these activities.
The good thing though is, it really doesn't take much effort to complete these activities. So, it's a fair exchange, in my opinion.
Overall, you can find a lot of options on Rewardia. At first, this can be a bit confusing as it is not that easy to get a good overview.
But if you take the time to just click around the site, you will quickly figure out where to find the different option and then there are plenty of activities you can do to earn.
Option 4 – Promo Codes
Promo codes aren't exactly earning opportunities but more of a bonus.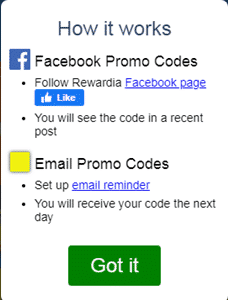 As shown in the photo above, you can get the promo codes from their Facebook page or thru the email they send to you from time to time.
All you have to do is input the promo code and you will receive the reward.
Usually, they post these promos codes every day. So, contrary to many other sites that use promo codes, it is something you can find very often.
Typically, the rewards you will get are a certain number of points, which will then be credited to your account.
Option 5 – Referral Program
Most GPT sites also have a referral program and Rewardia is no exemption.

You can invite other people to join Rewardia and receive 10% of their earnings as a reward. Of course, this means they will have to be active on the site in order for you to earn something.
As an added incentive for them joining the site through your referral link or code, they will receive 3,000 bonus points once they earn their first 3,000 points.
That's a huge bonus for them, in my opinion, which makes joining the site much more enticing.
You can invite people to join by sharing your referral link or posting your referral link on Facebook or Twitter.
You can also give them your referral code so that they will get a bonus when signing up.
If you prefer to invite people to join via email, you can also do that. All in all, their referral program is quite decent, in my opinion, because the bonus your referral will receive is quite significant.
This can be a good selling point to convince them to join the site and stay active.
How do you get paid?
As you can see, every activity you complete on Rewardia will earn you points. This is their platform's currency.
You can then use the points you've accumulated and exchange them for rewards.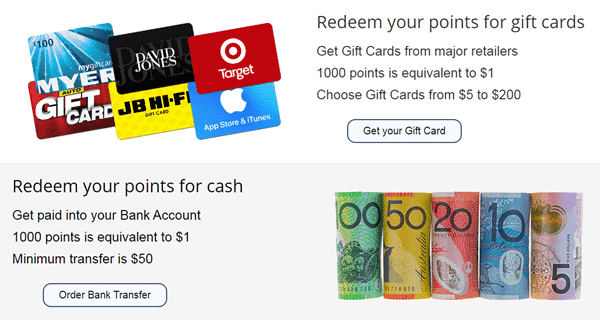 You can get gift cards or exchange the points for cash through bank transfer.
If you want to exchange the points for gift cards, you will need to have at least 5000 points (equivalent to $5) to do so. They do have a relatively extensive list of gift cards you can get.
If you choose to withdraw your earnings in cash, you will need to accumulate 50,000 points (equivalent to $50) in order to do so. That, in my opinion, is quite a high payout threshold to reach.
But they do offer something not many GPT sites offer – and that is to transfer directly into your bank account which can be quite convenient.
The one thing I can say about Rewardia's payment methods is, it would have been better if they also offered another convenient way of receiving payment, like PayPal for example.
If you are looking for sites that pay via PayPal, I suggest you check out the top survey sites that pay via PayPal.
How much money can you earn?
The amount of money you can earn from Rewardia will mostly depend on how active you are on the site. This is because there will always be offers available, which is a good sign.
This means you will be able to accumulate points on a regular basis. So now, the number of points you will receive for each offer completed becomes a factor.
Based on the offers available on the site, you will be able to earn a decent number of points by doing paid surveys. These are the highest paying offers available on the site.
And as mentioned, playing games and doing other activities won't pay quite as well. But the good thing is, there are always offers available.
So, all you need is a little bit of patience and effort to reach the high threshold if you want to withdraw your earnings via cash.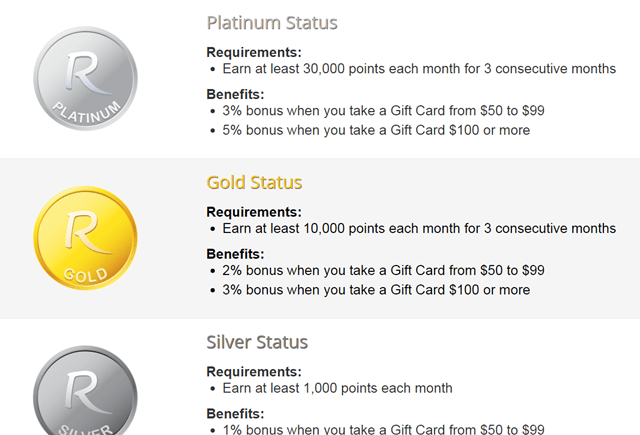 The good thing about Rewardia though is, the longer you are a member of the site and the more points you accumulate, you will receive certain bonuses once you qualify for being upgraded to one of their tiers.
The premise for these tiers is basically, once you move up one tier, you will receive certain bonuses like discounts when redeeming gift cards using points. The higher the tier, the higher the discount you will get.
In other words, it will cost you less to redeem a certain amount of gift card. That's a nice bonus to have, in my opinion.
Also, there is a great joining bonus you get just for signing up. Once you have earned your first 5,000 points, Rewardia will double it and thereby give you 5,000 points for free. So you will get $5 for free as soon as you have earned your first $5.
Can you use it on mobile?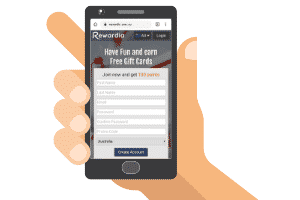 If you were hoping to work on Rewardia from a mobile device, you will be able to do so by using a mobile web browser.
That's because they don't have a standalone mobile app you can download and install on your mobile device.
The good thing though is, their website is optimized for mobile use. This means you will be able to conveniently navigate through the site without having to zoom in or scroll left and right.
The links to get to other pages of the site are also quite big, so you won't have a problem tapping it even on a mobile phone.
This is a good sign because this will help you become a more efficient earner since you don't need to sit in front of the computer to earn.
Who can join Rewardia?
Rewardia is available to residents of Australia and New Zealand. You also have to be at least 18 years of age in order to be eligible as a member.
I have been told that they are planning to expand to further countries in the future but as of writing this review, the countries mentioned above are the only ones available.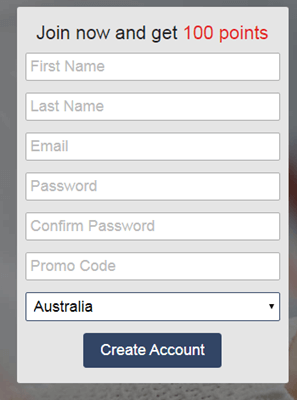 To register as a member, all you have to do is fill out the registration form located on their homepage.
Then, you just have to activate your account by clicking the activation link in the email you will receive from them.
Once you've done that, you can start working on the offers available to receive rewards.
One good thing about their registration process is, you will receive a 100 point bonus once you finish the registration process.
It's not much, but it's a nice bonus to have because not a lot of GPT sites offer sign up bonuses.
Can you get support?
If you need to get in touch with their support team, you can do so by using their contact page.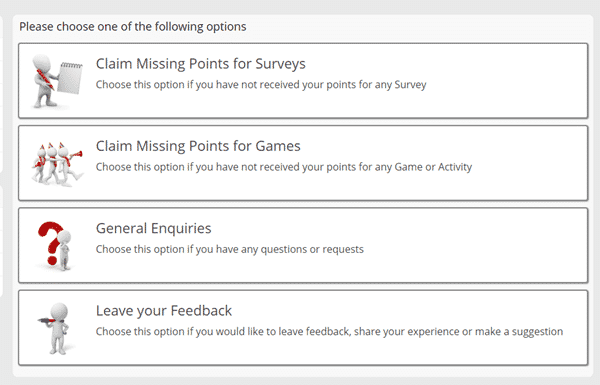 As you can see in the photo above, their contact form is streamlined for the type of question you want to ask. You can choose the general topic you want to ask and then fill out the form.
You can also check their FAQ section if you want to look for the answers on your own. They also have a Facebook page which is quite active.
You might be able to communicate with them via that platform, but I still recommend you use the contact form instead.
But overall though, they do provide a decent method of getting support, in my opinion.
I have been in contact with them a few times myself with some questions and have received quick answers. So, my experiences with their support are great.
Final Verdict
Rewardia is a legit GPT site that does pay you for completing the activities they offer. It has some good qualities and some less than ideal ones too.
Here's a summary of its pros and cons to give you a clear picture of what the site has to offer. Hopefully, it will be able to help you make a decision on whether you should join this site or not.

Pros:
Low payout threshold for gift cards
Registration process is pretty easy and you will receive a bonus once you complete the registration
Has a nice tier-system in place for rewarding long-time members
You can always find available offers

Cons:
Limited payment methods available
High payout threshold for bank transfer
Only available in 2 countries at the moment
As you can see, the best thing about Rewardia is that it rewards its long-time members quite well with their tier-system. Although some of the offers do not give the highest rewards, the good thing is there are always offers available.
This makes it possible for you to earn rewards on a regular basis. The downside is, if you want to withdraw your earnings via bank transfer, you will have to be extra patient since the threshold is quite high ($50).
But if you don't mind the wait, Rewardia can be a good site to join simply because it will allow you to earn on a regular basis and the methods for earning rewards are quite simple.
If you are interested in other GPT sites that pay well, I recommend you also check out the top GPT sites.
The GPT sites on this list all have good earning potential. Plus, you will be able to find a GPT site you can join regardless of where you live.
How to join Rewardia?
If you want to register as a member, you can click the button below that is an invitation link that gives you access to register.
The registration process is pretty easy, so you can start earning right away. And remember that you will get a $5 joining bonus as soon as you have earned your first $5.
If you have any comments, questions, or have any experiences with Rewardia yourself, I would love to hear from you in a comment below.