Surveyvillage is a relatively new survey site that promises to reward you for participating in their research activities. So, if you are looking for a survey site to join, you might be wondering if this is a good option or not.
This Surveyvillage review will help you decide if it is really worth joining or not. It will also verify if the site is legit or a scam you need to stay away from. After all, you would want to avoid joining a site that won't really pay you. That would just be a waste of your valuable time.
By reading this review, you will find out everything you need to know about the site so you can decide if it is really worth joining or not. So, let's go ahead and get started, shall we?
What is Surveyvillage and what does it offer?
As the name suggests, Surveyvillage is a survey site that will reward you for answering surveys. However, this is not the only way you can earn from this site.
To truly understand how this site works, we first have to take a closer look at the earning opportunities it offers. This will also give you an idea of how well you can earn from the site. So, here's how to earn from Surveyvillage.
Option 1 – Research activities
As mentioned above, you will mainly be answering surveys to earn from this site. But this is actually just part of their main earning opportunity. When you sign up as a member of Surveyvillage, you will actually become a potential candidate for their research activities. It just so happens that surveys is the more common activity being offered.
But there are actually other research activities offered from time to time. If you go through your profile settings, you will be able to set what kind of research activities you get invited to (refer to photo below).

Aside from paid surveys, you can participate in telephone research, group discussions, in-depth personal interviews, mystery shopping, product testing, and online forum posting.
So, let me give a brief description of these activities so you will more or less get a good grip of how to do each of them and can easily choose the ones that are right for you.
For paid surveys, you will first have to answer a set of qualifying questions to determine if you are a good fit for the survey. Survey sites do this to ensure the answers they get are actually from the demographic the survey is intended for. If you qualify, you get to answer the actual survey. If you don't, then you just have to move on to the next survey available (if there are any).
Telephone research, on the other hand, is a research activity where an interviewer will call at a time and on a number that is convenient to you. These interviews usually take between 2 to 40 minutes participation time.
For group discussions, you will first receive a short online survey to assess your eligibility. If you qualify, you will be required to attend a group discussion at a venue in your local area. There are usually around 7-8 other people present along with a moderator during these discussions.
In-depth personal interviews are done face to face. You will first receive a short online survey to assess your eligibility. If you qualify you will then be required to have an interviewer meet with you at your home or another arranged meeting point. In-depth personal interviews are like an informal chat lasting from 20 minutes to 1.5 hours. But it is the highest paying type of activity Surveyvillage offers.
There are two kinds of product testing you can do. You can either do it in-home or on-site. For both types, you will have to answer a short online survey to assess your eligibility. But for in-home product testing, if you qualify, they will send the product to your home for testing. For on-site testing, you will have to go to a certain venue to do the product testing. But regardless of what type of product testing you will be doing, one thing remains constant. After testing the product, you are required to provide your feedback usually in the form of a survey.
Surveyvillage will also invite you to participate in online forum posting. Just like the other activities, you will first have to answer a short online survey to assess your eligibility. If you qualify, you will be invited to an online forum, where, for the period of the project, questions will be posted to the forum and you will be required to participate in discussions.
Lastly, you can also participate in mystery shopping activities. If you are not familiar with mystery shopping, it's an activity where you will be asked to go to a certain physical store and complete certain missions like taking photos of products or buying products. It is designed to mirror common consumer behavior to test the consistency of the habits considered to be important to a specific brand or industry.
Now, regardless of what research activity you will have to do, the one constant with all these activities is, you will get the invite via email. So, there's really nothing else to do on the website apart from redeeming rewards (I will discuss how you will get paid later).
That's why you have to check your email on a regular basis to see if there are any new opportunities you can do.
What I like about this platform is that it has many different options compared to many other survey sites. Usually, you only encounter survey sites that offer a combination of paid surveys and product testing. You seldom find a site that offers this many market research activities.
Keep in mind though that even though these activities are available, there are still no guarantee you will be invited to any of them. The only sure thing you will get invited to are their paid surveys.
Option 2 – Referral program
This earning opportunity is a bit confusing because I'm not totally sure if it is still available to be honest. But since it says on their FAQ page that they have a referral program you can participate in, I decided to include it.
However, when you log in to the site, there's really no section for your referrals. In my experience, websites with a referral program typically have a section on their dashboard where you can view your progress with their referral program. You can also get your referral link from this page.
But as I've said, their member dashboard doesn't have that. So, as of the writing of this review, I would say their referral program is not available. They just haven't updated their information on their website.
Recommended: Check Out the Top Survey Sites in Your Country
How do you get paid?
For research activities you can do online, you will be rewarded a certain amount once it is completed. It will then be credited to your Surveyvillage account balance. And as mentioned earlier, to redeem rewards, you have to log in to the site.
Unfortunately, the only reward you can redeem is a Flexi gift card from Giftpay. The good thing about this kind of gift card though is, you can use it on a lot of online stores. Coles and Target are a few good examples of where Flexi gift cards are accepted.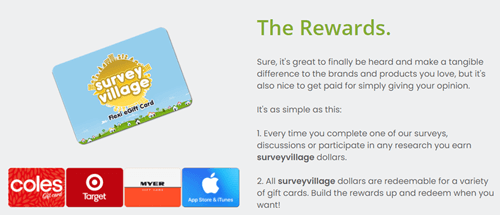 Plus, you can actually split the amount of the Flexi gift card. Let's say you redeemed a $20 Flexi gift card (which is also the minimum amount you can redeem), you can use the $10 at Coles and the other $10 at Target. That's how versatile this gift card is.
I like that the gift card you can redeem is very versatile but it would still have been better if they also offered cash rewards, in my opinion. If you are looking to earn cash instead of gift cards, I would recommend you check out the top sites that pay via PayPal.
As for their in-person research activities, they don't really explain how the rewards are handed out. I haven't tried one yet for Surveyvillage so I can't really say how it works in more details.
But in my experience from participating in other similar options, in-person research activities will usually be paid via check or gift cards and you will receive it once you complete the activity.
How much money can you make?
The amount you can earn from Surveyvillage will mostly depend on how often you get invited to participate in their research activities. They do pay a decent amount especially for in-person activities (around $30 to $160 depending on the activity).
As for their surveys, you can't really control how many surveys you get invited to (or even for their other activities for that matter). The best thing you can do is to make sure you include all the activities you are confident in doing in your profile. That would increase your chances of getting invites.
That's why overall, I would say the earning potential of this site isn't really that good even though they do pay rather well. There simply aren't a lot of earning opportunities available, so you can't expect to earn a decent amount on a regular basis.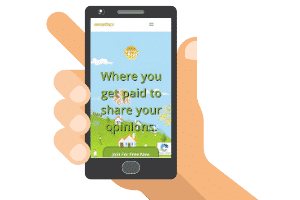 Can you use it on mobile?
As I've mentioned earlier, there's really not much you can do on their website except for redeeming rewards. Everything else is done off site. When you receive a survey invite via email, you just have to click the link and it will open a new browser window.
So, technically speaking, you will be able to use it on a mobile device because you can open your emails from your mobile to access their survey and activity invites. Their website is also mobile-friendly so you'll be able to answer surveys pretty conveniently.
This can help a lot because you will be able to earn even when you are not in front of your computer.
Who can join Surveyvillage?
On their homepage, it says Surveyvillage exists to improve the lives of Aussie and Kiwi consumers. So, naturally, it will only be available in those two countries. If you don't live in Australia or New Zealand, then this site is not for you.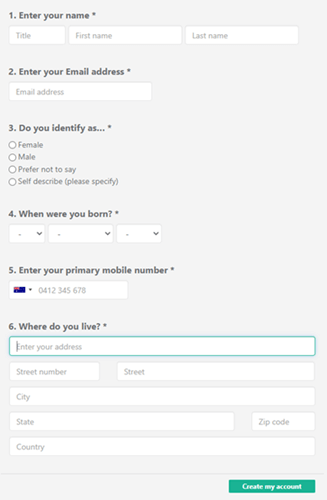 To sign up as a member, you have to be at least 16 years old. Then, you just have to fill out their registration form. And as shown in the photo above, you have to provide your mobile number when you sign up. This will be needed later on for verification if there are any opportunities that need to be done over the phone.
Once you've submitted the registration form, you will then receive an email containing an activation link. Just click the link to complete your registration. You will then be asked to provide your login details.
When you've provided your login details, I would recommend you log in to the site and set up your profile first. Indicate which activities you are interested in doing so you will receive invites in the future. Just make sure you choose the activities that you know you can really do.
Can you get support?
If you have any questions about the site, you can check out their FAQ page first. It discusses some of the important topics you need to know. Now, if you can't find the answers to your inquiry, you can log in to the website and click on the "Ask a Question" link.
It will redirect you to their contact form. Simply fill out the form with the necessary details. You can use this form for basic inquiries since it will be posted for public viewing. But if you have any questions about your account that include private or sensitive information, I would recommend you email them at penny@surveyvillage.com.au instead.
Overall, I would say they have a decent support system in place for their members. They offer a couple of ways for you to get in touch with their support team. But I do wish they had put more effort in explaining how you get paid, especially for in-person earning opportunities.
Final Verdict
Surveyvillage is a legit survey site that will reward you for participating in their research activities. It has its advantages, but it also has some limitations you need to consider.
Now, let me wrap up this review by summarizing its pros and cons to give you an overview of what the site has to offer. That way, you can decide if this site is really worth joining or not.

Pros:
Pays a decent amount for some of their earning opportunities
Their reward can be used for different online retail stores

Cons:
Limited earning opportunities offered
Doesn't offer cash rewards
There are some missing important info on their website (like how you get paid for their in-person opportunities)
In my opinion, Surveyvillage is not a bad survey site. It pays well, which is good. The only downside is, you can't really rely on it as a good source of extra income since the opportunities to earn aren't that many.
It can serve as a good secondary site to earn from though. That's why if you are eligible to join, I would recommend you join it if your plate isn't full. Just don't expect to earn from it regularly.
Now, if you are looking for primary sites to earn from, I would recommend you check out the top survey and GPT sites in your country instead. The sites on this list all have good earning potential and these sites will allow you to earn on a regular basis.
Plus, you will definitely find a site you can join regardless of where you live.
If you have any comments, questions, or have any experiences with Surveyvillage yourself, I would love to hear from you in a comment below.