If you are looking for a simple way to earn extra cash, there's an app called Poll Pay that promises to pay you for answering polls and surveys. They say they offer you a ton of surveys for you to complete and earn rewards from.
Whether that is true or not remains to be seen. But before you download this app or join their website, there are a few things you have to check. First and foremost, you need to verify if Poll Pay is legit or not. After all, you wouldn't want to answer surveys and in the end, you won't get paid since it's a scam.
This Poll Pay app review will verify the legitimacy of the app as well as show you the full details of what it has to offer so you can figure out if it is really worth using or not.
What is Poll Pay and what does it offer?
Poll Pay is a legit survey app (and now also a survey website but more about this later) that will pay you for answering surveys. It's a fairly straightforward platform since it only offers a couple of ways to earn rewards.
Now, how will you know if this platform is worth using or not? Well, the best way to do that is to examine the earning opportunities it offers so you can get a clear picture of how you can earn from it.
So, I created a small video that gives you an inside look and shows exactly how you can earn from Poll Pay. You can also read all the details below the video:
Option 1 – Paid surveys
Most of your earnings from Poll Pay will come from paid surveys. To earn rewards simply log in to the app or their website and answer surveys.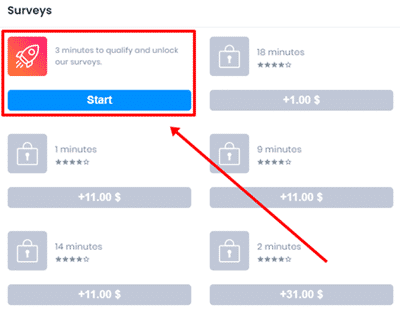 Before you can answer surveys though, you have to complete the qualifying survey first (refer to the photo above). This survey will ask you profiling questions. Once you complete it, the actual surveys that offer rewards will be unlocked.
You only have to do this once, so make sure to answer it the first time you log in to Poll Pay. It will only take you less than 5 minutes to complete.
Once the paid surveys are unlocked, you can then answer any survey available. As shown in the photo above, each survey will show you how long it will take to complete it and how much you will earn for completing it.
When you answer a survey, you will first have to go through a set of qualifying questions so that Poll Pay can determine if you belong to the demographic the survey is intended for. If you qualify, you get to answer the actual survey questions.
After completing the survey, you will receive the reward promised and it will be credited to your Poll Pay account balance (I will talk about how to withdraw your earnings later).
If you fail to qualify for the survey, you will get a small compensation of $0.01 for the time you spent answering their qualifying questions.
It's not much, but at least you get something out of it. Not all survey sites and apps offer compensation even if you don't qualify for a survey.
Option 2 – Referral program
You can supplement your earnings from paid surveys by participating in their referral program. If this is your first time hearing about a referral program, check out this guide on how to get referrals for survey and GPT sites.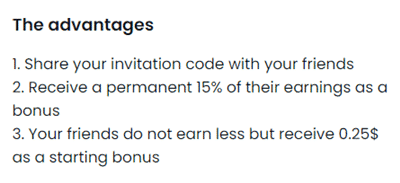 Their referral program is fairly straightforward as well. Simply invite people to join Poll Pay by sharing your invite code. Once the person you invite registers as a member using your invite code, they will become your referral.
And as shown in the photo above, you will receive 15% of whatever they will earn on Poll Pay. This commission will be shouldered by Poll Pay and will not be deducted from your referral's earnings.
So, make sure to invite people who are really interested in answering surveys. Otherwise, you won't really earn anything from their referral program. You also have to remind them to input your invite code when they register.
Also, if you are not yet a member, you can get a $0.25 joining bonus if you use a code from someone who is already a member.
You are more than welcome to use my code since I am already a member. You can use this code to get your joining bonus: N3BZNXB5QP
Recommended: Check Out the Top Survey Apps
How do you get paid?
You will earn a certain amount for every survey you manage to complete on Poll Pay. As mentioned earlier, your rewards will be credited to your Poll Pay account.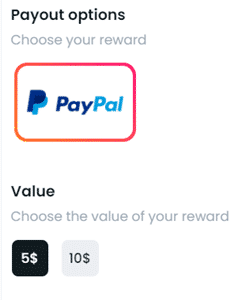 You can then withdraw your earnings to your PayPal account. However, the payout threshold will vary from country to country. In some countries, you can withdraw already when you have earned $5-$10.
But there are also some countries where you have to wait until you have earned $25.
In some countries, you will also be able to choose other rewards than PayPal as, for example, Amazon Gift Cards as well as gift cards for Spotify, iTunes, Google Play, and more. But during my testing, the only reward option available for me was PayPal.
And I know from personal experience that it actually does pay. But it can be a bit confusing the first time you cash out, so I have recorded a video that shows exactly how to withdraw and where you can also see payment proof:
How much money can you make?
The amount of money you can earn from Poll Pay will depend on how many surveys you can complete and how well they pay for every survey you complete. They claim they have a ton of surveys for you to complete and earn rewards from. But I don't really believe that claim.
In my experience, you will usually only have a couple of surveys available at any given time. You might receive around 5 to 7 surveys at the beginning, but you can't really expect those numbers to be maintained.
The availability of surveys will really depend on your profile and you don't have control with it. All you can really do is answer their profile survey as honestly as you can and hope for the best.
Now, as for how much you will earn per survey, you will usually earn between $0.30-$3, which is quite decent and quite similar to what you can earn on many other surveys sites per survey. From time to time, there will be surveys that are worth more. But that's the usual range you will encounter.
However, how much you will earn per survey will depend on the country you live in. In some countries, you might only get lower paying surveys and in some, mostly higher paying.
Also, just make sure to choose the surveys you complete wisely. Some of them give quite good value for your times while others do not. But you can always see the estimated time and reward before starting a survey so use this to plan which surveys will be worth it.
Overall, I would say Poll Pay has decent earning potential. It is not one of the highest paying survey sites, but as an extra site, it can give a bit of extra earnings.
Can you use it on a desktop?
When Poll Pay started, you could only use it on a mobile device. But they have since expanded and now allow members to answer surveys from their laptop or desktop. You will be able to log in to the site from your laptop or desktop and answer surveys.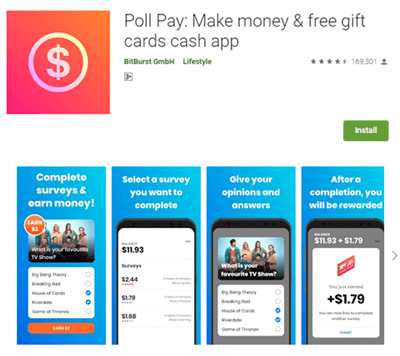 But if you prefer to do it on your mobile device, you can simply download their mobile app which is available on both the Android and iOS app stores. Their app is also very user-friendly. You will easily get used to how it works.
Who can join Poll Pay?
The good thing about Poll Pay is, it is available more or less globally. You will be able to register as a member regardless of where you live. But since it uses PayPal as its main payment method, you will have to be at least 18 years of age to join.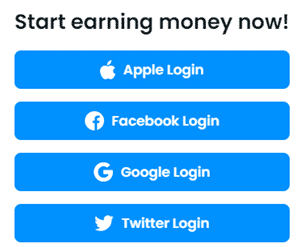 To become a member, you can sign up using your Twitter or Facebook account. You can also choose to use your Google or Apple account to log in.
Unfortunately, they don't offer custom logins (providing your own email and password). But any of the four options mentioned are really convenient options, in my opinion.
Can you get support?
If you have any questions about Poll Pay, you can consult their FAQ page first. It discusses most of the basic topics you need to know.
Unfortunately, if you have any questions that weren't answered by their FAQ page, you don't actually have any option to get in touch with their support team since their site doesn't have a contact form and they also don't post any email address you can send your inquiries to.
Your best option is to message them on Twitter since they do have a Twitter account which is fairly active. But overall, I would say their support system could use some work.
In my opinion, an online rewards platform should always provide a convenient way for you to communicate with their support team and this is the biggest let-down of Poll Pay, in my opinion.
Final Verdict
Poll Pay is a legit survey app and website that will allow you to earn by answering surveys and by inviting friends. It has a couple of good features but it also has some drawbacks.
So, let me conclude this review with a summary of its pros and cons to give you an overview of what Poll Pay has to offer. That way, you can better decide if it is worth joining or not.

Pros:
Offers payment via PayPal
Has a low payout threshold in some countries
Easy to use

Cons:
Limited earning opportunities offered
Doesn't provide a way for you to get in touch with their support team
In my opinion, Poll Pay isn't a bad survey platform. It has its advantages like offering a convenient payment method (PayPal), it is easy to use, and it has a low payout threshold.
However, the biggest issue about Poll Pay is that they do not give you an option to get in touch with them if you should need help.
If you can live with this, then it can be a decent way to earn a bit extra by taking surveys. If you decide to join, then remember that you can get a $0.25 joining bonus by using the code: N3BZNXB5QP.
But if you are looking for better ways to earn extra cash, I would rather suggest you check out the top survey and GPT sites in your country. The sites on this list all have good earning potential and pay quite well. They also have good support system for their members.
Plus, you will also find a site you can join regardless of where you live.
If you have any comments, questions, or have any experiences with Poll Pay yourself, I would love to hear from you in a comment below.