There are plenty of sites online that will offer opportunities for you to earn cash. And just like anything else, some will be legit and some will be a scam.
Now, the hard part is identifying which sites are a scam and which ones are legit. If you have no prior experience with these types of sites, the best you can do is to do proper research before joining a site.
If you are reading this article then you must have already encountered a site called Admired Opinions and you are now trying to find out if Admired Opinions is legit or a scam.
This Admired Opinion review will help you determine if this site is truly worth your time or not.
It will examine what the site has to offer and verify if what it claims to do is really true. So, let's take a deep dive into this site called Admired Opinions.
What is Admired Opinions and what does it offer?
At first look, it looks like Admired Opinions is your typical survey site as it promises to reward you for answering surveys. It also promises you can sign up for free.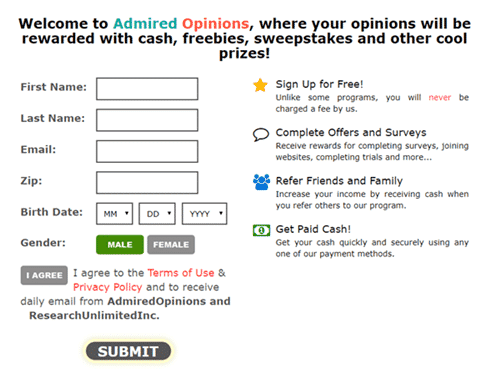 As you can see in the photo above, when you register to the site, Admired Opinions claims you can receive rewards for completing surveys, joining sites, and doing other activities.
Well, what they claim is partly true – it is just NOT what you would normally expect.
You see, if you sign up for a site, the typical thing that would happen is, once you become a member, you will be able to log in to the site and view all the available opportunities you can do to earn rewards. But with Admired Opinions, it is totally different.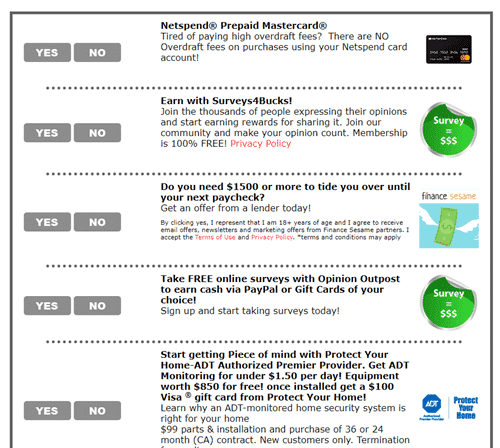 After you fill out the registration form, you will be taken to a different page where it will list down available offers (refer to photo above). You can choose to participate in these offers or not. The list goes on for about 8 pages.
What happens is, when you opt to participate and choose yes, they will send you an email for that offer.
For example, in you choose Yes in the Surveys4Bucks offer, you will receive a confirmation email from Surveys4Bucks asking you to verify your membership.
So, what happens is, they will automatically register you to the site promoting the offer. All you have to do is confirm your registration.
Now, when you get to the last page of the directory offer, you will encounter a survey. Once you've completed that survey, it will take you to another offer page and the process stops there. So, you are left to wonder what happened during the registration process.
So, let me explain. When you register to the site, what actually happens is you opt-in to view the available offers they have.
If you decide to participate in their offers (which are promotional offers they get paid to promote), you will be sent an email to get you to complete the registration to the site with the offer.
All you are really doing when signing up to Admired Opinions is allowing them to promote special offers, which they are getting paid for. There are a lot of sites that do the same thing they do but none of them actually provide their own offers. You can think of these sites as offer directories.
They earn by giving other sites leads to possible new members/customers. That is the reality of what their site is all about.
And these are the sites, in my opinion, that you should stay away from because you don't really get any value from it.
You will only wind up flooding your inbox with spam emails or confirmation emails that you don't actually want.
But before deciding to join or not, let's go into some more details you need to consider before signing up for Admired Opinions.
I have made a video that shows and explaind everything. You can also read all the details below the video:
Is it worth joining?
The question now is, is this site worth joining?
The simple answer, in my opinion, is no, but let me explain why.
Since all you are really getting from Admired Opinions are suggestions on where you can earn extra cash (not very good suggestions I might add but more about this later), there's really no point in wasting any more time from this site.
You can just find other sites that stay true to their word and actually provide a real way for you to earn some extra money on the site itself.
If you are interested in earning quickly, I recommend you check out the top sites with a low payout threshold.
The sites on this list offer their own earning opportunities and the good thing is you will be able to receive your earnings quite quickly since you don't have to earn that much to withdraw your earnings.
Warning signs to be aware of?
We have already established that Admired Opinions is not really worth the trouble. The next thing you need to be aware of is how to spot sites like this easily.
There are usually warnings signs or red flags you can easily spot.
When you see these signs or red flags, then you are better off staying away from it. So let's go over the red flags Admired Opinions has, in my opinion.
Red flag #1 – No background information
The first thing you should always confirm when you check the legitimacy of a site is to see if there is background information about the site.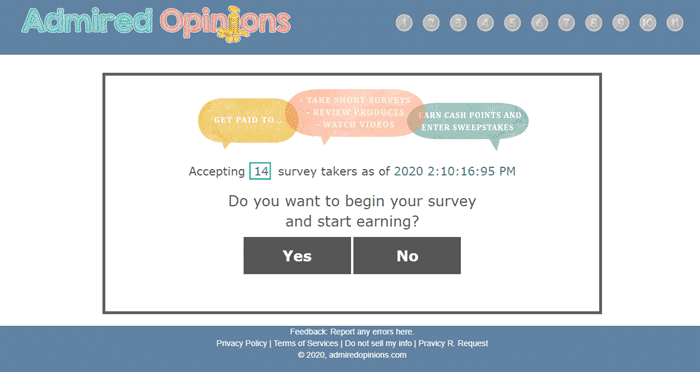 And as you can see in the photo above, their site doesn't really have any information about what the site is all about and even who owns the site.
Usually, legit survey sites will tell you who owns the site, what they offer to members, and sometimes, even their company structure.
If you can't find any of that, then chances are the site is not worth it. Worthwhile sites have no qualms about letting you know how their site works and who owns the site. It adds a layer of security and assurance to anyone who is visiting the site.
Red Flag #2 – They will share your information
I have a lot of experience with survey sites, and I became quite suspicious when I came to Admired opinion and wanted to make sure what I would say yes to.
So I checked their privacy policy and here it says that they will share your personal details.

Here you can see that by signing up, you agree that Admired Opinions can share your personal details with their business partners and third-party providers.
And you also agree that these partners can use this information to send you information about their products and services.
They do just not mention how many partners and who these partners are. So you will basically give them permission to share your personal details with a lot of unknown partners.
This is definitely something you should be aware of before signing up and giving your personal details.
Red flag # 3 – Poor offers
When you sign up for Admired Opinions, you will be presented with a lot of offers as already mentioned.
However, the confusing part is that even though Admired Opinions looks like a survey site, many of the promotional offers have nothing to do with paid surveys.
You find all kinds of different offers which is very confusing.
There are some offers for some god survey sites you can sign up for like, for example, for Nielsen Mobile Panel.
But there are also a lot of poor offers.
I, for example, saw an offer that claims you can earn $250 by joining SurveyMonster.

This is just simply not true. SurveyMonster is just another site that only gives promotional offers and not a site where you can actually earn.
So the quality of the offers is varied and if you do not have a lot of experience you can, in my experience, end up wasting a lot of time by following their recommendations.
Final verdict!
It's already pretty clear Admired Options isn't fully transparent about what they have to offer, but let me finish this review with a summary of its pros and cons so you can get a better overview of what the site has to offer.

Pros:
You can get ideas of which sites to join to earn extra cash

Cons:
You'll possibly get a lot of spam emails since your information will be shared with their business partners and third-party providers
Low quality offers
No background information
You cannot earn on the site itself
You can argue that part of what Admired Opinions claim to do is true because they will lead you in the right direction to earn money since they will inform you of offers you can participate in.
But I still stand by my opinion that I do not recommend you to join Admired Opinions. What they have to offer simply doesn't provide any value to you. By signing up to their site, you don't actually get access to surveys like you normally would with a survey site.
Sure, you get notified of some offers you can probably take advantage of. But you can find more of those offers from sites that actually have their own offers. And many of the offers you find on Admired Opinions will simply waste your time, in my opinion.
Plus, you can save your inbox from getting filled up with spam emails and notifications because when you sign up to the site, you agree that your information will be shared with their business partners and other third-party providers. So naturally, you will be sent promotional emails that you don't really need.
So, instead of going through Admired Opinions, you just go ahead and register to sites that have their own offers and where you can actually earn on the sites themselves. It will save you time and effort.
For a list of sites that offer legit and great opportunities to earn extra cash, I recommend you check out the top survey sites in your country. The sites on this list all have good earning potential and won't have any promotional offers during the sign-up process.
Plus, you will definitely find a site you can join regardless of where you live.
If you have any comments, questions, or have any experiences with Admired Opinions yourself, I would love to hear from you in a comment below.