Being able to earn extra cash from a mobile device is really very convenient. That's because you can do it anytime and anywhere. You can earn while you are traveling or even standing in line in a store or bank.
Usually, in my experience, the earning opportunities offered by these mobile apps are also pretty easy. But before you decide to download an app, you must do a bit of research to determine if the app is worth your time or not.
In this review, we will talk about an app called Measure MSR. This app promises to pay you for sharing your opinion. Now, is it a legit app? Let's address this first to get it out of the way. Yes, this app is legit and it does pay you for sharing your opinions.
But it being a worthy app to use is a different story. To figure out if this app is worth your time, this Measure MSR app review will tell you all the details of the app so you can decide if it is worth using or not.
What is Measure MSR and what does it offer?
The MSR app is owned by Measure Protocol, a London-based company that specializes in providing data solutions to its partners. Here's a short video explaining what the app is all about:
This app offers two types of earning opportunities and I will be examining both so you can better understand how good or bad this app is.
That way, you can better decide if you should use this app or not. So, here's how you can earn from Measure MSR.
Option 1 – Paid surveys
One way for you to earn from this app is by answering paid surveys. But unlike the surveys you usually get from survey sites, the paid surveys on Measure MSR are shorter and easier to complete.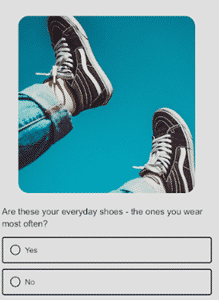 Every survey offer will indicate the reward you will receive when you complete it. Of course, each survey will have still have its qualification process. So, when you take a survey offer, you will first have to answer a couple of qualifying questions.
The good thing about this app is, even if you don't qualify for a survey, they will still reward with a certain number of points. So, your time won't really be completely wasted.
Once you finish the qualification process, if you qualify, you get to answer the actual survey. When you complete the survey, you will receive the points promised.
But one unique thing about Measure MSR is, you will be able to rate the survey you took. You can rate it according to how well it pays or how complicated it is. So, you can basically also influence how Measure MSR provides surveys to you in the future.
This is a very useful tool to help improve Measure MSR's capability of helping you earn. This feature is quite unique and something I have not seen often.
Option 2 – Paid jobs
Aside from surveys, you can also do paid jobs to earn more rewards. Paid jobs are basically just short tasks you can do to earn rewards.
Most of the paid jobs you will find on Measure MSR will ask you to upload photos of certain products, rate a specific service or establishment, or share your purchase history from Amazon.
When you click on a paid job offer, you will immediately see the instructions you need to follow.
Always make sure to follow the instructions to the letter to ensure you will complete it. So, make it a habit to read the instructions carefully before you begin with the paid job.
And just like the paid surveys, you can also rate the jobs you've completed to let them know how good or bad it is.
Option 3 – Referral program
The last earning opportunity they offer is their referral program. You will be able to earn additional rewards by inviting other people to join their platform. Simply share your invite link with the people you want to invite.
And when they successfully sign up and install the app on their mobile device, you will immediately receive 50 points.
It's not much, but at least the requirement to receive the bonus isn't that hard to achieve. You are basically getting paid $0.5 per referral.
How do you get paid?
For every activity you complete on Measure MSR, whether it's a survey or a job, you will be rewarded a certain number of points. It will be credited to your Measure MSR point balance.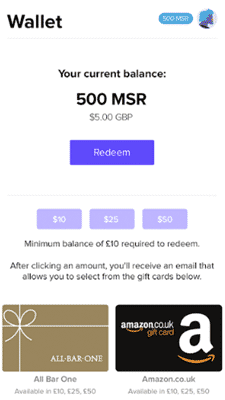 Every 100 points are worth $1. Once you've earned 1000 points, you can then redeem it for various gift cards like Amazon, Sephora, and several more. However, the only cash reward available is through prepaid Visa cards.
It would have been better if they offered PayPal as a reward option as well, in my opinion. But I do like the fact that they have a relatively low payout threshold. This means you won't have to wait several months to redeem rewards.
If you are interested in more sites that have a low payout threshold, I suggest you check out the fastest paying sites as well.
How much money can you make?
If you take a look at the type of earning opportunities the app offers, you would think that you won't be able to earn a decent amount from this site. But surprisingly, the app has decent earning potential.
It still won't be anywhere as near as what you can earn from a full-time job, but considering that you don't have to spend too much time on this app, I would say that it's definitely worth your time.
You will usually receive around $0.25 to $1 for the tasks and surveys you complete. From time to time, you can even earn $10 for just one single task.
However, don't expect to receive a lot of these maximum pay offer because, in my experience, it's not very common.
But overall, I would say that Measure MSR has decent earning potential. It won't take long for you to reach the payout threshold.
Can you use it on a desktop?
Measure MSR is a mobile-only platform. So, you will need a mobile device to use it because there's no option to log in to their site from a desktop or even a laptop.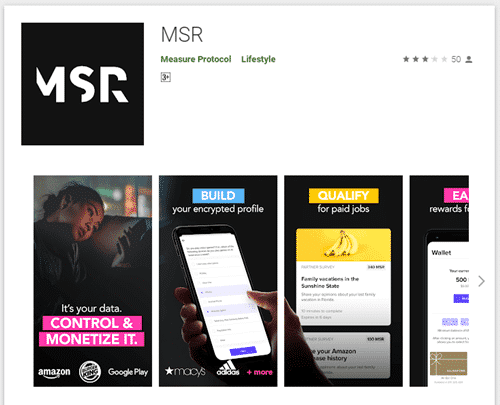 Their app is available for download on both Android and iOS app stores. So, compatibility won't really be a problem.
The user interface of their app is also very intuitive. So, you won't have a hard time getting used to it. This makes it very user-friendly.
I always applaud companies that make it a point to make their app user-friendly. Measure is one of them. So, hats off to them.
Who can join Measure MSR?
Unfortunately, Measure MSR is only available in the US, UK, and Canada. So, if you don't live in any of the three countries mentioned, then I suggest you find another app to join.
If you live in the US, UK, or Canada, you just have to be at least 18 years of age to join. To sign up as a member, all you have to do is download the app and install it.
Then, you will be taken to their registration form. You just have to fill it out. Once you are done with the registration process, you will then have to answer a couple of profile surveys.
This is done to build your profile so that Measure MSR will know which surveys and jobs to send. It will also increase your chances of receiving paid surveys and paid jobs.
Once you are done with the whole registration process, you will receive a $0.50 joining bonus. It's not much but at least, you receive something just for joining. Not a lot of sites and apps do that.
Can you get support?
Their site doesn't really explain the app in detail. Most of the info you can find on their site is about the company or about being a partner.
They also don't have an FAQ page for their app on their site. So, if you have any questions about the app before installing it, you have no choice but to send them an inquiry.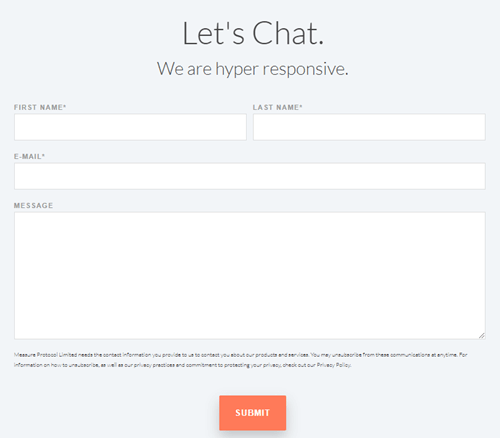 You can do that by using the contact form they have provided on their website. They typically reply as soon as they can. And judging by the reviews on Google Play about their app, they make sure to attend to your needs as soon as they can.
Overall, I would say their support is pretty decent although adding an FAQ page for their app wouldn't hurt too.
Final Verdict
Measure MSR is a legit survey app that rewards you for answering surveys and completing paid jobs. It offers a couple of good features but it also has its drawbacks.
So, let me conclude this review with a summary of its pros and cons to help you with your decision on whether you should download and use this app or not.

Pros:
Their app is user-friendly
Relatively low payout threshold
Earning opportunities don't take too much time to finish

Cons:
Limited earning opportunities offered
Payment via PayPal is not available
Overall, Measure MSR is a decent app to use if you want to earn extra cash. It doesn't have a very high earning potential like some other apps or sites but you will be able to earn a decent amount.
And considering that you don't have to spend a lot of time to complete tasks, I would say that it should be worth a try at least. Just don't expect it to match the earning potential of top survey and Get-Paid-To sites.
The only downside of this app is it doesn't offer payment via PayPal. So, if you want to earn cash, you have to choose to convert your points to a prepaid Visa card.
But if you are looking for an app with better earning potential, I recommend you check out the top survey apps. The apps on this list all offer good earning potential. Plus, you will be able to find an app you can use regardless of where you live.
If you have any comments, questions, or have any experiences with the Measure MSR app yourself, I would love to hear from you in a comment below.