There are plenty of ways to earn extra cash online nowadays. There's the standard survey site as well as Get-Paid-To sites. But there's one more convenient option for you. You can actually earn extra cash through mobile apps.
One such app that offers this kind of opportunity is called OnePulse. This app promises to pay you for answering mini-surveys. But is OnePulse legit or is it a scam? This should be the first question you should be asking.
So, let me answer it right away. Yes, OnePulse is a legit mobile app that does pay you for participating in their short surveys. But does this app provide a good opportunity for you to earn cash?
This OnePulse App review will tell you all the details you need so you can decide if this app is worth investing your time into or not.
What is OnePulse and what does it offer?
OnePulse is a platform that anybody can interact with and make their opinions heard. And in return, you will be rewarded. It's a bit different than your usual survey site because it is more of a community rather than a panel.
To understand its earning capabilities, we have to take a closer look at the earning opportunity this app offers. So, here's how you can earn from the OnePulse app.
The earning opportunity – Pulses
There's only one way to earn from OnePulse and that is through answering pulses. Pulses are actually just bite-sized surveys you can take. It usually has up to three questions.
OnePulse emphasizes the shortness of their surveys because they don't want their members to lose interest in answering surveys. They feel people usually lose interest in answering surveys when they are too long. That's why pulses only have a maximum of three questions.
This approach with short and easy surveys is somewhat similar to that of PaidViewpoint and one I think is great.
Take note though that not all pulses are paid. You will know if a pulse has a reward because you will see a $ sign on it.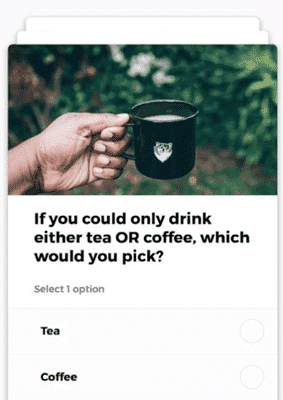 Once you finish installing the app and you've successfully signed up as a member, when you log in to the app, you will immediately see all the pulses you can answer. You just have to answer all the questions of the pulse and you will earn the reward.
But, you need to keep in mind that each pulse has a maximum number of respondents that can participate. When it reaches that number, it will stop accepting new respondents.
So, don't be alarmed when the pulse will kick you out while you are in the middle of answering it. It only means the quota has been reached.
That's why, in this app, it is fairly important to answer the pulses as soon as it is available. This is to make sure you get the reward promised.
How do you get paid?
Every paid pulse you complete will earn you a certain amount which will be credited to your OnePulse balance. Once you've earned $5, you can request payment via PayPal.
I do like the fact that they have a low payout threshold. This makes it easier to reach and will allow you to receive your earnings a lot quicker.
If you are interested in more sites that have a low payout threshold, I recommend you check out the fastest paying sites.
How much money can you make?
At first glance, OnePulse's reward system is pretty simple. But actually, it's more layered than you would expect.
OnePulse uses a level-up system to reward members who are more active on the site. This will lead to a higher pay per pulse completed.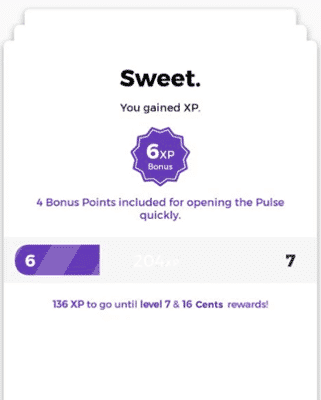 Apart from the money you will earn from answering pulses, you will also receive experience points that will level up your membership level on OnePulse. Once your level increases, so do the amount you will receive for each paid pulse answered.
At level 1, you will earn 25 cents per pulse. The maximum level you can reach is level 17 and at this level, you will earn 41 cents per pulse.
The amount you will earn per pulse isn't actually that high but considering how easy it is complete, I would say that you are compensated quite fairly. That's why the time-to-money ratio of this app is quite good once you reach level 17.
Now, the amount you will earn will mostly depend on how often you get to answer paid pulses. And there's no guarantee you will receive invitations to answer paid pulses regularly. So, you will still need a bit of patience in order to earn a significant amount.
Overall, I would say that even though the time-to-money ratio of OnePulse is quite good, it still doesn't have high earning potential because there's no guarantee you get to answer pulses on a regular basis.
You will need to exercise a bit of patience for this app if you want to earn a significant amount of money.
Can you use it on a desktop?
The earning part of OnePulse is a mobile-only platform. So, if you want to earn, you will need to download their app, which is available in both Android and iOS app stores.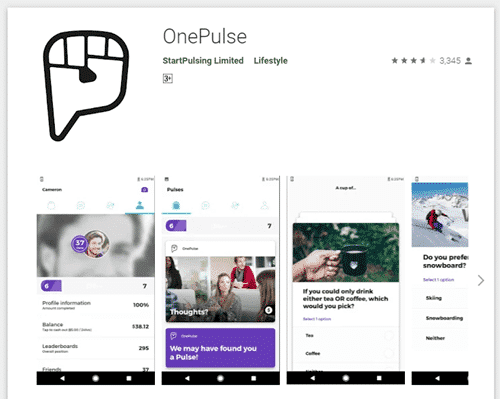 If you are looking at the website and are wondering why there is a login and sign-up button on it, it's actually for people who want to create pulses. You won't be able to answer pulses when you log in to their site.
You can only do that on their mobile app. The good thing about their app is it is very user-friendly. So, you will easily get used to using it. In my opinion, their platform is really very ideal for mobile users because the surveys won't be very long.
It also makes it a more versatile platform because you will be able to earn anytime and anywhere.
Who can join OnePulse?
Unfortunately, OnePulse is only available in the UK and the US. So, if you don't live in any of the two countries mentioned, then this app is not for you.
To sign up as a member, all you need to do is download the app and go through the registration process.
You have to be at least 18 years old or older to be eligible as a member. So keep that in mind before joining.
Can you get support?
The one thing I noticed about their site is it doesn't really explain thoroughly how you will be able to earn from the app.
Their website is mostly focused on providing information for people who want to create pulses. In other words, it's geared towards getting clients.
So, if you encounter any problems with their app, checking the FAQ page on their site will provide little help. Your only option is to send them an email at any of the email addresses provided on their site. You can also call the number they've provided at the bottom of their FAQ page.
Overall, I would say that they do provide a decent way for you to get support if you ever need it. It's just that they could have done better by also discussing more in detail the earning opportunity they offer, in my opinion.
Because if you just go through the site, it's not that clear that you will be able to earn from their app.
Final Verdict
OnePulse is a legit survey app that will pay you for answering bite-sized surveys. It definitely has good features to offer but it also has some drawbacks.
So, let me end this review by summarizing its pros and cons to help you decide if this app is worth your time or not.

Pros:
Low payout threshold
Offers payment via PayPal
User-friendly

Cons:
Limited earning opportunities offered
Low rewards
What I can say about OnePulse is, it is definitely a site worth joining if you are eligible to become a member. You just need to manage your expectations a bit.
The beauty of this site is it is very easy to earn rewards. You just have to answer a few short questions and you get rewarded. It hardly takes more than a minute to do.
The downside is, if there are no pulses to answer, you have no way of earning rewards. So, you can't really expect to earn on a regular basis from this app.
That being said, it can still serve as a decent secondary app to earn from. Just don't expect to earn a lot from it. If you are more interested in apps that will allow you to earn regularly, I suggest you check out the top survey apps instead.
The apps on this list all have good earning potential and offer more than one earning opportunity. Plus, you will be able to find an app you can join regardless of where you live.
If you have any comments, questions, or have any experiences with OnePulse yourself, I would love to hear from you in a comment below.