WordLinx is a Get-Paid-To (GPT) site that claims to pay you for completing simple tasks like sharing links, viewing websites or playing games, among others.
But is WordLinx a scam or really a legit way to earn?
Let me just answer this question right away. No, WordLinx is not a scam. In fact, it is one of the legit GPT sites that have been around for more than 10 years.
That doesn't mean though, you should sign up as a member right away. You have to weigh things first before you sign up as a member. And there really are some details you NEED to know.
This WordLinx review will tell you everything you need to know so you know what to expect if you decide to become a member. So let's start this review.
What is WordLinx and what does it offer?
As mentioned above, WordLinx.com is a GPT site that offers to pay you for doing the tasks they offer.
It has been around for more than 10 years now, which is a testament to their legitimacy. They started out as a Paid-to-click website and now has fully evolved to a GPT site.
WordLinx is owned by Rogue Media, which is a UK-based digital marketing company – this does, however not mean you can only join from the UK but more about who can join later in this review.
Seeing as it is a GPT site, it should have plenty of earning opportunities.
But let's take a closer look at those opportunities and how good each of them is so you can see if it will be worth your time or not.
Option 1 – Micro Tasks
Micro tasks are what they call their paid offers. It essentially works just like a paid offer on other GPT sites, where you are paid for completing a specific offer.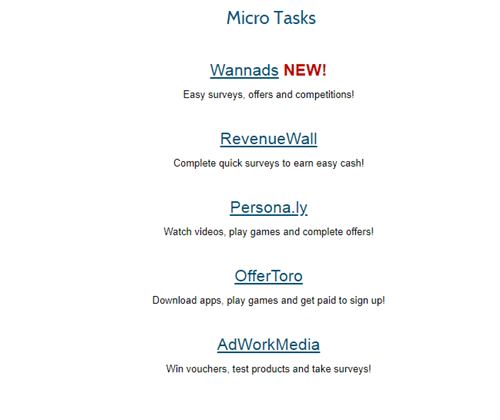 With WordLinx, once you are on the Micro Tasks section, just click on any site that provides those tasks.
All you need to do to get the reward for an offer is to complete all the conditions.
Most tasks will ask you to sign up to a website, download an app and install it, play games or visit certain websites.
Sometimes, you will also be asked to watch videos or join contests. But whatever it is, just remember, the only way for you to earn the reward is to complete all the conditions that offer requires.
However, compared to the offer selection on a site like ySense or many other sites, I am not impressed with it on WordLinx. It does just not give as good opportunities and is more confusing to use.
Option 2 – Paid Surveys
You might not see a paid surveys section on the member dashboard of WordLinx. But make no mistake, they also offer paid surveys as a way for you to earn rewards.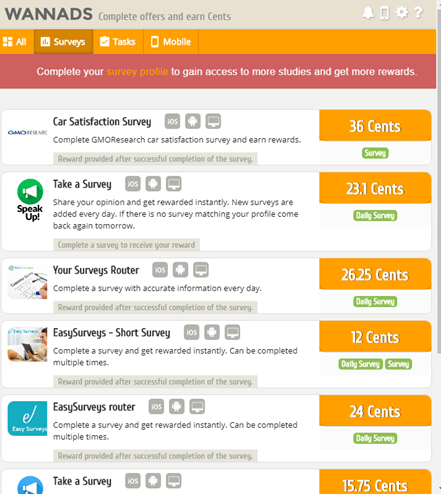 You can access the paid surveys just like you would with their micro tasks. Their paid survey offers are actually mixed with the other offers.
The paid surveys work just like they do on any other survey site. You click a paid survey offer and you answer the survey. Once you complete the survey, you will receive the offer.
Keep in mind though that usually, you will be asked to complete your profile first before answering the survey. This is for them to determine whether you belong to the specific demographic that they are targeting.
It will also save you some time because you'll know right away that you are not qualified for the survey. Thereby allowing you to move on to the next survey.
Also, usually, you will only have to do this once for every site that offers a paid survey.
In my opinion, though, the rewards you get from the paid surveys you answer on WordLinx will be a bit lesser than the actual reward you will get if you answered that survey as a member of the actual site that provided that paid survey.
Option 3 – Link Sharing
This method is a bit unique to WordLinx. This is actually the main method of earning rewards in this website.
All you seemingly have to do is enter a web address and click the 'Shorten!'. Then select a link type and click 'Save'. Once you've saved the link, you can now share it on Facebook, Twitter, other PTC sites, traffic exchanges and a lot more.
For every person that clicks that link, you will be rewarded with share points. As to how many share points you will earn per valid person that clicked that link, unfortunately, their website doesn't have that information available.
You can then exchange the share points you've accumulated into cash.
This, in my opinion, is one of the simpler and most passive ways you can earn an income on WordLinx. Plus, you will also be able to promote any website you want, be it yours or somebody else's.
However, there is a catch with this option. When you shorten a link, you also have to choose what happens after people click it.
You have three options. You can choose to have an ad shown before people get to the site the link actually is for, you can choose to have a WordLinx share bar shown at the top of the screen, or you can choose people just go directly to the link.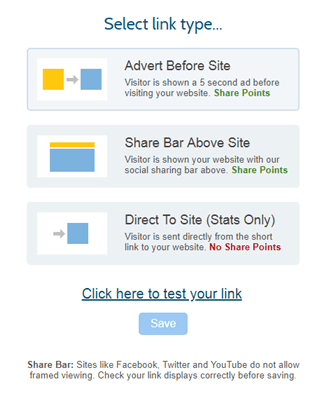 The catch is then that if you choose to take people directly to the link, you will NOT get any share points.
So you will only earn by inserting the ads. This is a real issue in my opinion, and I would personally not do that.
Just think about it – if you click a link a friend of yours has shared and a big random ad comes up, you would likely see it as spam, right?
I definitely would, so it can seriously hurt your trust to use this option, in my opinion.
Personally, it is therefore definitely not an option I recommend even though it at first might seem like an easy way to make money.
Option 4 – Paid To Promote
This is another unique earning method that WordLinx uses.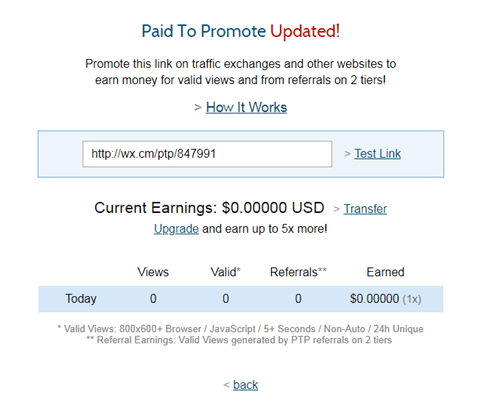 With Paid-To-Promote, all you seemingly have to do is promote your link and you will be able to earn a specific amount per thousand valid views.
The income you get from this type of earning method will actually add up because it will also add the income of your referrals up to 2 tiers down. So, if your referral (which I will talk about later), will also do the same, you stand to earn a lot.
The best thing is, it is completely free. You just really need to work on your referrals in order to earn a significant amount.
However, again there is a catch. First of all, you have to find places you can promote this link. And that can end up costing money.
Again, it is, in my opinion, just not worth the effort compared to the small reward you might get for it.
It might at first sound great but when you look deeper and look at what it really requires to earn any real money, you will see your time is better spent elsewhere.
Option 5 – WordLinx Go
This earning method will actually involve sending and receiving emails.
WordLinx Go will allow you to send and receive paid messages from which you will earn a specific amount for each message you send and receive.
By opting into the WordLinx Go method, you actually give permission for WordLinx to send you emails of ads that they run on it. So, expect your email to be full of these email ads.
With this earning method, you will also be able to earn 10% from your friends and 5% from their friends, just like on their Paid-to-promote platform.
Once again, it might sound appealing, but you need to know the full details before deciding to use this option.
The thing is that you have to pay to be able to earn by receiving and sending these messages. And the whole system is so overly complicated that it is difficult to figure out exactly what you get out of it.
I must say that I am also not impressed with this option and if you decide to use it, you need to make sure to make some careful calculations so you do not end up losing money – and you should start small.
Option 6 – Referral Program
The referral program of WordLinx is structured so you will be able to earn a bit of income from all the activities people you invite to do, namely the Paid-to-Promote and WordLinx Go platform as well as other purchases on the website.
You won't get rewarded immediately for referring a friend to the website. Instead, you will earn up to 50% if your referral buys something like advertising, etc, or up to 50% if your referral completes a task.
You will also earn up to $50 if your referrals decide to upgrade their accounts.
But in my opinion, everything will still rely on how active your referrals will be on the site. It would have been nicer if they also offered a direct reward just for referring a friend to the website as well.
Membership Upgrade Options
Aside from the basic membership level, you are also given the chance to upgrade your WordLinx membership.
There are three upgrades you can choose from. The Verified membership costs $9 per year. The Pro membership costs $99, while the Super membership costs $199 per year. You can refer to the photo above for what you can get if you upgrade to the specific membership level.
I personally do not like when GPT sites charge to upgrade because it is rarely worth it and often so confusing to figure out that it might not be clear and you, therefore, can easily end up losing money instead of making any.
So in my opinion, this isn't really worth it.
How do you get paid?
WordLinx doesn't have a points system for their paid offers and surveys. So every offer or survey you complete will reward you with money. Once you hit the threshold of $10, you can then request for payment.
Keep in mind the $10 must include $5 earned from completed Micro Tasks, or include $5 earned from Affiliate Sales (sales made from people you invited), or include 10,000 Share Points earned from sharing links.
So there are quite a lot of restrictions when it comes to the payout methods which is not ideal, in my opinion.
Cashouts will be done via PayPal. Also, you can only request for payment once a month with a maximum cash out of $100.
PayPal also has a processing fee, so don't be surprised if the cash out you received will be less than what you requested for. But, if you were able to generate over 1,000 points, you can use those points to request a free cashout and WordLinx will take care of the PayPal processing fees.
The once a month cash out limit and the $10 payment threshold, in my opinion, is another thing that really hinders this site from being a great income generating site.
There are sites that pay faster via PayPal and you can even cash out more than once per month.
How much money can you make?
As with all GPT sites, the amount of money you will earn will really depend on how active you are on the site.
Let's paint a clear picture to give you a better idea of the earning potential of WordLinx.
Most of the offers and surveys available on WordLinx will reward you with $0.10-0.40 upon completion.
Seeing as you need to hit the target of $10 before you can start requesting for payment, expect to do a lot of these offers before you can begin to request for payment.
The good thing is, you will have some sort of passive income generation through sharing links.
But then again, you'd have to have thousands and thousands of visitors before you can even expect to earn a significant amount of money from this earning opportunity. And as explained earlier it might also not be such a great way to share links after all.
While the offer may sound good, the reality is, it's hard to earn a significant amount of money from sharing links. Unless, of course, you have a bunch of referrals that have been very active on that platform.
So in my opinion, although sharing links might at first seem like a good boost to the possible income you can earn from WordLinx, the bulk of your rewards will still mainly come from completing offers and surveys.
And considering that you can only cash out once a month with WordLinx, the possible income you can earn will be underwhelming compared to the top GPT sites that pay well.
In addition to this, you also have to consider that some of the earning methods require you to invest and upgrade your membership which also really limits the earning potential.
Can you use it on mobile?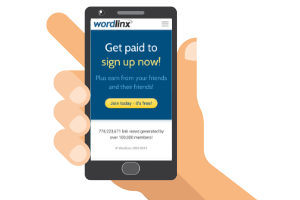 Their website didn't mention any WordLinx app you can download and install on your mobile device.
So I checked the mobile version of their site and it looks like it is optimized for mobile use.
That means you will be able to view the content properly without having to zoom in and out of the page or scroll left to right just to read the content.
This will significantly help increase your chances of accumulating enough rewards to reach the $10 payment threshold.
This also favors you if you mostly prefer doing these kinds of things on your mobile device.
Who can join WordLinx?
The good thing about WordLinx is that it is not restricted to any specific region. It is open to anyone regardless of where they live.
You just have to be 16 years of age and older in order to join. Plus, you have to have a PayPal account in order to receive the rewards you've accumulated.
The registration process is also pretty simple. You will just need to provide your email address. An email will then be sent to you which will include your login information (username and password). You can change the login details later if you want to.
One thing to take note of on WordLinx is that you have to make sure you have logged in to the website within 60 days. Otherwise, your earnings will be removed from your account.
If you have been inactive for more than a year, they will also remove your referrals aside from the earnings you've accumulated.
Can you get support?
As for getting support in case you encounter any problems with your account, they do provide you with a way to contact them.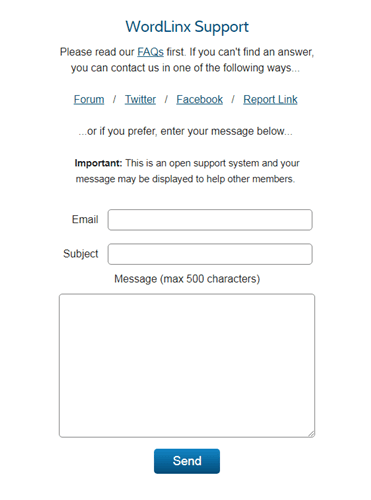 Just click the support link at the bottom of the website and you will be redirected to the contact form (as shown on the photo above).
That is of course in addition to the FAQ section that they provide, which in my opinion, is also pretty detailed.
I checked their social media pages and it looks like they have been pretty active with their Twitter account, which is also good. That means you can also talk to them via that platform.
All in all, they have a pretty decent support system that should be able to help you if in case you encounter any problems.
Final Verdict
WordLinx is a legit GPT site that rewards you with cash for completing the offers they provide, and also for sharing links.
But it also has some big disadvantages.
So to help you make a decision about becoming a member or not, let's finish this review by summing up its pros and cons.

Pros:
Payment via PayPal is available
Anyone can join (as long as they are 16 years or older of course)

Cons:
Cashout method is a bit complicated
Low rewards for offers and surveys
You can only cash out once a month
You have to invest to really have a chance to earn
Overall low earning potential
Although WordLinx offers several different ways for you to earn rewards, the earning potential is really very lackluster.
Honestly, it can, in my opinion, not even be a decent secondary site to earn a bit of cash from. The earning potential really just pales in comparison to the top GPT sites that pay well.
You will find a lot of GPT sites that offer better rewards and less complicated cash out methods on that list.
If you have any comments, questions, or have any experiences with WordLinx yourself, I would love to hear from you in a comment below.