Survey sites can be very beneficial if you are looking to earn extra cash online and want to have your opinion heard. That's because earning will be very straightforward. You simply answer surveys and get paid in return.
This is, of course, given the survey site you join is legit and offers good earning potential. Now, the problem is, which survey site should you join? If you've been doing your research and are interested in joining a site called Reckner Opinions, then this review will be able to help you out.
The first question you should ask is, is Reckner Opinions legit? It is important to verify the legitimacy of a survey site before you join. So, let me answer this question right away. Yes, Reckner Opinions is a legit survey site that will reward you for answering surveys.
But is it worth joining though? This Reckner Opinions review will reveal the full truth about the site so you can determine if this survey site is really a good option or not.
What is Reckner Opinions and what does it offer?
Reckner Opinions is a market research company dedicated to providing research studies for well-known organizations across many industries.
As a member of their panel, you will be compensated for the surveys you complete and payment varies by survey.
To be able to get a clear understanding of the earning opportunity this site offers, we have to examine them in detail. So, here's how you can earn from Reckner Opinions.
Option 1 – Paid surveys
One way you can earn from Reckner Opinions is by participating in their paid surveys. This can be done either online, in-person, or over the phone.
Once you become a member of their panel, you have to set research@reckner.com as a safe sender on your email client. This is because all the survey invites will be sent via email. Reckner Opinions doesn't have a member dashboard you can log in to.
So, if you decide to become a panelist, make it a habit to check your email regularly for survey opportunities. Their online surveys work like how you would expect on an ordinary survey site.
You can also keep an eye on the Facebook page where they sometimes post new studies you can participate in.
Before you can answer the actual survey, you have to answer a set of qualifying questions first. If you qualify, you will then proceed to the actual survey. If you don't, then you just have to move on to the next survey.
After you complete a survey, you will receive the reward promised on the email sent to you. I will talk about their rewards in a later section.
As for their in-person survey, it's more of an in-depth interview that will be conducted in one of their research locations. Once you finish this activity, you will receive the reward promised.
For over-the-phone surveys, it's a lot like an interview conducted over the phone.
Now, as shown in the photo above, if you signed up for an in-person or over-the-phone survey and then later find out you can't attend, you have to call the number provided to cancel or reschedule your appointment.
Failure to do so will reduce your chances of ever receiving survey invites in the future.
Option 2 – Focus groups
A focus group is a roundtable discussion where a small group (typically around 8 to 10) of respondents are asked to share their opinions about a specific topic of interest. It is led by a trained moderator whose job is to guide the discussion.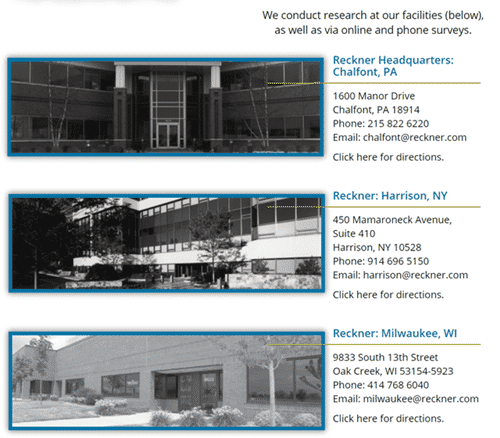 These groups usually last between 1.5 and 2 hours and are done at a central location (refer to the photo above).
If you live nowhere near any of the locations shown above, don't expect to get invited to this type of earning opportunity. Payment will be made upon completion of the focus group.
Option 3 – Home Use Test (HUT)
This earning opportunity is a lot like what product testing sites offer. This is where you are required to use a product at home for a specific period of time.
Sometimes, you will need to come to a central location to pick up the product, and sometimes it will be mailed to your home.
This kind of study is designed to capture your opinions and reactions to the product(s) once the usage period is over. This can be done by a paper questionnaire, a follow-up telephone call, or by accessing a survey through the internet.
If you get the chance to participate in any of these it can, in my opinion, be quite an interesting way to get to test new products and also a great way to influence the products of the future by sharing your opinions about them.
Option 4 – Taste test
You can also participate in taste tests from time to time. You will be asked to come into a central location (just like focus groups) and evaluate a food or beverage product.
During the taste test, you will provide feedback on the products by tasting the product and telling what you like and dislike about it.
Sometimes it will be just one product and sometimes there will be several products to taste and determine which one is preferred.
I have participated in taste tests several times in the past and I find it quite interesting and fun. This is not an option they offer a lot but it can be worth taking the chance to participate if you get it.
How do you get paid?
The good thing about Reckner Opinions is, since it doesn't have a member dashboard you have to log in, you also won't have any threshold you need to reach to redeem the rewards you have earned.
So, every time you finish a study/project, you will get paid. That's right, once you complete a task, whether it be a survey, focus group, taste test, or product test, you will receive the payment right away.
The payment amount you will receive for completing a study will be detailed out in your study invitation (the email you will receive from them). The amount you will earn will usually be based on the amount of time required to complete the study.
In my experience, the more time needed to complete the study, the higher the amount you will receive.
So studies, where you have to show up in person, will usually be the highest paying ones – but they can also be quite time-consuming if you do not live right next to their facilities.
Payments are typically made in the form of a prepaid VISA card which is given to you upon completion of the study. If the study is an online survey, then payment will be made via an email with a link to a virtual card.
Although prepaid VISA cards are a convenient form of payment, it would, in my opinion, have been better if they offered payment via PayPal as well especially for online surveys. This is because PayPal is considered as the most convenient payment method available today.
If you are interested in sites that pay via this form of payment method, I recommend you check out the top sites that pay via PayPal.
How much money can you make?
Their site doesn't exactly mention how much money you can earn per task completed. But in my experience, sites like Reckner Opinions usually pay quite well, especially for in-person opportunities.
But I would say that their site mostly focuses on in-person activities rather than online opportunities. So, don't expect to get invited to a lot of online surveys.
That's why the earning potential of this site will mostly depend on where you live. If you happen to live in the area where their research facilities are located, then you will be able to benefit more from this site.
If you are only looking for online opportunities, you will be better off joining sites that are more focused on providing online surveys and the like.
Can you use it on mobile?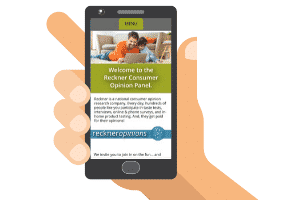 This question actually pertains more to their online surveys. If you are wondering if you are able to answer surveys from a mobile device, then the answer is yes.
Although Reckner Opinions doesn't have a mobile app you can download, you can still access their site from a mobile device using a web browser.
Their site is also optimized for mobile use so you can read all the content properly without zooming in.
As for the online surveys, if you are able to access your email from your mobile device, then I would say yes, you will be able to answer their online surveys from a mobile device as well.
But I would still recommend you only answer surveys on your desktop or laptop to avoid encountering issues of surveys not being displayed in mobile format.
If you are interested in earning from a mobile app, I would suggest you check out the top survey apps instead.
Who can join Reckner Opinions?
Although they don't state it directly on their website, Reckner Opinions is really only available in the US.
Their earning opportunities are basically just for US residents only. Their in-person earning opportunities are only for those who live near Reckner offices.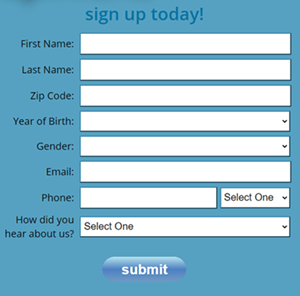 To join their panel, all you have to do is fill out their sign up form. You will then receive a confirmation email saying you have been included in their panel.
Apart from that, there is nothing else you can do but wait for them to email you about an earning opportunity that you have qualified for.
Can you get support?
Reckner Opinions discusses in detail on their FAQ page how their earning opportunities work.
So, if you have any questions about their site, I would advise you to check out their FAQ page first. You might find the answers you are looking for on that page.
If in case you can't find what you are looking for, you have the option to send them an email at research@reckner.com. That's how you can get in touch with their technical support team.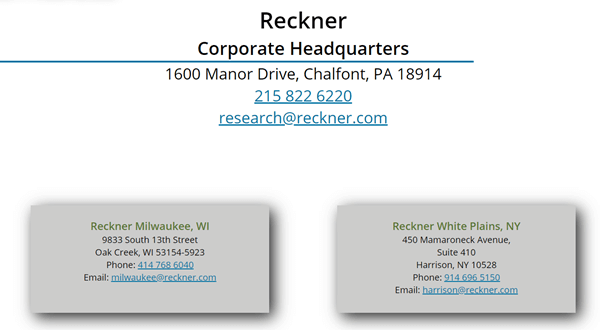 If you really need to get in touch with them right away, you can call any of the phone numbers provided on their contact page (refer to the photo above). All in all, I would say that Reckner Opinions does provide decent support for their members.
Final Verdict
Reckner Opinions is a legit market research site that does pay you for participating in the earning opportunities they offer. It has a couple of good things to offer but it also has its limitations.
Let me conclude this review with a summary of its pros and cons to better help you decide if this is a site that you should sign up for or not.

Pros:
High rewards
No payout threshold

Cons:
Not focused on online earning opportunities
In-person earning opportunities are only ideal for people who live near any of their research facilities
As you can see, Reckner Opinions' focus is mostly on conducting in-person earning opportunities and not the online kind.
From time to time, you will receive invites to participate in online surveys but not enough to warrant your interest if you are only looking to earn online.
The real benefit this site provides is if you live near any of their research facilities. That's because you have a better chance of earning a significant amount since you will be able to participate in their in-person activities.
So if you live close to their facilities, it can definitely be worth checking out.
But if you are only interested in working online, then I would recommend you check out the top survey sites in your country instead. The sites on this list all have good earning potential and offer plenty of earning opportunities you can do online.
Plus, you will be able to find a site you can join regardless of where you live.
If you have any comments, questions, or have any experiences with Reckner Opinions yourself, I would love to hear from you in a comment below.