UpVoice is a site that promises to reward you for doing what you already do online.
It is a relatively new site, so naturally, you should be asking, is UpVoice a scam?
Let me just say right away, this site is legit and you can actually earn by joining as a panelist. But it doesn't mean you should sign up right away.
It would be in your best interest to get a clear picture of what this site exactly has to offer before you decide to join or not.
This UpVoice review will help you do that. After reading this review, you will learn everything you need to know so you can decide if this site is for you or not.
Disclosure: Some articles on this website contain affiliate/sponsored links. Click for more info.
What is UpVoice and what does it offer?
As mentioned, UpVoice is a site that claims to reward you for doing the things you already do online.
It's a bit more unique than most sites. And let me just tell you, if you do a Google search, you will also find another site called UpVoice. That site is a voice app which is NOT what is being reviewed in this article.
Now, let's get to the topic at hand. UpVoice is owned by a market research firm that helps brands make marketing decisions.
They are able to do this by letting members join their panel. As I've mentioned, they are quite unique because they use a Google Chrome extension to gather all the information they need.
So let's take a closer look at how you will be able to earn on UpVoice.
I have made a short video that explains exactly how it works. You can also read all the details below the video:
Option 1 – Web Browsing
Yes, you read that right. By simply browsing participating sites, you get to earn rewards.
Once you become a registered panel member, all you have to do is install their Google Chrome extension and you can then start earning rewards.
What happens is, after you've installed the Chrome extension, you just need to visit any of the participating sites.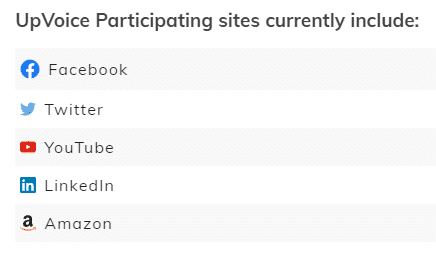 Many of these sites are likely sites you already use so you do not really have to do anything extra to earn with UpVoice.
As you can see, their method of gathering data vastly differs from most other sites where you can earn by giving feedback since they only need a Chrome extension to gather all the data they need.
All you need to do is visit the participating sites shown in the photo above and the extension will do the rest. However, you need to make sure you are logged in to the extension – otherwise, UpVoice cannot detect your activity and pay you for it.
If you are worried the extension is invasive, don't be. All it does is collect information about which ads are displayed at the time you visited any of the participating sites. And it collects this anonymously.
In my opinion, this is one of the easiest ways you can earn rewards by giving feedback.
You can even consider it as passive income because you don't really have to do anything apart from visiting sites you probably visit regularly anyway.
As for its earning potential, we'll talk about that a little later.
You just need to be aware that you cannot have an adblocker enabled when using UpVoice – if you do, they will not be able to track which ads are shown to you and thereby they will not get the feedback they need and you will therefore not earn. So make sure to disable it if you have an adblocker.
Option 2 – Paid surveys
In addition to just having the Chrome extension in the background, you might also occasionally get the chance to answer survey questions to earn extra rewards.
This is not something you will necessarily get a lot of, but if you use the UpVoice Chrome extension anyway, it can be nice to also get the chance to take a few surveys once in a while to earn extra.
You can always decide if you want to take the surveys or not so if you just want to earn passively you can just do that and then ignore the surveys.
How do you get paid?
When you see the presentation vidoe of UpVoice it only mentions that you can get paid with Amazon gift cards. This is because this was the only payout method it offered when it first started.
However, now you can choose between quite a lot of different gift cards as rewards like, for example, Amazon, prepaid Visa, Adidas, AMC Theatres, American Eagle, Banana Republic, Best Buy, Burger King, iTunes, Nike, and many more.
When you earn, you will earn what they call tokens.
They advertise on their site that you can earn up a minimum of $75 in the first year as a member of UpVoice.
In my opinion, that is a pretty decent amount, since you do not have to do anything extra to earn this money.
But if you use it as the only way of giving feedback, it will not give you as many earning opportunities as if you also join the top GPT sites.
To earn the tokens, you just have to visit any one of the participating sites.
In order to claim a gift card, you have to accumulate 600 tokens first which is equivalent of $10.
It's not the most promising site in terms of earning potential, but it definitely is one of the simplest ways you can earn rewards.
How much money can you make?
The amount of money you can make on UpVoice will basically depend on how active you are on browsing the participating sites.
There are 6 participating sites as of this writing. You can get a daily total amount of 10 tokens for visiting one or more of the participating sites. 10 is the daily max.
So, if you do it daily, you can start redeeming gift cards quite frequently. It's actually pretty doable in my opinion because the sites you have to visit are either social media platforms or Amazon, which, are some of the sites people usually spend a lot of time on.
I, personally spend a lot of time on Facebook, YouTube, and Twitter, so that would likely be a guaranteed 10 tokens every day in my case.
To give you perspective on the amount of money you can make on UpVoice, the equivalent of 600 tokens is $10. So if you get the daily maximum tokens, you will earn 300 tokens/$5 per month for doing what you do anyway.
That's not a lot in today's standards, but it is pretty decent considering you don't really have to do anything special aside from spending some time on certain websites.
But you also get a $5 joining bonus (300 tokens) and you can get occasional bonus tokens when you reach certain token levels. They do not reveal all the details about the bonuses for reaching certain levels but one example is when you reach 2,100 tokens over time you will get additional 240 tokens.
Also, you will be able to earn extra by answering surveys once in a while.
Can you use it on mobile?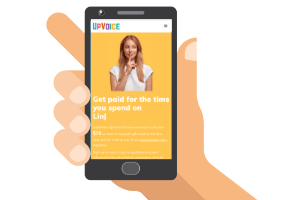 As for whether you can use UpVoice in your mobile device, unfortunately, you won't be able to do that at the moment as there is no UpVoice app you can download.
Seeing as you will need a Google Chrome extension installed in your Chrome browser, you will only be able to use it when you are on your laptop or desktop.
The UpVoice extension will not work on a Google Chrome app installed on your mobile device. There are ways to use Chrome extensions on Android devices, but none of them involve using the actual Google Chrome browser.
However, I have asked them about this and they told me they are working on a mobile version, so you will soon be able to earn extra by using it on several devices.
In my opinion, it is great to know they are working on a mobile version, so you will not be forced to sit in front of your computer if you want to earn tokens.
Who can join UpVoice?
As of this moment, UpVoice is only available in the US and UK. So if you live outside the US or UK, you won't be able to sign up as an UpVoice panelist at the moment.
I have asked them about this, and they possibly will expand to more countries in the future but there is no guarantee that will happen. If it happens, I will update this review.
If you live in the US or UK, you have to be at least 18 years of age, have a Facebook account and have a Google Chrome browser installed on your computer.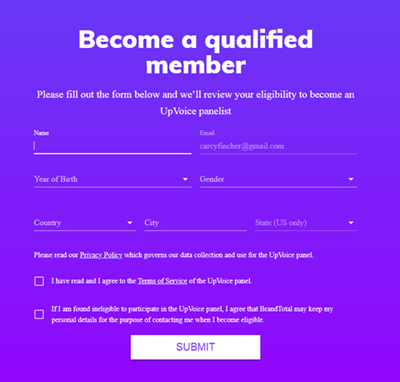 You will need the Facebook account because you will use that to sign up for their panel.
The registration process is quite simple. Once you finish registering, they will send you an email containing the link where you can download the Chrome extension.
Take note, you will not be able to download the extension if you go to the Chrome Web Store. You will need that link as they need to approve your application before you can start using it.
One important thing to note is, if you don't qualify now and you still tried to register, they will keep your contact information and notify you as soon as you qualify.
The good news is, if you were able to sign up and become a member of UpVoice, you will automatically receive a sign-up bonus of 300 tokens. So your first cashout will be easier to reach.
Can you get support?
UpVoice does provide a way for you to contact them if in case you need to talk to their support team.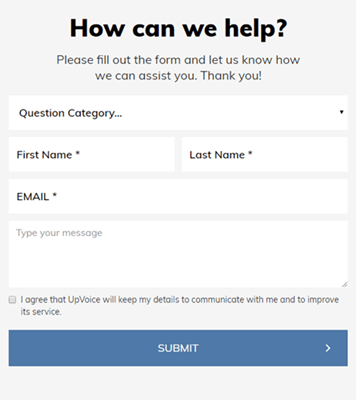 You can access their contact form by clicking the Contact Us link at the bottom of their homepage.
They also provide a FAQ section that is pretty comprehensive. It covers most of the basic questions and information you need to know, which is pretty nice.
They do have a Facebook page, but it's not pretty active. You can message them, but I'm just not entirely sure if you get a response. So if you have any queries, I suggest you channel it via their contact form.
As mentioned a few times, I have been in contact with them several times and, in my experience, they are very responsive and helpful which is a great sign.
Final Verdict
UpVoice has all the makings of a legit website. It's still relatively new, but it definitely has potential as you do not need to do much to earn as a member.
To further help you with your decision on whether joining UpVoice is a good idea or not, let's finish this review by summing up its pros and cons.

Pros:
Very easy to earn rewards
Not time-consuming
Low payout threshold

Cons:
Limited to US & UK residents at the moment
No cash rewards available
As you can see, earning rewards from UpVoice is pretty easy. All you have to do is sign up and install the Chrome extension and you are good to go.
Just visit the participating sites regularly so you can earn tokens on a regular basis.
The good thing is, the participating sites are probably the sites you also visit on a daily basis anyway. This is what I like about their platform.
You get to earn rewards for basically just doing your normal routine on the web. It's definitely not something I would recommend as a primary site you can earn from since you won't earn any cash from it.
But it would be a nice addition to your list of sites where you can get something out of, especially because it allows you to earn rewards passively.
If you are looking for GPT sites though that will allow you to earn cash, I recommend you check out the top GPT sites.
You can also find several sites on that list that offer great rewards even if you live outside the US or UK.
How to join UpVoice?
It is very easy and fast to join UpVoice if you want to start earning on it.
Just click the button below and you will be taken to their site where you can register. Once you register, you will get a $5 joining bonus.
If you have any comments, questions, or have any experiences with UpVoice yourself, I would love to hear from you in a comment below.