Joining a survey site can be a good way to earn extra money as long as you join a good one. One site you might have encountered is Opinio Quest.
But is Opinio Quest a scam or is it a legit and great way to earn extra cash by sharing your opinion?
This is a very important question to ask. So, let me just answer it right away. No, Opinio Quest is not a scam. It is indeed a legit survey site that does reward you for answering their surveys.
However, this doesn't necessarily mean this site is worth joining. This Opinio Quest review will tell you all the important details you need to know. That way, you can make an informed decision on whether you should join this site or not.
What is Opinio Quest and what does it offer?
As explained above, Opinio Quest is a survey site. So, you can expect to earn by answering surveys. And since it is a survey site, you can't expect to earn rewards in a lot of ways compared to a Get-Paid-To site.
In order to get a clear understanding of its earning capabilities, we have to take a closer look at how you will be able to earn from this site. So, here are the earning opportunities it offers.
Option 1 – Paid Surveys
The main method of earning rewards from this site is through answering paid surveys. With Opinio Quest, there are two types of paid surveys and those are the in-house surveys and the partner surveys.

You will be able to find the in-house surveys by logging in to their member dashboard (refer to the photo above) and clicking on My Surveys. When there is a survey available, all you have to do is click the survey.
Completing a survey will involve a few steps. First, you have to answer a number of qualifying questions so they'll know if you are among the target audience of the survey. If you qualify, you will then proceed to answering the actual survey.
If you don't qualify for the survey, all you can do is move on to the next survey offer. If you've completed the actual survey, that's the time you will receive the reward promised.
Just be aware that you won't necessarily find a lot of this in-house Opinio Quest surveys and depending on the country you live in, you might have a hard time finding any of them.
However, then there are also the partner surveys.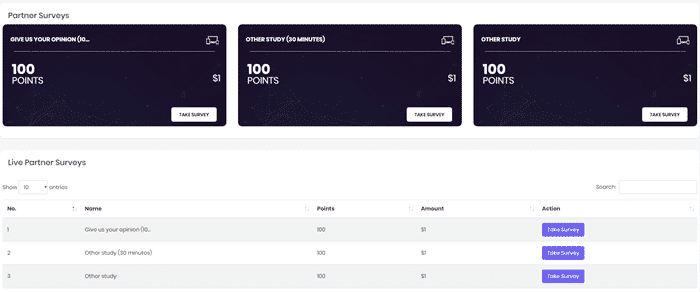 As for the partner surveys, it follows the same process as the in-house surveys. One difference is, the surveys will come from their partner site.
So, don't be alarmed if it will take you to a different site once you click the offer for partner surveys.
The other difference is, there will be an additional step where you have to provide your profile information first before you get to answer the qualifying questions. Apart from that, everything else is similar.
Option 2 – Referral Program
Opinio Quest also has a referral program in place but it is rather unclear how you will be rewarded for inviting people to join. There is no information on their site explaining how their referral program works.
But if you check the rewards page of their dashboard (which I will talk about next), you will see a section for referral points.
So, this goes to show that you will receive a certain number of points for every referral you make.
But it is very unusual that a survey site is not clearer about the conditions. Information like this should be able to find and it is not on Opinio Quest which is a bit of a letdown, in my opinion.
How do you get paid?
Every survey you complete will earn you a certain number of points which will be credited to your Opinio Quest point balance. You can then convert the points you've earned into gift cards.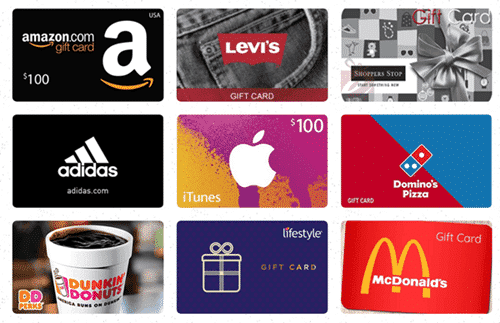 As you can see in the photo above, you will be able to redeem a gift card of your choice. What's not clear though is how many points you will need to redeem a gift card. This, in my opinion, is where the site truly falls short.
If anything else, you must make sure you explain clearly how members get paid because that will be the main motivation for earning from a site, in my opinion. The only clear information they provided is that $1 is equivalent to 100 points.
However, by looking through their Facebook posts it was possible for me to figure out that they pay out once you have earned $10. So the payout threshold is relatively low.
But you should be able to easily see information like this on any survey site and Opinio Quest, in general, does not provide enough information which definitely makes it less user-friendly.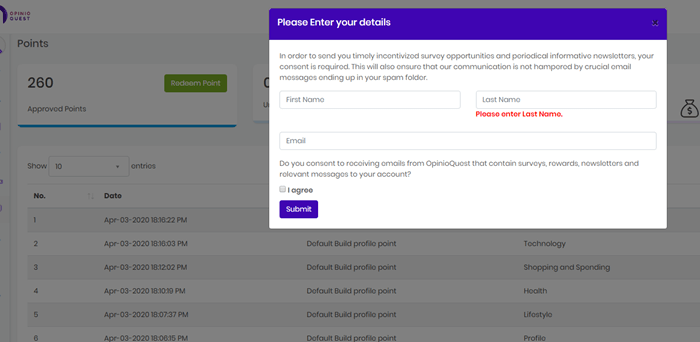 Another weird thing I encountered about their payment system is, you will actually have to subscribe to their newsletter in order to start redeeming rewards (refer to the photo above). If you don't, then you won't get to redeem gift cards.
This, in my opinion, is not very favorable on your end. Most sites usually give you the choice to not join their newsletter and still enjoy the basic features of the site. It's like it is forcing you to join their newsletter if you ever hope to redeem rewards, which is not a good sign.
And another thing you need to keep in mind with their rewards system is it will depend on which country you live in. The availability of gift cards you can redeem will depend on which country you set on your profile.
In addition to this, Opinio Quest does not make it clear how long you have to wait before you will actually receive your rewards after you have requested a payout.
But from looking at feedback on their Facebook page it seems like it can take quite a long time and there are several complaints from people that have had to wait a long time.
Overall, I do think they have a convoluted way of rewarding their members which is very inconvenient, in my opinion. If you prefer a simpler way to get your rewards, I suggest you check out the top sites that pay via PayPal instead.
How much money can you make?
The amount of money you can make from a survey site will depend on the availability of surveys and how well they pay. Naturally, the more surveys you can answer, the more chances of getting rewards.
You have to remember that you need to qualify for a survey in order to get the reward and in my experience, you won't always qualify for a survey.
And with Opinio Quest's case, there aren't always a lot of surveys available. So, you can't really expect to earn a lot from it.

The best way for you to maximize your chances of receiving survey offers is by completing your profile (refer to the photo above). You need to complete your profile so that the site can easily figure out which surveys you are possibly a good fit for.
And the good thing is, you will receive 10 points for each section of your profile you complete. So, you won't really be wasting your time by completing your profile. You will get something out of it.
As for how well they pay, I would say that they do pay quite well per survey. Most of the survey offers will reward you with 100 points (equivalent to $1), which isn't bad, in my opinion. But it isn't that great either depending on the length of the survey.
Overall, I would say this survey site doesn't have good earning potential simply because it doesn't provide that many surveys and because the usability is a lot lower than on many other sites.
Can you use it on mobile?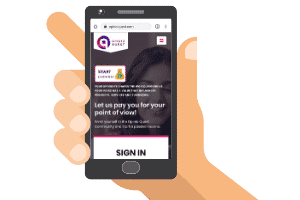 Opinio Quest doesn't have a standalone mobile app. However, you will still be able to access it from a mobile device using a mobile web browser.
The good thing is, their site is mobile-friendly. So, you shouldn't have a hard time using it from a mobile device. This is, in my opinion, their best asset. The site has a nice layout and the user interface is intuitive.
This at least makes it easier for you to earn rewards since you don't have to rely on your computer to answer surveys.
Who can join Opinio Quest?
Opinio Quest is available globally. That means you will be able to join regardless of where you live. They do require you to be at least 18 years of age in order to register.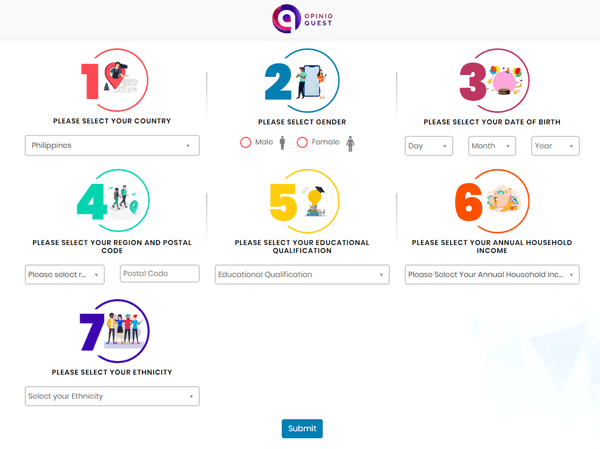 To sign up as a member, you simply have to fill out the registration form. Once you've done that, you will be taken into their member dashboard. But before you start answering surveys, I suggest you go to the My Points section of their dashboard and click the Redeem button.
This will initiate the account verification process. You will also need to do this to make sure you will be able to redeem rewards. And as explained earlier, not only will it verify your account and provide your password, it will also sign you up for their newsletter.
You can just choose to unsubscribe to their newsletter later if you don't want to keep receiving emails from them. One thing to take note of this survey site though is, the availability of surveys will mostly depend on which country you live in.
Another thing you need to keep in mind with this site is, even though it is available globally, only a few countries will offer a decent number of surveys to answer. So, essentially, it is only advantageous for people who live in countries where there are a lot of surveys available like the US or other English-speaking countries.
Can you get support?
If you go and check out their FAQ page, you will quickly realize how lacking this page is. There are only a couple of questions posted and they don't even provide concise answers.
So, if you were hoping to clarify a few things with the help of their FAQ page, then, unfortunately, you will be disappointed. You will have to contact their support team if you want answers.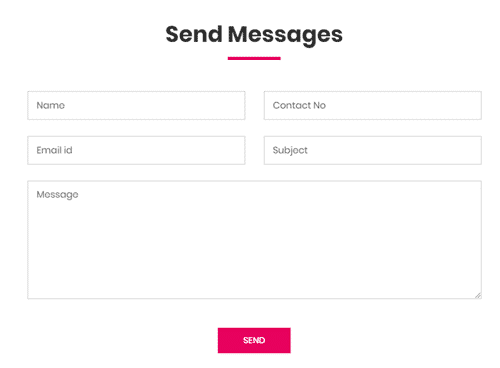 Fortunately, they do have a contact form you can use to send in your inquiries. They do have social media pages you can visit. They post updates from time to time but it is not as active as you would hope.
So, if you have any concerns, I suggest you contact them using their contact form or email them at myopinio@opinioquest.com.
Final Verdict
Opinio Quest is a survey site that does reward you for answering their surveys. It offers a couple of good features, but it also has glaring drawbacks.
So let me finish this review by summarizing its pros and cons to help you decide if you should become a member of this survey site or not.

Pros:
Their site has an intuitive user interface
Mobile-friendly
Decent rewards per survey

Cons:
Limited earning opportunities offered
The rewards system is a bit confusing
Their site lacks relevant information
Limited payment options offered
It can take some time to receive your payments
As you can see, Opinio Quest has more drawbacks than upsides, in my experience and opinion. This goes to show that this survey site isn't among the best options to earn extra cash from. The site doesn't present a lot of useful information for potential members.
So, it leaves you with more questions than answers.
It will only be a beneficial site if you live in a country where there's a decent number of surveys available and if you are patient enough to contact them to get answers for the many things they do not tell you on the site itself. You will then have a fairly good chance of earning rewards.
All in all, I wouldn't recommend this survey site since there are simply a lot better options out there. For a list of sites with better earning potential, I suggest you check out the top survey sites in your country.
The sites on this list will allow you to earn on a regular basis and also have better payment options available. Plus, you will be able to find a site you can join regardless of where you live and still receive a good number of earning opportunities.
If you have any comments, questions, or have any experiences with Opinio Quest yourself, I would love to hear from you in a comment below.