If you love receiving free products, there's a site called Clicks Research that promises to send you free stuff in return for providing feedback about what they will send to you.
In short, it is a product testing site that hands out products for you to try.
But is it legit? That's a valid concern and we must address it immediately because it is one of the most crucial factors you need to consider before joining.
Yes, Clicks Research is a legit product testing site that will hand out free products for you to try.
Is it worth your time though? Well, that's an entirely different matter. And to answer that question, we have to examine a lot of things.
There are a few factors you need to consider and this Clicks Research review will give you an inside look so you can determine if this site is worth joining or not. So, let's go ahead and take a closer look at what this site has to offer.
What is Clicks Research and what does it offer?
As mentioned above, Clicks Research is a product testing site where you will be able to test new products before they are even released to the market. So, if you like receiving free stuff, this is one way to do it.
But, aside from testing products, Clicks Research also offers other opportunities for you to earn.
Now, let's take a look at these opportunities so you can clearly understand how to earn from Clicks Research.
Option 1 – Product testing
As you already know, you can test products on this site and keep them once you are done. After your registration is completed, you need to log in to the site and complete your profile.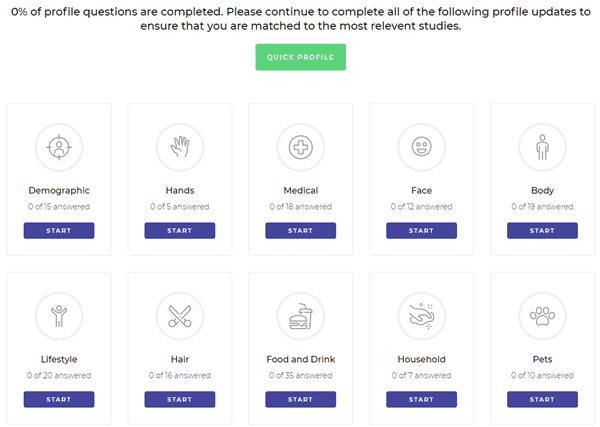 The information you put in your profile will be used by Clicks Research to qualify you for trials you can do.
If you qualify for a trial, they will send you an invitation to do it. If you accept the trial invitation, they will dispatch your free trial sample to the address you specified during registration.
Once you've received the sample, you will then be asked to complete a questionnaire online. This questionnaire will be designed to gather feedback about the sample you tested. So, all you have to do is answer the questionnaire and you are all set.
After that, you get to keep the sample that was given to you. That's all there is to it really. It's a pretty straightforward process. Just know the availability of trials aren't really that frequent. So, don't expect to receive a lot of it.
It will also depend on your location. If you live in the US or say UK, there's a higher chance of receiving trial invitations than in many other countries.
The usual products you will get to test are ready-made meals, slimming products, shakes and food supplements, anti-ageing products, cosmetics and bath products.
Option 2 – Paid surveys
The good thing about Clicks Research is, if there are no trial invitations, there's still a way for you to earn. And that is through paid surveys.
If you've been a member of a survey site before, then this is a very familiar opportunity.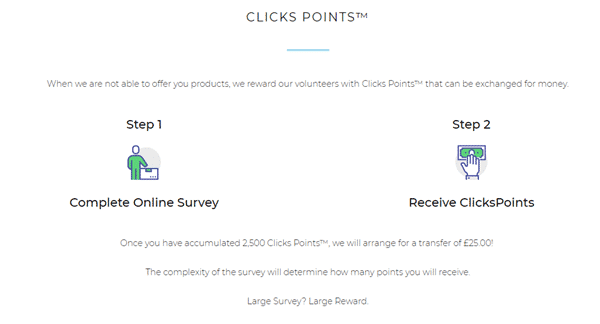 From time to time, the site will send you surveys for you to earn a bit of cash. When there's a survey available for you, just click it and then answer the qualifying questions. Once the survey determines you are qualified, you will then get to answer the actual survey questions.
Once you complete the survey, you will receive the points promised.
If you fail to qualify though, you will receive a sort of compensation. You will then be entered automatically to their monthly draw where you will get the chance to win £50.
Each survey you fail to qualify for will serve as one entry to their monthly draw. So, it's not really a complete loss if you don't qualify.
Overall, you will, however, not find many surveys on Clicks Research so if you like taking paid surveys, you should make sure to also join other sites.
How do you get paid?
For testing products, you don't actually get paid. Your reward is, you get to keep the product they will mail you.
As for paid surveys, every survey you successfully complete will earn you around 25 to 200 Click points.
Once you've earned 2500 Click points, you can then claim your reward worth £25 (which is quite a high threshold, in my opinion).
The button to click to claim your reward will only be available once you reach the threshold. So, don't be alarmed if you don't see that yet if you haven't reached the point threshold.
Your £25 reward will be paid via check and it will take around four weeks (or possibly even more) before you will receive it. It will be sent via postal mail. Unfortunately, they don't offer any other form of payment method.
This is a bit inconvenient, in my opinion. You have to wait for at least a month before you get your reward. That's quite a long time to wait. It would have been better if they offered a more convenient option like PayPal.
If you are interested in sites that will allow you to get paid a bit faster, I would suggest you check out the top sites that pay via PayPal.
How much money can you make?
With regards to the money you can make for answering surveys, I would say you will be able to earn a decent amount from this site.
Their reward rate is actually quite high. You stand to earn up to £2, which is quite high, in my opinion. However, the majority of the surveys will give less.
Also, you have to keep in mind that you won't always get to earn from the surveys you will get invited to answer. It will take a bit of patience, in my experience, to qualify for surveys. So, you need to be patient.
But overall, I would say the earning potential of this site isn't very high though. It has limited earning opportunities offered. If there aren't any surveys available, then you won't earn anything.
So it is mostly interesting if you like getting free products but it can also take quite some patience to get any of these depending on the country you live in.
Can you use it on mobile?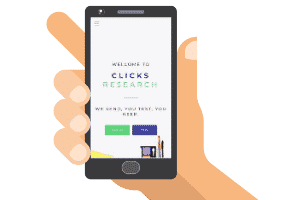 Clicks Research doesn't have a mobile app. If you want to access their site from a mobile device, you will have to use a web browser. Fortunately, their site is mobile-friendly. You will be able to read all the content clearly without having to zoom in.
It is also very easy to get around the site because the links are large enough to click easily. They say their site is designed specifically for iPads and iPhones, as well as computers.
So, if you are using an Android device and you are having trouble accessing their questionnaire or survey, then, I would suggest you log in using a laptop or desktop, since there's no way around it. But if you are using a fairly new Android device, you shouldn't have any trouble accessing it, in my opinion.
Who can join Clicks Research?
Clicks Research is available globally. That means you can sign up as a member anywhere in the world. But you do have to be at least 18 years old to join the site.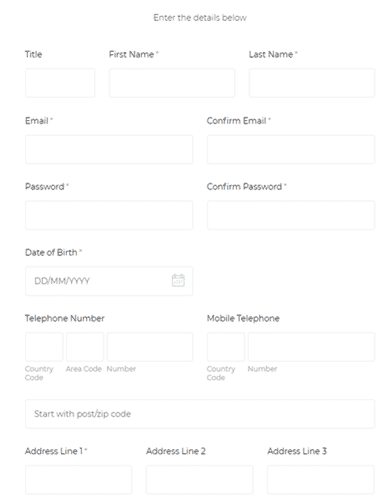 During the registration process, you will have to provide your mailing address. Make sure to provide your real mailing address because this is the address they will use to send your trial samples as well as your reward check.
If you are not comfortable sharing your mailing address, then there's really no point joining this site, in my opinion.
Once you complete the registration form, you will have to activate your membership by clicking on the activation link that will be emailed to you.
As soon as you've done that, you can now log in to the site and start completing your profile.
Take note though that the availability of opportunities will mostly depend on the country you live in. In my experience, sites like this will usually have more opportunities if you live in the US, UK, or Canada.
So, remember that before you decide to sign up for this site.
Can you get support?
In terms of providing support for their members, I would say Clicks Research does a good job on that.
They have a comprehensive FAQ page that explains in detail what the site has to offer. So, if you want to learn more about the site, I suggest you read their FAQ page first.
If you have any questions about the site or if you experience any issues with your account, you can send them a message through their contact form. You can access their contact form through their home page.
Final Verdict
Clicks Research is a legit product testing sites that also doubles as a survey site. It has a couple of good qualities to offer but it also has certain limitations that are hard to ignore.
So, let me conclude this review with a summary of its pros and cons to help you decide if joining this site is a good idea or not.

Pros:
Their site is user-friendly
The rewards for survey completed are quite decent
Available globally

Cons:
Limited earning opportunities offered
Limited payment options offered
Will take quite some time to receive your payment from surveys
In my opinion, Clicks Research is a decent site to join if they offered a better payment option. Payment via check simply takes a lot of time. You'll be stuck for at least a month waiting to receive your reward.
But if you don't mind the wait and the effort needed to cash the check, then this site can be a decent secondary option. The survey pays better than most survey sites. You just need to be a bit more patient when trying to qualify for one.
Also, if you like the products they give out, then that can be a good reason to join the site.
But if you are merely looking for sites that will allow you to earn extra cash, I would recommend you check out the top survey and GPT sites in your country instead.
The sites on this list all have good earning potential and all offer convenient and fast payment options. Plus, you will also be able to find a site you can join regardless of where you live.
If you have any comments, questions, or have any experiences with Clicks Research yourself, I would love to hear from you in a comment below.