Resolution Research Panel is supposedly a site where you can get paid to take surveys.
But there are many of these types of sites and not all of them are worth it. So I decided to join and test this panel to see what it really offers.
So is Resolution Research Panel a scam or one of the legit survey sites?
Well, let me reveal right away that it seems like a legit panel, but it has some confusing elements and there are some things you need to consider before joining.
In this Resolution Research review, I will give you all the details so you can easily decide if it will be worth your time or not.
What is Resolution Research Panel and what does it offer?
When testing a survey panel, I always try to look into the company behind as it says a lot about the credibility of a site.
When it comes to Resolution Research, I was a bit confused with the info I found. I found several websites and Facebook pages with more or less the same name.
I found a website called resolutionresearch.com but I also found a website called resolutionpanel.com.
They look different and have something different to offer, but according to their Facebook pages, they have the same address, so I am assuming it is the same company.

What is strange is that even though it seems to be the same company, resolutionresearch.com has a link to join their panel that takes you to a completely different survey site called paidstudies.com.
resolutionpanel.com instead used to be a panel you can join directly on the site. That was how it was when I first tested the site.
Now both websites just redirect you to the website called paidstudies.com so I am assuming it is because they have gathered it all in one research panel which, of course, also makes sense.
However, at first, this can be a bit confusing and strange, in my opinion. But I still decided to give Resolution Research a chance to see what it offers on the inside.
So let's go over what kind of opportunities you can find after you join.
Option 1 – Paid surveys
Resolution Research is, first of all, a survey panel where you can get paid to share your opinion.
Once you join, you right away have to fill out some basic info about yourself to get access to the list of available surveys.
Even though I filled out this info, I have not been able to find any available surveys.
It instead just says I need to fill out more info about myself to increase my chances of surveys.

I just want to make it clear that this might be very different in your country. Most of the times the amount of available surveys is affected by the country you live in.
So it might just be that Resolution Research does not offer many surveys for the country I live in. But from what I have seen, you should not expect a big amount of paid surveys.
Option 2 – Invite friends to participate
Another way you can earn on Resolution Research is by inviting your friends to join.
This is, however, not a way to earn a lot. You can invite friends by sending an email to them from within Resolution Research.
You will, however, maximum be paid to invite 10 friends and you will get $0.50 once they have taken their first survey.
This means you can maximum earn $5 like this. Compared to other survey sites this is not really a great referral program and not a way to really earn in the long run.
Option 3 – Daily polls
You can find a section with daily polls once you are logged into Resolution Research.

These are small daily polls that only takes a few seconds to complete.
It is, however, important to know that this is NOT a way to earn. You do not get paid to participate in these polls.
It is more for entertainment purposes.
You can also create polls yourself and participate in polls from other members.
But you should only use this option if you think it is fun because you will not get paid for it. So if you just want to earn, then you should use other methods on Resolution Research instead.
I like the idea of being able to create content and participating in polls from other members. I just do not think it works very well on Resolution Research.
A site like Toluna Influencers also has the option to create content. Here it just works a lot better, and you can also get paid to do it. So this is not really something I personally would spend any time on, on Resolution Research.
Option 4 – Sweepstakes
There is one more way you can earn on Resolution Research. You can participate in the daily, weekly, or monthly sweepstakes.

This prizes here are pretty good as you can win $100, $250, or $1000.
You, of course, have to be really lucky to win these prizes. You will earn entries into the sweepstakes by participating in surveys and polls on the site.
The more active you are on Resolution Research, the more entries you get. I do, however, not know how big your chances are of actually winning.
I tried to look into this by clicking the link to read about the rules for the sweepstakes.
Here I found something very confusing. I was suddenly taken to a page that showed the rules for Clear Voice Surveys sweepstakes.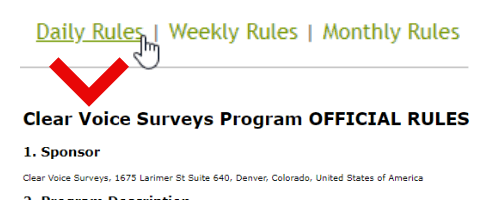 This is another survey site I have previously reviewed and one that I personally do not really think is worth the time.
But very confusing to suddenly be taken to these rules from within Resolution Research.
This makes me wonder if it is the same company behind even though the address is not the same.
No matter what, it is, in my opinion, confusing and unprofessional to be taken to the rules for another survey site even if it is owned by the same company.
It makes me wonder if the rules are even valid for Resolution Research as it is not mentioned in the rules.
Anyways, no matter what, you should not join just to get access to these sweepstakes. If you are extremely lucky, you can win a very good prize, but you have to be VERY lucky for that to happen.
How do you get paid?
Now you know what kind of earning opportunities you can find on Resolution Research.
To be able to decide if it is worth it for you or not, you also need to know how you will get paid.
You can get paid through Payoneer once you have earned $10.

Payoneer is a legit payout method. I am using it myself to get paid from among others the survey site ySense. It works very well.
The thing is that it, however, looks like on Resolution Research you can only use the prepaid debit card option.
On Payoneer, you can usually just get your money electronically and then transfer them to your bank account. But it does not look like Resolution Research offers this option which is a shame, in my opinion.
One thing you also need to know about the payout conditions on Resolution Research is that once you have completed a survey, your reward will usually be pending for 2-4 weeks before you can take them out.
Also, any reward that has not been redeemed after 365 days will expire.
How much money can you make?
So how much money is it then overall possible to make on Resolution Research?
This is very difficult to answer exactly as it depends a lot on the time you put in and the country you live in.
But from what I have seen, I am not impressed with the opportunities on the platform.
You might be able to earn a few dollars here and there but compared to the top paying survey sites, you should, in my opinion, and experience, not expect much.
Can you use it on mobile?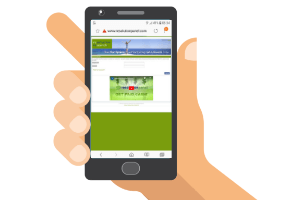 Being able to use a survey site on mobile is great as it makes it possible to earn on the go.
Resolution Research is not easy to use on mobile as the website is not mobile optimized.
It works very poorly on smaller screens and it will take a lot of zooming in and out.
You can, in theory, use it and log in from any device, but the user experience will just not be very good.
Who can join Resolution Research?
You can join Resolution Research no matter the country you live in.
The number of opportunities you will find will, however, likely vary from country to country.
Overall, you should not expect too many opportunities no matter the country you live in.
So if you join, you should, in my opinion, make sure to also join other panels to get enough earning chances.
Can you get support?
If you decide to join the Resolution Research panel and should need support, you can submit a support ticket on the website.
You can also send them a message on their Facebook page.
I do not know how long it will take them to get back to you as I have not needed to contact them myself.
From what I can see some on their Facebook page, they get back to people that contact them about complaints there. That is, of course, a good sign.
So if you should need support and do not get an answer through email or by submitting a form, then try to write on their Facebook page.
Final verdict
Overall, Resolution Research seems like a legit panel and it pays out in legit ways.
This does, however, not mean it will be worth your time.
To give you a better overview before deciding to join or not, let's sum up the pros and cons.

Pros:
Free to join
Uses legit payout methods

Cons:
Limited earning potential
Not very user-friendly panel
Not mobile optimized
Payout conditions are a bit poor compared to other sites
Overall, Resolution Research is not a panel I myself will be using anymore, as it just simply has to poor opportunities and poor usability compared to many other sites.
It is legit, so you can earn a bit extra cash there by taking surveys, but I would highly recommend you to check out the best survey panels in your country instead.
These other panels have a lot more opportunities, are a lot easier to use, and offer better payout conditions, in my opinion.
If you have any comments, questions, or have any experiences with Resolution Research Panel yourself, I would love to hear from you in a comment below.