If you are a music fan and looking for ways to earn, you might have already encountered HitPredictor.
If you haven't, then, in short, it is an online rewards site that promises to reward you for sharing your opinion about new music being released.
The first thing you need to know about this site is, it is a legit online rewards site that does reward you for completing the activities it offers. This does, however, not automatically mean that it is a good site to join and that it will be worth your time.
To figure out if you should join this site or not, we have to examine exactly what it has to offer.
This HitPredictor review will do exactly that. After reading this article, you will know what to expect and can decide if this site is worth joining or not.
What is HitPredictor and what does it offer?
As mentioned at the beginning of this article, HitPredictor is an online rewards site that will reward you for sharing your opinion about new music.
It is NOT a scam but a legit site and if you love to listen to music and discover new artists, you might find this site tempting. Not only will you be able to earn rewards for sharing your opinion, but you also get the chance to directly influence new music before it's released.
As a site to earn rewards though, we can't really gauge HitPredictor's potential if we don't examine what it has to offer.
I have, therefore, made a video that give you an inside look and where you will learn exactly how you can earn rewards from HitPredictor. You can also read all the details below the video:
Option 1 – Rate Music
Once you become a member of HitPredictor, you will be given access to songs that have never been released. All you have to do to earn rewards is to listen to the tracks and leave a comment about them.
For every track you rate, you will receive a certain number of points as a reward (I will talk about what to do with the reward later). You will also receive bonus points for rating 15 tracks within a 7-day period.
It's a pretty simple way of earning rewards, in my opinion. Plus, you get access to previously unreleased tracks. The only problem is, new tracks won't always be available.
The availability of new tracks to listen to will depend on the type of music you've set as your favorites during the registration process (I will also talk about this later). So, don't expect to rate a track on a daily basis.
Option 2 – Polls
You can also earn points by answering the polls HitPredictor offers.
This, in my opinion, is the best way to earn points on HitPredictor. The polls only take a few seconds to answer and they reward better than rating music.
Each poll you answer will reward you with 5 points. That alone makes it a much better earning opportunity than rating music. Plus, there are more available polls than tracks you can rate.
The polls will only ask one question but sometimes it asks you to leave a comment to support the answer you've provided. That's how easy it is to answer the polls.
Option 3 – Referral Program
Online rewards sites almost always have a referral program. This is to entice you to invite other people to join their site. HitPredictor is no different.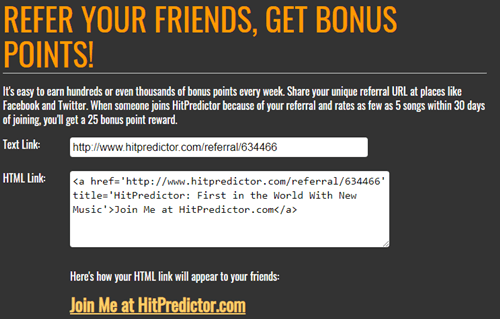 Its referral program is structured in a way that when you invite a person to join the site, you will receive 25 points once he or she becomes a member and rates 5 tracks within 30 days.
It's not much but it's a decent addition to the points you can accumulate. However, the only problem I see with this type of referral program is, there is no guarantee you will receive points.
The condition you need to meet in order to get the bonus points is pretty hard, in my opinion. You have to remember, the availability of tracks you can rate won't be fixed.
There's a high chance that your referral might not get to rate 5 tracks within a month. Then, you won't receive the bonus points. There's really little incentive to keep inviting people to join the site, in my opinion.
Recommended: Check Out the Top Survey Sites in Your Country
How do you get paid?
HitPredictor uses a point system for their rewards. Every poll you answer or track you rate will award you with a certain number of points.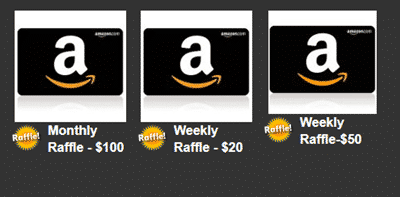 You can then use the points you've accumulated to join any of the raffles HitPredictor has. They hold weekly and monthly Amazon gift card raffles, each with different prizes.
Obviously, the monthly raffle has a higher and more significant prize ($100 worth of gift card). The weekly raffles will usually vary in prizes. There are weekly raffles that award $20 and there are some that award $50.
The monthly raffle will cost 500 points to join, while the weekly raffle costs 100 points. You can only buy 1 entry per day for each kind of raffle. You can join any raffle how many times you like, as long as you have enough points, of course.
They will be posting the winners for each raffle on their site and if you ever get lucky and win, you will also receive an email notifying you that you've won.
This is how they reward their members and in my opinion, it's a poor reward system. This is because there is no guarantee you will get anything from this site. You would be very lucky if you ever win one raffle draw.
You could spend months and months of doing activities on the site and earn nothing, which, in my opinion, is really a bad way to spend your time.
There are many sites that offer Amazon gift cards where it does not depend on luck but where you know for sure you will get them when you complete the tasks.
So it is clear that you should only join HitPredictor if you really like listening to new music and not for the rewards as there is no guarantee you will get any.
How much money can you earn?
You won't actually be earning real money from this site seeing as the prizes for the raffles will be in the form of Amazon gift cards.
Although Amazon gift cards can be as good as real money, it will all boil down to winning one of the raffles you join. In my opinion, there is simply no merit in joining this site if all you are after is to earn a bit of cash.
You will be better off joining survey sites or Get-Paid-To (GPT) sites that offer REAL MONEY as payment and not just a CHANCE to win Amazon gift cards.
So whether HitPredictor is worth it or not really comes down to passion – if you love listening to new music and want to share your opinion about it, it might be a really good option for you. But if it is only for the earnings you do it, there are many better sites.
Can you use it on mobile?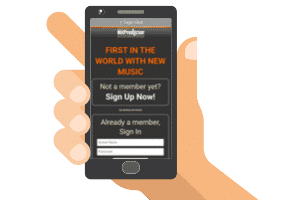 If you were hoping to download a HitPredictor mobile app so you can rate tracks and answer polls on your mobile device, then you will be disappointed. They don't have an exclusive mobile app available.
But, you will be able to access their website on your mobile device using a mobile web browser. You won't have a hard time navigating through their site because it is optimized for mobile use.
That means you will be able to view all the content without having to zoom in or scroll left and right. This gives you a certain advantage because you can conveniently earn points even when you are not sitting in front of a computer.
Who can join HitPredictor?
The one saving grace of HitPredictor, in my opinion, is that it is available globally. You can join their site regardless of where you live.
There is no age requirement stated on their terms and conditions, but in my experience, you usually have to be at least 18 years old to join a site like this.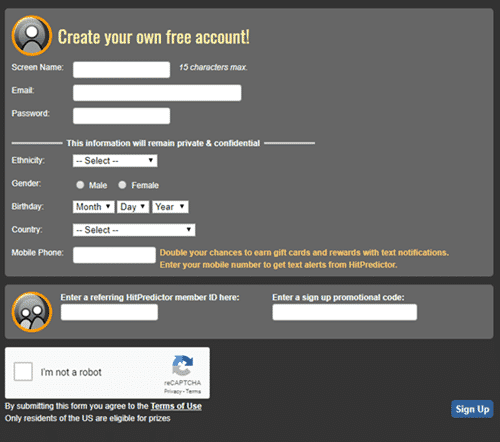 If you want to become a member, simply click the Sign-Up button on their homepage. You will then be redirected to a sign-up form (photo shown above).
Their sign up process is also pretty straightforward, so you won't have a hard time becoming a member. Once you've completed the sign-up form, you will then be asked to set your favorite music.
This is important because this will be their basis on which new music to send your way in the future. So make sure to set that up too.
Can you get support?
In terms of providing support for their members, they do have an FAQ section you can refer to if you have any questions that need to be answered.

If your question is not answered by their FAQ section, you can contact their support team using their contact form, which can be accessed under the Help & FAQ tab of their dashboard.
They do have a Facebook page you can visit and it's fairly active.
However, I still suggest you use their contact form for any inquiries. This is because you can track the progress of your inquiry much better through that method since you will be able to see the status of your inquiry.
Overall, they have a decent method of providing support for their members, in my opinion.
Final Verdict
HitPredictor is a legit online rewards site that does reward you for rating new music and answering polls. However, it doesn't really incentivize you to join the site depending on the type of rewards you are looking for.
But let's finish this review by summing up its pros and cons so you can get a full overview before deciding if it is for you or not.

Pros:
Available globally
Easy registration process

Cons:
Limited earning opportunities
No guarantee you will earn
The fact that there is no guarantee you will receive anything from HitPredictor is what really makes it not an ideal choice to join if you are in it for the money, in my opinion.
You have to be very lucky in order to receive some form of payment (Amazon gift cards).
However, if all you are after is listening to new music, this can be a viable site to join. Of course, there are other better sites to do this, in my opinion (SoundCloud comes to mind). But what is great about HitPredictor is that you can also give your opinion about the music you are listening to.
But if you are looking for sites that will allow you to earn on a regular basis, I recommend you check out the top survey sites instead.
The survey sites on this list all have good earning potential and you will be guaranteed to earn something because their payment system doesn't rely on luck. Plus, you will also be able to find a survey site that will fit your needs regardless of where you live.
If you have any comments, questions, or have any experiences with HitPredictor yourself, I would love to hear from you in a comment below.