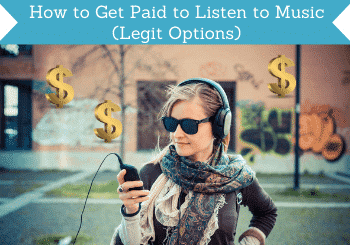 Music is an integral part of our life. Even if you are not a music lover, you likely listen to it regularly.
But did you know you can earn a bit of cash simply by listening to music?
There are actually sites that will pay you for listening to music. The question is, which sites should you join? This article will not only show you how to get paid to listen to music but it will also show you a few good sites and apps you can join.
I'll summarize what each site has to offer so you can just pick which ones are the best fit for you. All the sites I will be including in this list are legit and free to join. So, you can just sign up and start earning right away.
Can you really earn by listening to music?
There are tons of sites that will allow you to earn in many different ways. So, earning by listening to music doesn't really sound far-fetched.
So it definitely is a real way to earn as long as you join the legit sites – you just need to do it with the right expectations (below I will make it clear what you can expect to earn).
Sites that offer this kind of earning opportunity are called Get-Paid-To (GPT) sites.
They are able to afford paying you for listening to music because there are companies and individuals that want to, for example, perform market research, test the waters for new music, and promote music artists. So, these companies/individuals hire these sites to help them out.
That's how the earning process works for these kinds of sites. So, all you have to do to earn is basically listen to the songs these sites will send your way.
And a great thing about this is that, in many cases, you will also be able to do it from your mobile device. So, that means you will practically be able to earn anytime and anywhere.
How much can you earn?
The one caveat about this kind of opportunity is, you typically won't earn a lot from it. Considering it doesn't really take a lot of effort to earn from this site, I would say it's only fair you don't earn a lot from it.
This is really how online rewards sites work. If it doesn't take a lot of effort to do, it typically doesn't pay a lot.
Now, if you want to maximize your earnings by listening to music, I would suggest you join around 5 to 7 sites so you can get access to more opportunities.
The real value these sites offer is, they provide a way for you to earn some cash and have fun at the same time. If you are a music lover, you get introduced to lots of new artists you might find interesting.
But if you are simply looking for ways to earn extra cash, there are better options out there. I would recommend you check out the top survey and GPT sites in your country instead.
7 sites that pay you to listen to music
There aren't a lot of legit sites that offer this kind of opportunity, but I've managed to find a few options. I'm not going to say that these are excellent sites but they are decent enough to be considered – and most importantly they are all legit.
I will keep updating this list if I find new sites, so make sure to bookmark this page and check back from time to time for new opportunities.