There are plenty of sites that offer ways for you to earn extra cash. Some sites will ask you to answer surveys while other sites will ask you to do short tasks.
One site that offers you to earn some side cash is called Slicethepie.
If you are reading this article, then chances are, you've already encountered this site when looking for sites to join. Slicethepie is a slightly more unique site than your usual survey or Get-Paid-To site, but we'll talk about that later.
The first thing we need to talk about is its legitimacy. So, is Slicethepie legit? It's just practical that you confirm the legitimacy of the site before you join. After all, you don't want to waste your time joining a site that won't pay.
So, let me answer this question right away. Yes, Slicethepie is a legit site that does pay you for providing your opinion on certain things.
But is it worth it though? This Slicethepie review will give you the lowdown on what the site has to offer so you can decide if it is really worth your time or not.
What is Slicethepie and what does it offer?
Slicethepie launched back in 2007 as a fun and interactive site to identify the best up and coming artists.
But now, it has evolved to a form of survey site where you'll get paid to rate and review anything from new radio hits to next season's fashion and accessories. That's basically how it works.
Now, let's take a closer look at how you will be able to earn from this site. This is the best way to get a clear understanding of its earning potential.
So, here are the earning opportunities that Slicethepie offers.
Option 1 – Music reviews
The first and main method of earning this site offers is doing music reviews. When you log in to their member dashboard, you will be asked what you want to review. All you have to do is click music.
You will then have to complete your profile first. Next, you will be presented with a track you need to listen to. They say you need to listen to it for at least 90 seconds but I would suggest you finish the track to properly do a review.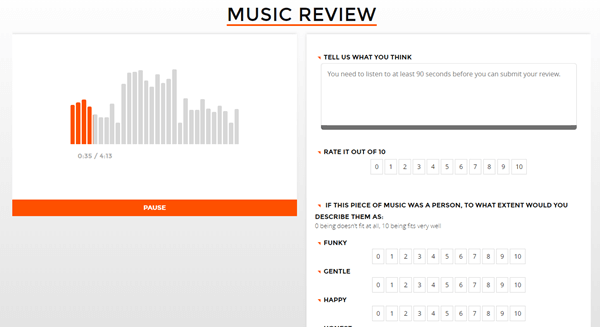 You can then write what you think about the song in the "Tell us what you think" section.
You need to make sure the orange bar is full to be able to submit the review. So, when you tell the site what you think of the song, make sure to be elaborate.
Then, there are a few categories you have to put your rating in. All you have to do is choose the appropriate rating. Make sure to be honest when giving your rating because it totally defeats the purpose of the site if you just randomly give ratings.
Once you are done with that, all you have to do is click Submit. You will then be thanked for submitting your review and you will be informed how much you earned for submitting that review.
Option 2 – Fashion reviews
As mentioned, you also have the choice to review fashion items aside from music. The process is a lot similar to reviewing music.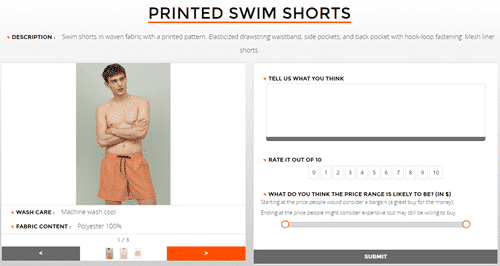 You have to tell them what you think and you have to make sure the orange bar below the Tell Us What You Think section is full to submit the review. Then, just like music reviews, you have to rate the clothing item.
You also have to select what you think is the appropriate price range of the item. Once you've done that, you can submit the review and see how much you've earned for it.
It's really a straightforward way of earning, in my opinion.
Option 3 – Paid surveys
Slicethepie also offers paid surveys from time to time. It doesn't have as many paid surveys as most survey sites but it's an easy way of earning extra cash from this site.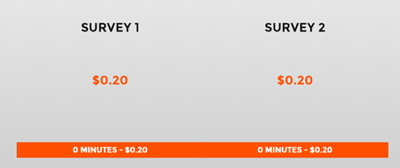 As you can see in the photo above, you will know right away how much you will earn for completing each survey.
The survey links will take you away from Slicethepie. But you don't have to worry since you'll come back to Slicethepie when you finish the survey.
When answering a survey, you will first have to go through a set of qualifying questions to determine if you belong to the target group the survey is intended for. If you qualify, you get to proceed to the actual survey.
If you don't qualify, you will still receive a bonus payment, just to say thanks for your time. This is a good thing, in my opinion, because not a lot of survey sites do this. At least, if you didn't qualify, your time wasn't totally wasted. Just don't expect to receive much if you don't qualify.
Once you've completed the survey, you will receive the promised reward and it will be credited to your Slicethepie account.
Option 4 – Referral program
Most online reward sites have some sort of referral program. This is to ensure there are always new members coming in to participate.
If you are new to referral programs, it's actually pretty simple. All you have to do is invite people to join the site and if they sign up, you will receive some form of compensation.

In Slicethepie's case, for every person you invite that successfully signs up to the site, you will receive 20% of all their review earnings for 60 days and 10% after that. So, make sure to invite people who are really interested in joining this site. Otherwise, you won't earn from it.
To invite people to join the site, you simply have to share your referral code or invite link with them.
If you use the referral code method, make sure to remind them to input the code when registering (I will talk about the registration process later).
How do you get paid?
The good thing about the reward system of Slicethepie is that it doesn't use a point system. You will always receive money so you don't have to keep mentally converting the points you've earned like you would on some other survey sites.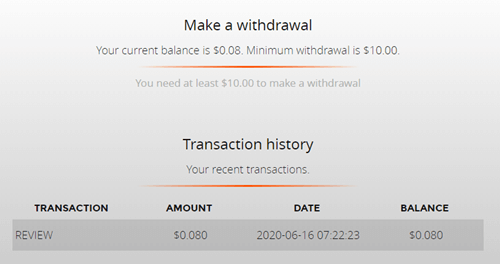 As shown in the photo above, you will need to earn at least $10 (which is a relatively low payout threshold) before you can withdraw your earnings via PayPal. Take note that PayPal is the only payment option they have.
Although the site is less versatile in terms of payment options, having the option to withdraw via PayPal is still pretty convenient, in my opinion.
If you are interested in more sites that pay via PayPal, I recommend you also check out the top sites that pay via PayPal.
How much money can you make?
In my experience, sites that offer a fairly easy way of earning usually don't pay a lot. In the case of Slicethepie, you don't actually get to earn a lot for doing reviews and even paid surveys.
For reviews, you will usually only earn $0.08 per review, which is pretty low. For surveys, it will be around $0.20 per survey. So, you will need to have a bit of patience in order to reach their payout threshold of $10.
The beauty of Slicethepie's earning opportunities is, it really doesn't take too much of your time.
So, I would say the amount you will earn is really justifiable. There are several reviews you can make every day, so there's a good chance you can earn more than $1 per day.
Plus, listening to new music can also be fun. In my opinion, that's the real value that this site has to offer. But overall, I would say that Slicethepie doesn't really have a high earning potential.
Can you use it on mobile?
Slicethepie has a mobile app you can download so you can do reviews even when you are not sitting in front of a computer. Plus, their site is mobile-friendly, so you have two choices on how you can work on reviews on a mobile device.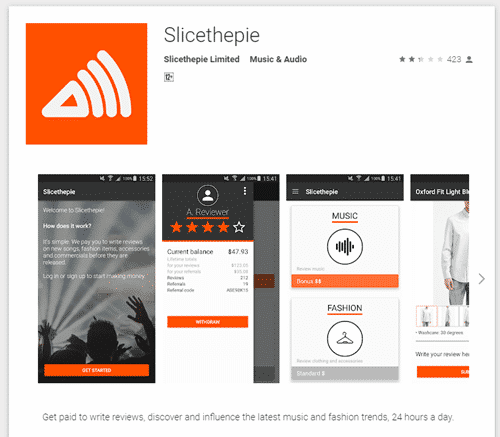 Their app is available for download on both Android and iOS app stores. So, you won't have any problems using this app. The user interface of the app is also very intuitive. You will easily get used to working on it.
The way their earning opportunities are structured also makes it ideal for you to use a mobile device so you can just do reviews anytime and anywhere. This makes it a more efficient site to earn from even though as mentioned, it doesn't have a mobile app.
Who can join Slicethepie?
Slicethepie doesn't mention on their website which countries it is available in. So, the best way to determine if you are eligible to become a member is to go to their website and see if the site loads.
If it is available in your region, you will see their homepage. Otherwise, you will only see a 403 error.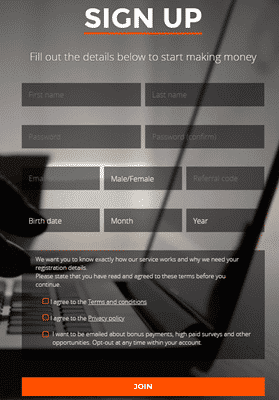 To become a member, all you have to do is fill out their sign-up form. As shown in the photo above, there is a field that says Referral Code. That's where you can input the referral code (if you were referred by another member).
To be eligible, you need to be at least 18 years of age and you also have to have a verified PayPal account. You also need to make sure the email address you will use for signing up is the same email address for your PayPal account.
That's the only time you can input your payment details. So make sure to provide the same email address for your PayPal account if you want to get paid.
Can you get support?
Slicethepie has a pretty comprehensive FAQ page. So, everything you need to know about the site can actually be learned from their FAQ page.
That's why if you have any questions about the site, I suggest you first check out their FAQ page. If you can't find what you are looking for, you always have the option to send in your inquiries to their support team.
You can do that by clicking the Help button on the lower right-hand corner of their site and hitting Contact Us. It will open up their contact form where you can type in your questions and attach screenshots (if needed).
Overall, I would say that Slicethepie provides ample support for its members, which is a good thing because it shows they care about their members.
Final Verdict
Slicethepie is a legit online rewards site that will pay you for providing reviews and answering surveys. It certainly has some appealing qualities but it also has a couple of limitations.
Let me end this review by summarizing its pros and cons to give you better insight into whether you should join this site or not.

Pros:
Offers a fun way to earn extra cash
Pays via PayPal
Relatively low payout threshold

Cons:
Limited earning opportunities offered
Low rewards
In my opinion, Slicethepie is a decent site to join as long as you are eligible to become a member. Just don't expect to earn a lot from it because of its low rewards. But reviewing new music and clothes can certainly be a fun way to earn.
Plus, you are also influencing the artists and companies so that they can improve their music or product. That's the real value that this site offers, in my opinion.
But if you are looking for sites that will allow you to earn more, I recommend you check out the top survey sites instead.
You can find sites on this list with better earning potential and more earning opportunities. Plus, you can find a site you can join regardless of where you live.
If you have any comments, questions, or have any experiences with Slicethepie yourself, I would love to hear from you in a comment below.