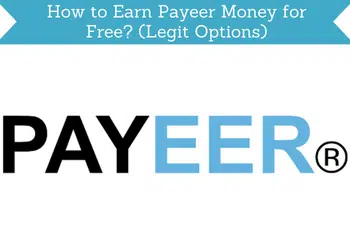 Are you looking for ways to earn extra money online but you don't want to get paid via PayPal? If so, this guide on how to earn Payeer money for free will be able to help you out.
It will show you legit options you can join to earn extra cash and get paid through Payeer. I will provide a brief description of each option so you can properly assess which one suits you best.
Before we begin though, let me just say right away that contrary to some other payment methods, Payeer isn't as popular. Hence, it's not being used by a lot of online rewards sites. Therefore, there aren't really a lot of great options to choose from.
But luckily there are a few good options, and after having tested hundreds of sites, the options below are the best ways to earn Payeer money for free, in my experience.
What is Payeer?
Before we talk about the options you can consider, you must first understand what Payeer is. But if you already know what it is, you can skip this part and just proceed directly to the options section.
Payeer is an online payment platform you can use to transfer fiat currency or cryptocurrency.
Unlike PayPal, Payeer can handle cryptocurrency which is really what sets itself apart from the pioneer of online payment platforms (PayPal).
So, if you are looking for a platform that is a bit more versatile, Payeer can definitely be an option. But which one is better? I will discuss that in the next section.
PayPal versus Payeer, which one is better?
Both platforms indeed have their own pros and cons. PayPal is more recognized around the world and a lot of e-commerce sites accept PayPal as a mode of payment. Its security encryption is also top-notch. So, you are assured your money won't get stolen.
The downside is, PayPal tends to be very aggressive with freezing accounts, in my opinion. Plus, it has high transaction fees when you want to transfer your money. But best of all, getting your money back for unauthorized transactions will be possible.
Payeer, on the other hand, isn't as widely accepted as PayPal, but it also has good security encryption. And as mentioned above, you can use it as a crypto wallet for your cryptocurrency assets. But most of all, it is preferred because of the confidentiality it offers to its members. It guarantees anonymity if you so choose.
The downside is, it is impossible to get your money back if it has already been sent or if the transaction has already gone through their system. That is the one major disadvantage this platform offers.
So, if that is a deal-breaker for you, I would recommend you check out the top sites that pay via PayPal instead. But if that doesn't bother you, then I suggest you keep reading because I will now discuss the 3 best options in the next section.
How to get a Payeer account
Creating a Payeer account is relatively simple. It will only take you a couple of minutes to do so.
All you have to do is go to their website and hit the sign-up button. Then, just fill out the required fields and submit the sign-up form.
When the registration is confirmed, you now have a verified Payeer account. The next step you need to do is log in to the site and link your bank account so you will be able to deposit all your Payeer earnings directly to your bank account if this is the payment method you prefer. After that, you are all set.
3 Best options to earn Payeer money for free
Now that you fully understand what Payeer is and what it has to offer, it's time we discuss the best options you can go for if you want to earn Payeer money.
Just to be clear, these aren't the only options available. Instead, these are the options that are, in my opinion, really worth your time. And if you have enough free time, I would recommend you choose all the options so you can gain access to more earning opportunities.
I will keep updating this guide if I ever encounter any new options. So, make sure to bookmark this page and check on it from time to time.
#1 – Timebucks
Timebucks is a popular Get-Paid-To (GPT) site that offers plenty of ways for you to earn rewards. The reason why it is very popular is, you will not run out of ways to earn. So, you can pretty much earn rewards on a regular basis.
You can earn by answering surveys, watching online slideshows, watching videos, taking paid offers, doing social media tasks, and more. It has a relatively low payout threshold of $10, so it's not that hard to reach.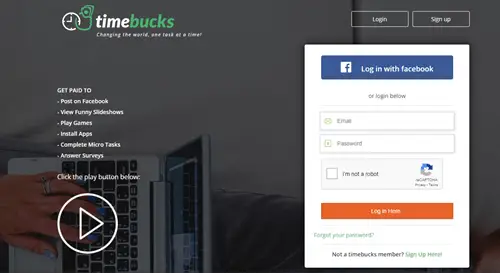 And once you reach the threshold, you can get paid in various ways aside from Payeer. Best of all, it is available worldwide. So, you can register as a member regardless of where you live. Just keep in mind that there will be countries that offer more earning opportunities than others. So, the earning potential won't be the same in all countries it is available in.
But regardless, with the sheer number of ways to earn rewards, you will still be able to earn a decent amount from this site without investing a lot of your time.
#2 – Peer2Profit
The next viable platform you can join to earn Payeer money is Peer2Profit. This site offers a unique way of earning because you can earn without actually doing any work.
All you have to do is share your unused internet bandwidth with its clients. So, you will actually be earning passively.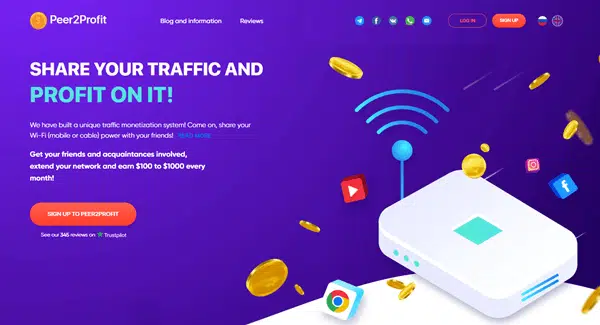 To earn from this platform, you just have to download and install their software on your computer or mobile device. It will only work with Windows and Linux computers though. So, if you are a Mac user, then this is not for you.
If you plan to use it on a mobile device, you can install their app manually on any Android device. You just have to download the APK file from their website once you become a member. Once you've installed the software/app, you just have to follow the setup process and you are good to go.
Just let the program run and you will start earning. It offers several different payout methods aside from Payeer and the threshold you need to reach is actually quite low ($2). So, it shouldn't take a long time to withdraw your earnings.
Lastly, Peer2Profit is available globally as well. So, you can register as a member regardless of where you live.
#3 – Idle-Empire
Idle-Empire is another GPT site that uses Payeer as a payment method. And as with most GPT sites that are worth your time, it also offers plenty of ways for you to earn. You can answer surveys, do short tasks, watch videos, and invite other people to join the site.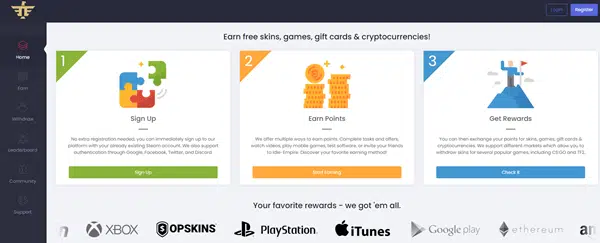 As you can see, you won't run out of things to do to earn from this site which is the primary reason why it's a good option to earn extra cash.
It also offers multiple payment methods aside from Payeer (PayPal, various cryptocurrencies, and gift cards). And best of all, it has a very low payout threshold of $0.10.
It is also available globally, so you can join the platform from anywhere in the world. The one thing you need to keep in mind with Idle-Empire though is, it doesn't pay as well as the top GPT sites. But you can still earn a decent amount from it with enough patience.
Final thoughts
So that wraps up my guide on how to earn Payeer money for free. All the sites I've mentioned in this guide are legit and free to join. You just need to invest your time and some effort to earn a decent amount. Keep in mind that these platforms won't make you rich, but they can be a decent source of extra cash if you are patient enough.
And as I've mentioned earlier, if you want to maximize your earnings, you should join all the platforms to gain access to more earning opportunities.
I will keep updating this guide if I find more platforms that are worth joining, so make to bookmark this page and check it from time to time.
If you have any comments or questions about how to earn Payeer money for free, I would love to hear from you in a comment below.