PaidPoints.com claims you will be able to earn simply by playing games and taking surveys. Now, I know it sounds like a very appealing option, but before you sign up for this site, there are a few things you have to consider first.
The most important question you need to ask is, is PaidPoints.com a scam or is it legit? So, let me address this right away. No, PaidPoints.com is not a scam. It is indeed a legit Get-Paid-To (GPT) site that will pay you for doing exactly those things.
But whether or not this site is really worth joining remains to be seen. This PaidPoints.com review will show you everything the site has to offer so you know exactly what to expect and can decide if it is worth your time or not.
What is PaidPoints.com and what does it offer?
As mentioned above, PaidPoints.com is a GPT site that will allow you to earn by playing games and answering surveys. But it actually offers a couple of more ways for you to earn.
Now, to fully understand how to earn from this site and how well you can earn from it, we have to take a closer look at the earning opportunities it offers. So, here's how you can earn from PaidPoints.
Option 1 – Offerwalls
The majority of your earnings from this site will come from their offerwalls. If you are not aware what offerwalls are, they are basically in-site advertising platforms that are designed to promote certain websites and mobile apps through paid offers.

The idea is, you pick an offerwall to work on and choose a paid offer you are interested in. Simply follow the instructions it's asking you to do. Once you complete the offer, you will receive the reward.
Usually, the paid offers found on their offerwalls will ask you to both download a mobile game and play it or answer a survey. There are also other paid offers that will ask you to do other things like answer quizzes, sign-up for websites, watch videos, and a lot more.
The good thing about PaidPoints is, there are plenty of offerwalls to choose from. So, you won't run out of things to do to earn rewards. However, the availability of offers will also depend on your location. Some countries have more offers than others (i.e. US, UK, Canada, and Australia).
Option 2 – Tasks
Tasks are like paid offers. The only difference is, they are offered by advertisers that have partnered with PaidPoints or other members of the site. The process is also pretty much the same, except for one key difference. Let me elaborate.
When you want to take on a task, you can simply choose which task you want to work on. You will then see the instructions needed to complete the task. Simply follow all the instructions to the letter. Once you are done with the work, submit it together with everything the task asks of you (for example proof that you've completed the task like a screenshot or link).
Once you've submitted it, the advertiser will check your work and approve it if everything is in order. You will then receive the reward promised for the task.
Most of the tasks offered will ask you to sign up on a website, join and/or follow a Facebook group, Instagram, Twitter, or Youtube channel.
When completing tasks, you have to be careful though because if one of your submissions will be denied, you won't be able to submit this offer ever again. And if you get too many Denied submissions, you might get permanently banned. So, make sure to complete tasks carefully and accurately.
Option 3 – Referral program
They also have a referral program in place where you can earn passively for inviting people to join the site.
Once they join the site using your link, they will then become your referral. You will then receive a 10% commission of what they will earn from the site.
The problem is, when I tested their referral program, nothing really happens when you click the "Refer Friends" button on their dashboard. It will just send you back to the dashboard page.
So, I'm not sure if this feature is currently available or they deactivated it. But as of the writing of this review, there's no way to get your referral link.
Recommended: Check Out the Top GPT Sites
How do you get paid?
Every task or offer you complete on PaidPoints.com will earn you a certain number of points. You then have to convert the points to cash to withdraw it. The conversion rate is 100 points equals $1.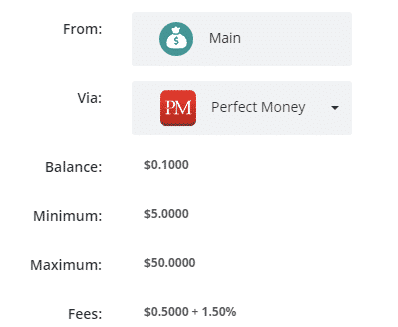 Once you've earned at least $5, you can withdraw it either via Perfect Money, Skrill, or Payeer. You can also convert your earnings to cryptocurrency (Ethereum). The maximum amount you can withdraw per transaction is $50.
However, there will be a transaction fee of $0.5000 + 1.50% of the amount you will withdraw. So, don't expect to receive the full amount when you withdraw your earnings. The fee is quite high, in my opinion, which makes their payment system less than ideal.
The good thing is, they have a very low payout threshold, so you won't have a hard time reaching it. If you are interested in more sites that have a low payout threshold, I suggest you check out the fastest paying sites as well.
How much money can you make?
As I've mentioned earlier, you won't run out of things to do on this site to earn rewards. There are plenty of offers available, provided of course, you live in a country where there are a lot of offers available (like the US, UK, Canada, and Australia).
The rewards per offer, on the other hand, aren't really that high. So, you will need to be very patient with this site if you want to earn a decent amount. But they do offer huge bonuses as an incentive though.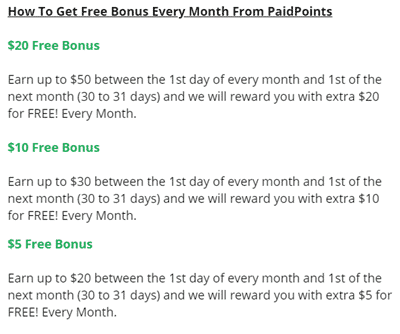 As you can see in the photo above, you can receive a significant amount if you are able to reach the requirements needed to claim their bonuses. All you have to do is earn a certain amount every month (first day of the month to either the 30th or 31st day of the month) to receive the bonus.
But again, as mentioned, their rewards aren't really that high, so you could say it's easier said than done.
That's why, overall, I would say the earning potential of this site isn't really that good compared to many other GPT sites.
Can you use it on mobile?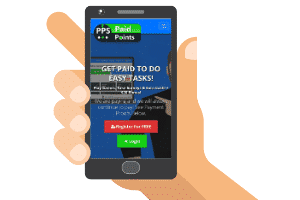 PaidPoints.com doesn't have an app you can download. However, their site is responsive on mobile devices. That means you can navigate through their site from a mobile device with relative ease.
That is also to be expected considering there are plenty of offers that will ask you to work on your mobile device.
So, if you really want to maximize your earnings from this site, you have to use your mobile device to complete a lot of their offers.
Who can join PaidPoints.com?
This site is available globally. You can register as a member regardless of where you live. You just have to be over 13 years of age to use this site.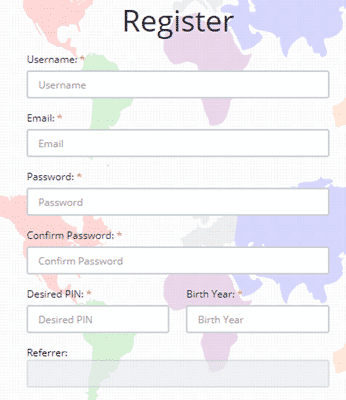 To become a member, simply fill out their registration form. As you can see in the photo above, the form will ask you to provide a PIN. Make sure to take note of your PIN because you will have to use it later when you withdraw your earnings. You will have to input your PIN every time you make a withdrawal.
The site also only accepts one member per household and you must log in only from the same country where you registered. Also, you must not use a proxy or VPN or attempt to mask your IP address.
If you do, your account will get banned and you will lose all your earnings.
Can you get support?
If you need help, you can refer to their FAQ page first to see if your question is answered there. But just a heads up though, their FAQ page isn't very comprehensive. So, you might need to contact their support team if you can't resolve your inquiry.
Fortunately, they do offer a way for you to contact them. You can submit a support ticket for any inquiry you have or issues you are facing with your account. You can also email them directly at contact@paidpoints.com.
Overall, I would say they have a decent support system in place for their members. But I do wish they had more information about their referral program and if it is even still available or not.
Final Verdict
PaidPoints.com is a legit GPT site that will pay you for completing offers and tasks. It has a couple of good features to offer but it also has some limitations you need to consider.
So, let's finish this review by summarizing its pros and cons to give you a better overview of what the site has to offer. That way you can decide if this site is really worth your time or not.

Pros:
Has a lot of offerwalls available
Has a low payout threshold
Available globally

Cons:
Low rewards
Availability of earning opportunities will depend on your location
Has a rather high transaction fee for withdrawing your earnings
All in all, I would say PaidPoints.com is not a bad GPT site. That being said, it's not the best either. It's right there in the middle. I would only recommend you join this site if you need additional GPT sites to earn from.
It has a low payout threshold and it is available globally, so it's pretty easy to become a member. But you will have to invest a significant amount of time to earn a decent amount from it.
If you are not prepared to do that, then I suggest you check out the top survey and GPT sites in your country instead. The sites on this list all offer good earning potential where you won't have to invest a lot of time to earn a decent amount.
Plus, you will also find a site you can join regardless of where you live.
If you have any comments, questions, or have any experiences with PaidPoints.com yourself, I would love to hear from you in a comment below.