If you are a music lover, you probably use music streaming platforms like Spotify a lot. If so, then there's a site called Playlist Push that claims you can earn by reviewing songs and adding them to your playlists.
So, it sounds like a sweet deal, right? Well, before you hit the sign-up button, there are a few things you need to know. And the most important thing you need to know before you join this site (or any site for that matter) is, if it is legit or a scam?
This is a legitimate concern so I'll address this right away. Yes, Playlist Push is a legit site that will really pay you for reviewing songs. However, earning from this site is not as easy as you might think.
This Playlist Push review will examine what the site has to offer so you can figure out if it is really worth it or not. So, let's go ahead and get this review started, shall we?
What is Playlist Push and what does it offer?
Playlist Push is a unique platform that is both designed to help music artists and creators earn a bit of money.
But in the interest of this review, I'll be focusing more on the creator side of the platform since that is how you will be able to earn from this site if you don't make your own songs.
And in order to fully understand how Playlist Push works, we have to take a closer look at the earning opportunities it offers. So, here's how you can earn from this site.
Option 1 – Reviewing songs
One way you can earn from Playlist Push if you are not a music artist is to become a Spotify curator and review songs. The idea of this is relatively simple.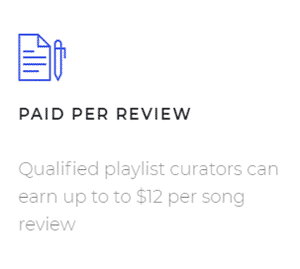 When you become a curator for Playlist Push, you will be given songs to review. You will then be given guidelines you need to follow when reviewing the song. After you've reviewed the song, you will have to submit your feedback to Playlist Push for review.
If they deem your review satisfactory, you will receive the compensation. You can earn up to $12 for each song you will review.
That's the easy part. The hard part really is becoming a Spotify curator. Before you can apply to become a PlaylistPush curator, you must own at least one playlist in Spotify that meets all of the minimum requirements outlined below.
Minimum 1,000 followers per playlist
Minimum 30 Active Monthly Listeners per playlist
Minimum 1% Active Monthly Listeners per playlist
Movie / series soundtrack playlists
Playlists that change their title to attract followers
Playlists for a specific album, song, artist or band
Playlists focused on a specific decade (i.e. 80's playlist)
Sub for Sub Playlists
Playlists with "follow me" in the title
So, before you can hope to earn from Playlist Push, you actually have to do a bit of work on Spotify (which you won't get paid to do, I might add). If you meet all the requirements above, you can apply to become a curator (which I will discuss later).
Now, as for the song you reviewed, you are actually not obligated to include it in your own Spotify playlist. You will get paid either way.
Another thing you need to know about this earning opportunity is, you have to maintain a reputation score to maximize your earnings. You will want your reputation score to be as high as possible to earn the most for each song you review.
Playlist Push designed this system to encourage its members to provide honest feedback. If you want a more detailed explanation of how this works, you can check out their FAQ page.
Option 2 – TikTok video creation
Another way you can earn from Playlist Push is by becoming a TikTok video creator. And just like reviewing songs, the idea is relatively simple. Playlist Push will give you songs you can use to make TikTok videos.
So, you'll need to use those songs for your video. There will also be guidelines you need to follow when making these videos. After you are done making the video, just upload it to TikTok and send Playlist Push a link to it so they can review it.
Once they have verified that everything is in order, they will pay you the proper amount according to their guidelines. You can earn up to $10 per TikTok video you make.
It sounds relatively easy to do, but again, before you can become a TikTok video creator, you will have to meet certain requirements.
You have to have at least 30,000 followers on TikTok and they will also have to analyze your average number of views. As to how they analyze it, unfortunately, they don't really explain how they do it.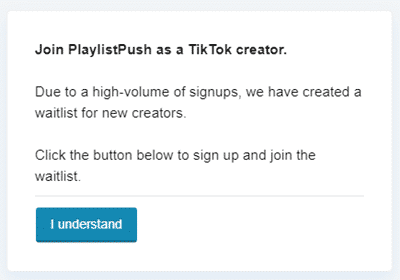 But as you can see in the photo above, it's pretty hard to get accepted as a TikTok video creator because there's a long list of people applying for it. So, once you register, you will actually be included on their waitlist. You will receive an email if you get accepted but there's no guarantee you will get accepted.
They also don't mention anything about how long the wait is. You'll just have to wait and see.
Option 3 – Referral program
You can also earn by inviting other people to join the site. This is called a referral program. The way their referral program works is, you can also invite music artists to join and earn from it. So, you don't just have to invite curators and video creators, but you can also invite people who release their own music.

For creators/curators, you will earn 10% of the amount they will earn from the site for the first three months. Compared to many other referral programs, this is not a very good reward. Most programs will let you earn a certain percentage for life.
For music artists, you will also receive a 10% commission every time they run a campaign to promote their music. So, you can actually take advantage of both sides of the platform in their referral program.
To invite someone, just share your invite link. When they register using the link you shared, they will become your referral.
For music artists, you can also share your artist code to give them a 7.5% discount for their first campaign. Of course, you will also receive a 7.5% commission if they use your code.
Recommended: Check Out the Top GPT Sites
How do you get paid?
Their payment system is different for each earning opportunity they offer. For reviewing songs on Spotify, they only offer one payment method.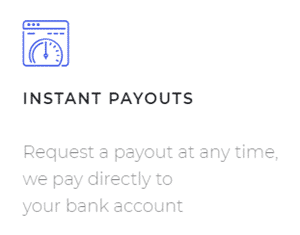 You can get paid via direct bank transfer. For every song you successfully review, you will receive a certain amount. You will then receive your payout every week. So, everything you've earned for that week will be transferred to your bank account at the end of the week.
For, their referral program, everything you will earn will also be sent via direct bank transfer. You will get paid instantly when your curator/video creator referral earns. But if your referral is a music artist, it works differently.
When you refer a music artist and they run their first campaign, your commission payment will be processed 6 weeks after their campaign start date. Take note, it is when the campaign starts and not when your referral paid for the campaign. During this 6-week period, your payment will appear as "pending" in your account dashboard.
As for the payment system for TikTok video creators, it's a bit different. As you know, you will also earn a certain amount for every video you create.
However, to receive your payout, you will first have to reach their payout threshold of $20. So, you will have to earn that amount before you can withdraw your earnings.
When you reach their threshold, you can choose to withdraw your earnings via Venmo or you can also withdraw directly to your bank account. Their threshold is a bit high but considering you earn a decent amount for every video you make, it won't be too hard to reach it.
While it can be a bit confusing since the different earning opportunities use different payment systems, what I like about it is they offer a convenient payment method. Of course I'm talking about direct bank transfer. This, in my opinion, is one of the most convenient payment methods around.
If you are interested in more sites that use this payment method, I recommend you check out the top sites that pay via direct bank transfer.
How much money can you make?
As explained earlier, both opportunities do pay a decent amount. So, you'll be able to earn a good amount without spending a lot of time on the site. So, the earning potential of this site is actually quite good, in my opinion.
The problem is, the requirements to become a playlist curator or TikTok video creator are pretty hard to meet. You will have to spend a lot of time developing your playlists and TikTok account.
So, if you were to start from scratch, you will need to invest a significant amount of time before you can even begin to earn from this site. So, it's not a great option for people who are just looking to earn extra cash easily.
In my opinion, Playlist Push can be a good site to join if you already have a well-established Spotify or TikTok network. But if you don't, you are better off joining a survey or GPT site to earn extra cash.
Can you use it on mobile?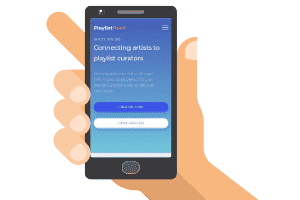 Playlist Push doesn't have a mobile app you can use but you will be able to access their site from a mobile device using a mobile web browser. Their site is mobile-friendly, so you won't have a hard time reading all the content without zooming in.
This can especially come in handy if you are TikTok video creator because you won't have to keep switching from your computer to your mobile device. You can simply open a mobile web browser and log in to the site.
Who can join Playlist Push?
Here's the complicated part of this site. As explained earlier, it's actually quite hard to become a member of their platform since there are requirements you need to meet to become a playlist curator or a TikTok video creator.
What I didn't explain is, applying to be a curator or video creator has to be done separately. If you've been accepted as a curator, it doesn't mean you can also start creating TikTok videos. You'll have to sign up separately for it.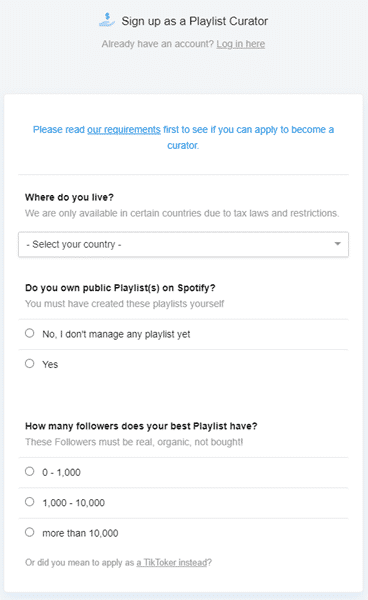 As for the process of registering as a playlist curator, as shown in the photo above, you'll have select the country you live in and provide a bit of info about your Spotify playlists. After you've finished the questions shown in the photo above, the site will inform you if you are eligible to proceed.
If you are, you'll have to continue the registration process and provide all the information required. Once you are done registering, you can log in to the site. You are then advised to connect your Spotify account to your Playlist Push account. Just follow the instructions provided to complete the process.
Now, if you are not qualified, the registration process stops immediately. This usually means Playlist Push is not available in your country.
As for becoming a TikTok video creator, as mentioned earlier, you'll first be placed in a waitlist when you sign up. If you ever get considered to join the platform, you will receive an email from them along with the instructions on how to proceed with the registration process.
Can you get support?
If you have any questions about the site or your account, you can first refer to their FAQ page. It covers most of the important topics you need to know. If you can't find the answers you are looking for, then you can get in touch with their support team.
To do that, just scroll all the way down on their home page and click the Contact link. It will redirect you to their help page and you will see two ways you can get in touch with their support team. You can either use their live chat option or you can email them. The page will also display the corresponding email address you can use to send your inquiries.
Overall, I would say they have a decent support system in place since they provide multiple ways for you to get in touch with their support team.
However, to use their live chat feature, you will have to sign in to Playlist Push first. It's a minor inconvenience, but it also means you can only use this feature if you are already a member of the site.
Final Verdict
Playlist Push is a platform that will pay you to review songs and create TikTok videos. It has a certain appeal but it also has a few limitations you need to know.
So, let me wrap up this review with a summary of its pros and cons to give you an overview of what the site has to offer. That way, you can decide if this is something you should pursue or not.

Pros:
Offers relatively high rewards
Offers an interesting way of earning
Uses a convenient payment method (direct bank transfer)

Cons:
Limited earning opportunities offered
Registering as a member isn't easy
Not very good referral program
In my opinion, Playlist Push is not for everybody. While it pays a decent amount, it's very hard to get into this platform. You will practically have to spend a lot of time to develop your Spotify playlist or TikTok account just to qualify to become a member.
And during that time, you won't earn anything. So, this site is only really for people who already have an established Spotify or TikTok network.
That's why if you are looking to earn extra cash online fast, I would instead suggest you check out the top survey and GPT sites in your country. The sites on this list all have good earning potential and you will earn immediately because you can register as a member easily.
You will also find a site you can join regardless of where you live.
If you have any comments, questions, or have any experiences with Playlist Push yourself, I would love to hear from you in a comment below.