One seemingly easy way to earn a bit of extra money is to join a Paid-To-Click (PTC) site.
Of course, to earn money from these sites, you have to make sure you join a legit one.
In this article, we will talk about Twickerz, which is one of the many PTC sites you can find online.
So is Twickerz legit? Or is it a scam site?
Let me just answer this question right away – No, Twickerz is not a scam. It is a legit PTC site that does what it claims to do (which is to pay you for completing small online tasks).
However, this doesn't automatically mean that it is a good idea to join. You have to take a lot of things into consideration before you can decide if you should join this site or not.
This Twickerz review will show you everything you need to know so you know exactly what to expect and can decide if becoming a member of this site is in your best interest or not.
What is Twickerz, and what does it offer?
Twickerz is a PTC site that has been around since 2011. But this does not mean it will necessarily be worth the time though.
The site offers several earning opportunities. To be able to truly gauge the earning potential of this site, we have to take a closer look at all the earning opportunities that it offers.
So, here's how you can earn on Twickerz.
Option 1 – Paid offers
One of the ways you can earn rewards is by completing paid offers.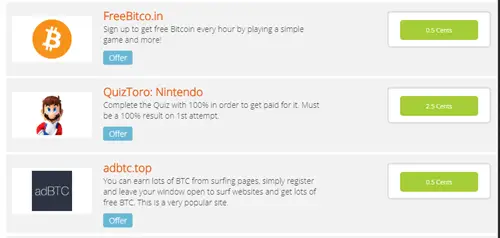 If you are new to this, paid offers are basically small tasks you can do to earn rewards. Each paid offer will contain a set of instructions you need to follow. Once you complete the offer, you will receive the reward promised.
Most paid offers will ask you to answer a survey or quiz, register to a site, visit a link, or watch videos.
One thing to note about the paid offers on Twickerz is that it doesn't pay you a lot for each offer you complete.
The upside is that there are plenty of offers you can do because they have a lot of offer walls available. So, you won't really run out of things you can do on the site.
Option 2 – Paid surveys
Even though answering surveys is part of their paid offers, they do have a specific section for paid surveys.
The surveys will come from other sites. So, in reality, they only act as a survey mediator. When you click on a paid survey offer, it will open up a new window.
You will be taken to the site where the paid survey is hosted. You will have to provide answers to several profiling questions. This is done to figure out if the survey is indeed right for you because all survey offers will have a target demographic.
And making sure you are included in the demographic the survey is targeting is part of the process. If you qualify for the survey, you will then be taken to the actual survey.
Once you complete the survey, you can close the window and go back to the Twickerz website and you will get the reward into your Twickerz account.
If you don't qualify, you simply move on to the next survey offer. Don't be alarmed if you notice that the reward promised is not credited to your account yet. It usually takes a while before the reward will be credited to your account.
The rewards you will earn from these paid surveys will typically be lower than on many other sites that offer paid surveys, in my experience. This is because Twickerz will also take a percentage of the payment for themselves.
So, in reality, you will be splitting the reward with Twickerz. This is how surveys on PTC sites usually work, and they are, therefore, not the best place to take surveys, in my experience.
And on Twickerz, the surveys give very low rewards compared to what you can get for your time by taking surveys other places – so you just need to be aware of this before investing too much time on the surveys here.
Option 3 – Answering quizzes
You can also earn rewards by answering quizzes.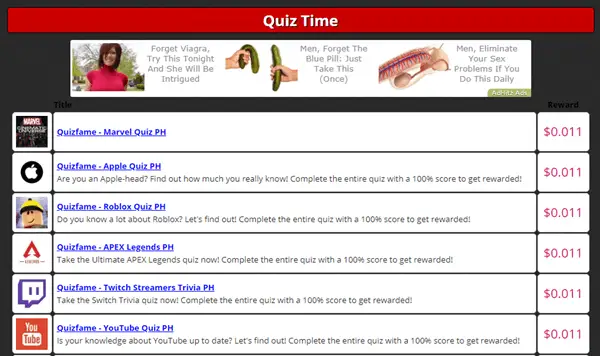 The premise of this earning opportunity is pretty similar to the paid surveys. You click on a quiz offer, and it will open a new window where the quiz is hosted.
When you finish answering the quiz, you will then receive the reward.
One thing I noticed about the quizzes they offer, though, is that when you click on them, the only thing that appears is the message "Disabled".
I'm not sure if it is just a bug or if this earning opportunity is disabled. But regardless of what the reason is, all I can say is, in my opinion, this is not the most reliable earning opportunity they offer.
Option 4 – View ads
Twickerz also offers ads as a way for you to earn additional rewards. A PTC site won't be a PTC site if it doesn't offer clicking ads as a way to earn rewards.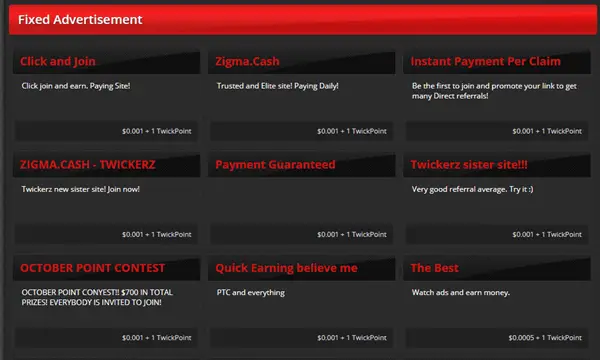 This earning opportunity is pretty simple to do. All you have to do is click on an ad, and a new window will pop up. Just wait for the page to load completely.
On the upper portion of the window, a captcha will appear, asking you to select the upside-down image. Simply click the right one.
Once it confirms that you've chosen the right image, you can then close the window, and you will earn the reward promised.
It's a pretty effortless type of earning opportunity, but the thing is, it doesn't really pay you that much.
So don't expect to earn a lot from it quickly. You will have to click on hundreds of ads before you can earn a decent amount.
Also, be aware that Twickerz, in general, displays ads all over the site. So you will have to navigate between a lot of ads even when you are not using the PTC option – and you will not get paid for all these ads.
Personally, I do not mind sites displaying ads because that is naturally a way of running a website and generating income.
But in my opinion, Twickerz goes overboard, and there are just too many ads everywhere, and often they even cover the content, which seriously affects the usability of the site.
Option 5 – Twickgrid
Most PTC sites will have some sort of grid game you can play. In this case, it is called Twickgrid.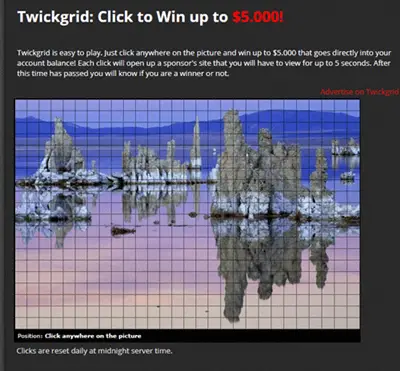 In this game, you will be given 25 chances to click grids every day. Each grid will open up an ad you will need to view.
The process involved is pretty much the same as viewing ads. You have to wait a few seconds and answer the upside-down captcha.
Once you've done that, you will then know if you've won a prize or not. The prize you can win will range from $0.001 to $5, with $5 being the top prize. The prizes you can win aren't really much, but it can be a nice bonus if you get lucky enough.
But be aware that the top prizes are not something you will get very often – if ever. So if you are not aware, you can quickly end up wasting a lot of time on the grid game without getting anything in return.
Option 6 – Paid To Sign Up
Paid to sign up or PTSU is a kind of earning opportunity that will ask you to sign up to certain websites (as the name suggests).
When you click on a PTSU offer, it will take you to a page with specific instructions on what you need to do.
Typically, a PTSU offer will ask you to sign up and do several other activities on the site before you are able to complete it.
You will also have to provide a few details to confirm that you did sign up for the site (like the username or email address you used).
Again, you have to choose carefully because many of these offers are really not worth the effort for what you get out of it, in my opinion.
Option 7 – Point contests
Twickerz also holds monthly point contests for its members.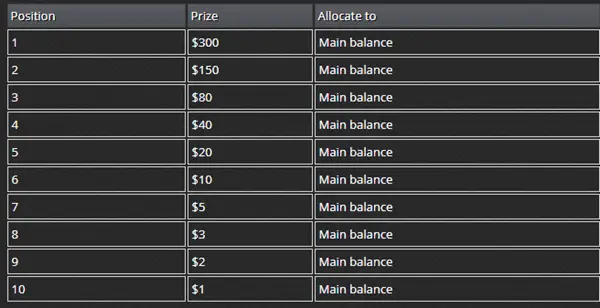 Every member of the site can join the point contest. The rules are pretty simple. The top 10 members who have accumulated the most points within the month will win prizes.
As you can see in the photo above, the top prize is $300, which, in my opinion, is pretty significant.
It's not a very reliable earning opportunity, in my opinion, but it can be a good goal to set your sights on because of the pretty significant prize money.
One thing to take note of point contests is that the only way you can earn points is by viewing ads. So, if you want to win the monthly point contests, you will have to click on a lot of ads.
Option 8 – Flip The Coin
Flip The Coin is a gambling game you can play where you can bet your earnings for a single flip of the coin. This is another pretty common game you can find on a PTC site.
You can bet any amount you want, but the maximum bet is $50. If you win the bet, meaning you won the coin toss, you will receive the amount you bet, which will be credited to your account immediately.
If you lose, the amount you bet will be deducted from your account. It's a high stake high rewards game, and if you are not careful, you can end up losing all your earnings. So make sure you don't get carried away playing this game.
Option 9 – Referral program
Lastly, you will be able to earn a commission for inviting people to join Twickerz. All you have to do is share your referral link with the person you want to invite.
You can also embed your referral banner to your website (if you have one), and every person who clicks the banner and signs up to Twickerz will become your referral.
Unfortunately, there's isn't any readily available information about what you can get for referring people to the site, which, in my opinion, is just poor website planning on their part.
But typically, in my experience, referral programs on PTC sites will allow you to earn around 5 to 10% of your referrals' income, which will be shouldered by the site.
You do have to click at least 3 ads per day in order for you to earn a commission from your referrals on the next day. That is the one condition they have in order for you to get a commission.
You can also rent or buy referrals if you want to boost your earnings from this type of earning opportunity. You can do so by using your purchase balance, which I will discuss next.
Recommended: Check Out the Top Survey Sites in Your Country
How do you get paid?
Every offer you complete on Twickerz will earn you a specific amount (except for clicking ads where you also earn points).

As shown in the photo above, once you reach the payout threshold of $1.50, you can then request payment. Payment will be done via Payza, PerfectMoney, or Bitcoin.
However, there will be a processing fee for each payment you request. So don't expect to receive the full amount you've requested.

There is also a maximum payment request depending on your membership level.
If you are a free member, you can only request $10.00 every 10 days. For premium members, it is $25.00 every 7 days and so on and so forth.
And one more thing, you have to post your proof of payment in their forum to be able to request your next payout. For a PTC site, there's an awful lot of things you need to keep in mind when requesting payment.
This, in my opinion, makes the site a little less attractive because their payment system is a bit complicated and convoluted. Although their payout threshold is very low, there are simply too many things to keep track of when you request payment.
There are plenty of other sites that will allow you to request payment in a more convenient manner.
I recommend you check out the top survey sites that pay via PayPal for a list of the site I'm talking about.
How much money can you make?
With PTC sites, the amount of money you can make will mostly depend on how active you are on the site. It also helps if a PTC site will pay you well for each activity you complete.
But this is rarely the case in PTC sites, in my experience. You will seldom find PTC sites that will pay well for their offers. This is the case with Twickerz as well.
Even though it offers plenty of earning opportunities, it still has a low earning potential simply because of the low rewards you will get. In order to earn a decent amount of money, you will have to invest a lot of time.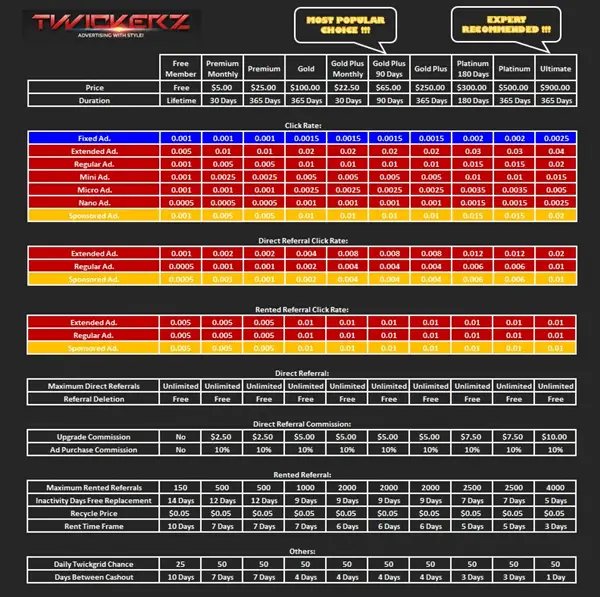 But they do offer a way for you to boost your earnings, which is through upgrading your membership level. The logic to this upgrade is you have to spend more to earn more.
Basically, if you upgrade your membership level, you will receive several benefits that will allow you to earn more. You will earn more for each ad you click. You will also have a higher commission from your referrals' earnings.
Plus, you will also get several other benefits, like the maximum amount you can cash out on a certain period of time. The higher the cost of the upgrade, the more benefits you will have.
This is really the selling point of their membership upgrade. I'm not saying that this isn't a good idea, but in my opinion, this just defeats the purpose of joining the site.
In the first place, you are there to earn money and not spend your own. The good thing is that you can purchase these upgrades using the earnings you've accumulated on the site.
This is usually how long-time members go about purchasing the upgrades.
That way, they don't have to spend their own money to avail of the upgrades. You do have to plan out your strategy carefully so you can make sure you earn back the money you spent on the upgrade.
Can you use it on mobile?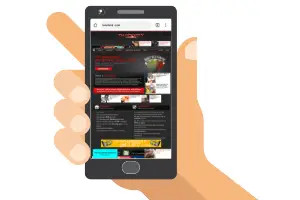 Although you are able to access their site using your mobile device (via a mobile web browser because they don't have a standalone mobile app), I do not really recommend you work on the site on your mobile device.
Due to the nature of their earning opportunities, it is best you work on offers on your computer or laptop instead. Keep in mind that each offer will open up a new window in your browser.
And opening multiple windows on a mobile web browser can be pretty inconvenient. It also opens up a lot of pop-up ads, which makes it very spammy.
And even though you will be able to see all the content on their website, you will have to zoom in to click a link because their site is not fully optimized for mobile use.
So, I really recommend you only work on offers when you are sitting in front of the computer.
Who can join Twickerz?
Most PTC sites are available globally, and Twickerz is no exemption. You will be able to sign up as a member regardless of where you live.
You do have to meet the age requirement of whichever payment gateway you will use (Bitcoin, Payza, or PerfectMoney) if you want to receive your earnings.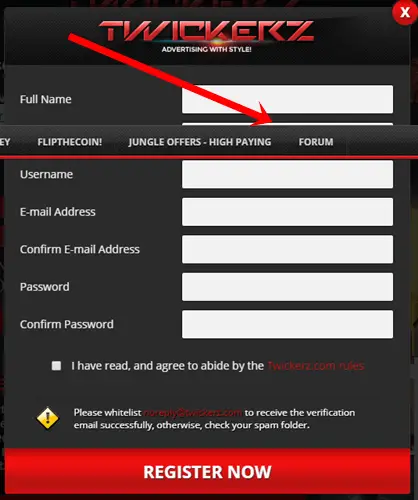 To become a member, you simply have to fill out their registration form. There's just one small thing wrong with their registration form, though.
As you can see in the photo above, there's one field that is covered by the tabs on the website. I'm not sure if it is a glitch in their design or if it was really intended that way. But it is a bit inconvenient.
The field that is covered is the birthdate field (refer to photo above). You will only notice that it is there when you hit the Register Now button, and it will notify you that there is one field missing, which is the birth date.
You will have to set it by making sure you click on the small white space that is available.
It's a small thing, really, but it's small things like this that complete the whole user-experience. And so far, the user-experience on Twickerz is not so great, in my opinion.
Can you get support?
If you need to get in touch with their support team, you can file a support ticket by going to their contact us page at the bottom of their website.

This type of providing support, in my opinion, is a much more convenient method because you can track the progress of the support ticket you filed. And if you need to review the details of the issue you encountered, you can do so.
This can be very helpful if you ever encounter the same issue again. They also have an FAQ page and a Forum you can visit if you want to resolve the issue you are facing on your own.
You will find helpful tips on their Forum. Overall, they offer a decent way of providing support to their members.
Final Verdict
Twickerz is a PTC site that does pay you for clicking ads, doing paid offers, and other activities. It has some upsides, but it certainly has its drawbacks.
So let's finish this review with a summary of its pros and cons to help you decide if it is indeed a good idea to join their site or not.

Pros:
Low payout threshold
Available globally
Several earning opportunities offered

Cons:
Low rewards, which lead to low earning potential
Complicated payment system
Their site is not very user-friendly and is a bit spammy
Even though Twickerz offers several earning opportunities, its earning potential is really very low simply because of its low rewards offered. It will take a lot of time before you can earn a decent amount.
So basically, their low payout threshold will be a bit meaningless, in my opinion. It will still take a long time for you to earn a decent amount. Plus, their convoluted payment system also doesn't help.
There are simply better choices out there. That's why I recommend you check out the top survey sites in your country instead if you want to earn a decent amount with less time investment.
The sites on this list all have good earning potential, and you will surely be able to find a site that will suit your needs regardless of where you live.
If you have any comments, questions, or have any experiences with Twickerz yourself, I would love to hear from you in a comment below.