Macorr Panel claims your voice can determine the future. If this is something that interests you and you are looking to earn extra money, you might want to consider joining their survey panel.
But before you do that, I highly recommend you read this Macorr Panel review because it will check if the site is really legit or a scam.
I have personally tested it and compared it to the hundreds of survey panels I have joined over the years and at the end of this review, I will give my two cents about this panel.
That should help you figure out if this is a site worth joining or not. So, let's not waste time and get into this review now, shall we?
What is Macorr Panel and what does it offer?
Macorr Panel is the survey panel that Macorr Research uses to conduct its market research activities.
Macorr Research conducts market research activities to help their clients gain a competitive advantage. And yes, it is indeed a legit survey site since they will really pay you for answering surveys.
Now, the question is, is it worth joining or not? To answer that question, we first have to take a look at the earning opportunity it offers so you'll understand how it works. So, here's how to earn from Macorr Panel.
The earning opportunity – Paid surveys
The only way to earn from Macorr Panel is through their paid surveys. However, unlike most survey sites, Macorr Panel doesn't have a member dashboard that you can log in to. Everything is done via email.
While this simplifies the process a bit, in my opinion, having a member dashboard just makes it more convenient for you to track your earnings and it just makes everything look a bit more professional. But anyway, when you become a member of their survey panel, you will be invited to participate in surveys from time to time.
You will receive an email invite with the link to the survey, the deadline for the survey, and the possible reward you can get.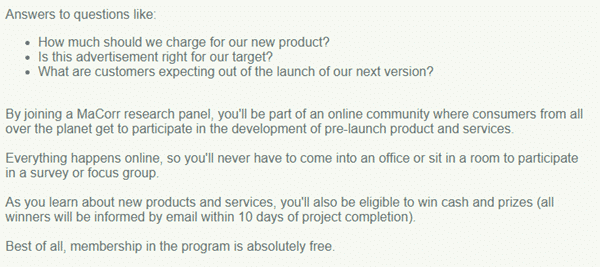 Most of their surveys are designed to gather feedback about certain new products. So, expect to answer questions like "How much should we charge for our new product?" or "What are customers expecting from the launch of our next version?"
When you finish a survey, you will automatically be entered into their prize draw that usually hands out a $250 prize. However, from time to time, there will be surveys that will actually pay you. But during my testing, I never encountered one.
So, I would say that this isn't really a reliable survey site to earn extra income from since there's no guarantee you will actually earn from every survey you get invited to participate in.
Recommended: Check Out the Top Survey Sites in Your Country
How do you get paid?
As mentioned above, you can earn cash from some of their surveys and you can also win a cash prize of up to $250 per survey. Every survey they offer will have one prize draw and only one winner.
But how will you be able to get your winnings or withdraw your earnings? After every survey that will actually pay you or if you win their monthly prize draw, Macorr Panel will ask you how you want to get paid. You can choose to get paid via PayPal or via check which will be sent to you via postal mail.
I personally prefer the PayPal option since this is the fastest way I can get my earnings. If you choose to receive your earnings via postal mail, it can take a couple of weeks or more before you will receive it. Plus, you have to go to the bank to exchange it for cash which just makes the whole process longer.
As for the actual monthly draw, you will be notified via email within 10 days of project completion (deadline for the survey). So, if you answered a survey from them, check your email regularly to see if you won.
Their payment method is fairly straightforward and I like the fact that they offer a convenient payment method like PayPal. If you are interested in more sites that offer a convenient payment method, I would recommend you check out the top sites that pay via PayPal as well.
How much money can you make?
As explained above, the possible amount you can win for every survey you complete is $250. That's a pretty significant amount for a survey, in my opinion.
However, for every survey they have, there will only be one winner. So, there's really no guarantee you will win since there will be a lot of other respondents for that survey.
That's why I would say the earning potential of this survey panel is quite low and it isn't exactly a reliable way to earn extra cash. I personally prefer a survey site where you are guaranteed to earn for completing a survey. That way, your time won't be wasted.
But if you get lucky, this can be quite a nice reward. So, if you are a person who likes to gamble, this survey site might interest you.
Can you use it on mobile?
As mentioned earlier, their site doesn't really have a member dashboard you can log in to. But you can access their surveys from your mobile device by simply opening their email and pressing the link to the survey.
However, their surveys aren't really optimized for mobile use and neither is their website. So, you will have to zoom in to read the content properly, which can be quite inconvenient to do.
That's why I would highly recommend you answer their surveys using your laptop or desktop for a more seamless user experience.
Who can join Macorr Panel?
While you will be able to register as a member of Macorr Panel anywhere in the world, this survey site is only actually available in the US and Canada. If you live somewhere else, you can register, but you will not qualify for any of their surveys.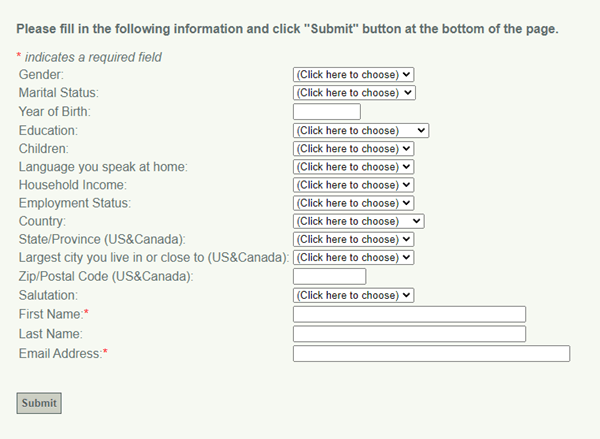 Aside from living in the US or Canada, you also have to be at least 18 years of age to join their panel. To sign up, all you have to do is fill out their registration form. Then, when you've submitted the form, all you have to do is wait for an email from them for the surveys you can answer.
Their registration process is relatively easy, which is really the best advantage they have to offer, in my opinion.
Can you get support?
The one main issue I found with this survey panel is, it doesn't have a lot of information about what they have to offer. Their site doesn't even have a FAQ page for their survey panel. So, you don't actually know what will happen when you are done registering.
Fortunately, they have a contact form you can use to send in your inquiries. Plus, they have a phone number you can call if you really need to talk to one of their support representatives immediately.
Overall, I would say they have a decent support system in place for their members since they offer convenient ways for you to get in touch with their support team. But I do wish they would provide more information about their survey panel so potential members would know what to expect before they sign up.
Final Verdict
Macorr Panel is a legit survey site that will offer you a chance to win a significant amount of cash when you answer their surveys. It has a couple of good features, but it has some limitations you need to factor in.
Let me summarize its pros and cons to wrap up this review so you can get an overview of what the site has to offer. Then, you can decide I this is a site really worth joining or not.

Pros:
Offers payment via PayPal

Cons:
Limited earning opportunities offered
There's no guarantee you will earn from their surveys
Their site is not optimized for mobile use
Macorr Panel, in my opinion, is not a great primary site to earn from since there's no guarantee you will earn from their surveys. So, if you are looking for a way to earn extra cash, this isn't a site I would recommend.
But if you are just looking for a site where you can share your opinion, this can be a good option. If you get lucky, you get to earn a significant amount. The best thing I can recommend is to head into this survey panel without expecting to earn anything. That way, if you ever win their prize draws, it will become a pleasant surprise.
Now, if you are looking for sites to earn extra cash from, I would suggest you check out the top survey and GPT sites in your country instead. The sites on this list all have good earning potential and all their opportunities offer guaranteed earnings.
Plus, you will definitely find a site you can join regardless of where you live.
If you have any comments, questions, or have any experiences with Macorr Panel yourself, I would love to hear from you in a comment below.