If you want to earn some extra cash online, doing online micro-tasks might be a good option for you.
You, of course, need to make sure the sites you join to do this will not scam you. One site you might have heard of is Microworkers.
But is Microworkers legit or is it one of the scam sites to stay away from?
I have joined this site myself to test it and have taken a closer look at what it offers, if there are any complaints to worry about, and if it will even be worth it.
This Microworkers review will give you all the details, so you will know exactly what to expect and can easily find out if it is the right site for you or not.
What is Microworkers and what does the site offer?
Microworkers.com is an online platform that makes it possible for you to do small online tasks, or you can hire people to do small online jobs for you.
In this review, I will focus on what the site offers you as a worker and if it is a site worth joining to earn extra money online.
So let's start by going over how you can earn and how it works.
I have made a short video that will give you an inside look and show exactly how it works. You can also read all the details below the video:
Recommended: Check Out the Top Get-Paid-To Sites in Your Country
The earning opportunity – online micro-jobs
Let me start by saying that Microworkers offers quite a lot of different tasks you can do even though it does not offer quite as many options as the top micro-task websites.
Most of the tasks will only take a few minutes. But some will also take significantly longer and not be worth the time, so you have to make sure you choose your tasks wisely.
When you have signed up, you can see a list of the available jobs. You can choose to filter the jobs and only see tasks within certain categories.

As you can see in the image above, Microworkers.com has quite a lot of categories and usually also quite a lot of tasks.
I am not going to go through the opportunities in each category as I think you would find that boring:-) so let me just give you an overview of what kind of tasks you typically find there.
A lot of the Microworkers jobs are, for example, to do a small thing on social media.
It can, for example, be to watch a certain video on YouTube and like it, share a post on Facebook and provide evidence you have done this, it can be to do a search on Google and visit a certain website through that search, and many other similar small tasks like this.
When you see a task you would like to do, you click it, and then you will get more information about what you have to do.

You will, first of all, get an overview as you can see in the image above. It will show you how many tasks are left, how much you will get paid, how long it will approximately take, and how long it will take before the task will be rated/approved so you will get the money into your Microworkers account.
These kinds of tasks are what you mostly can find on the platform and they are similar to the tasks you can often find on Picoworkers. But there is also one category, I just want to expand a little on.
One of the categories is called surveys. Here you can sometimes find paid surveys you can take. If you have visited PaidFromSurveys.com before, you will know I think this is a great way to earn extra money and have your opinion heard at the same time.
On Microworkers.com I have however not been able to find many paid surveys in the survey category. But when there are some, they are usually from other members that have a survey offer they want to promote and get paid for promoting this.
This means that there is an extra middleman and, therefore, the rewards for these types of surveys will often be very low compared to if you take them on actual survey sites.
But there is also another way you can get surveys on Microworkers. When you are in the main overview of the jobs, you will see the current number of available jobs.

As you can see in the image above, next to the number of available jobs, there is a small number saying PL jobs.
This means PeanutLab and is a survey router. If you click this, you will get to an overview of several surveys that you can take through this router.

Personally, I prefer taking these surveys through some of the highest paying survey sites, as many of them offer the exact same surveys.
But if you like using Microworkers in general, it is good to know you can find the PeanutLab surveys there as well.
Why can you get paid for tasks like this?
If you have visited my website before, you will probably know that the reason you can get paid to take surveys is that companies need feedback to improve their services and products. They are therefore willing to pay to get this feedback.
But you might wonder why can you get paid to for example follow someone on social media or do a google search for their website?
The reason for this is that they are trying to, for example, get more visibility online by having more likes, shares, views, etc.
A fast way to do this is by paying people to do it, and they then hope this will eventually snowball. Some of the tasks can therefore in a way be seen as a way to for example manipulate Google or YouTube's algorithm.
This can be risky for the owner of the site, as Google, YouTube, etc. of course try to avoid people manipulating their algorithms and therefore can potentially penalize sites that do this if they find out.
This has however nothing to do with you. If you do not mind participating in this, it can be a way to earn a bit extra. You do not risk anything by doing this.
However, for some of the tasks, you might put your account on certain social media at risk by doing the tasks, so you have to be careful.
Overall, I also strongly recommend you are very critical with the jobs you do, so you only participate in tasks that are ethical and do not end up helping some unethical people promote their services and similar.
Verification process before you can start
Something that is important to know is that you need to verify your phone number before you can start doing tasks on Microworkers.
After you join, you need to have a pin sent to your phone number and type this into the platform. Once you have done this, you will be able to see more info about the tasks.
To be able to actually do many of the tasks, you also need to take an admission test. It is a test that will take around 10 minutes to complete, and I guess it is a way to ensure the quality of the workers and make sure they pay attention.
So if you want to do tasks on Microworkers, you need to do these two steps. And you need to be aware that you will NOT get paid for taking this test.
However, you do not need to verify your phone number or take the admission test to take the surveys through PeanutLab.
How do you get paid?
It is always important to know how you can get your money out from any online job portal. When it comes to Microworkers, there are a few important things to know.
First of all, you have to verify your home address before you can get your money. The first time you request a payout, a PIN number will be mailed to your home address.

It will happen automatically when you request the first payout. It will take up to 4 weeks for you to get this PIN number. You then need to enter the PIN number and then you can get your money.
I have not myself verified how well this works because I honestly think that is too much hassle. There are so many fast paying survey sites for example, where you can get paid more or less immediately.
I can therefore not be bothered to have to go through a long verification process like this. Payouts on platforms like this should, in my opinion, be made easy.
Phone verification or email verification is fine as there, of course, needs to be a way for them to make sure their members are legit, but having to verify through regular mail for an international site it a lot of hassle in my opinion.
Anyways, if you decide to do this, you need to know what kind of payment methods Microworkers then offers.
There are some pretty good options to get your money out. You can, for example, use Payoneer, PayPal, Dwolla (US only), Skrill, or use Transpay.
The minimum payout threshold is $9. For Payoneer, it is, however, $20.
Just be aware that you also need enough earnings to pay for the fees to withdraw. Yes, unfortunately, Microworkers charges a fee when you withdraw.
In my opinion also quite high fees. The fees are for example 6.50% for Skrill, 7.5% for PayPal, and 5% for Payoneer.
These are quite high fees and this is something you need to consider as well before joining Microworkers.
How much money can you make on Microworkers?
Microworkers offers quite a lot of tasks. You just need to be aware that most of the tasks do not have a very high salary. The majority pay between 5-30 cents.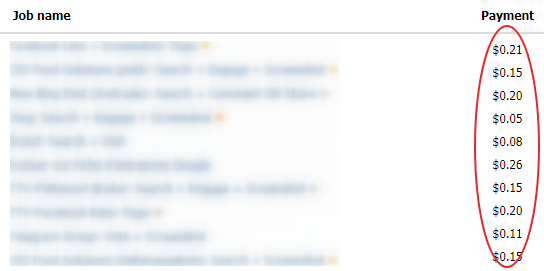 There are some tasks that pay higher, but as you can figure out, it will take a lot of tasks to make any real money.
The tasks are however fast to do and do not take much effort, so it can be a way to earn a little extra.
You just need to be aware that once you have completed a task, Microworkers will take a 10% fee. So not only are the rewards quite low but the platform also charges you a quite high fee every time you have completed a task.
Therefore, in my opinion and experience, you can earn more by joining the top get-paid-to sites that also have many daily tasks you can do.
No matter what, you should definitely not expect to earn anything near a full-time income by doing tasks on Microworkers. If this is your goal, you will very likely be disappointed.
Can you use it on mobile?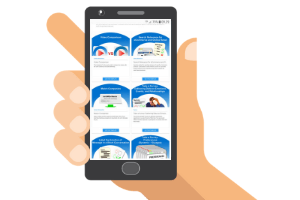 Doing these small tasks on mobile when you just have a few minutes once in a while can be very handy.
And Microworkers does work on mobile. It does not have an app, but the website works fine on mobile devices.
It is not super easy to use on mobile, but it is optimized enough so you are able to navigate the sites easily and find info about the jobs.
Once in a while, you might have to scroll in and out a bit but overall it gives a decent mobile experience.
Who can join Microworkers?
One of the advantages of Microworkers is that it is an international site, so you can join no matter where you live.
The number of available tasks will, however, depend on the country you live in. Some tasks are available worldwide and others only for certain countries.
When you click to see details about a task, you can see what countries it is available in.

It does, however, seem like many of the tasks are available worldwide, so you should find a decent amount of opportunities from most countries.
Can you get support?
It is important to be able to get support from any online job platform.
Microworkers does have support you can submit a ticket to through the website. It says they will get back to you within 5 business days.
A bit slow support in my opinion. You can also write them on Facebook.
However, from what I can see, the support is NOT fast at answering there either.
So my guess is that the best way to get in contact with support is by submitting a support ticket.
However, the support has received quite a lot of complaints online from what I have seen. And I have also received feedback from a lot of members after first publishing this review (see the comment section below) saying that they have not been able to get support.
So I will just go over some of the complaints now as this is important to consider before joining as well.
Microworkers complaints
Looking at other peoples' experiences can be a great way to get some more insight before joining a platform.
You just also have to be aware that there will be unhappy customers for almost any kind of platform and often the unhappy customers are also the ones most likely to leave reviews on certain review platforms.
This does not mean that these complaints and negative reviews cannot be relevant, because they definitely can. That is also why I have included some of the important points I have seen online here, so you can take this into consideration.
There are unfortunately quite a lot of complaints about Microworkers online.
Several of the complaints I have seen are about the lack of answers from support. Here are a couple of examples:


I also saw several more overall complaints on Trustpilot. Here is one of the examples.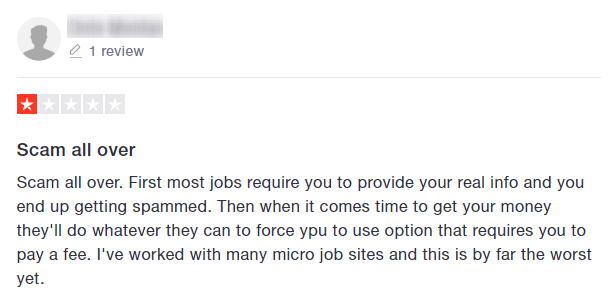 I have also received several messages and comments here on my website and YouTube channel from people that have had problems getting support or have had problems getting paid.
I personally think it is worrying that it seems many people have problems getting in contact with the support. There will however always be some negative experiences for any platform.
I therefore also look at how the support responds to these as this tells a lot about how much they care.
Unfortunately, Microworkers has not responded to any of the complaints on the review sites I have seen, and the responses on their own Facebook page are very slow.
I will, however, say that I do not necessarily think the complaint above about the platform charging a fee is such a relevant complaint.
I agree that it is a high fee and not great, and it is also one of the reasons I will not be using the site myself anymore. But the fees are clearly stated in the FAQ. So it is up to us to then decide if we want to join a site that charges this kind of fee or not.
Also, it is important to mention that there are also people that have good experiences with Microworkers and get paid without problems. Here is an example of this from Complaintsboard:

From what I have seen, there seems to be some issue with the support of Microworkers.
If you join and need help from them, you likely have to be a bit patient and be willing to write several times.
Final verdict – legit or scam?
There are people earning and getting paid on Microworkers, so it seems legit in that sense. This does however not mean it will be worth joining for you.
So let's finish this review by summing up the pros and cons, so you can get a better overview before deciding to join or not.

Pros:
Free to join
Available worldwide
Offers a good amount of tasks

Cons:
Low salary
Slow verification process before you can get paid
High fees for payouts
Several complaints about poor support and problems getting paid
I think it is great that Microworkers is available worldwide and gives a good number of tasks in most countries. The tasks are also fairly easy to do, which is great.
However, the payout verification process is very slow, and they charge a very high fee for paying out in my opinion. In addition to this, it seems like it takes some patience to get in contact with the support if you should need this.
Overall, it can be a site to earn a little extra, but with so many options online, there are in my opinion better alternatives.
Are there other and better sites like Microworkers?
If there are better sites than Microworkers, of course, depends on your preferences and the country you live in.
But in my experience, there are many sites with better opportunities, higher rewards, and no payout fees.
You can, for example, check out the list of the best survey and Get-Paid-To sites in your country here.
All of these sites are of course also free to join, and you can earn by, for example, taking surveys, doing micro-tasks, taking offers, surfing online, watching videos, playing games, and more.
So if you are not sure about Microworkers, then check out the link above and give some of those sites a try.
If you have any comments, questions, or have any experiences with Microworkers yourself, I would love to hear from you in a comment below.