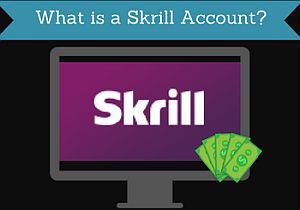 When spending or making any kind of money online, it can be very useful to use one or several online payment platforms. I personally use them as a way to get paid from survey sites, but they can also be used for many other purposes.
They make it easy and fast to receive and send money whether it is to or from a private person or a company, and almost no matter where in the world it is.
One of the most famous of these platforms is PayPal, but there are also several other good platforms. Skrill is one of the platforms that is also often used. But what is a Skrill account and what can it be used for? This article will go into the details about that.
Disclosure: Some articles on this website contain affiliate/sponsored links. Click for more info.
What is Skrill and who can use it?
Skrill was started in 2001, so it has been around for a while. When it first started, it was called Moneybookers, but was later rebranded to Skrill.
Skrill is an online payment platform that will allow you to both receive and send money over the internet. It can be used both as a business or as a private person and is available in around 200 countries and in 40 different currencies, and has millions of users according to their own website. It is authorized by the Financial Conduct Authority (FCA) in the UK.
To find out in which countries Skrill does not allow their services to be used, you can go to their website, and go to support. Here you use the search to write "countries", and it will show you a link to where you can read the updated information about which countries that are not allowed.
Below you can see Skrill's own short explanation video about what the platform has to offer:
What can you use a Skrill account for?
Paid survey sites:
I myself really like doing online paid surveys, as you probably know by now, if you have visited my website before. One thing is to make money on survey sites, but it is also very important how you can get the money out. Skrill is one of the payout methods that is offered by some survey sites. Personally, I think it can be a good option to use for ClixSense and Superpay.me, which are two of the survey sites that offer Skrill as a possibility.
Send and receive money:
Skrill can be used for sending money to anyone you know in any of the countries Skrill is available. To transfer money, you just need to have the other persons email address, and then you can transfer money in a few simple steps. The receiver will receive the money in the local currency. Skrill offers you to make the first money transfer like this for free. You can see the normal fees later in this article.
Online gambling and betting:
Skrill is a popular site to use for online gambling and betting sites. Most of the major casino, gambling and betting sites accept Skrill. So if you like playing online poker, using online casinos, betting on sports etc., Skrill can be an easy payment option to use.
As Skrill has a cooperation with many of the betting and gambling sites, it also offers some special offers and deals for its members. It can be offers like special welcome bonuses, extra free spins, free money to play for without deposit and much more. You can see the current offers on Skrill's website.
One thing that you have to be aware of is that it is not allowed to use Skrill for betting or gambling in any country where online gambling is not allowed. If you do this, your Skrill account can be closed without warning. So before using Skrill for any of these activities, or before in general doing any gambling or betting online, make sure to check if it is allowed in your specific country.
Skype:
Skype is a very well-known platform for making it easy to communicate with people from all over the world. I personally love Skype and use it a lot to call family at home when I am traveling. Skrill is one of the payment methods you can use for Skype products, and can be a great way to use the money you get into your Skrill account.
Shopping & E-bay:
Skype is not the only way you can use Skrill to buy products or services online. You can also use it for a number of mobile services and many other services. E-bay is one of the most popular shopping platforms, where you can use Skrill as a payment option.
Gaming:
If you like online gaming, Skrill is also an option for several online gaming sites. I am myself not very familiar with online gaming, so will not go more into details with that here, but you can see which platforms you can you Skrill for on the website.
Like with the betting and gambling sites, there are often special deals and discounts for the gaming sites.
Forex:
Skrill has a cooperation with many Forex sites like for example 24Option, Plus500, instaforex, etoro and many more. It also offers many special deals and bonuses for Forex sites, if you are a member. Check out the website for further details on this option.
==>Click here to visit Skrill<==
How can I withdraw money from my Skrill account?
If you have money in your Skrill account, and do not want to spend them in one of the ways mentioned above, you can choose to withdraw them instead. This can mainly be done in the following 3 ways:
Withdraw money to your Visa card:
You can connect your personal Visa card to your Skrill account. If you then want the money withdrawn, you can choose this Visa card as an option when you are logged in to your account and choose to withdraw. The money will then be transferred to your visa card.
Withdraw money to your local bank account:
As well as you can connect your Visa card to your Skrill account, you can also connect your local bank account. That way, it is possible to transfer money from your Skrill account in to your own bank account.
Get a prepaid

Mastercard

:
You can order a prepaid

Mastercard

from Skrill, where the balance on your Skrill account will be available. Once you have ordered it, it will arrive to you within a couple of weeks. After activating it, you can then use it as a normal

Mastercard

to pay online or in shops.
What are the fees for using Skrill?
As you can see, there are good opportunities to withdraw your money from Skrill. But before deciding which option you want to use, it is also important to know what the fees for the different options are.
Be aware that these fees are subject to change, so be sure to check out the exact and updated fees on Skrill's website.
Fees for withdrawing money:
Withdrawing to your local bank account – 5.50 euro
Withdrawing to your personal Visa card – 7.50%
Fees for receiving and sending money:
Sending money from Skrill account to Skrill account – 1.9% (however the max cost is GBP 17.32)
Receiving money from another Skrill user – Free
Fees for currency conversions:
Cost for any transaction involving currency conversions – 3.99%.
This means that if you are transferring money to another Skrill user that has an account in another currency, you will have to pay this fee. Also, if you have a Skrill account in one currency and want to withdraw the money to a bank account in another currency, you will also have to pay this fee. Luckily Skrill is available in many currencies. Be aware that the local bank might also charge a conversion fee, but you have to check this with your bank.
Fees for Prepaid Mastercard:
Annual fee – 10 euro
FX fee (foreign transaction fee) – 2.49%
ATM fee – 1.75% (the fee you have to pay to use your prepaid card to withdraw money in an ATM. Be aware that local ATM fees might also apply).
Paying online and in shops – Free
I hope this has given you a good idea about the different fees when using Skrill. It is very important to know this before you choose a method, so you do not get any unpleasant surprises.
Remember to stay active!
This is just a little reminder that you have to login or use your Skrill account once in a while. If you do not login or use it for 12 months in a row, a 3 euro fee will be deducted from your account every month. Luckily it is not difficult to keep your account active, as it only takes a few seconds to login. But important to remember this, if you end up in a situation where you are not using it for a while.
Is Skrill worth joining?
Whether Skrill is worth joining or not really depends on what your needs are. But it can be a great way to send or receive money online, if you have the need for that.
And it is used by several very reliable sites like E-bay and Skype, and most of the biggest gaming, gambling and betting sites and is authorized by the FCA in the UK, where Skrill has its headquarter. So it is a reliable site.
If you have any experiences with Skrill yourself, or have any comments or questions, feel free to leave a comment below.