Nothing beats joining a survey site to earn money on the side. The simplicity of earning just by answering surveys offers great convenience, provided of course, you join a legit site. And with so many survey sites around, it's a bit hard to figure out which ones offer good ways to earn and which ones don't.
That's why you need to do proper research to find the best ones to join. And if you've already done that you have maybe encountered a site called SurveySay.com.
But is SurveySay a scam or really a legit site to earn some extra cash?
It's good you want to verify the legitimacy of a site. That's actually the first step when trying to figure out if you should join a site or not. So, let me address this concern right away. No, SurveySay.com is not a scam, but it's not really what you think either.
This SurveySay.com review will examine what the site has to offer in detail so you can decide if you should join this site or just skip it.
What is SurveySay.com and what does it offer?
At first glance, you would think SurveySay is an ordinary survey site. But, if you look at its homepage, it's not exactly a survey site.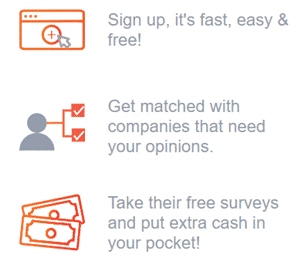 As you can see in the photo above, the site says if you sign up, you get matched with companies that are in need of your opinions. And by answering surveys, you get to earn extra cash.
A survey site, on the other hand, will give you access to surveys once you become a member of their panel.
So, if you've been a member of a survey site before, then you must be expecting that once you sign up, you will be given access to surveys you can answer to earn rewards.
In reality, what SurveySay.com actually does is it just refers you to other survey sites. So, in essence, they are just the middleman. You won't actually be earning from them. All you get are recommendations on which survey sites to join.
As to how they recommend survey sites to you, I will explain that later in the registration section of this review.
So, just to recap, SurveySay.com is not a survey panel but a survey aggregator. They just direct you to other sites that offer surveys.
From what I have seen, they only recommend legit survey sites which separates them from certain other survey aggregators.
However, the info you get is very superficial. You do not get any info at all that can help you find out which panels would be best for you and how to choose them.
You just get a few (or sometimes only one) suggestions of sites you can join.
So, in my opinion, you do not get much.
How do you get paid?
As mentioned above, you won't be able to earn anything from SurveySay.com. Instead, you will be earning from the sites they recommend. Some of the sites they recommend are very popular.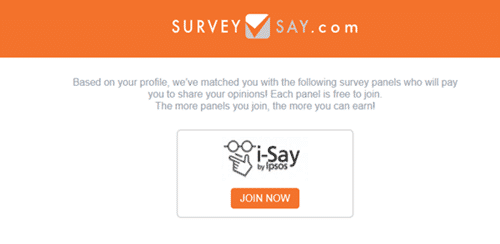 For example, when I tried signing up, I was recommended to join Ipsos i-Say. This is one of the more popular survey sites around. So, taking this as an example, if I decide to join Ipsos i-Say, I can earn by answering the surveys they offer.
And Ipsos i-Say offers payment via PayPal or you can also choose to receive gift cards instead. So, to answer the question above, you get paid through various payment methods depending on which survey site you decide to join.
But you will NOT get paid by SurveySay.com itself just to make that completely clear. They will just send you to other sites where you have to sign up and then you can potentially earn there by signing up and taking surveys.
However, you do not get any benefits of going through SurveySay so you can also just go to the sites directly and sign up there right away.
If you are interested in sites that pay via PayPal, I recommend you check out the best legit survey panels that pay via PayPal instead. You can earn directly on all of these sites.
Can you use it on mobile?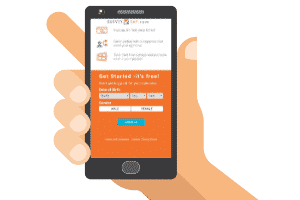 There's really not much you can do on SurveySay.com. But if you want to use it to get recommendations, you can do it from a desktop, laptop or even a mobile device. You can access their site from a mobile device using a web browser.
Fortunately, their site is mobile-friendly, so you should have no problem signing up and getting recommendations from them.
Who can join SurveySay.com?
Speaking of signing up, I did a bit of digging. As you can see in the photo below, the only information you have to give is your birthdate and gender.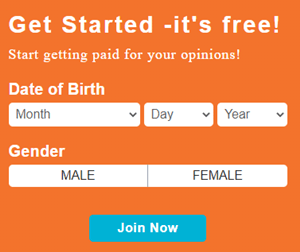 So, you are not actually joining anything since you are not really providing any login details. Usually, sign-up forms will ask you for an email and a password. But all they are really asking are a couple of minor details.
Then, they use the info to find sites that you can join. Now, I did some investigation to figure out how they find out what sites to recommend to you.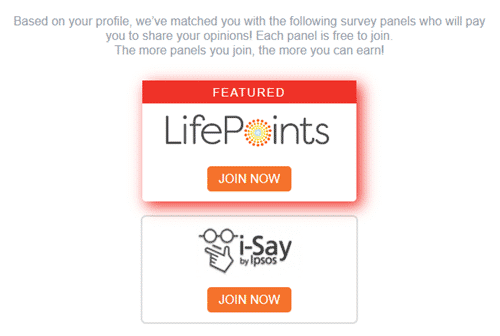 It seems they will recommend panles based only on the country you live in which they will detect automatically when you come to the site.
They will then recommend the oanles they get paid to promote in your particular country.
In some countries you might not find any recommendations at all.
Location is a very important aspect when joining survey sites so it makes sense this is what they based their recommendations on. Some sites are available in certain countries while some are not. So, effectively, SurveySay.com is primarily just filtering the sites you can join according to your location (and which panels they get paid to promote).
It's not really that big of a deal. We're only discussing this just so you can get a good idea of how they work.
Once you click the Join Now button, you will be taken to the registration form of the site they are recommending. Once you complete the registration, the site will know you were referred by SurveySay.com through an API. That's how they keep track of who was recommended by SurveySay.
So, the bottom line is, SurveySay.com is recommending sites they have an agreement with. That's how they earn. And that's why they bother keeping this site around, in my opinion, because they can earn from it.
Nothing wrong with that but it is just so you understand exactly how it works and that you do not actually become a member of SurveySay.
Can you get support?
In my opinion, there's really no point in getting support from a site you won't be doing anything on.
But if you really need to get in touch with them, you can do so by using the contact form provided on their website. Just fill out the form and send your inquiry.
Final Verdict
Just to recap, SurveySay.com is not a survey site but a survey aggregator instead. It has little to offer in terms of earning potential.
So, let me finish this review with a summary of its pros and cons to give you an overview of the site so you can decide if you should use it or not.

Pros:
Recommends good survey sites

Cons:
No earning opportunities offered
Doesn't recommend a lot of sites
There is no in-depth info to help you find the best sites for you
In my opinion, if you are looking for sites you can join to earn extra money, then SurveySay.com provides no real value to you. All they are really doing is pointing you in the right direction and getting paid to do it.
So, you won't be doing yourself any favors. You can just eliminate the middleman and join the survey sites they recommend directly. Their sign-up process, in my opinion, is really just unnecessary.
If you are looking for good survey sites to join, I would suggest you just check out the top survey sites in your country instead. The sites on this list all offer good earning potential and offer different earning opportunities.
Plus, you will be able to find a site you can join regardless of where you live.
If you have any comments, questions, or have any experiences with SurveySay.com yourself, I would love to hear from you in a comment below.