Being able to earn using your mobile device is a very convenient way of earning a few extra bucks. There are plenty of mobile apps nowadays you can download and install and in turn, earn a few bucks.
One such app is called Curious Cat. This is not to be confused with the social media platform with the same name though. So, if you are interested in installing this app, you first have to check a few things.
The first thing you need to make sure is, is Curious Cat legit? This is a valid question because you need to ensure you are not wasting your time using an app that doesn't really pay you.
Fortunately, Curious Cat is a legit mobile app that does pay its members for completing the tasks they offer. But this doesn't necessarily mean that you should go ahead and sign up as a member.
You have to first consider several things before joining. This Curious Cat review will show you all the details you need to know so you can figure out if this is truly worth your time or not.
What is Curious Cat and what does it offer?
Curious Cat is a mobile app you can install on your mobile device. Once you've finished registering, you will then have access to tasks you can complete. This is what will allow you to earn.
Take note that there is a similar site that is named Curious Cat. As mentioned above, it is a social media platform that is completely different from the app. So, make sure not to confuse the two.
Now, in order to fully gauge the earning potential of the app, we need to take a closer look at what the site has to offer.
The earning opportunity – Paid Tasks
As soon as you finish the registration process, you will be taken to the member dashboard of the app. You will then see all the paid tasks available.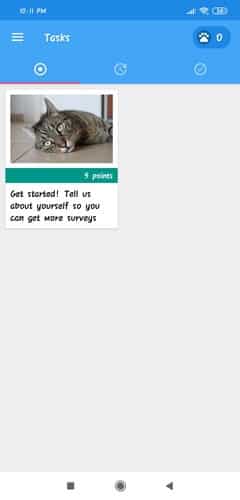 The tasks you can do will vary. Sometimes, you will be asked to take a survey or a poll. Other times, you will be asked to make a consumer diary, while other times, you will be asked to download and install an app and use it for a period of time.
When you click on a task, you will be redirected to a window.
For example, if the task asks you to answer a survey, a new window will pop up containing the questions for the survey. You simply have to answer the questions.
Once you've submitted the survey, you will have to wait for Curious Cat to validate it. When it is validated, you will then receive the reward promised. The same process applies to all other types of paid tasks you receive.
How do you get paid?
Every task you complete in the Curious Cat app will earn you points. Once you've accumulated 100 points, you will then be able to request payment.
The payment will then be sent to your PayPal account. In my experience, this usually takes quite some time. So, don't worry if it doesn't show up in your PayPal account right away.
So, make sure to provide your PayPal email once you are logged in to the app. During the payment process, the app will ask you to provide your mobile number for verification.
So, don't be alarmed when that happens when you request payment.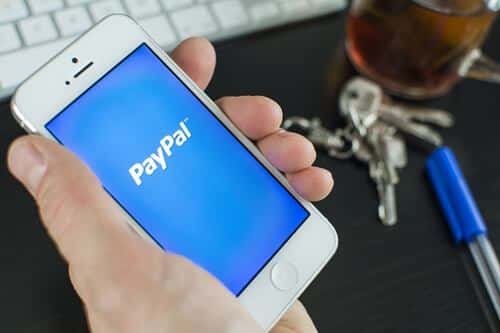 100 points are equivalent to $1. So, in reality, Curious Cat does have a very low payout threshold.
This means you will be able to earn quickly from this app. Of course how quick you can earn will still depend on a few things, which I will discuss next.
Now, if you are interested in sites that pay via PayPal as well, I suggest you check out the top survey sites that pay via PayPal.
How much money can you make?
With an app like this, the amount of money you can make will purely depend on how many paid tasks you receive and are able to complete, as well as how well the app pays.
On average, the app pays you around 20 to 200 points per task completed and verified which is quite decent for some of the tasks.
The number of points you will earn will mostly depend on how long and complicated the task is. The longer and more complicated it is, the more you will earn.
So, be glad if you receive a task that takes longer to complete because it pays better.
As for the availability of tasks, this will mostly depend on where you live. Some countries offer more tasks than others. So, don't expect to have equal opportunities with other members.
To put it simply, if you live in a country where there are a lot of tasks available (i.e. the US), then this app will be very beneficial for you.
Can you use it on mobile?
Curious Cat is strictly a mobile-only platform. You won't be able to use it on a computer (unless you use a mobile emulator, which I don't recommend because it totally defeats the purpose of the app).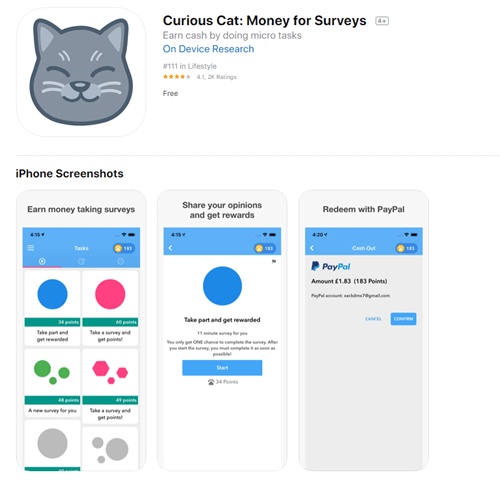 The app is available for download on both Android and iOS app stores.
So, you will be able to use it on both devices. This makes it much more user-friendly because it is compatible with the two most used mobile platforms.
And in terms of usability, the user interface of the app is actually very straightforward. You won't have a hard time navigating through it. It is very intuitive, which makes it easy to use.
Who can join Curious Cat?
Curious Cat is available in most countries. You do have to be at least 18 years of age in order to sign up because it is using PayPal as its mode of payment.
And as you may already know, the minimum age required to sign up for a PayPal account is 18.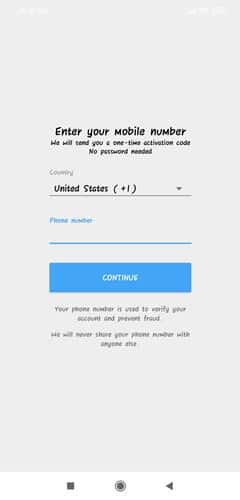 Their sign-up process is pretty different from other mobile apps.
As shown in the photo below, you won't need to provide your login details. You simply have to choose the country you live in and provide your mobile phone number.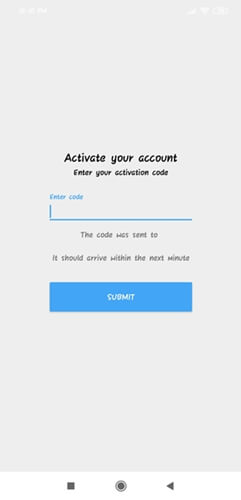 Once you've done that, you will be asked to input a verification code. This code will be sent to you via SMS.
Take note that the code will only be valid within 5 minutes. So, make sure to input the code as soon as you receive the SMS. Don't worry, they do send you the code right away.
The app is also pretty unusual because there's no way you can log out from it. You will always be logged in unless you uninstall it. Once that happens, in order to log back into your account, you will have to go through the registration process again.
But you don't have to worry because once you are logged back in, you will still see all the points associated with your mobile number.
Can you get support?
You will be able to get support from Curious Cat in a couple of ways. First, you can check out their FAQ section to see if you can find the answer to your inquiry.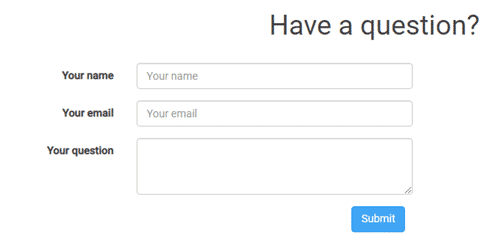 If that doesn't work, you can always send in your inquiries using their contact form.
Both the FAQ section and contact form can be accessed from their website and mobile app. So, getting there won't really be an issue.
Overall, they do provide a decent method for you to contact their support team, in my opinion.
Final Verdict
Curious Cat is a legit mobile-only platform that will pay you for completing paid tasks. It has some nice advantages and a couple of disadvantages.
To help you with your decision on whether you should join this site or not, I have listed down the pros and cons.

Pros:
User-friendly mobile app
Available in many countries
Low payout threshold
Payment via PayPal is available

Cons:
Limited earning opportunities
Availability of earning opportunities is dependent on the country you live in
The best thing about Curious Cat, in my opinion, is that it has a very low payout threshold. You will be able to earn quickly from it. Plus, it offers payment via PayPal, which is the most convenient payment method available today.
However, this mobile app can only be really very beneficial if you live in a country where there are plenty of paid tasks available. This is the one main drawback of the app.
It can serve as a good secondary site to supplement your earnings. But if you are looking for apps with better earning potential, I suggest you check out the top paid survey apps instead.
The apps on this list all have good earning potential and the opportunities are always available regardless of where you live.
If you have any comments, questions, or have any experiences with Curious Cat yourself, I would love to hear from you in a comment below.