Being able to earn rewards using your mobile device has never been so popular as of today. There is a huge uptick of mobile apps you can download so you can earn while you are on the go.
One such app is called Surveys On The Go. This mobile app promises to reward you for answering surveys.
But is it legit though? That is a good question to ask. Before you join a mobile survey panel, it is good to verify its legitimacy.
You wouldn't want to waste your time on an app that won't pay you. So, let me just cut to the chase and answer this question right away. Yes, this survey app is legit.
However, this doesn't automatically mean this app offers a good way to earn extra cash and rewards. To figure out if it's truly worth your time, we have to consider several things. This Surveys On The Go review will do just that.
Hopefully, after reading this review, you will know what to expect and be able to make an informed decision on whether you should become a member or not.
What is Surveys On The Go and what does it offer?
As mentioned above, Surveys On The Go is a survey app that will allow you to earn when you answer their surveys.
It's a pretty straightforward app, so earning is pretty easy. Here's a video explaining what the site is about:
Now, in order to figure out if this app is truly worth your time or not, we have to consider its earning potential.
And the best way to do that is to take a closer look at how you will be able to earn from this app. So, here's how you can earn on Surveys On The Go.
The earning opportunity – Paid Surveys
There's only one way you can earn from this mobile app, and that is by answering paid surveys.
Once you install this app and finish registering, you will be able to log in to their member dashboard and view all the available surveys you can take.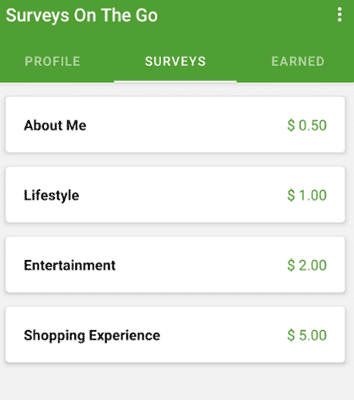 As you can see in the photo above, the surveys will be classified into different categories. This will make it easier for you to decide which surveys to prioritize.
Answering a survey is pretty simple as well. When you take a survey, you will have to answer a set of pre-qualifying questions. This is to ensure that you belong to the group the survey is intended for.
If you qualify, you get to answer the survey. If you don't, you get a small compensation for not qualifying. Once, you complete the survey, you will receive the reward promised at the beginning of the offer.
Sometimes it can take some patience to find a survey you will qualify for and that is the main complaint I have seen about Surveys On The Go.
It is, however, very normal not to qualify for surveys on survey sites – that is just a part of it. But with this app, you just need to be a bit patient at times to qualify.
You do not need to log in to the app frequently just to check if there are surveys available.
You will get push notifications (similar to text message alerts) when there are surveys available. That makes it much more convenient to use.
If you find that annoying, you can also just turn them off and check the app regularly yourself.
How do you get paid?
Every survey you complete will earn you a certain amount. It will be credited to your Surveys On The Go account.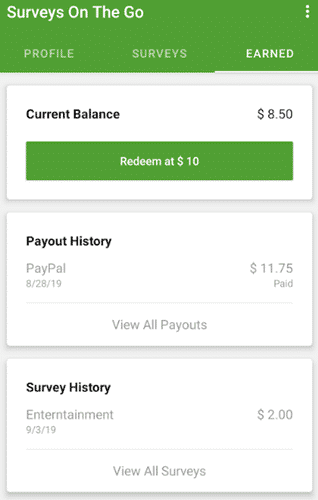 Once you've accumulated $10 in your account, you will be able to request payment via PayPal. You can also choose to add the amount to your Virtual Visa account.
The good thing about this app is, you will be able to withdraw any amount as long as it meets the threshold.
And payments are processed rather quickly. So, you won't have to wait that long to receive your money. But of course, delays will happen from time to time. So, don't be alarmed if you don't see your money yet. Just be patient.
If you prefer to receive gift cards instead, you also have that option. You can choose to redeem Amazon or Starbucks gift cards of the same value.
Overall, their payment method is pretty straightforward. The payout threshold is relatively low, which makes it less hard to start redeeming rewards.
If you are interested in other sites with a low payout threshold, I suggest you also check out the fastest paying survey sites.
How much money can you make?
With survey apps, the amount of money you can make will mostly depend on how often you will receive survey offers and how often you will be able to complete one.
Seeing as you have to qualify for a survey before you will be guaranteed to receive a reward, then receiving a survey offer isn't really a guarantee that you have already earned something.
So, you can't really expect to earn a lot from this app.
The positive side of this survey app, which only a few survey apps/sites offer is, you will earn something even if you don't qualify for a survey.
Even if it is not a lot, it is still nice to earn something for the time you spent answering the qualifying questions.
But overall, the earning potential of this survey app really doesn't warrant making it a primary site/app you can earn from. However, you can still earn a decent amount from it. You just have to be patient enough.
Can you use it on a computer?
Seeing as it is a mobile-only platform, you really won't be able to use it on your desktop or laptop. You will really need a mobile device in order to use it.
The good thing is, their app is available for both Android and iOS devices. So, compatibility won't really be an issue. Plus, their app is very user-friendly. The user interface is very intuitive and you won't have a hard time getting used to it.
In fact, you will be able to navigate through the app with ease the first time you use it. That's how user-friendly it is. The surveys are also very easy to answer since most require multiple choice answers.
It really fits the bill. You will be able to answer surveys on the go, which is pretty impressive, in my opinion.
Who can join Surveys On The Go?
They don't really specify on their website who can join, but I can tell you this much, it isn't available in all countries.
So, if you try to search for it on the Apple or Google app store and you don't find it, that means it isn't available in your region.
If it is, you will only be eligible to register if you are at least 18 years of age. That's their age requirement.
It also makes sense since they are using PayPal as their primary payment method and 18 is the age requirement for having a PayPal account.
Registering to the app is pretty easy, all you have to do is download the app and fill out the registration form and you are good to go.
In my opinion, it would just be great if they were clearer about exactly which countries it is available in. But if you are interested after reading this review, you simply have to check in your specific country.
Can you get support?
Their app doesn't really link to a support page. But if you visit their site, you will be able to see their FAQ page which is basically the same as their About Us page.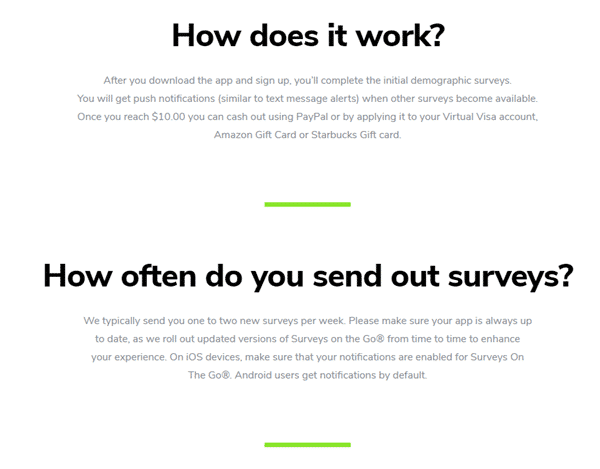 Their site doesn't have a contact form. So, if you have any questions, I suggest you check out their FAQ page first.
If you can't find the answer you are looking for, you can email your question to support@surveysonthego.net.
That's the only way you will be able to reach their support team. It isn't ideal, in my opinion, but at least, it's a way for you to get in touch with their support team.
Also, by looking at reviews at Google Play it is possible to see their support answers every single person whether they leave a positive or negative review.
This shows the support is active and cares about feedback which is definitely a great sign.
So, overall, I'd say they do have a decent way of providing support for their members.
But adding an FAQ page or even a contact form in their app wouldn't really hurt as well.
Final Verdict
Surveys On The Go is a legit mobile app that will allow you to earn extra cash by completing their surveys. There are some good qualities you can find in this app and it also has its limitations.
Here's a summary of its pros and cons to further help you with your decision.

Pros:
App is user-friendly
Payment via PayPal is available
Relatively low payout threshold
Payments are processed quickly most of the time

Cons:
Limited earning opportunities offered
How they provide support could use some improvement
Not clear which countries it is available in
To put it simply, Surveys On The Go can be a decent app to use if you aren't really in a hurry to earn a bit of extra cash.
It will usually take a couple of months to reach the threshold because you won't always qualify for the surveys available.
However, they do offer good payment methods and answering their surveys won't really require too much effort. So, all in all, it just balances their limitations.
It can be a decent secondary app/site to earn from to supplement what you can earn from apps/sites that have better earning potential. If you want a list of apps like those, I recommend you check out the top paid survey apps.
And if you prefer to use your computer, I suggest you check out the top survey sites in your country. You will find plenty of sites that have good earning potential.
If you have any comments, questions, or have any experiences with Surveys On The Go yourself, I would love to hear from you in a comment below.