Are you looking for a website you can join to earn extra cash? If so, then there's a site called Vocalyz that claims you can voice your opinion and get rewarded instantly. It sounds like a pretty sweet deal especially if you like sharing your opinion.
However, before you sign up, it would be prudent to check out Vocalyz in detail first. So, is Vocalyz legit or a scam?
This is a crucial piece of information you need to know, so let me address this right away. Yes, Vocalyz is a legit survey site that will really reward you for participating in their market research activities.
Now, the question is, is this site worth your time or not? This Vocalyz review will examine what the site has to offer in detail so you can decide if it is truly worth it or not. So, let's get started.
What is Vocalyz and what does it offer?
As mentioned above, Vocalyz is a survey site that will reward you for participating in their market research activities.
To fully understand how the site works, we have to take a closer look at the earning opportunities it offers. So, here's how you can earn from Vocalyz.
Option 1 – Paid surveys
The bulk of your earnings from this site will come from answering surveys. Once you become a member of the site, you can log in to their member dashboard to view all the available surveys you can answer.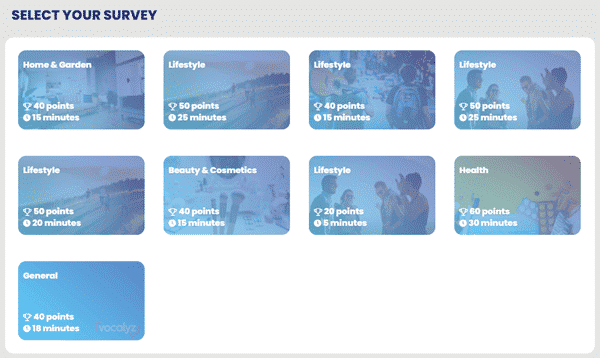 As shown in the photo above, you will immediately see the reward you will get for successfully completing the survey. You will also have an idea of how long it will take to complete the survey.
To start answering a survey, you just have to click any of the surveys listed and it will open a new browser tab. You will first have to answer a set of qualifying questions. This is not the actual survey but instead, just a set of questions to determine if you are eligible to answer the survey.
This qualification process is important for survey sites because they need to determine if you belong to the target demographic the survey is intended for. If you qualify, you get to proceed with the actual survey.
If you don't qualify, then you just have to move on to the next available survey. When you successfully complete the actual survey, you will receive the reward promised and it will be credited to your account balance.
However, during my testing, it took a few tries to actually qualify for a survey. This is also to be expected because with survey sites, you won't always qualify. So, even though there are several surveys available, you can't expect to earn from all of them.
That's why you need to be a bit of patience with this site. There will be days where you won't qualify for one. All you can really do is to try every survey made available to you.
And you can also check out this article about how to optimize your chances of qualifying for surveys.
Option 2 – Games
Another way to earn rewards from Vocalyz is by playing games.
One thing you need to keep in mind with the games you can play on Vocalyz is, some games will reward you with points (the currency they are using) while others will just be for fun.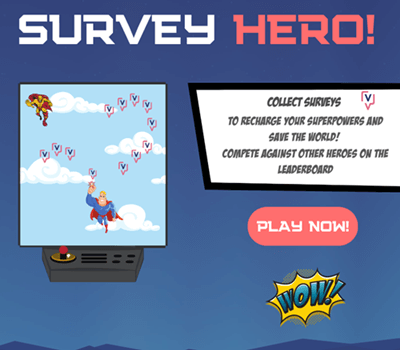 During my testing, the only game available was called Survey Hero. It didn't reward you with points, so it was purely for fun. It was an arcade type game where you simply had to collect points by moving your cursor to intercept the points.
It's a pretty simple game and if you are in to arcade games, you might like it. For this opportunity, I would suggest you check back on it from time to time to see if there are available games you can play to earn rewards. That's about the best thing you can do.
For the games where you will be able to earn rewards, the instruction on how to earn from it will be displayed immediately. So, all you have to do is follow the steps.
Option 3 – Daily wheel
You can also earn bonus points by playing their Daily Wheel game. Every day, you are given one chance to spin the daily wheel.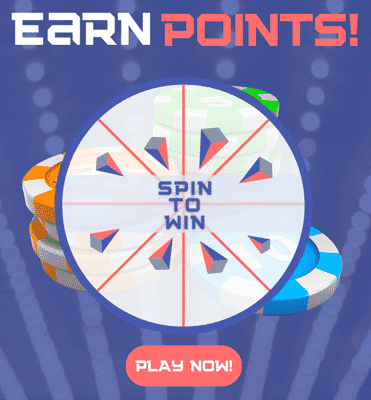 Just go to their Daily Wheel section by clicking the "Rewards" link on the left side of the member dashboard. You will then see the Daily Wheel game. Just hit "Play" and click the "Spin" button.
You can win 1 to 100 points but there are also times when you won't win anything. So, it's basically a game of chance. The good thing is, it doesn't cost anything to spin the wheel. The downside is, you can only spin once a day.
Recommended: Check Out the Top Survey Sites in Your Country
How do you get paid?
As mentioned above, you will earn a certain number of points for answering surveys and playing games. You can then convert the points you've earned to various rewards.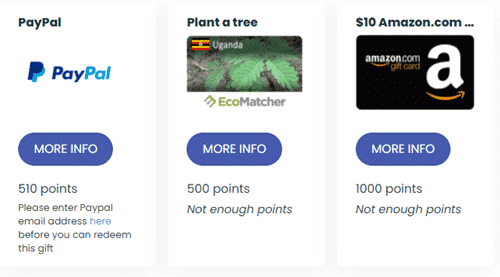 You have the option to convert your points to cash via PayPal. The minimum amount you can withdraw will be $5 and that will be worth 510 points. You can also convert your points to Amazon gift cards and the minimum amount will be $10 (worth 1,000 points).
Aside from those options, you can also choose to donate your points to EcoMatcher, a non-government organization that pledges to plant trees in Uganda. So, if you are in to that, you can exchange your points for 1 tree which will cost 500 points.
Their payment system is relatively straightforward and I like that they give you the option to basically help make the world a greener place. Not a lot of sites offer that kind of opportunity.
It's also good that they have a relatively low payout threshold of $5, so you won't have to answer a lot of surveys to start redeeming rewards. If you are interested in more sites with a low payout threshold, I recommend you also check out the fastest paying sites.
How much money can you make?
For every survey you successfully complete, you will earn around 20 to 370 points per survey. There are more surveys that will reward you around 20 to 50 points though. So, if you do the math, you won't really earn a lot for most surveys they offer.
But they do have a way for you to earn more and this is through increasing your membership level.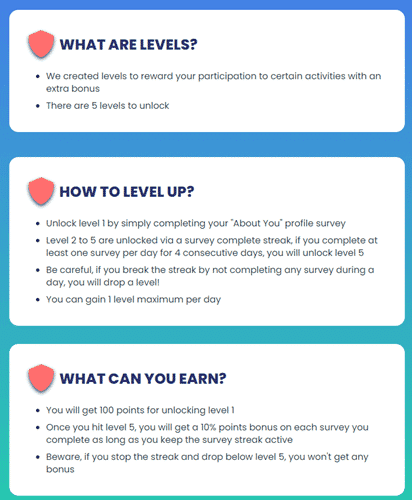 To level up your account to level 1, you just have to complete your profile. Every time your account levels up, you will receive 100 points.
Now, from level 2 to 5 (the max level), it's a bit more complicated. You will have to complete a survey for 4 consecutive days to increase your level. And when you reach the max level (5), you will then receive a perk of earning an additional 10% for every survey you manage to complete.
It sounds easy but you have to remember that you won't always qualify for surveys. So, there will be times when your streak will be broken. When that happens, your account level will go down by 1 level and you'll have to restart your streak to level up again.
Maintaining the max level is a bit hard, in my opinion, because of the simple fact that you will eventually end your streak. But I do still think this is a decent bonus system to have since you will essentially earn 100 points every time your account levels up. It just takes time, patience, and commitment.
Overall though, I would say the site doesn't really have good earning potential. The main reason is, the rewards you will earn are quite low compared to most of the other better survey sites out there. Sure, there will be surveys that pay more from time to time, but it's not something you can expect to be available on a regular basis.
Can you use it on mobile?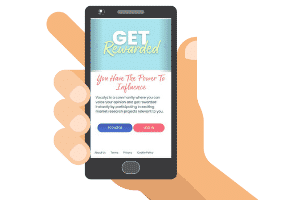 Vocalyz doesn't have a mobile app you can download, but you will be able to access the site from a mobile device using a mobile web browser.
And the good thing is, their site is mobile-friendly. So, you'll be able to navigate through their site with relative ease. You also won't have to zoom in just to read all the content.
This can be very handy because you can answer surveys conveniently even when you are not in front of the computer. As a result, you will be able to earn more efficiently.
Who can join Vocalyz?
Vocalyz is only available for US and UK residents. So, if you live somewhere else, then this site is not for you. You also have to be at least 15 years of age to join their panel.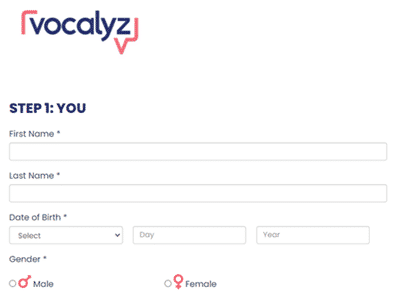 To sign up as a member, you just have to fill out their sign-up form. If you try to sign up and you don't live in the US or UK, the registration will fail. And you can't use a VPN to bypass this restriction because they will eventually find out and ban your account.
Once you've successfully registered, you will receive an email to confirm your membership. Just click on the confirmation link to complete the registration process. You can then log in to the site and start earning right away.
Can you get support?
If you have any questions about the site or your account, you can refer to their FAQ page first. It discusses most of the basic topics you need to know. But if you can't find the answers you are looking for, you can contact their support team.
To do that, just go to their contact page and fill out their contact form. You can also attach any image you want.
Overall, I would say they provide a decent support system for their members because they ensure you have a way to get in touch with their support team.
Final Verdict
Vocalyz is a legit survey site that will pay you for answering surveys and sometimes for playing games. It has a couple of good features but it also has some limitations you need to be aware of.
Let's wrap up this review by summarizing its pros and cons to give you an overview of what the site has to offer so you can decide if it is worth your time or not.

Pros:
Offers a low payout threshold
Offers payment via PayPal
Their site is mobile-friendly

Cons:
Limited earning opportunities offered
Low rewards
I would say that Vocalyz is not a bad survey site. However, it also doesn't stand out, in my opinion. It has a low payout threshold and it offers a convenient payment method.
The only problem is, most of the surveys available don't pay that well. So, even though they have a low payout threshold, it will take some time to reach it which kind of defeats the purpose of having a low payout threshold.
It can serve as a decent secondary site to earn from. So, if you are eligible to join, I would only suggest you join this site if you need additional survey sites to earn from.
Now, if you are looking for primary ways to earn extra cash online, I would recommend you check out the top survey and GPT sites in your country instead. The sites on this list all have good earning potential since they pay better than Vocalyz.
Plus, you will definitely find a site you can join regardless of where you live.
If you have any comments, questions, or have any experiences with Vocalyz yourself, I would love to hear from you in a comment below.