iRazoo claims to be the web's most popular rewards platform.
But is iRazoo legit and a good way to make some extra money online, or is it a scam full of empty promises?
I have tested it myself and compared it to the hundreds of other Get-Paid-To sites I have tested, and in this iRazoo review, you will get an inside look and learn all the platform has to offer, show you what you can expect, and what you should not expect.
After reading this review, it will be easy for you to decide whether it is a platform worth your time or not.
Important Update: iRazoo Closed – See best alternatives
iRazoo seems to have closed without any warning to its members. This, unfortunately, means that if you had any money in your account there, you cannot get them out.
Instead, you can check the best alternatives to earn free money online in your country here.
What is iRazoo, and what does the site offer?
On the website, iRazoo claims to be the most popular online reward portal. This is a big claim, and there is no data to back this up.
The biggest in terms of members and popularity is probably Swagbucks, but there are many other very big and popular platforms, so it is a bold claim to make of iRazoo, and one I do not agree with and would love to see the data to back this up.
Anyways, when that is said, this is just marketing, and many companies use claims like this, and it is not something that means the platform is a scam.
In fact, let me reveal right away that iRazoo is a legit site, as you can get paid there (however, there have been some complaints recently but more about this later), it is free to join, and it does not promote scam products or scam surveys.
The company headquarters is in New York, but the platform is available in many other countries as well (more about this later).
However, that the site is legit does not mean it is necessarily worth joining. Let's go over what it has to offer, so you can see if it will be worth it for you or not.
Option 1 – Paid surveys:
iRazoo has a pretty big section with surveys, and you will be able to find several daily opportunities here.
Be aware that iRazoo is not as such a survey site, but it just gathers surveys from different partners. So when you take a survey, you will be taken to another platform to complete it, but you will be paid in your iRazoo account.
There is nothing wrong with this, and many survey and Get-Paid-To (GPT) sites offer surveys like this.
However, this means that many of the surveys they offer are also offered by other platforms. In my experience, many of the top paying survey sites pay better for your time than iRazoo and in some cases, for the same surveys.
To get access to the surveys, you have to take a survey profiler, where you answer 18 questions about yourself, so you can better be matched with surveys. It takes around 5 minutes, and you will get 100 points for taking this profiler.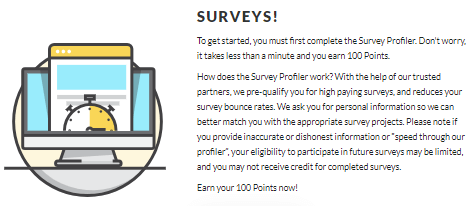 iRazoo is generally fairly easy to use to take surveys, but because of the way you earn, it can be a bit difficult to get a quick overview of the reward size, but I will go into more details about this in the section about rewards.
Option 2 – Complete offers:
iRazoo has a section where you can complete offers. This can, for example, be signing up for trials for certain services, participating in contests, downloading apps and more.
The section is not huge, but it sometimes has some good offers. Offers can, in general, be worth taking if you find the right ones, as they often have pretty high rewards.
Just make sure to read the conditions carefully before taking any of the offers. On some of them, you have to give permission to be contacted by advertising partners, and on some, you have to pay, but if you find the good offers, it can be a way to really boost your earnings.
Option 3 – Watch videos:
You are able to watch videos and earn money doing this. There are many different video categories, and you can, in theory, earn endlessly by watching these videos, according to iRazoo itself.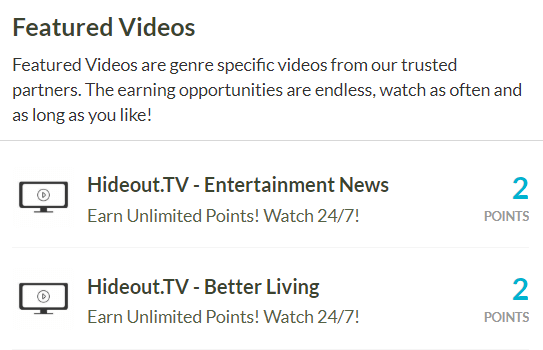 However, you need to be aware that it takes A LOT of patience to earn any real money by watching these videos, as the rewards are very low.
In general, you should not expect to earn a lot from watching videos on GPT sites, but, in my experience, there are sites with better rewards for watching videos if this is an earning method you would like to use.
Option 4 – iRazoo search engine:
iRazoo has its own search engine, which is powered by Yahoo. You can earn a few extra points using this instead of your regular search engine.
You can make it into your default search engine if you want.

I, however, think the search engine gives a poor user-experience, and is definitely not something I will be using. Especially not because the rewards for it are so small that it is not worth the extra hassle to use it.
You do not know exactly when and how much you will earn by using the search engine. You can be rewarded between 1-25 points per day. The points are awarded randomly, so you do not really know when and if you will earn any rewards.
This function is, in my opinion, just a waste of time to use.
Option 5 – Play games:
You are supposedly able to play games like solitaire, bridge, crossword, and more on iRazoo and earn points this way.
This is a function where I do not have any available options. This is probably because of the country I live in, as iRazoo does not offer this option for all countries. So I cannot say how the opportunities are to earn by playing these games, as I have not been able to test them out.
Option 6 – iRazoo promo codes:
iRazoo regularly offers promo codes you can use to get free points. These codes will be posted on iRazoo's Facebook and Twitter channels. They do post these codes very often, so if you are a member, they can be worth keeping an eye out for.
Be aware that you can only use these codes if you regularly take offers or surveys on iRazoo. If not, you will not be able to use the code, so it is only a way for active members to earn a little extra.
So you can only redeem a promo code if you have taken an offer, watched a video, taken a survey, or similar within the last 24 hours before redeeming a promo code.
Option 7 – Daily goals:
iRazoo has a bonus feature where you can earn extra points if you have a certain activity.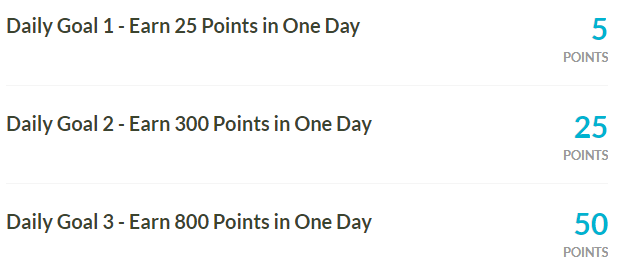 If you reach the goal several days within a month, you will also earn a bonus depending on the number of days you reach it.
The rewards for this are not very high, but if you are actively using iRazoo anyways, it is nice to get a little extra.
Option 8 – Refer friends:
You can also earn by inviting friends to join iRazoo. This is, however, not a very good referral program, and the earning potential is very limited. If you invite someone to join, you will get a bonus once that person has earned 1000 points.
You will get between 100-500 points depending on the country the person you invited comes from. That is the equivalent of between 16-80 cents. So not a big potential to earn from it.
However, it is great for the person joining to use your referral code, as it will give them a bonus of 500 points.
If you want to use my referral code to get the 500 points extra, if you decide to join it is: ZTR9UH
Below you can see a short video tutorial and review I made of iRazoo, so you can get a look inside the platform yourself to see what it offers:
Recommended: See the Best Survey and GPT Sites in Your Country
How do you get paid?
As you have probably already figured out, you get paid in points when you do anything on iRazoo.
These points can then be exchanged for a number of different prizes depending on your preferences.
Personally, I prefer reward portals that pay through PayPal, and luckily this is one of the methods iRazoo offers. Depending on the country you live in, you do, however, also have other options in case you have different preferences.

If you live in the US or Canada, you can choose between a big amount of gift cards or PayPal. If you live in other countries, the only payout method available is PayPal.
Because iRazoo pays in points, it can, however, be difficult to calculate exactly how much you get for a survey or for what you do in general.
So I have done a bit of calculation for you. 1 point is the equivalent of around $0.0016. 100 points are, therefore, worth around 16 cents. Even though the rewards might seems high in points, you have to work a long time to make any real money compared to many survey sites.
Especially because the payout threshold is a bit high if you want to get paid through PayPal.
You have to earn $20 (12,000 points) before you can get paid. There are survey sites that pay a lot quicker and with better opportunities in general. If you want gift cards, you can get paid when you have earned 3,000 points on iRazoo.
Also, beware that iRazoo resets your account to zero if you have not taken any offers or surveys for 60 days. This is a very short period they allow for inactivity compared to other survey sites. Many do not even reset your account, and the ones that do usually do not do it until after 6-12 months.
How much money can you make?
So how big is the earning potential of iRazoo?
It has a lot of different opportunities to earn. In my opinion, it does, however, not offer very good value for your time spent and many of the options are not worth doing.
The surveys and offers can be worth it, but in my experience, there are sites that give a lot better opportunities and where your time is better spent.
When that is said, you can make some extra money on iRazoo. Just do not expect it to be very much.
And remember that paid surveys and online reward portals are, in general, not a way to make a full-time income online. They can make you some nice extra money, but do not expect it to make you rich.
Can you use iRazoo on mobile?
One thing I used to like about iRazoo is that it used to have an app.
An app can make it very easy to take surveys on the go and be a way to maximize your earnings.
However, it seems the iRazoo app is no longer available. The website is, however, optimized for mobile, so you can still use it by logging into the site from your mobile browser.
If you prefer using apps, you can check out the best survey and GPT apps here.
Who can join?
You can join iRazoo no matter where in the world you live. The number of opportunities will, however, vary depending on the country you live in.
iRazoo has the most opportunities for the US, Canada, the UK, and Australia. But it also has decent opportunities for many other countries.
No matter where you live, I do, however, think that there are better survey sites in your country.
If you still want to join iRazoo, it is very easy. You just go to the website and sign up. You have to confirm your email. If you want an extra 500 points joining bonus, you can use my referral code: ZTR9UH
Are there any iRazoo complaints?
After I first published this review, quite a lot of things changed at iRazoo.
More and more people have been complaining about it even though they used to be happy with the platform. Therefore, I just wanted to include this section here, so you know all the details and can take this into consideration before deciding if you should join or not.
The main complaint I have heard about iRazoo is that it has now become very difficult to get your earnings out, and a lot of members seem to have problems with this.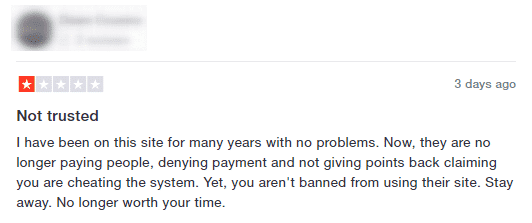 In addition to this complaint, I have also seen many members saying that when they contact iRazoo about these issues, they do not get any reply from the support or just get a very generic reply.
I cannot say for sure what is going on, but it is definitely something to consider before joining. Especially considering the fairly high payout threshold, which means you will have to spend quite a lot of time earning before you will be able to verify for yourself if you get your earnings or not.
However, there are also a lot of positive reviews, and there are not as many negative reviews anymore as when I checked about a year ago, so it seems they have done something to improve the user experience and their reputation, which is great.
Final verdict
As you can see, iRazoo is a survey site and online reward portal. I am, however, not super excited about the opportunities here.
But let's finish this review by summing up the pros and cons, so you can get a good overview before deciding whether you want to join or not.

Pros:
Free to join
Has good reward options
Several daily opportunities

Cons:
High payout threshold through PayPal
Confusing point system
Not very high rewards in relation to time spent
Resets your account to zero after only 60 days
Limited options in some countries
Overall, iRazoo can be worth joining as an extra site. You can definitely make some money here, but it is not the most effective site, in my experience.
So if you only want to join a couple of sites, this should not be one of them. It does not have enough opportunities to give you enough earnings, and the payout threshold is too high, in my opinion. There are many survey sites that give a lot better opportunities.
If you have any comments, questions, or have any experiences with iRazoo yourself, I would love to hear from you in a comment below.