Looking for a site that will give you access to paid online surveys? DRT SolutionZ offers this opportunity so you can earn extra cash online.
This survey site promises you can earn gift cards, mobile credit, and even cash by simply answering surveys about various topics.
It sounds like a very straightforward way to earn, so naturally, you will be skeptical. It's understandable. That's why this DRT SolutionZ review will verify if DRT SolutionZ is a scam or if it is really a legit survey site.
Aside from that, this review will also take a closer look at everything the site has to offer so you can figure out if is worth your time or not.
What is DRT SolutionZ and what does it offer?
As mentioned above, DRT SolutionZ is a survey site that will pay you for answering surveys.
It is a legit survey site, so they will indeed pay you for answering surveys.
But being a legit site doesn't really tell you if a site is worth joining or not. To figure out if a site is worth it or not, there are a few things you have to consider. The main factor is its earning potential.
And to determine the earning potential of DRT SolutionZ, we have to take a closer look at the earning opportunity it offers.
So, I created a video that will give you an inside look and show exactly how it works. You can also read all the details below the video.
The earning opportunity – Paid surveys
There is only one way for you to earn from this site and that is by answering paid surveys. Researchers will partner with DRT SolutionZ to help them connect with the general public.
You, as a member of their panel, will be invited to participate in a survey from time to time. You will receive an invitation via email. All you have to do is click the link in the email and it will take you to the survey.
You will then have to answer a set of qualification questions to determine if you are qualified for the survey. If you are, then you get to answer the survey and earn the reward. If you don't qualify, then you just have to move on to the next survey (if there are any).
Most surveys will take around 3 to 10 minutes to complete. The reward you will receive will usually depend on how long it will take to complete the survey. The longer the survey, the more money you will earn.
The topics of the surveys you will receive will vary and will mostly depend on the researchers who have partnered with the site.
Once you complete the survey, DRT SolutionZ will then verify all the answers you've provided. They have this validation process to ensure that the online survey results are up to the mark and accurate.
When they see everything is in order, they will then reward you with the appropriate amount, which will be credited to your DRT SolutionZ account (I discuss their reward options next). Sometimes, the reward won't be reflected in your account right away and sometimes it does.
How do you get paid?
You will earn a specific amount for every survey you complete on DRT SolutionZ. You then have the option to convert what you've earned on the site into certain rewards.

As shown in the photo above, there are several options you can choose from. You can choose to withdraw your earnings via PayPal or you can redeem Amazon gift cards instead. You can also convert your earnings to mobile credit (depends on the country you live in) or if you live in Dubai, you can get Careem credits instead.
In some countries, you will also be able to redeem your earnings as other gift cards or as charity donations.
The threshold you need to reach to get your earnings out will depend on the country you live in. The amount you will earn will also depend on your country.
When you request for a payment, usually, the money & reward transfer (PayPal & Amazon gift cards) can take up to 5 business days. So, don't expect to receive the payment right away.
I do like the fact that they offer payment via PayPal because it is a very convenient way of getting paid. If you are interested in more sites that pay via PayPal, I recommend you check out the top sites that pay via PayPal.
How much money can you make?
As you can see, DRT SolutionZ only offer one way for you to earn. If there aren't any surveys available, then you won't earn anything.
I scanned their website and I came across their claim that you can earn up to $100 per month for answering surveys (refer to photo below).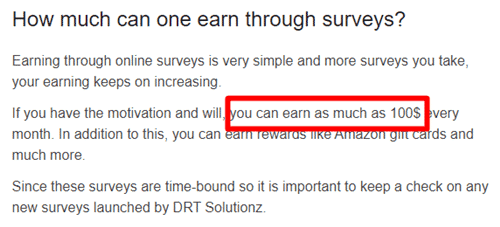 In my experience, this hardly will ever be the case. Considering the fact that you will only usually earn around $1-$2 for every survey you complete on this site (this is not a bad amount, mind you), you will practically have to answer at least around 40 to 50 surveys a month.
There are some survey sites that offer that number of available surveys per month but you have to be very lucky to get this many on DRT SolutionZ. Plus, you won't always qualify for surveys. So, earning $100 is not something you should expect just by using this site alone.
The more realistic amount you can earn from this site will be around $30-$40 on a good month and if this will be possible or not will depend on the country you live in. And I do have to stress the fact that this site still has a low earning potential because it offers limited earning opportunities. If there aren't surveys available, you won't be able to earn from it.
Can you use it on mobile?
If you were hoping to answer surveys on your mobile device, then you won't be let down by this site. On their site, they advertise that you can answer surveys from a mobile device by downloading their app. But when you click on the link for the app, it will take you to the OpinionApp download link.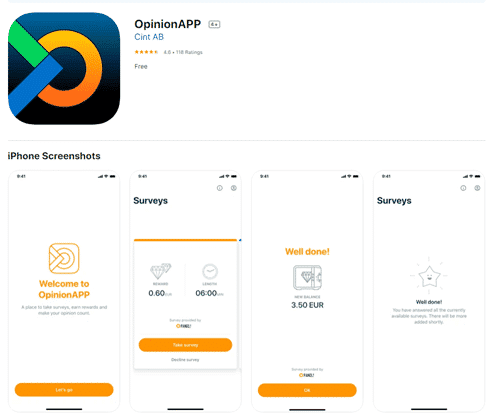 OpinionAPP combines all the survey panels powered by Cint and presents them via a single application in real-time. So, you will be able to log in to the app using your DRT SolutionZ credentials and they will then link it to your DRT SolutionZ account.
So, any amount you will earn on the app will also be reflected in the browser version of DRT SolutionZ. It's a bit jarring at the start, but once you get used to it, it will basically feel like OpinionApp and DRT SolutionZ are one and the same.
Who can join DRT SolutionZ?
DRT SolutionZ is available in several countries. Here's a list of the countries where it is available:
USA
UK
Pakistan
Canada
Finland
Norway
Australia
Sweden
Denmark
Ireland
Switzerland
Germany
France
Italy
Spain
Brazil
Austria
Thailand
India
Bangladesh
SriLanka
Saudia Arabia
UAE
If you don't live in any of the countries listed above, then, unfortunately, this site is not for you. But if you do, then all you have to do is fill out their registration form. Once you are done with the form, they will then send you a confirmation email. Just click the confirmation link and you are good to go.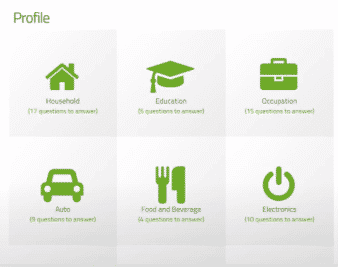 Once you are done with the registration process, I suggest you log in to the site and complete your profile right away. Completing your profile will increase your chances of receiving survey invites.
Can you get support?
Their site lacks some relevant information you need to know. So, you might have a few questions after browsing through it. Now, if you have any questions about the site, you can check out their FAQ page.
But unfortunately, their FAQ page really doesn't offer much help. Most of the topics discussed are just general ideas of the site. You won't actually learn more about the ins and outs of the site like you normally would from an FAQ page.
So, if you want your questions to be answered, you will have to contact their support team. You can do so by using the contact form provided on their contact page. You can also chat with a representative by clicking the chat button on the lower right-hand corner of their site.
Overall, although their FAQ page needs some work, in my opinion, I would still say that they have a decent support system in place because they provide a good way for you to get in touch with their support team.
Final Verdict
DRT SolutionZ is a legit survey site that will pay you for answering surveys. It does have a couple of good features but it also has certain disadvantages you need to take into account.
So, let me finish this review with a summary of its pros and cons to give you a better overview of what the site has to offer so you can decide if it is worth joining or not.

Pros:
Offers payment via PayPal
Has a mobile app you can use so you can answer surveys conveniently on your mobile device

Cons:
Limited earning opportunities offered
Their site lacks relevant information which affects the user-experience as a whole
DRT SolutionZ is not a bad survey site, in my opinion. It's also not that good either. It's right along the middle. I like the fact that they offer convenient payment methods and that you can use a mobile app to answer surveys.
However, in terms of earning potential, this site pales in comparison to other survey sites. I would only recommend you join this site as a secondary site to earn from. For a list of primary sites to earn from, I would suggest you check out the top survey and GPT sites in your country instead.
The sites on this list have good earning potential and a lot of them offer multiple earning opportunities so you can earn on a regular basis. Plus, you will be able to find a site you can join regardless of where you live.
If you have any comments, questions, or have any experiences with DRT SolutionZ yourself, I would love to hear from you in a comment below.